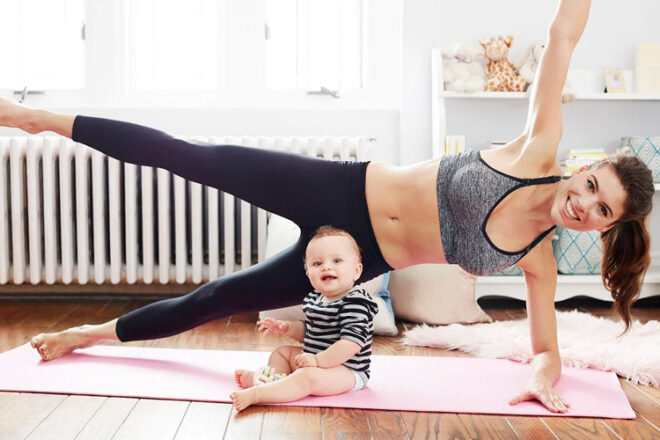 If you're a nursing mumma who loves to get out and about and stay active, you understand the significance of finding the right sports bra you can easily breastfeed is. You want something that provides comfort, support, and convenience when nursing without compromising on style.
From high-impact options to more everyday styles, there's something for everyone in our list. So whether you're hitting the gym or just chasing the little ones around the backyard, you'll be able to do it all in comfort and style.
We asked the huge Mum's Grapevine Facebook Baby Group members what they wish they knew before buying a nursing bra, and these are the ones they recommend.
Helpful tips for buying a maternity sports bra
Do you need maximum support for jogging or light support for yoga?
How easy is it to open and close with just one hand (hello hungry baby in the other)?
Is the under-boob strap adjustable (for when you change size)?
Are the pads built-in or does it have pockets you can add your own to?
If outside are you adequately covered (for your level of comfort) when feeding?
If larger boobed, are the shoulder straps padded?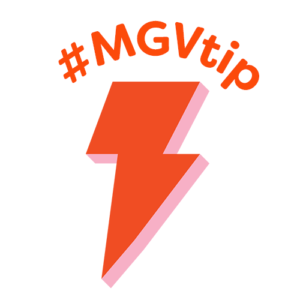 Don't assume you know your bra size now you're nursing. Head to the shops and get a professional bra fitting, that way you'll know exactly what size you are when it comes to buying maternity bras online.
OUR PICK OF THE BEST
12 Maternity Sports Bras for Nursing
To help you find the perfect bra for both your pre and postpartum body, we consulted our huge Facebook community of Australian mums and listed their most popular choices below.
In no particular order, here are 12 of the more popular maternity sports bras for 2023.
Cake Maternity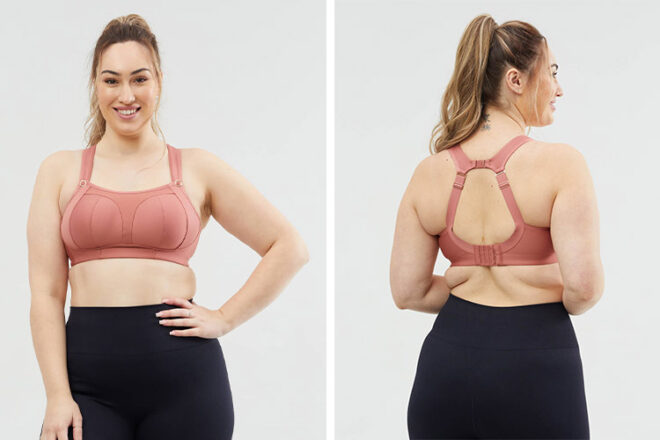 The high-impact bra that does it all, available in sizes XS to XXL, this 100% wire-free sports bra reduces friction whilst you move with its moisture-wicking fabric. We love the easy button access and how this bra is ready to grow with you on your journey to motherhood.
---
Bloomberri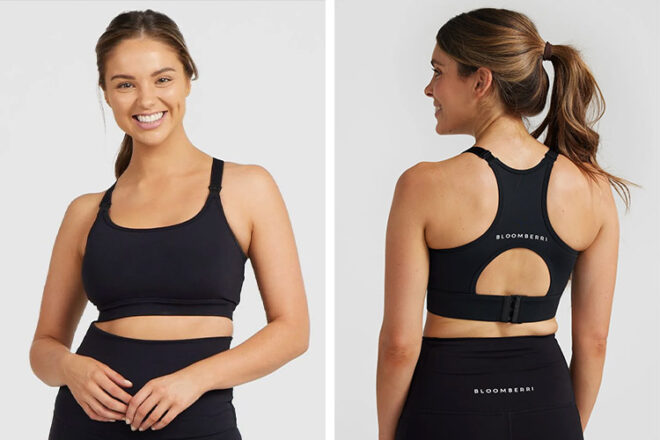 With a sporty racerback silhouette and fully adjustable straps, these are bras you'll happily wear all day long. Wire-free, they feature anti-bacterial bamboo lining, removable cups and a fold-down feeding panel for easy-peasy breastfeeding. We love the large cup size range from A through G.
---
Hotmilk Lingerie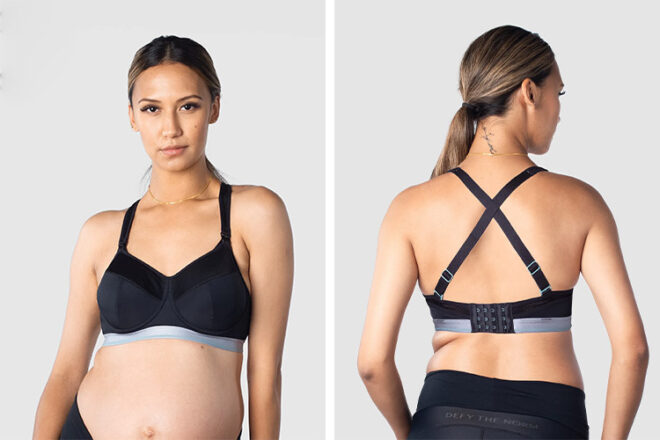 Built for high-impact sports, reduced bouncing and all-day comfort, being active has never been so easy. Sizing up to an H cup, we love the padded shoulder straps and convertible racerback detail. What a statement piece for your activewear wardrobe!
---
Bravado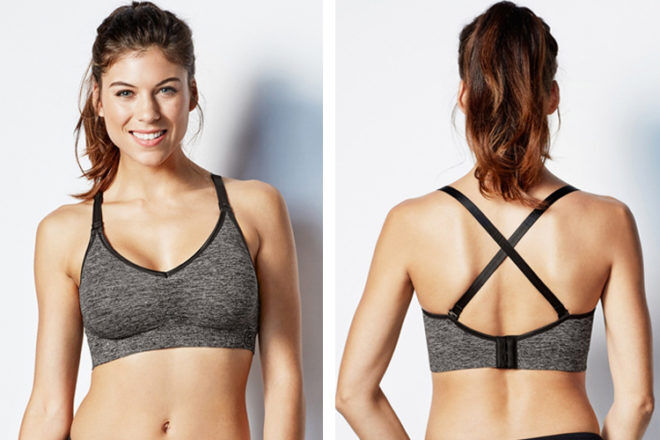 Get a seam-free sense of luxury with this sleek nursing bra. Available in sizes S to XL, it's perfect for yoga, pilates, walking or everyday wear. We love that it uses Silver Breeze technology to prevent the growth of odour-causing bacteria, keeping your bra fresh and odour-free all day long. Bonus!
---
Bae the Label
Made in technical Nillit Softex Lycra for superior stretch and comfort, this beautiful bra comes with adjustable, slide-off straps so it's really easy to get nursing access and we love the addition of a firm (but not too firm) wire-free under-bust support. Available in XXS to XL.
---
KISS Active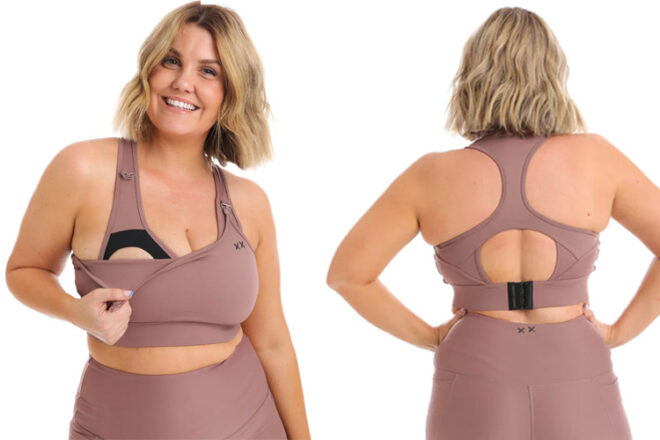 Specifically designed for mummas who love being supported during high-impact exercise. These bras can be unclipped with one hand (perfect if you're holding Bub in the other) and have 4-way stretch for maximum support. We love the huge size range (XS to XXL) and they are sooooooo comfy you can wear all day.
---
Active Truth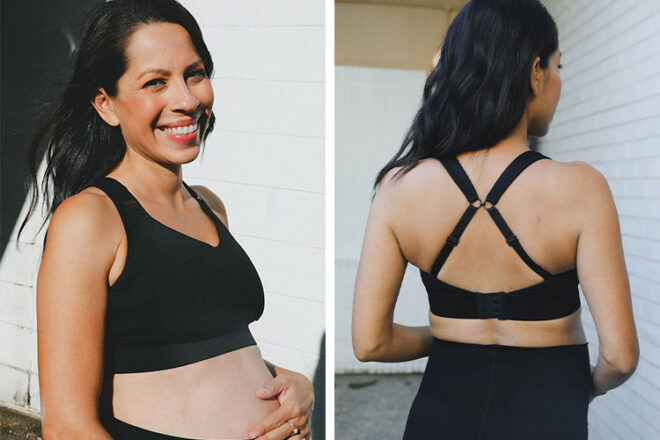 This well-designed nursing sports bra is perfect for mums breastfeeding on the go. We love the innovative magnetic claps for quick one-handed access, convertible straps and flattering sweetheart neckline. This bra is the perfect addition to ease anyone back into exercise. Available in sizes XS to 3XL
---
Queen Bee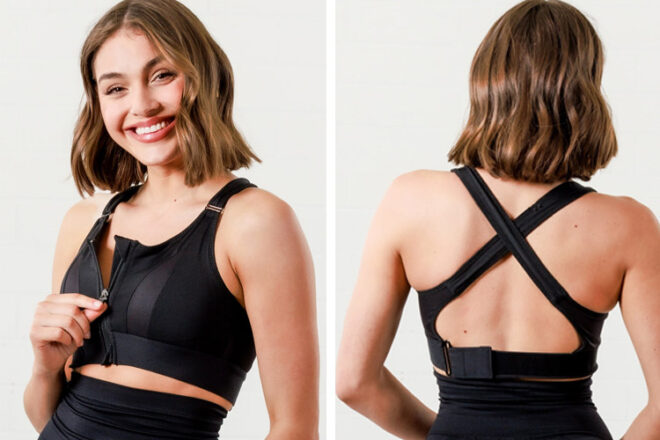 With a wide underbust support band, the Queen Bee Frankie sports bra gives a flexible, comfortable fit thanks to the innovative adjustable velcro fastening at the back. Available in sizes 8A to 18E, we love the zip-down front that locks in place so you don't have to worry about a sudden a.la Janet Jackson sudden exposure.
---
Mama Movement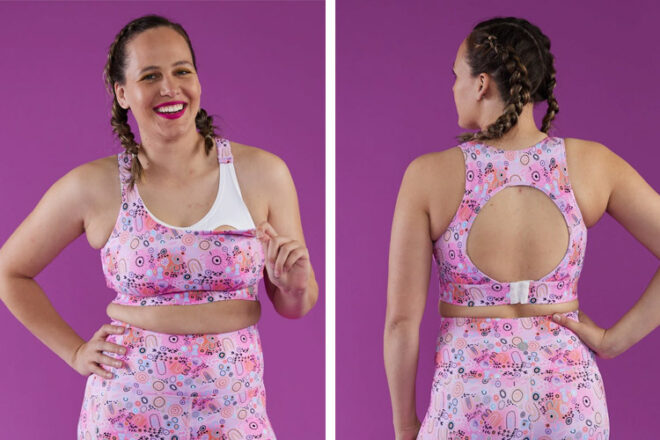 Fully adjustable, Mama Movement's best-selling sports crop is so easy to take off thanks to the hooked back design. Featuring adjustable underband and wire-free support it comes in a size range of S to 4XL. We love that it's suitable for medium to high intensity workouts.
---
Hello Monday Active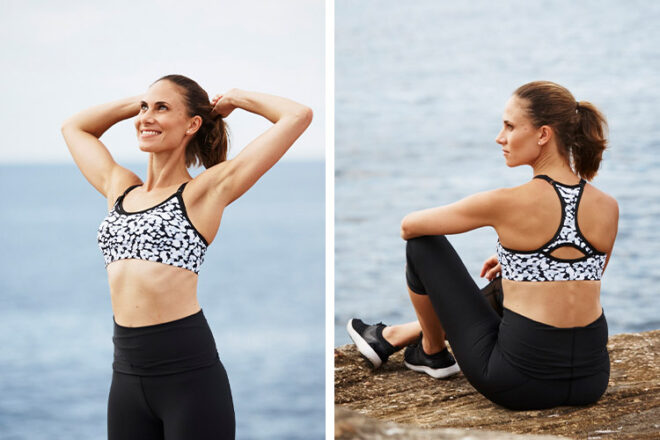 Release your inner wild side with this fun animal print. With a triangle shape internal bra to suit all shapes and sizes from S to XL, we love the easy drop-down feeding clips and the built-in pockets are a nice touch so it can be worn with or without breast pads.
---
Lorna Jane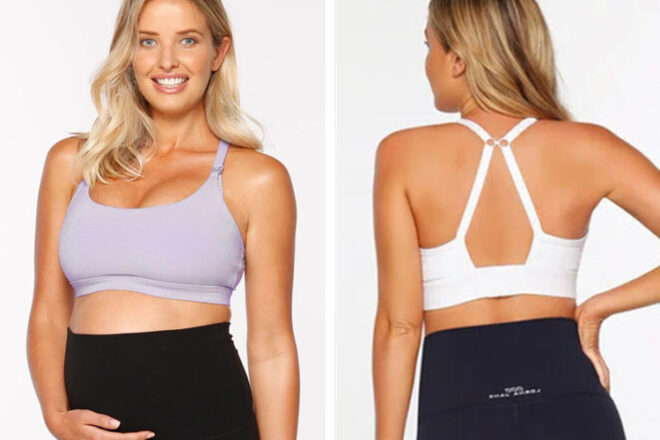 This maximum-support maternity sports bra with an extendable clasp and adjustable straps offers the perfect fit for any activity. A one-hand nursing clip with a drop cup makes breastfeeding on the fly a breeze. Available from XS to XXL.
---
Cotton On
A perfect wardrobe staple. This bra in sizes XS to XL features a fully lined and moisture-wicking fabric made for comfort and adjustability. Whether you wear it for an activity or everyday use, this sports bra is sure to get a workout.
---
FAQs: Your questions answered
Buying a new sports bra and making sure it fits you correctly online can be tricky, so to help you out we've answered some of your most common questions.
What is a sports bra for nursing?
A nursing sports bra is a specialised bra designed for mums who are breastfeeding to wear during activity. It provides extra support and comfort during physical activity while still allowing for easy access to breastfeeding by either drop-down cups or nursing clips.
Can I wear a regular sports bra while breastfeeding?
Sure, you can wear a regular sports bra while breastfeeding, however, it may not provide the same level of support and convenience as a specialised sports bra would. Regular sports bras are not designed for breastfeeding, so you may find yourself having to take the whole bra off to get access to your boobs every time you need to feed your baby.
When should I buy a maternity or nursing bra for sport?
You can buy a sports bra anytime, either during your pregnancy or after your baby is born. However, if you wait until after baby is born, they recommended waiting until your milk comes (eg boobs grow huge!) in to make sure you get the sizing right.

Know a maternity sports bra we should add to our list? Contact us and let us know, we've been curating Australia's best baby products into helpful lists for over 15 years and we're always happy to support new brands and businesses.
Read next …
Ask other mums
Looking for a maternity sports bra and still not sure if any of these are right for you? Join our private Facebook due date pregnancy groups and ask thousands of other Aussie mums (due at the same time as you!) which bra they recommend. Join today!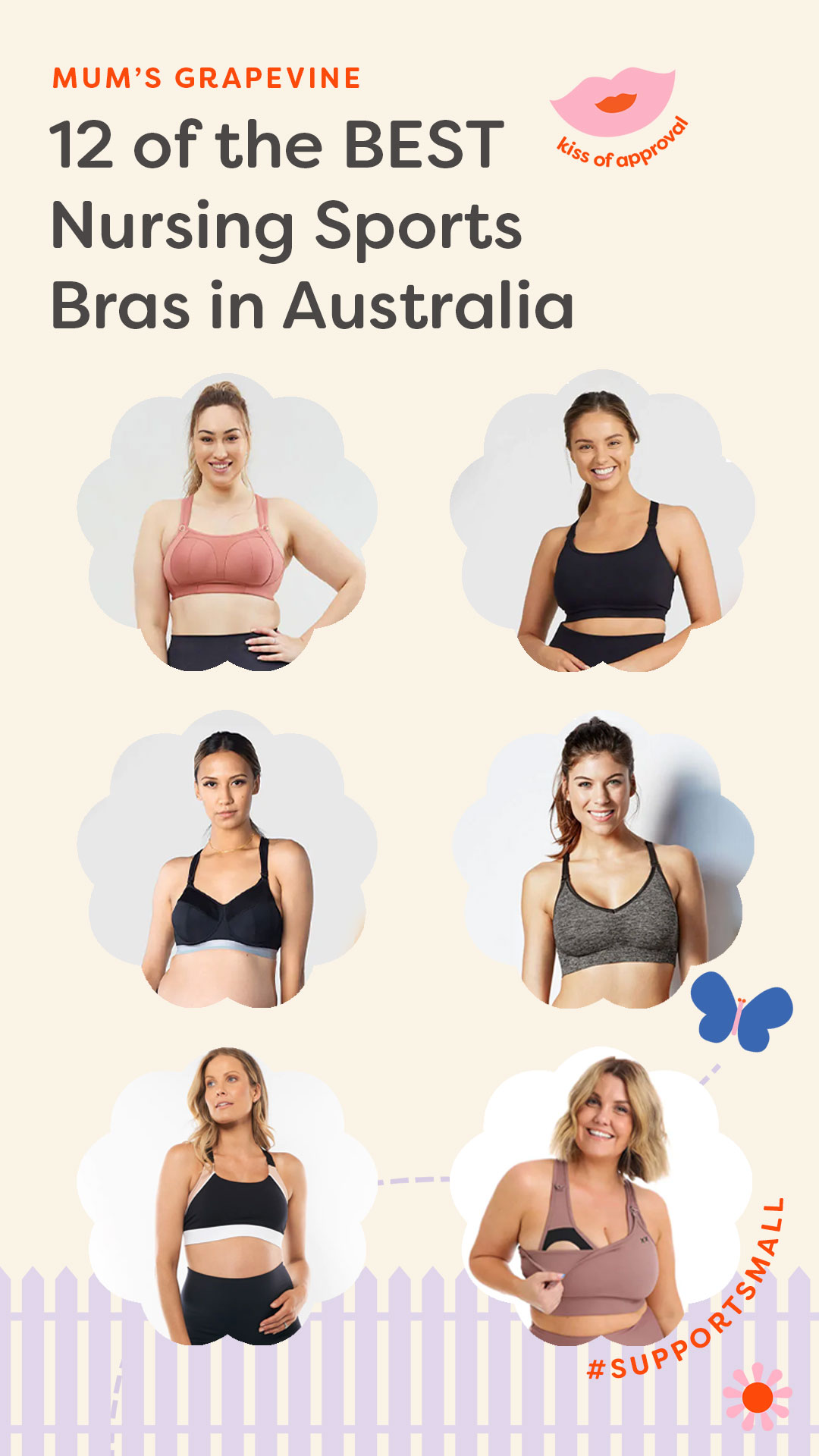 We want you to know
At Mum's Grapevine, we're a team of passionate mums (with 19 kids!) and over 15 years of experience researching and writing about all things baby and parenting. Our reviews and recommended products, like the ones in this post, may include paid inclusions, but we pinky promise to only feature products that we truly believe in and have used or seen ourselves. We want to ensure that you, our readers have access to the latest and greatest products in the parenting world, and we're committed to maintaining our high standards of quality and honesty. See our Disclosure Policy.
Thank you for trusting us to be your go-to source for all things baby-related.
xoxo