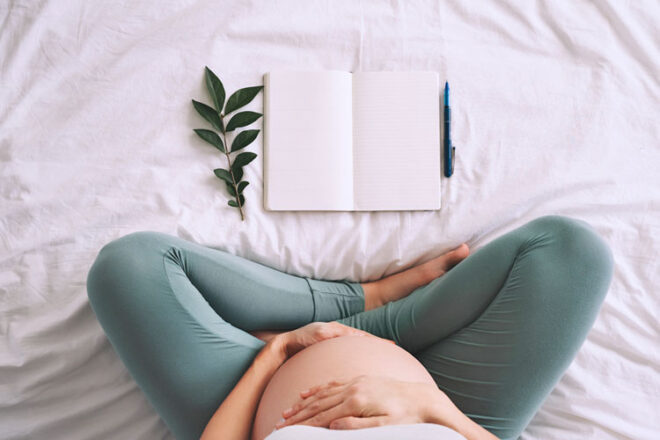 Hey there, mama-to-be. Congratulations on embarking on one of the most transformative journeys of your life. As you prepare to welcome your little bundle of joy into the world, it's easy to get caught up in the excitement and forget some of the precious moments and emotions you experience along the way.
That's why a pregnancy journal can be an invaluable companion for capturing every milestone, from the first fluttery kicks to the anxieties and joys of nesting.
Whether you prefer a beautifully blank notebook to fill with your own thoughts and reflections or a guided journal with prompts and checklists, the options are endless. I'm so glad I took the time to write in my journal, as now I read it with my child and we relive the journey together.
OUR PICK OF THE CROP
6 Pregnancy Journals for Mums-to-be
To help you find a journal to record your pregnancy journey, we consulted our huge Facebook community of Australian mums and listed their most popular choices below.
In no particular order, here are 6 of the more popular pregnancy journals we recommend.
Forget Me Not Journals
Made with a whole lotta love, thought and care, the stunning journal for mums-to-be designed by Megan of Forget Me Not Journals covers every aspect of pregnancy, from pre-conception checklists and fertility health through to the fourth trimester and bringing baby home.
---
Truly Amor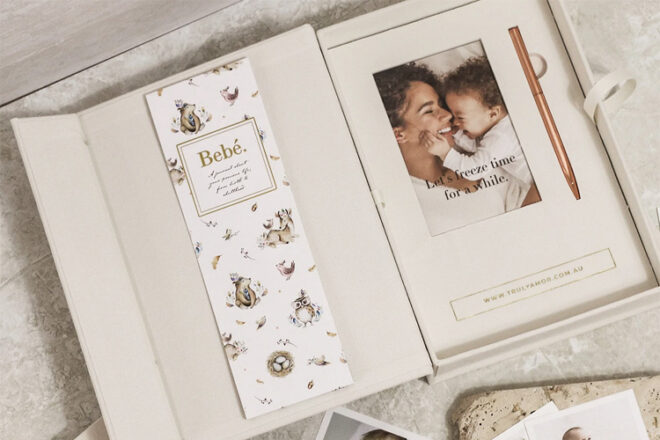 A luxury journal designed to capture all the precious moments from birth to adulthood. From baby photos and a page of 'firsts' to the cute and silly things kiddos say, there's a page for every part of life. Available in gender-neutral colours, including amber, mocha and ivory.
---
Belle & Grace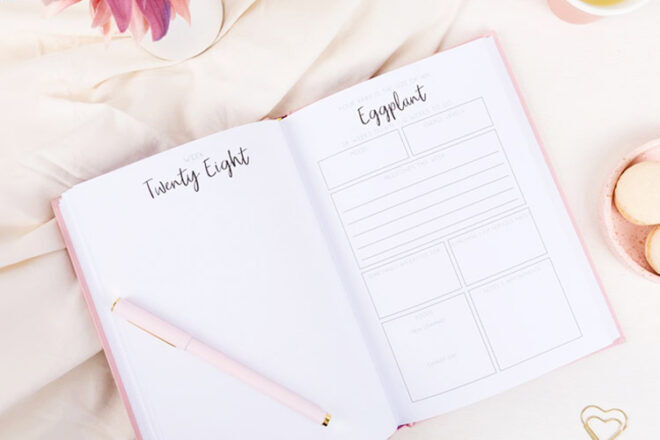 A boutique journal with a special spot for recording the parts of pregnancy you never want to forget. Covered in beautiful linen, it includes pages for logging appointments, areas to store ultrasound pics and even space for your birthing plan.
---
Only Little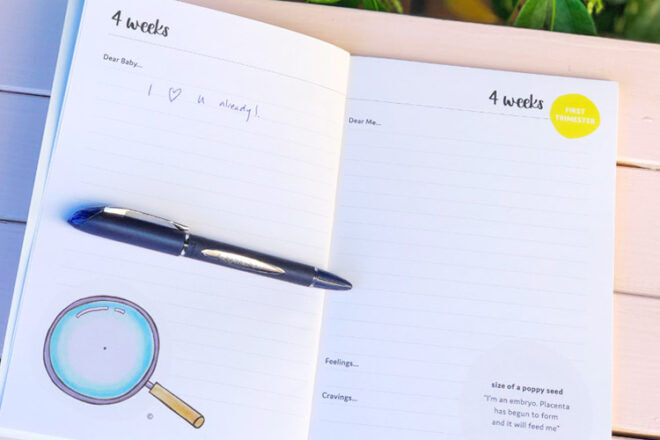 Small and oh-so-sweet, the pregnancy journal from Only Little follows simple weekly prompts "Dear Baby.." and "Dear Me…" to write notes, musings and words of wisdom to your bump and yourself, and learn how big baby is each week of your pregnancy.
---
Write To Me
With gold embossed letting and a case-bound format, this linen journal couldn't be more inviting. Designed in Melbourne, it's packed with prompts to ensure you don't miss a thing throughout your pregnancy – from appointments to shopping lists.
---
Blossom & Pear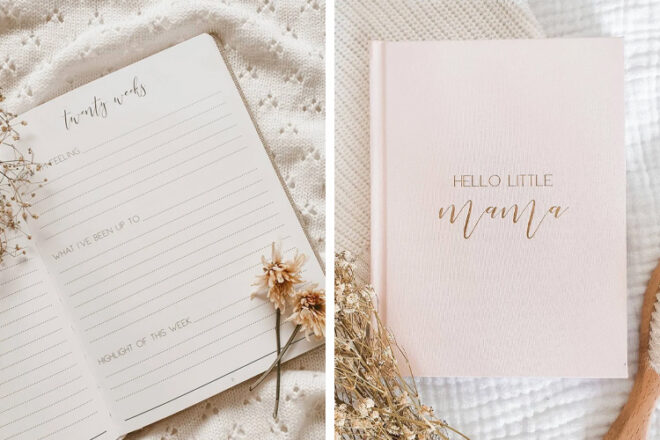 A journal and planner in one volume, Blossom & Pear diaries help you document every important step in your pregnancy. It includes fortnightly and trimester updates as well as 11 full months of appointment setting. Available in six modern hues, it's packaged in a drawstring bag.

Seen a journal we should add to our list? Contact us and let us know, we've been curating Australia's best baby products into helpful lists for over 15 years and we're always happy to support new brands and businesses.
Read next …
About to have a baby?
If you're feeling anxious, excited, or a little bit of both, know that you're not alone. Our private Pregnancy Groups provide a safe space for Aussie mums to connect and support each other during this exciting time.
Click here and find your Mum's Grapevine Facebook Group today!

We want you to know
At Mum's Grapevine, we're a team of passionate mums (with 19 kids!) and over 15 years of experience researching and writing about all things baby and parenting. Our reviews of recommended products, like the ones in this post, may include paid inclusions, but we promise to only feature products that we truly believe in and have used or seen ourselves. We want to ensure that our readers have access to the latest and greatest products in the parenting world, and we're committed to maintaining our high standards of quality and honesty. See our Disclosure Policy.
Thank you for trusting us to be your go-to source for all things baby-related.
xoxo