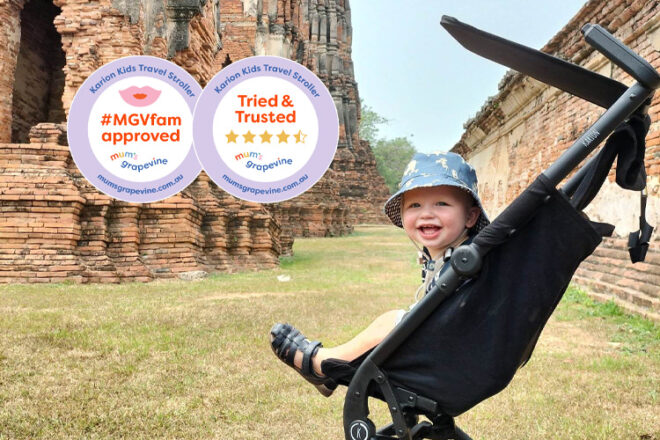 Mums recommend the Karion Kids Travel Stroller
With superior safety and flawless performance in a seriously small package, the Karion (pronounced carry-on) sits pretty in airline overhead lockers. Ultra-compact, lightweight and suitable for all terrains, you'll be the envy of other parents when the Karion folds out in seconds with a flick of the wrist.
Whether you're on holiday, exploring the latest urban hotspot, or simply on the move, the Karion is the perfect travel companion. Equipped with an SPF 50 flip-out sun shade, 5-point safety harness, brakes on both wheels, solid wheelbase and frame, you can carry it hands-free as a backpack or slung over the shoulder.
Weighing just 4.9kg the Karion is suitable for babies from 6 months up to 17 kg (approx. 4 years).
Available online from Karion Kids ($349)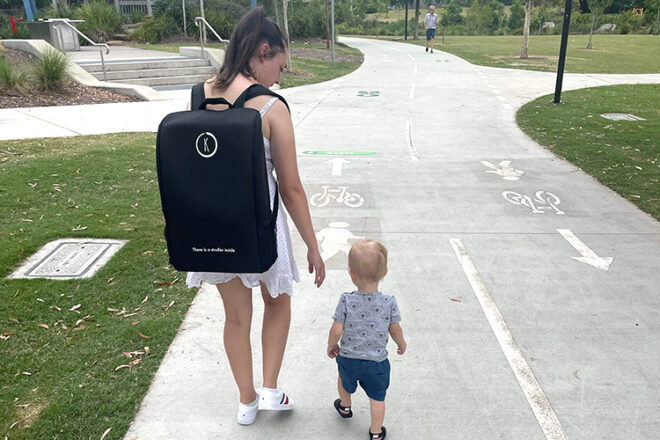 Five reasons we love the Karion Kids Travel Stroller:
They are so compact and light
One of the best things about the Karion is how easy it is to carry around. They're super light and fold up into a small, compact size so it's easy to carry and store.
Kids can have a nap
The strollers are padded for comfort, with a reclining seat that allows kids to have a nap on the go.
They have great storage
There's a roomy basket underneath the seat and a handy pocket on the back of the seat for all the stuff you need quick access to.
They're easy to maneuver
The wheels are smooth and easy to turn, great for easily navigating through crowds or tight spaces.
You have to carry bag options
Out of the box, you get two high-quality carrier bag options; a backpack and an over-the-shoulder tote style bag.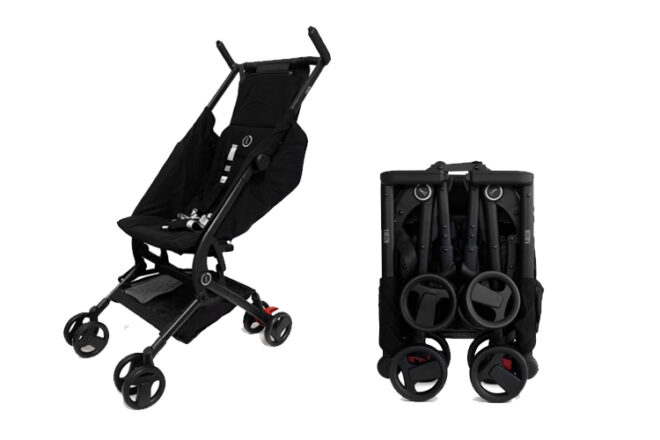 But don't take our word for it, we asked three mums from our Mum's Grapevine Facebook Baby Groups to take the Karion Kids stroller on holiday and here's what they had to say:
Samantha took 16-month-old Fionn on a road trip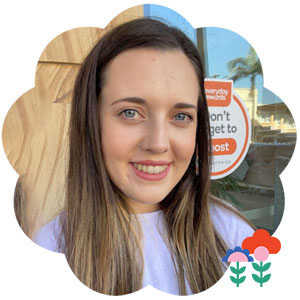 "The Karion lives in the car at all times now."
The Karion Kids Travel Stroller is the perfect on-the-go pram for families who are travelling and need a lightweight and easy-to-use stroller that can be quickly folded up and taken with them wherever they go.
This stroller was a great accompaniment on our recent road trip to Noosa, Queensland. It was so much more small and compact when it folded down than I imagined yet still has plenty of space for a growing toddler when in use.
I loved how the Karion Kids Travel Stroller is easy to push and maneuver for myself or my partner and that it lays completely flat if it happens to be nap time while we were still out and about.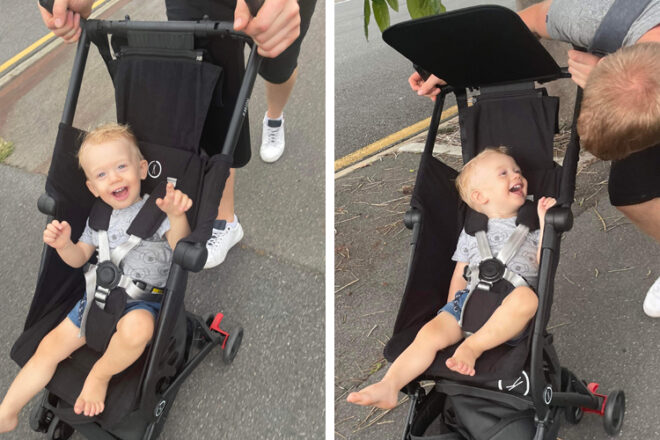 We mostly used the backpack carry bag which is a great addition that comes with the stroller as it is very lightweight and high quality. Not flimsy at all.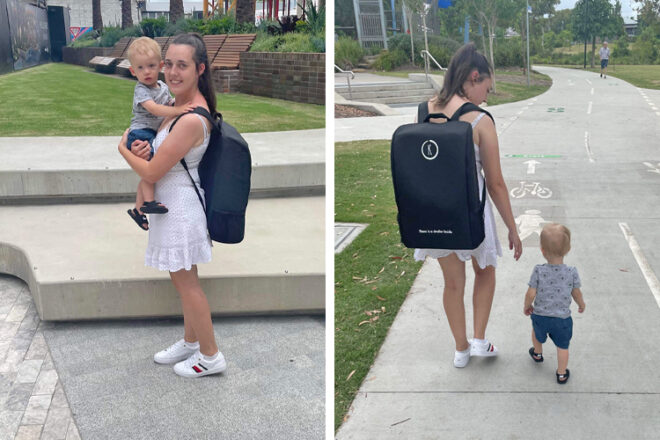 Since returning from our travels the stroller practically lives in the car at all times now, as it fits between Fionn's car seat and the passenger seat perfectly. It's great for everyday use when we're out and about.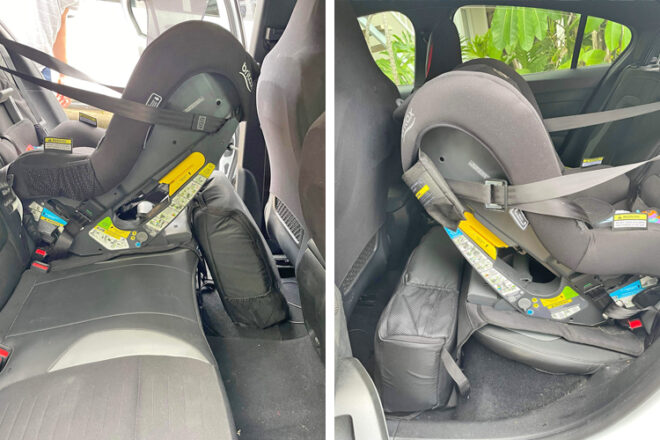 We will definitely be using it when we fly next as it seems as though it will fit in the cabin perfectly.
Samantha has taken a great video of her husband showing how easy and quick it is to fold the stroller up and down.
---
Jess took 11-month-old Scout caravaning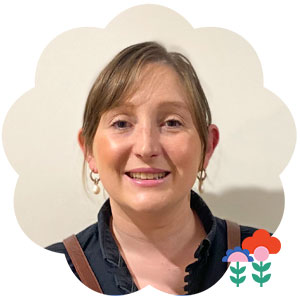 "The Karion Kids Travel Stroller ticks all the boxes for our family."
We are currently travelling across Australia in a caravan and the Karion Kids Travel Stroller ticks all the boxes for our family. It has been a great addition to our travels since we are pretty limited in space. The compactness of the stroller has been amazing as it has fit hassle-free in the boot of the car with not only the two dogs but our fridge as well.
We loved the quality of the Karion Kids Travel Stroller, prior to its arrival we had used other strollers that would always get stuck whilst in use. With the Karion Kids stroller, we rarely had any of those dramas. We have loved how easy the pack down is as well as the backpack carry bag for easily transporting it when it's not in use.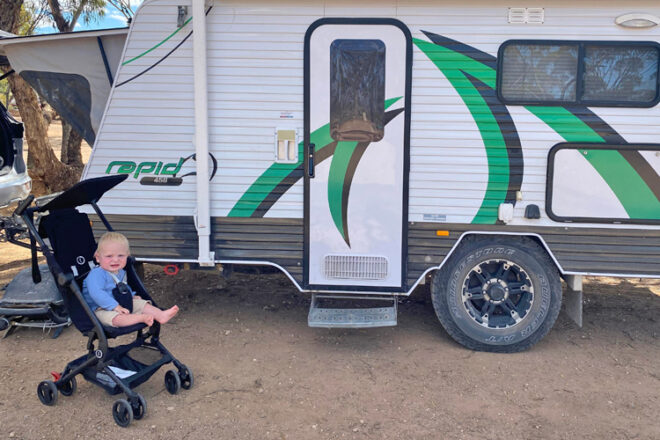 Come nap time for Scout, being able to put the stroller completely flat was perfect as we are often out and about for sleep. It also converts to being laid out flat super smoothly with the zips at the back which is great for when they are already asleep.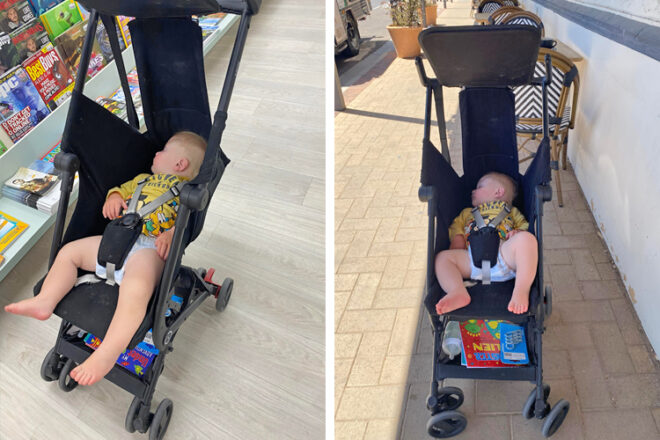 With plenty of space below the stroller for water bottles, wipes and any extra bits you may need the Karion Kids Travel Stroller is loved by our family.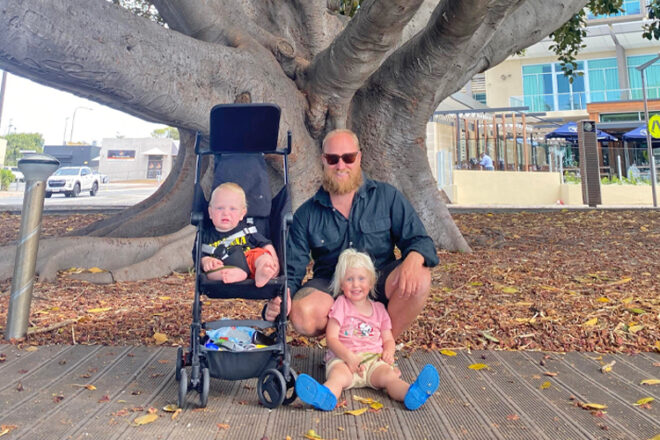 ---
Ashlee took 18-month-old Daniel overseas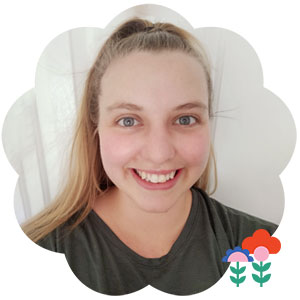 "I can't deny the ease that the stroller brought to our trip"
My little family were lucky enough to receive the Karion Kids Travel Stroller just before our trip to Thailand.
We were impressed! It was incredible to have the pram in between flights, so our arms didn't get sore from carrying our son throughout the terminals. The backpack carrier was very handy and lightweight at only 6.1kg combined.
It was amazing to manoeuvre which made it super easy to ensure we had one hand on the pram and another on the suitcase. We were also impressed with how well it fit down the aisle of the plane on both domestic and international flights.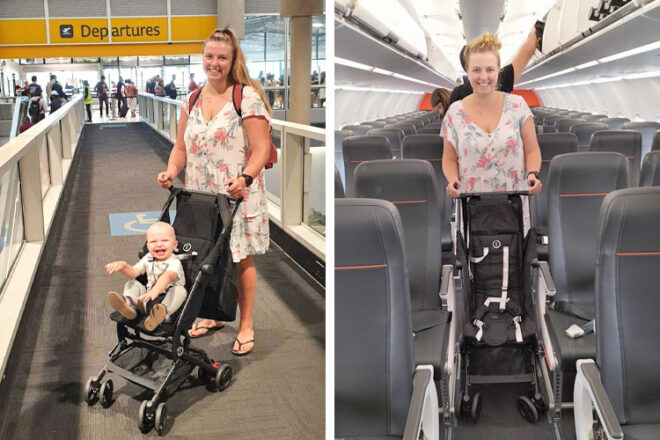 When we finally landed in Thailand the stroller really got to put it to the test. We had a wonderful time, and I can't deny the ease that this stroller brought to our trip. It was super easy to fold up every time, it stored so compactly in tuk-tuks and we even managed to go on some bumpy ancient paths and which it handled well.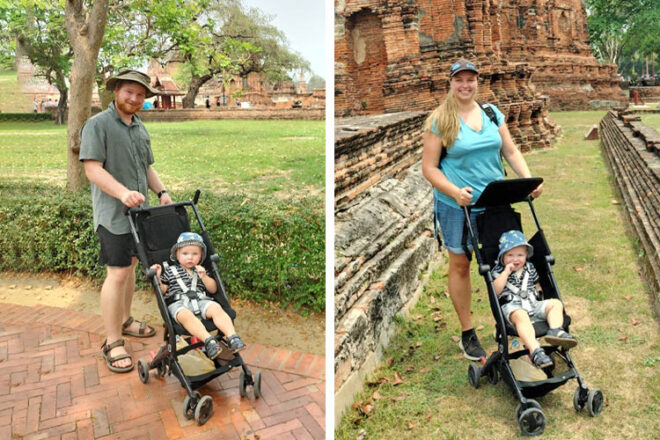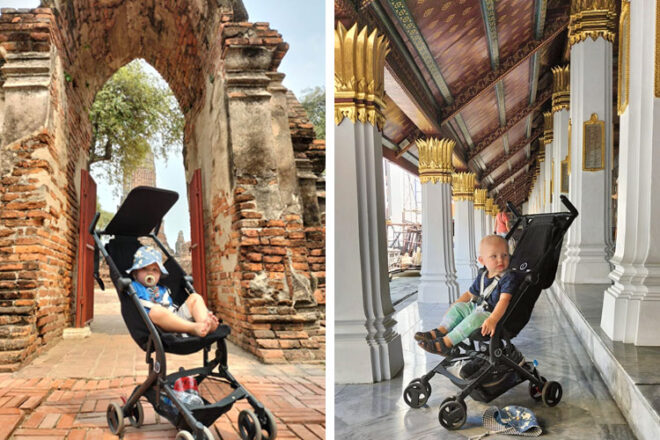 Ashlee has taken a great video showing how easily the Karion Kids Travel Stroller folds up for travel (or to go for ride in a tuk-tuk!).
Available online from Karion Kids ($349).
---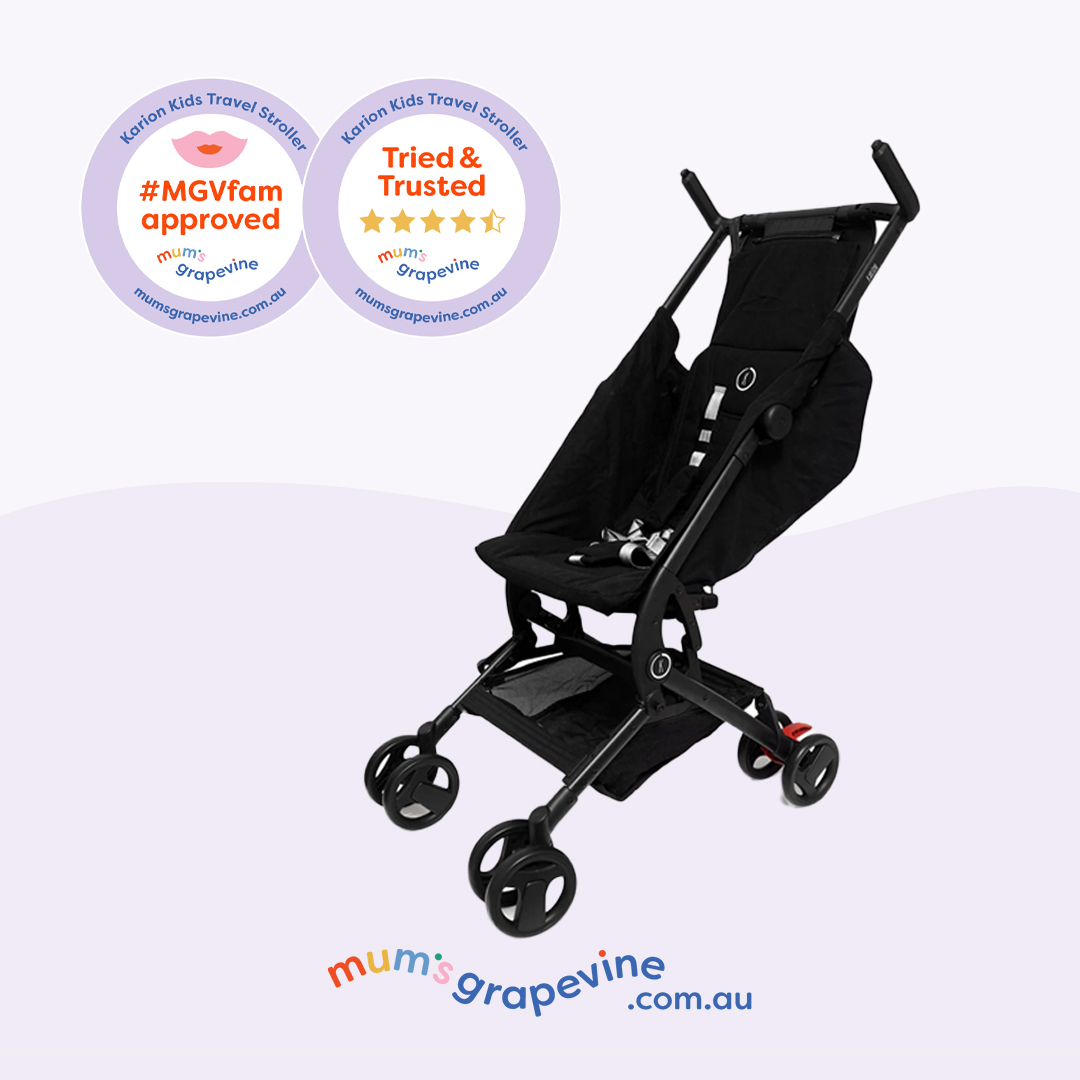 Karion Kids have provided these travel strollers for the purpose of trial and review. All reviews submitted are the honest, authentic and genuine sentiments of the Mum's Grapevine Facebook Group members (#MGVfam) participating in this trial.