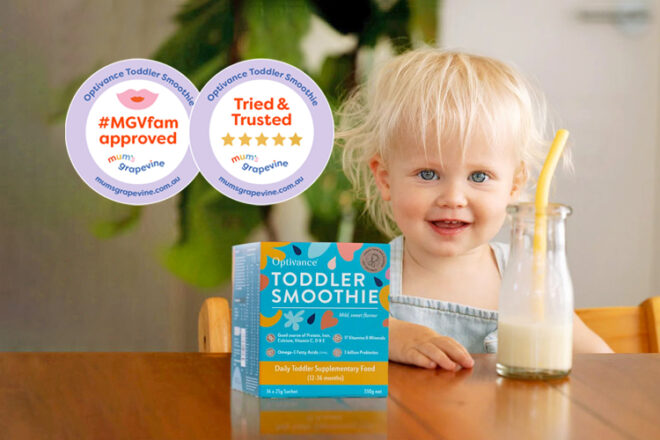 Mums recommend Optivance Toddler Smoothie
Worried your fussy eater isn't getting the nutrients they need to grow and thrive? We gave 50 mums with fussy eaters Optivance Toddle Smoothie to try at home – and their kids loved it.
Created by leading nutritional experts, the Optivance Toddler Smoothie is a convenient way of ensuring your little one gets all the nutrition they need to thrive, especially if they are going through a fussy stage.
Suitable for 12 to 36-month-olds, each daily sachet contains 10g protein and 50% of your toddler's RDI of iron, iodine, calcium, vitamins B6, B12, C, D and E plus omegas and probiotics.
Intentionally mild in taste, Optivance contains no artificial sweeteners, colours or flavours. Just add 180ml of water, and blend it with age-appropriate ingredients such as fruit to create flavours your toddler will love.
Available online at Optivance ($42).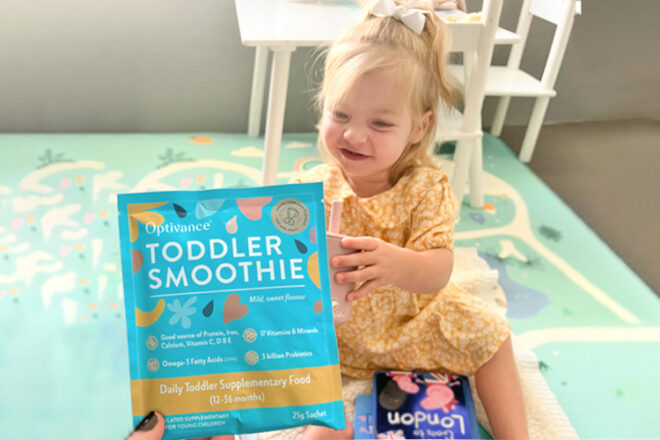 Three reasons we love Optivance Toddler Smoothie:
It gives peace of mind
One sachet contains 17 essential vitamins and minerals so when our kids are feeling a bit unwell or going through a fussy stage, we know they're getting 50% of their RDI of iron, iodine, calcium, B1, B12, C, D & vitamin E. They also include 10g of Protein, 40mg of Omega-3 Fatty Acids and 3 billion gut-loving Probiotics.
My child loves it!
Intentionally made with a very mild taste so you can add whatever fruits or flavours your child is liking that day! Or just add water if you're transitioning from milk for a very mild vanilla taste.
It's easy and convenient
It comes in a handy daily sachet that you simply tear open and pour into water. And it fits neatly into a nappy bag – for a quick meal on the go – or trip to nannies.

But don't take our word for it, we sent 50 samples to mums from our Mum's Grapevine Facebook Baby Groups to try the Optivance Toddler Smoothie for themselves and here's what a few of them had to say:
---
Chloe with her little grazer, Elsie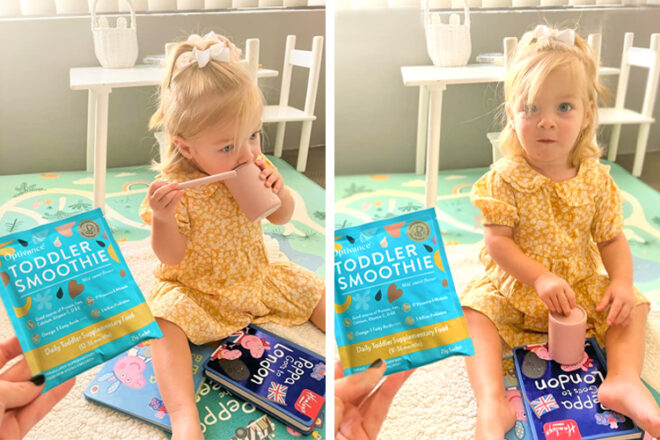 "Elsie is a very active and independent 18-month-old. She is a grazer and gets distracted often when we are faced with meal times! Smoothies on the go are a great source of fuel for us as we can pack in all of Elsie's favourite ingredients.
"Optivance Toddler Smoothie Sachets are easy to use and you can add them to super easy or more jam-packed smoothie combinations! Hide all the fruit and veg and know you're getting even MORE vitamins and minerals in every smoothie with these simple sachets! These were definitely a hit from this little miss!"
Elsie's favourite smoothie recipe:
– Banana
– Berries
– Peanut Butter
– Optivance Toddler Smoothie sachet
– Water
Blend all the ingredients together and enjoy!
---
Sam with teething toddler, Mackenzie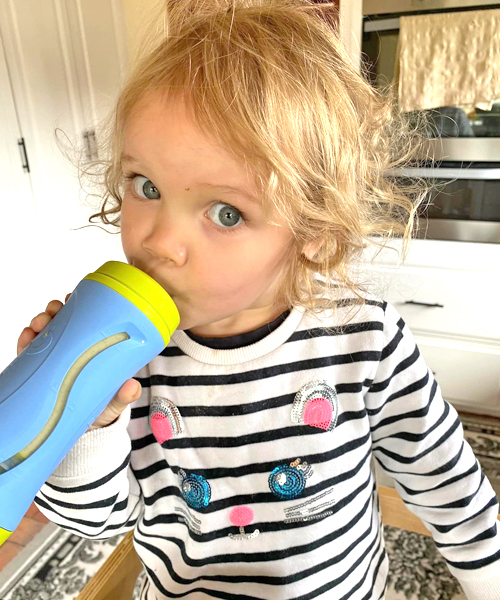 "Receiving a free sample of the Optivance Toddler Smoothie couldn't have come at a better time! Poor Beanie has all four canine teeth coming through all at once and her second set of molars are following close behind, so trying to get her to eat anything other than fruit is a real struggle at the moment!" Sam posted in our Autumn 2021 Baby Facebook Group.
"The instructions recommend mixing with fruit and water, but as fruit is the one thing we never struggle to get her to eat we thought we'd try a few different things to get some extra nutrition into her, along with the smoothie sachet.
"It was a hit! She kept asking for more. Think I'm going to stock up to have some on hand for those times when we just can't get her to eat and need to make sure she's getting all the goodness she needs. Highly recommend!"
Mackenzie's favourite smoothie recipe:
– Banana
– Rolled oats
– Frozen spinach
– Honey
– Greek yoghurt
– Water
– Optivance Toddler Smoothie sachet
– Water
Blend all the ingredients together and enjoy!
---
Maddie with fussy toddler, Sonny.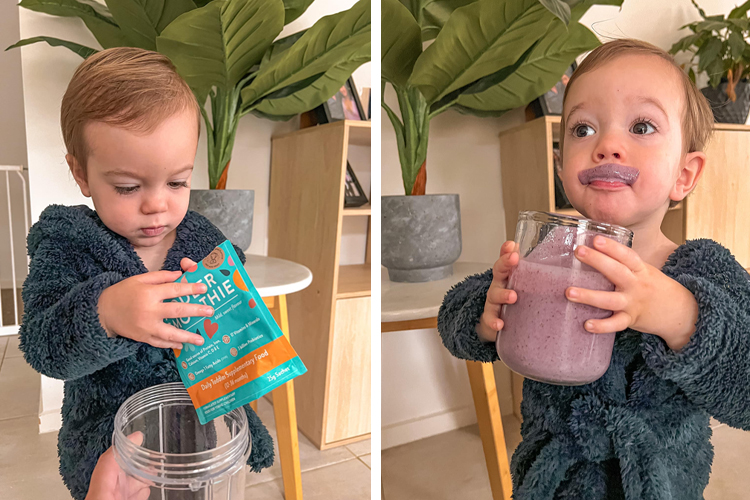 "Sonny is your typical toddler – lives off fruit (hates veg), toast, rice bubbles and pretty well the "beige diet". The only way I can get veggies into him is through really good hiding or smoothies! So naturally, Sonny loved this smoothie using the Optivance Toddler Smoothie!" Maddie posted in the Mum's Grapevine Winter 2022 Facebook Baby Group.
"I love all the ingredients, as he's definitely not getting enough of the good essential vitamins and minerals with his fusspot toddler diet, and the mild vanilla taste."
Today's smoothie was made from:
– 1 sachet Optivance Toddler Smoothie
– 1/3 zucchini
– small handful of spinach
– frozen cauliflower rice
– frozen mixed berries
– frozen banana
– chia seeds
– oat milk
– water to thin
"He SMASHED it and I had the leftovers – and it tasted delish! Definitely love this handy option to add some more nutrients to Sonny's little body."
---
Kirra with toddler Rosalie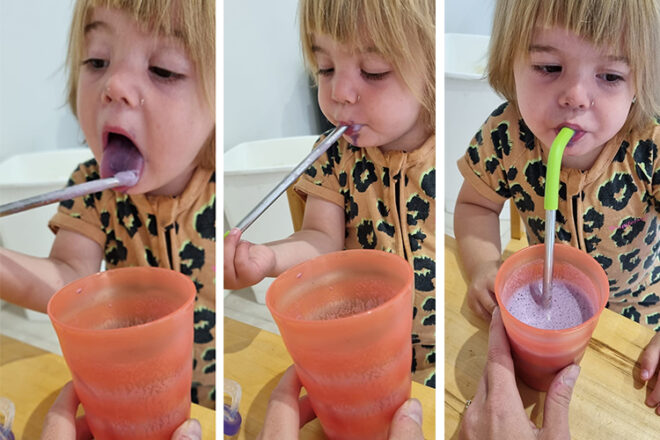 "Rosalie is a meat and potato girl, and I have to blend up any vegetables to hide in meals so she'll actually have them, so it was nice to know these smoothie sachets have 17 vitamins and minerals". Kirra posted in our Spring 2021
"I added the sachet to 180mls of water and a handful of frozen berries and blended it up with a cup and straw."
Rosalie's favourite smoothie was made from:
A handful of frozen berries
180mls of water
"Rosalie loved the smoothie so much she had a tantrum when she was done!"
---
Sophie with fussy eater Gracie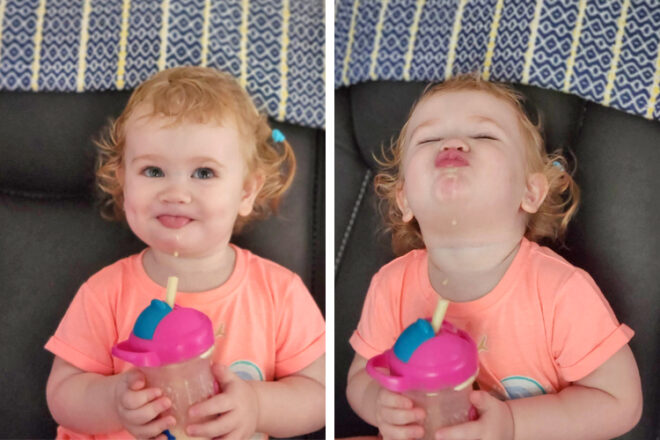 "Packed with 17 vitamins and minerals, Gracie is getting the sustenance and nutrients she needs, even when she doesn't feel like eating lunch or dinner. This is a relief as Gracie is one of the biggest fussy eaters on the planet. One day she could be obsessed with chicken tenders the next it's the dogs' biscuits." Sophie posted in our Spring 2021 Facebook Baby Group.
"Gracie thoroughly enjoyed her smoothie, she even finished the whole bottle. I'll be adding Optivance Toddler Smoothie to my regular shopping list.
"I made it with water alone as Gracie is very fussy with her fruits."
---
Laura with teething Grace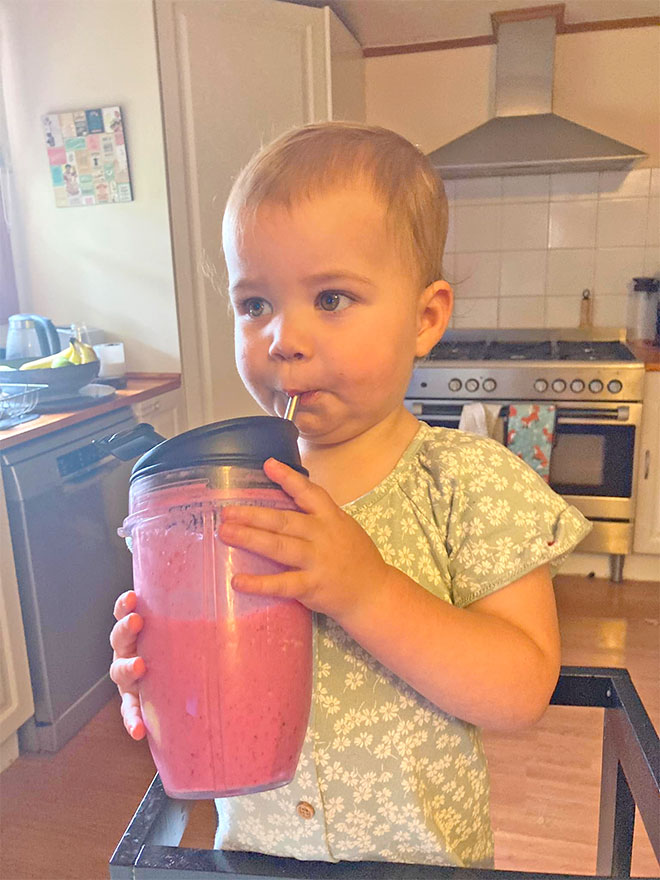 "Optivance toddler smoothie is a lifesaver whilst my daughter is teething! I love adding them to her smoothies & making sure she is able to get a balanced meal!"
Grace's favourite smoothie recipe:
– Frozen Raspberries
– Frozen Pink Dragonfruit
– Frozen Zucchini
– Optivance Toddler Smoothie sachet
– Water
Blend all the ingredients together and enjoy!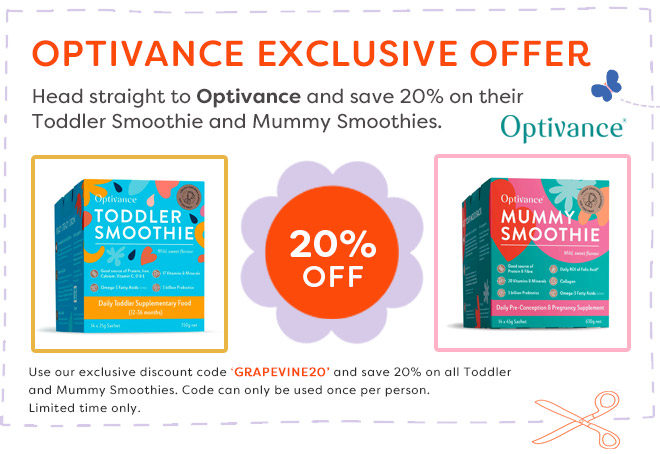 These Optivance Toddler Smoothie sachets have been provided by Optivance for the purpose of sampling and review. All reviews submitted are the honest, authentic and genuine sentiments of the Mum's Grapevine Facebook Group members (#MGVfam) and have been published with permission.
Optivance Toddler Smoothie is available online at Optivance Nutrition ($42).