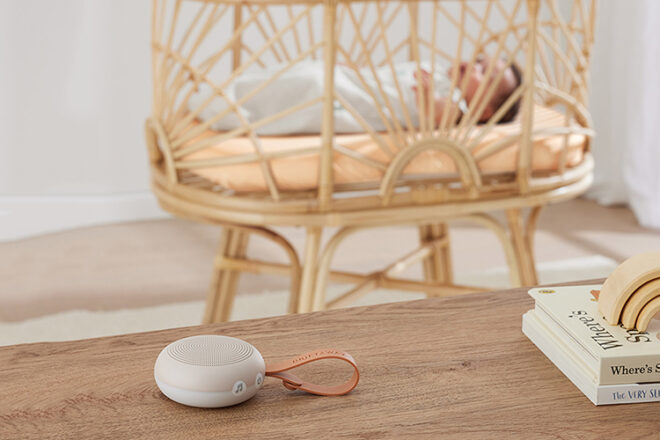 As a new parent, you know just how hard it can be to get your little one to settle and snooze, especially with noisy neighbours and their barking dogs. That's why I decided to try out a white noise machine for my baby, and boy was it a game changer.
In this roundup, we'll be sharing some of the best white noise machines currently available in Australia that we found helped get babies to sleep. Not only does the consistent and calming sound of white noise soothe our little ones and encourage better sleep, but it also helps to block out other sounds, which is especially handy when you have other kids running around the house.
To get a better idea of what to look for in a white noise machine that's suitable for babies, we asked the lovely members of the Mum's Grapevine Facebook Baby Group to share their recommendations and what they wish they knew before buying one. Here's what they had to say…
Tips for buying a baby white noise machine
Is it specifically designed (therefore safe) to use with babies?
Can the noise sound level be adjusted?
Does it come with a safe way to attach it to the pram or cot?
Are the batteries rechargeable?
How many different sounds does it have?
Can it play continuously all night?
Will it turn itself off after a specific time?
Does it have an app?
What other features does it do?
Can I record my own voice or heartbeat?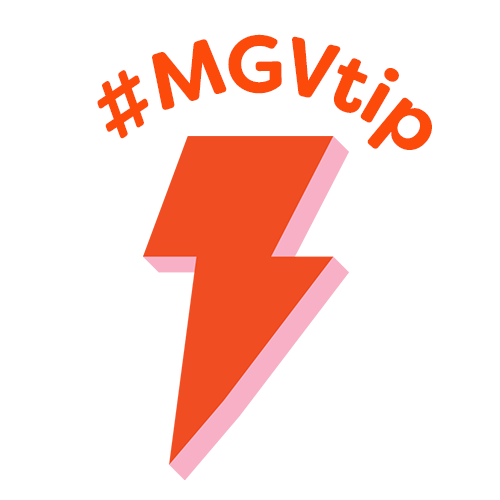 If you find yourself out and about during the day you might prefer a portable noise machine that you can attach to the side of the pram or in the car.
OUR PICK OF THE BEST
13 White Noise Machines Babies Love
To help you find the perfect noise machine to sooth and settle your baby, we've put together this list of our favourite brands to help get you started in your search.
In no particular order, here are thirteen of our favourite baby white noise machines for 2023.
Sleepmac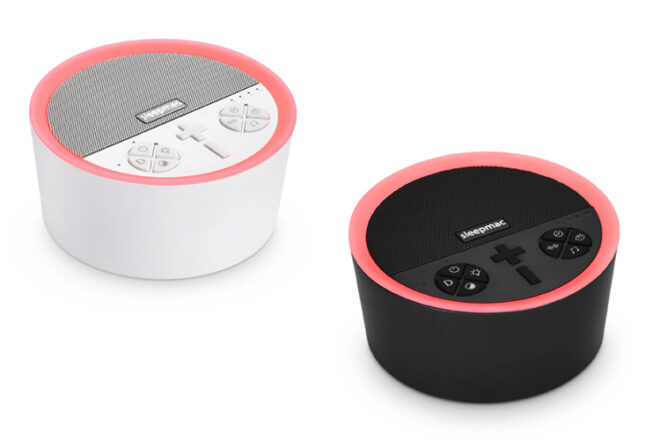 Preloaded with 39 high-fidelity melodies and sounds, the Sleepmac Pink Noise Machine and Night Light offers 12 hours of constant play thanks to the built-in USB-rechargeable battery. We love the compact size and choice between snow white and charcoal.
---
Nodiee

Preloaded with 34 sounds and hundreds of colour options, the next-generation Nodiee Sleep Assist Smart PRO has it all. Featuring a light control touch panel, child lock, and smartphone connectivity via the app. We love that it now includes a Sleep Trainer to teach little ones when it's ok to get out of bed.
---
ergoPouch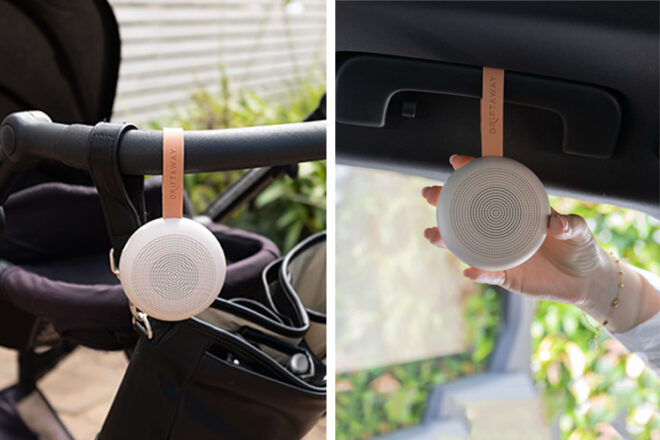 Featuring seven clean and clear soothing sounds, the ergoPouch Drift Away is the perfect addition to any sleepy time routine. Its lightweight and easy-to-use design creates a relaxing atmosphere and we love the impressive 48-hour battery life on a single charge.
---
Oricom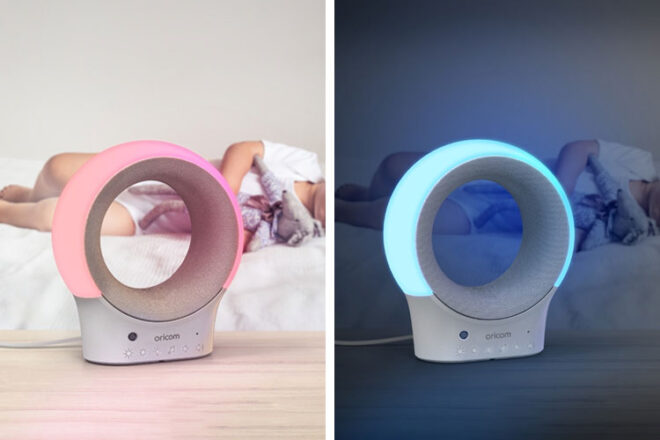 With its 7-colour night light and sleep training feature, the Oricom Eclipse assists in creating a personalised sleep routine that will help you and your baby get the sleep you need. With WiFi connectivity, we love that we can also use it as an audio monitor.
---
Three Sheep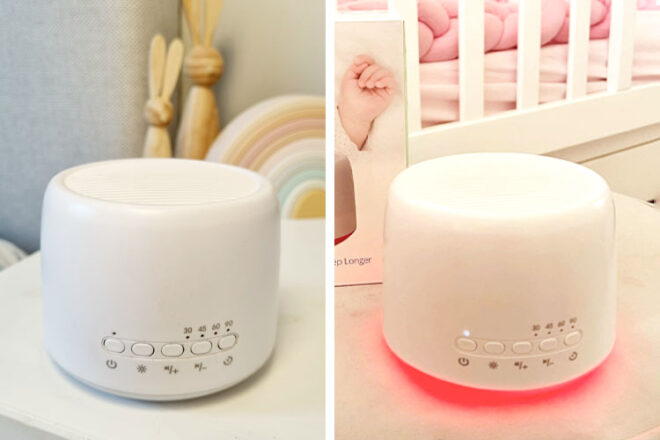 With 36 sound options and smart sound memory, the Three Sheep Sound Therapy Machine has both electric (via USB) and battery power options. The optional red night light was a feature we particularly loved to create a relaxing sleep environment for all ages.
---
Kooee & Co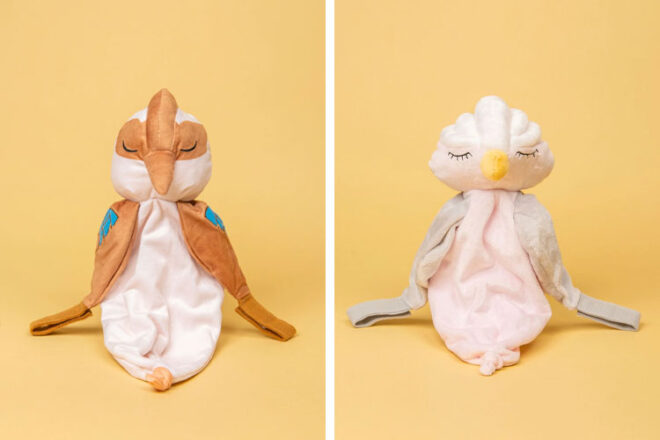 Meet Barry the Kookaburra and Gertie the Gallah, created by Kooee & Co to combine dreamy sounds and cuddly mates at bedtime. We love that the characters are all designed by an Australian indigenous artist and the option to be personalised is a nice touch.
---
Tommee Tippee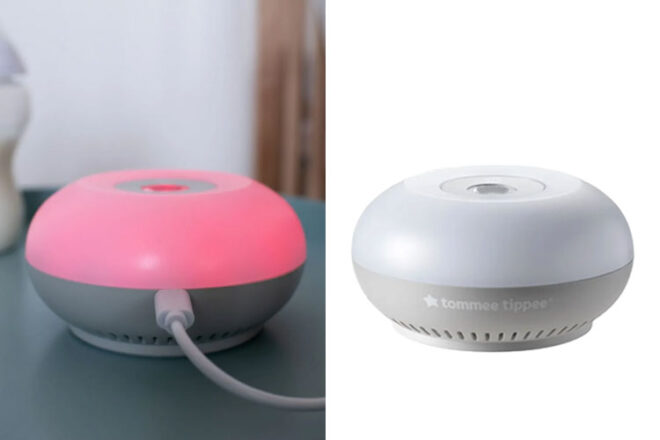 Packed full of intelligent and innovative technology, the Dreammaker Baby Sleep Aid is designed to simulate ideal sleeping conditions rather than stimulate baby. Featuring Pink Noise, Red Light, and CrySensor, this machine will help you to relax your bub ready for sleep.
---
Skip Hop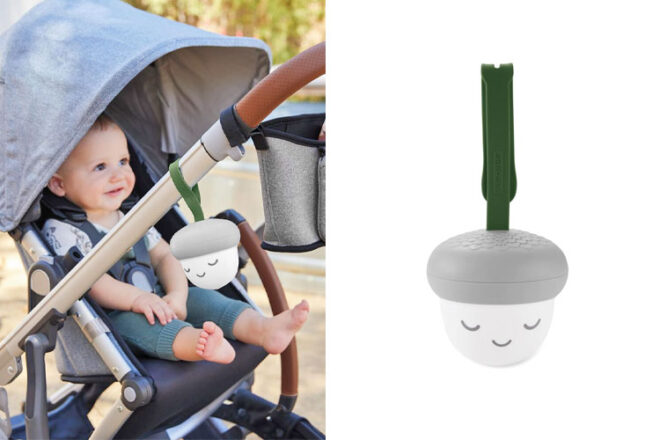 Nightlight and soothing sound machine in one, this cute Acorn friend from Skip Hop is a must-have. Featuring three songs, four nature sounds and three white noise options, the rechargeable design and adjustable strap let you attach it to your cot, stroller or anywhere you go.
---
Riff Raff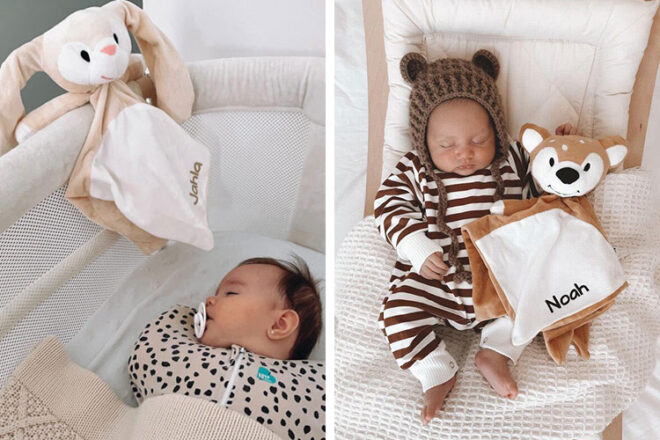 Through the use of sound, Riff Raff Sleep Toys are designed to help promote healthy sleep habits with white noise and lullabies. Made from ultra-durable, soft and washable plush, babies bond with these comforters and we love that they come in six characters to collect.
---
Sleepytot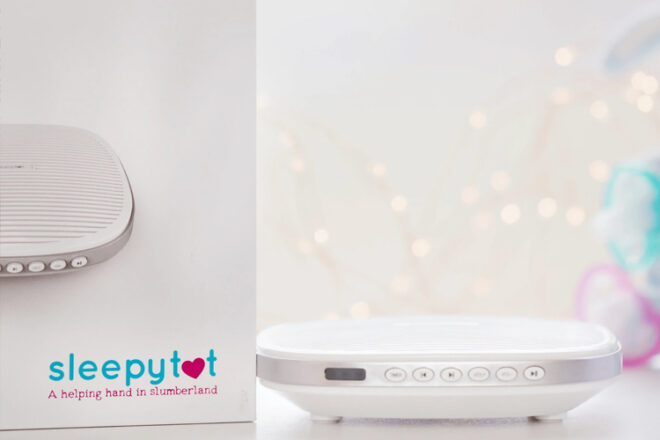 Suitable for newborn to elderly, Sleepytot White and Pink Noise Therapy offers 20 soothing sounds including cracking fire, ticking clock, frogs, birds, womb and more. We love that it has ten hours of soothing noises thanks to its built-in USB-rechargeable battery.
---
Welcare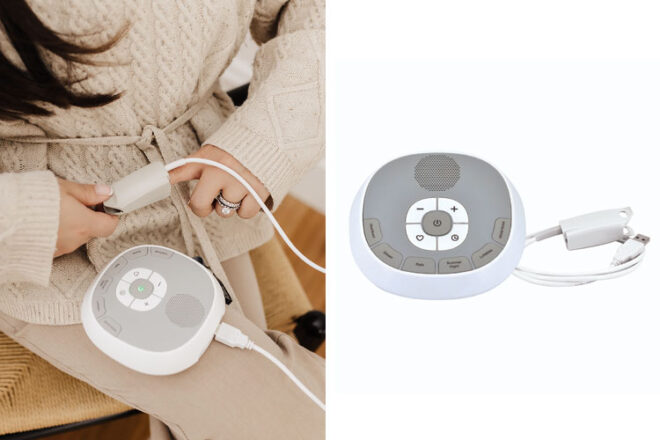 Compact enough to take everywhere, the Welcare Sound Machine records Mum's own heartbeat for continuous playback to help soothe and settle baby. We loved that we could adjust the volume (including mute) and it comes with a convenient hanging strap so we could be attached it to our pram.
---
Rockit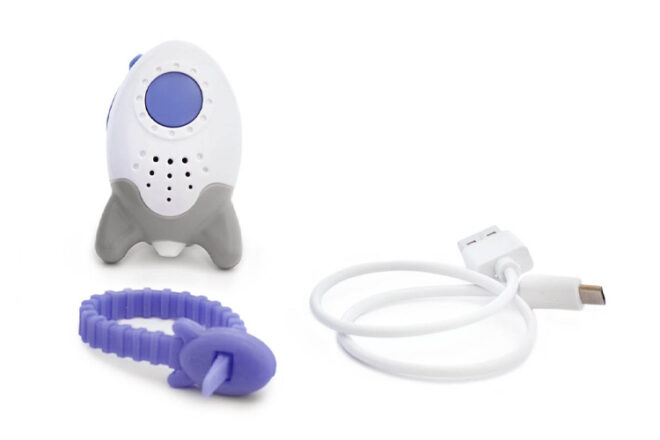 Whether you stand it, clip it or strap it to the stroller, the Rockit Wooshh is ready to lull little ones to sleep with eight advanced sounds recorded on a premium sound chip. We're particularly impressed with the outer space noise inclusion courtesy of NASA.
---
Skip Hop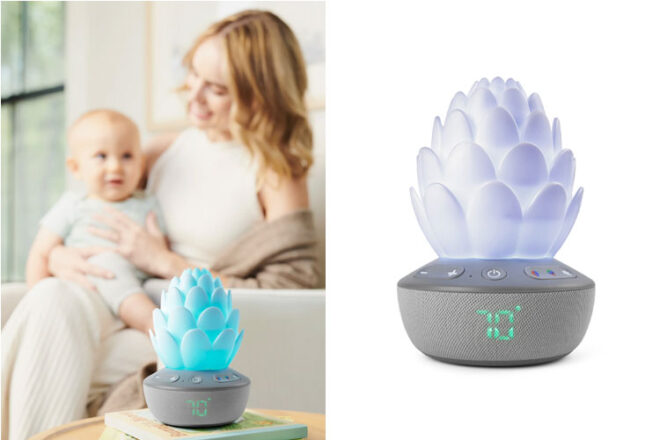 Designed to automatically respond to babies' cries, the Skip Hop Terra Soother comes with eight soothing melodies, sounds, and a voice recorder for inputting your own messages. Also doubling as a night light, we loved the handy thermometer feature that let us check at a glance baby's room is the perfect temp.
---
Do white noise machines help babies sleep?
According to one study conducted by the Archives of Disease in Childhood 80 percent of newborns were able to fall asleep after five minutes of hearing white noise. So we thought we'd ask the huge Mum's Grapevine Facebook community if a white noise machine helped their babies fall asleep and this is what they had to say …
"Yes! I got one so he doesn't wake/get interrupted by noises like the neighbours mowing their lawn, or the vacuum cleaner etc." – Rebecca
"I used one from when she was 6 weeks old and it worked wonders!! Had lots of different types of white noise. I stopped using it when she was around three and it was amazing!!! Worked extremely well for us!" – Hannah
"We do!! It's a life saver. We have twins so if one wakes up and cry, they wake up the other one. White noise helps prevent that!" – Caroline
"Every night I use it to sleep. Never mind my son… it puts me to sleep instantly." – Courtney
"We use it daily and it helps so much with blocking out other noises inside or outside the house." – Dana
"Totally helped with linking sleep cycles when she was young. And I still use it for my 2.5 year olds day nap (not at night) just to help block out background noise" – Sarah
"We have two in our house… I use one for my son who is 7 and has never been a great sleeper but since getting one its improved 100%. And I have the same machine for my husband as he's a shift worker and he uses it for day sleeps. The one I have is also an oil diffuser so we diffuse lavender to help sleep too." – Kate
FAQs: Your questions answered
It can be tricky deciding what type of noise machine is best for your family, so to help you out we've answered some of your most common questions.
What is a white noise machine?
A white noise machine is a device that produces a steady and soothing background sound to help mask or block out other noises in the environment. It's often used to promote relaxation and improve sleep, as well as reduce stress and anxiety.
How loud should the white noise be for babies?
The volume of the white noise should be kept at around 50-60 decibels to be a safe level for babies. That's roughly around the same volume as a soft shower or dishwasher.
What type of white noise is best for babies?
Babies tend to prefer sounds that mimic the whooshing and rhythmic noises they heard in the womb. This can include white noise, pink noise, or other calming sounds like rain or waves.
What's the difference between, white, pink and brown noise?
White, pink, and brown noise are different types of sound frequencies that can be used to create different types of white noise. The main difference between them is the frequency distribution of the sound waves:
White noise: is a mix of all frequencies eg static
Pink noise: has more energy in the lower frequencies eg steady rainfall or a waterfall
Brown noise: has even more energy in the lower frequencies eg a large fan or an airplane engine
---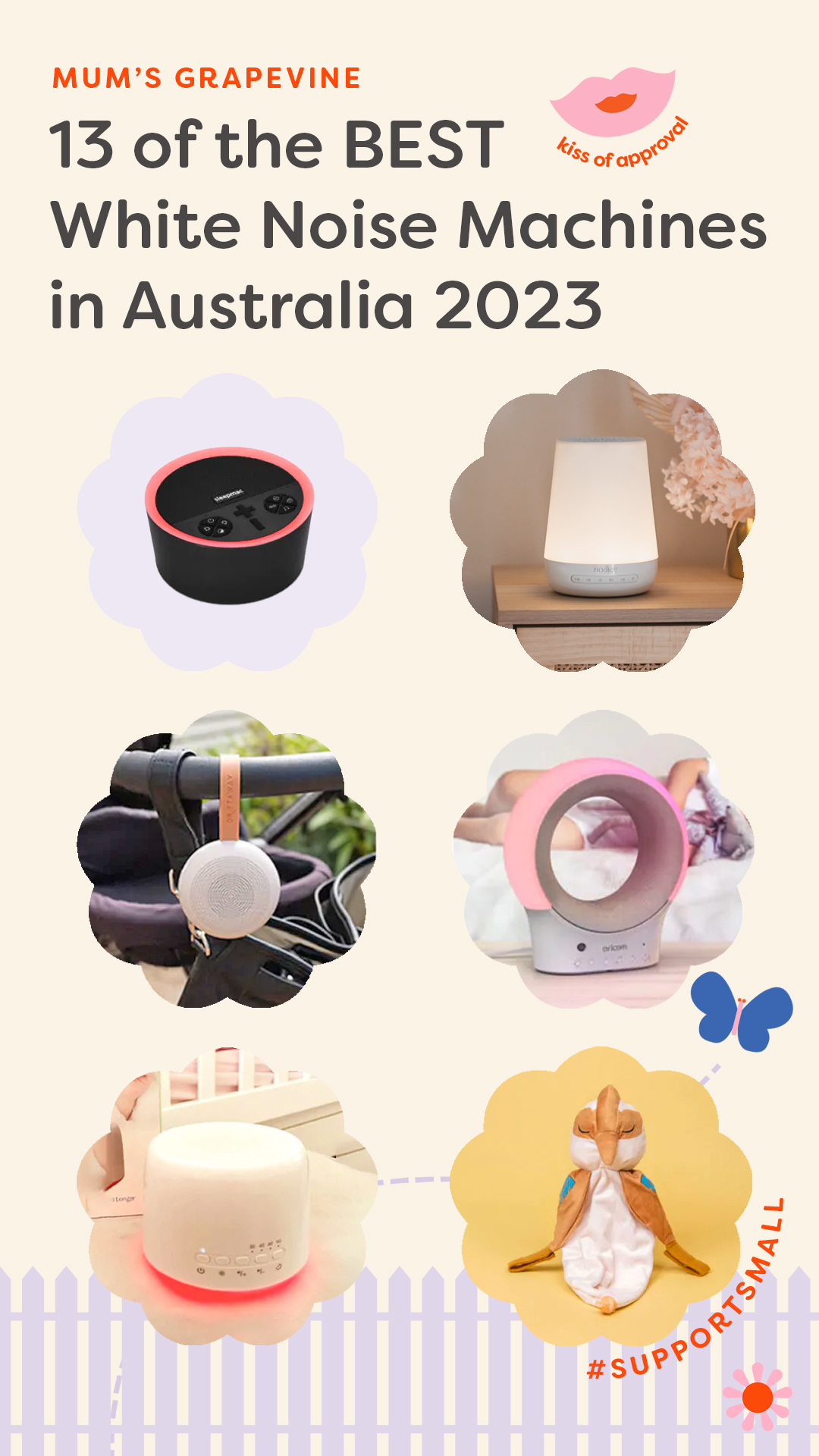 Know a machine we should add to our list? Contact us and let us know, we've been collating Australia's best baby products into handy lists for over 15 years and we're always happy to support new brands and businesses.
Read more…
Ask other mums
Looking for a device to play white noise and still not sure if any of these are right for you? Join the huge #MGVfam in one of our private Facebook baby groups and ask thousands of other mums with babies the same age as yours which ones they recommend. Join today!
We want you to know
At Mum's Grapevine, we're a team of passionate mums (with 19 kids!) and over 15 years of experience researching and writing about all things baby and parenting. Our reviews of recommended products, like the ones in this post, may include paid inclusions, but we promise to only feature products that we truly believe in and have used or seen ourselves. We want to ensure that you, our readers have access to the latest and greatest products in the parenting world, and we're committed to maintaining our high standards of quality and honesty. See our Disclosure Policy.
Thank you for trusting us to be your go-to source for all things baby-related.