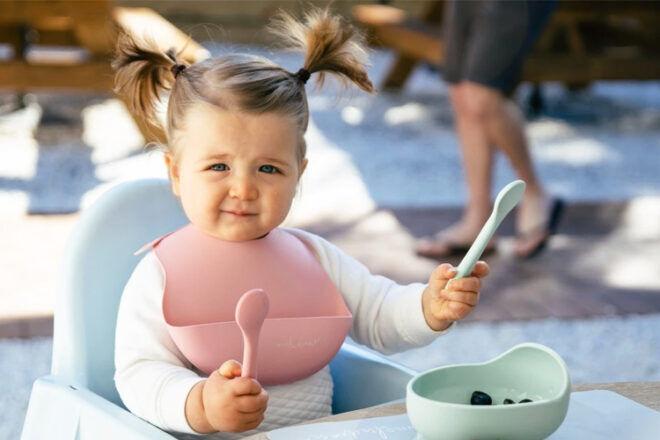 Feeding my son solid foods for the first time was one of the most exciting moments in his first year. Between all the research and carefully decided food list, I hadn't considered toddler cutlery. After quickly realising an adult-sized dessert spoon might be too big for a six-month-old mouth, it was time to start searching.
Perfectly portioned kids' cutlery sets are the ultimate tools for successful self-feeding. They make mealtime exciting, teach newbies how to use utensils and encourage fussy little humans to eat their veggies.
But mealtimes don't have to be filled with conflict, complaint and ongoing struggle. Half the battle is finding appropriate baby spoons for important first foods and kids' cutlery that tots can actually hold – and luckily, we've done that bit for you.
What to look for when buying kids' cutlery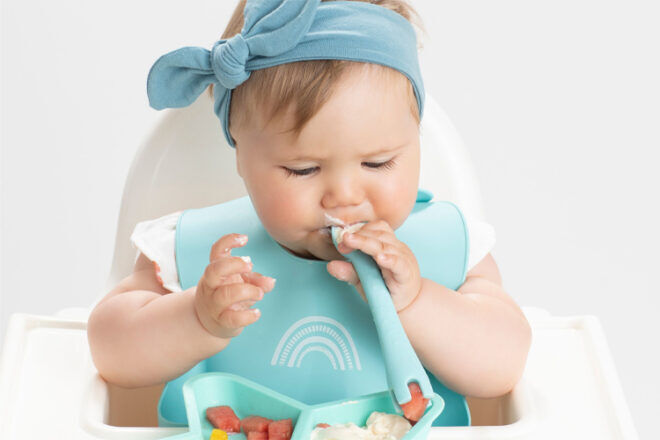 Before you decide what to buy, you need to know what you can buy and why. We've answered some basic questions to help you understand what's available, and what you might need.
Is it essential: No
How much will it cost: $3 to $50
How long will you use it: 1-3 years
Would you purchase before baby arrives: No
Baby spoons & kids' cutlery features to consider
Weight and Size – It takes time for hungry munchkins to master the coordination required for self-feeding, so look for lightweight and compact cutlery that fits in their mouth. The easier the cutlery is to grasp and use, the more likely they'll enjoy the eating experience.
Grip – Good grip helps little fingers grasp cutlery securely and hone their fine-motor skills. It also helps to prevent baby spoons and forks from sliding around the table.
Materials: Rounded, non-toxic plastic and silicone baby spoons are ideal for the first stages of self-feeding because they are gentle on babies' mouths. Then, once tots become confident self-feeders, stainless steel sets are a great transition stage before moving on to family cutlery.
Accessories: Some brands of kids' cutlery come with convenient storage units for when you're on the go, and others are part of a range that includes matching plates, bowls and cups.  Don't forget to grab some bibs too!
OUR PICK OF THE CROP
19 easy grip kids' cutlery sets
To help you find the best forks, baby spoons and knives for your hungry tot, we consulted our huge Facebook community of Australian mums and listed their most popular choices below.
In no particular order, here are 19 of the more popular cutlery sets for kids.
Done by Deer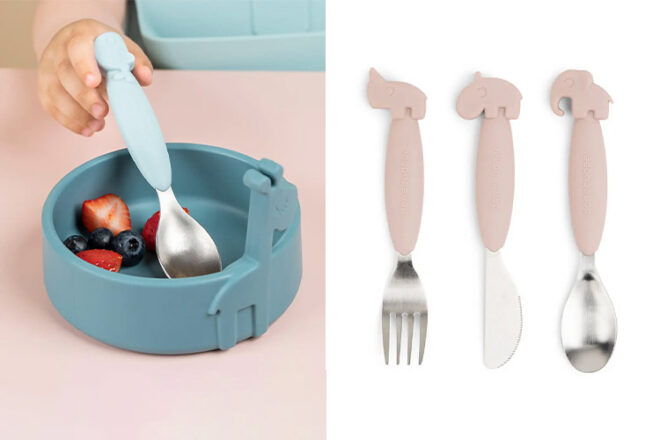 From a Danish brand that specialises in fun, contemporary designs comes a kids' cutlery set to melt hearts. We love that the fork, spoon, and knife set feature silicone easy-grip handles with mini animals and stainless-steel tips that make learning exciting and fuss-free.
---
Mini & Me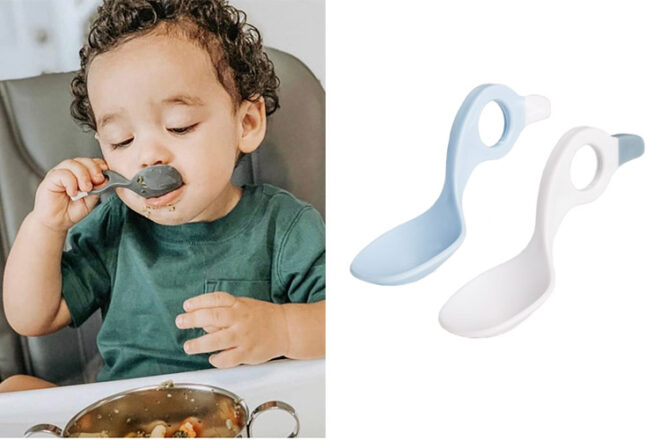 Lightweight and PBA-free, these bird-themed baby spoons are fab little helpers for improving fine-motor skills. We loved that they offer six different grips to help train little fingers to manoeuvre cutlery properly. Whether bright or neutral, Mini and Me have the colourway for you.
---
Mushies
Available in a stunning range of 11 different colours, these clean and simple Danish sets are the perfect addition to mealtimes in any modern home. Built to last from eco-conscious materials, we loved that they're both dishwasher and microwave-safe for a quick and easy clean.
---
Montessori Mates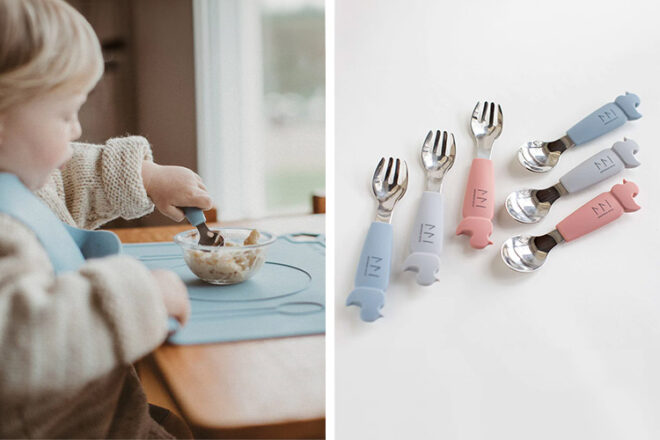 With a thick silicone handle ergonomically designed for little hands, we loved the stainless-steel cutlery for the perfect transition to full size cutlery. This cutlery set is not only super appealing for even the pickiest of eaters but is also dishwasher friendly (which makes it mum friendly too!)
---
Wild Indiana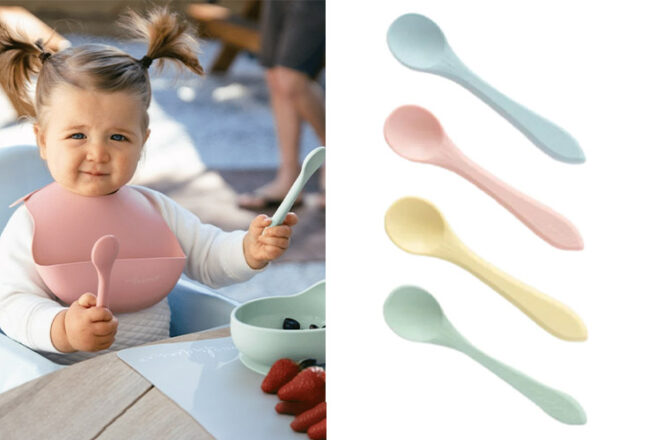 In a choice of six glorious shades, these popular silicone baby spoons are gentle on their little hands and easy to hold. We loved that we could pair them up with suction-capped bowls in matching colours for a crazy-cute first dinner set.
---
b.box

Designed with a kids' occupational therapist, the set includes a deep scoop spoon with an angled handle and a fork with three blunt prongs to fit little mouths. We loved that each set comes with a carry case for an easy travel accessory.
---
Baby Bjorn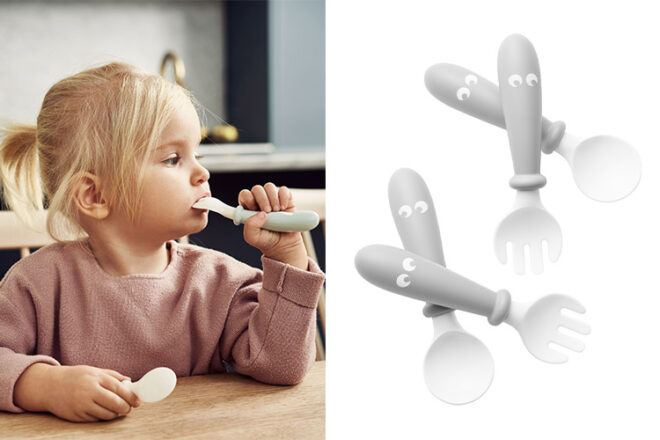 With four adorable and chunky pieces, this toddler cutlery set has you covered throughout the toddler stage. Soft and flexible, we loved that they are made of the safest BPA and PVC-free materials and come in a choice of three calming colours.
---
Grabease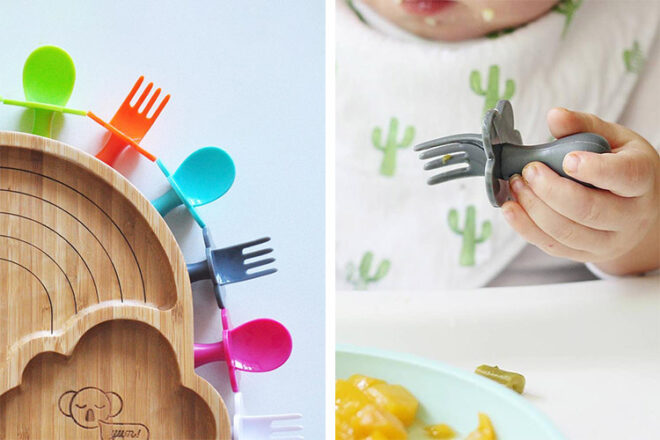 Endorsed by professionals, these short-handled utensils allow for our little ones to manage their meals easier and enjoy the process of eating more. Equipped with choke guards, they are stain-proof and even dishwasher safe.  We loved that they come with their own travel pouch for easy picnics.
---
Ali + Oli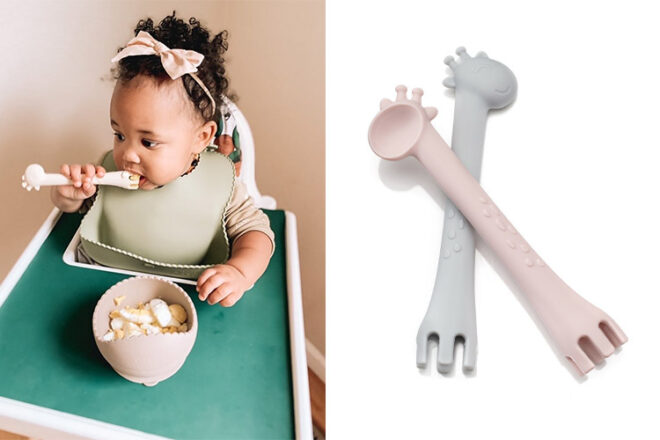 Bendy, colourful and oh-so-cute, these little learning toddler sets are going to go down a treat with all little eaters. We loved the raised surface spots on the spoon which helped with those fine-motor skills, while the legs of the giraffe worked perfectly as a three-dimensional fork.
---
Haakaa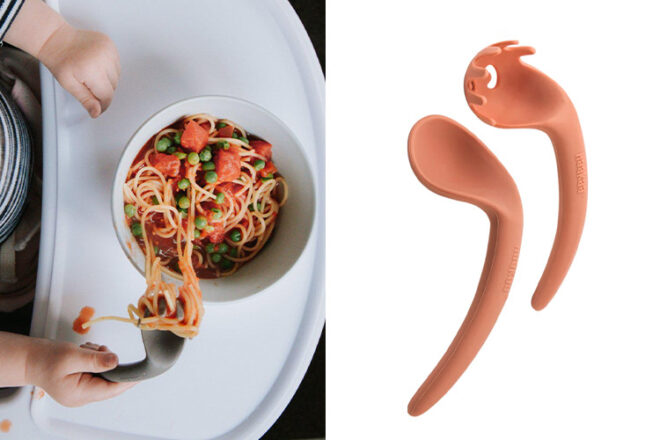 They may look like miniature pasta servers, but these ergonomic toddler cutlery sets are specially designed to help our little loves scoop their food by themselves. We loved that these sets include a silicone fork and spoon, all you need to do is choose from their rainbow of shades.
---
Nordic Fusion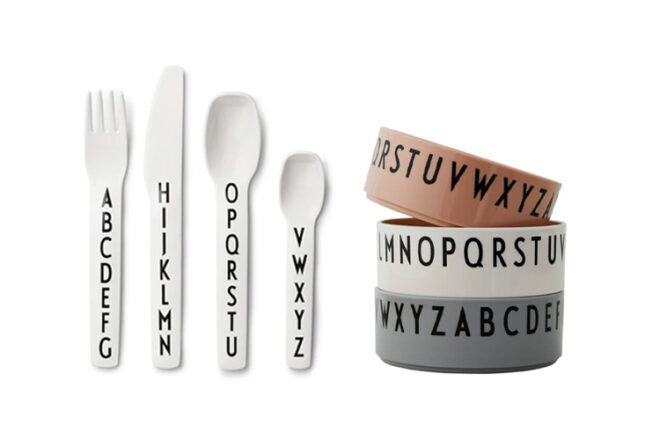 Looking for the perfect cutlery set to sing along with? We loved that this brand uses a clever combination of simple, kid-friendly design and educational themes. Including four pieces and every letter of the alphabet between them. Pair these with matching tableware for an adorably educational dinner set.
---
Beaba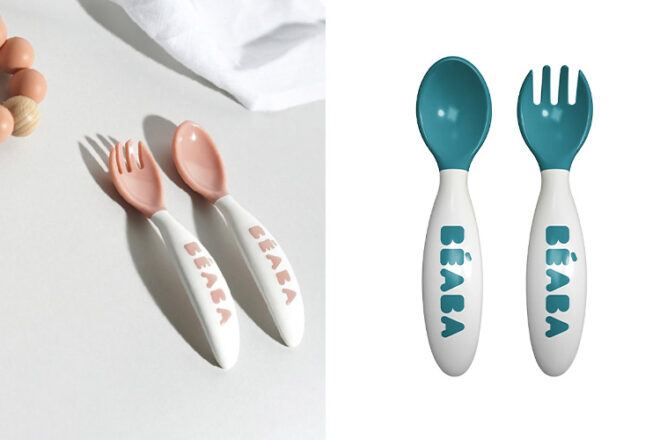 This sweet little duo is specifically created for those little ones who are ready to learn the art of self-feeding. Available in the sweetest shades, we loved that each piece has a rounded shape to protect their young gums. Each set comes with its own perfect storage case.
---
Olababy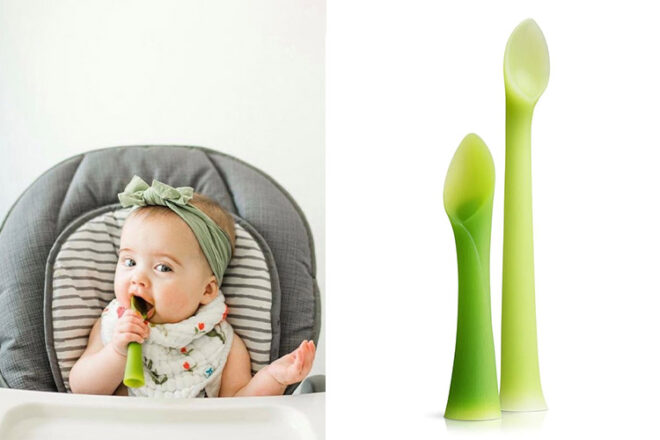 Featuring one of the most flexible baby spoons and designed so that bubs can cut, slice, mash and scoop with ease. Dishwasher-safe, BPA-free, and soft enough to double as a teether, we loved that with options for both parent and self-feeding spoons, they'll be your newest feeding necessity.
---
Little Woods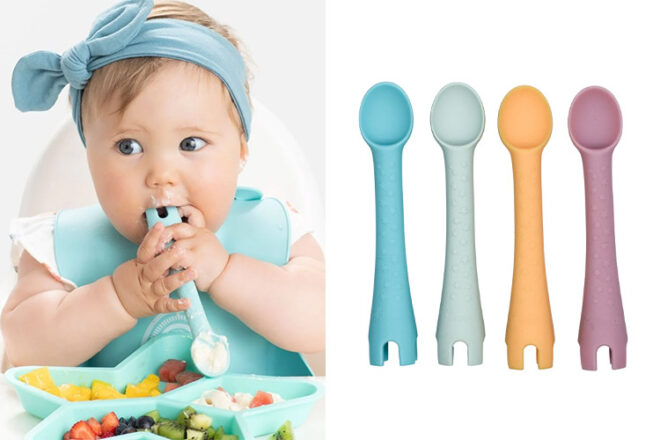 It's a fork and a spoon in one perfect toddler tool. Made from chemical-free silicone in a range of colours, we loved that First Tensils' clever design enabled our little foodies to stab and spoon their meals independently and without having to manage multiple utensils.
---
We Might Be Tiny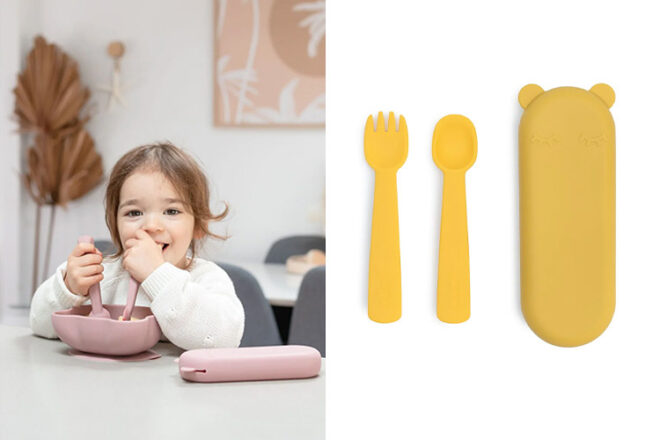 Made with a soft silicone baby spoon and fork, they provide bubs with delicate tools that facilitate easier eating. We loved that the handy travel case meant we could take our cutlery with us whether picnicking in the park or eating chips by the beach.
---
Replay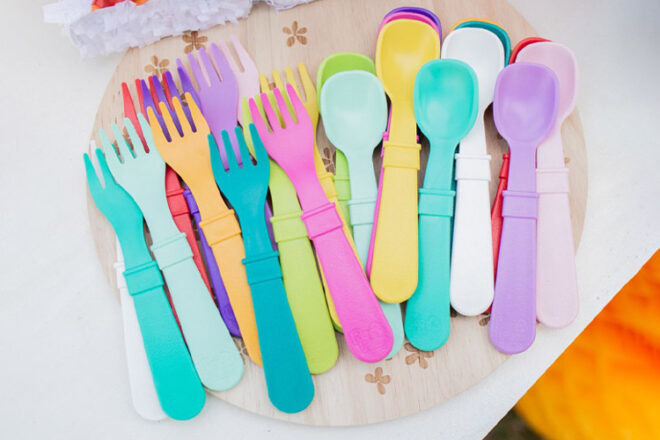 Conscious of your carbon footprint? We loved that everything in this set is made from recycled milk jugs, not only are they a great choice for toddlers learning to self-feed, but they are kind to our environment, making them a great way to introduce recycling to our families.
---
Constructive Eating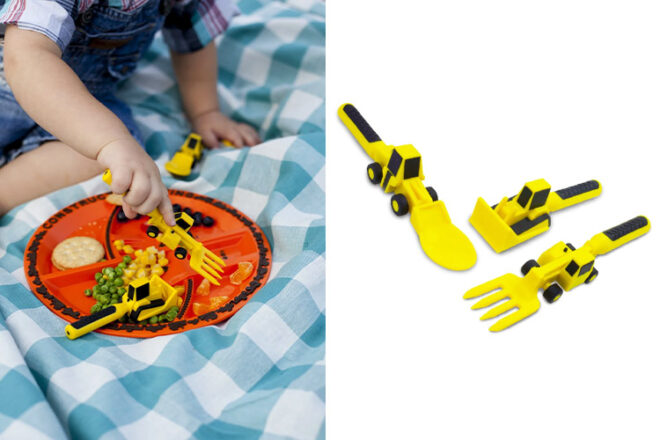 Eating can be tough work, lots of shovelling and moving food about. Enter some super cool constructive vehicles to help your little ones manage the heavy lifting. We loved how much fun these add to mealtimes, never before had it been so exciting to finish our plates.

---
Nourishing Bubs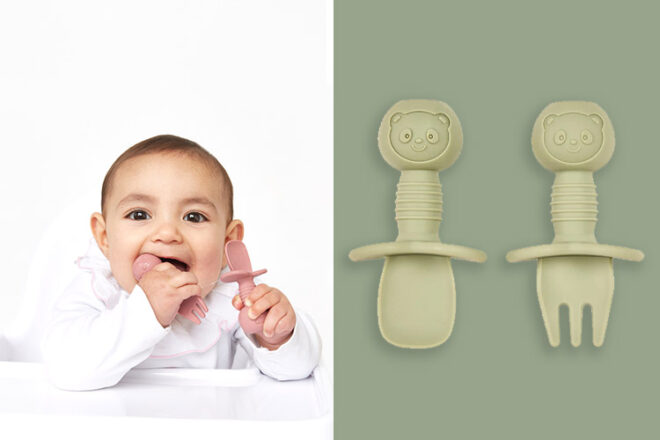 You can bet that a small business that focuses on delivering ready-made and locally sourced foods around Australia would know their stuff about cutlery. We loved that not only are these bears super cute, but their short handles and guard make it perfect for first eaters.

---
Nibble and Rest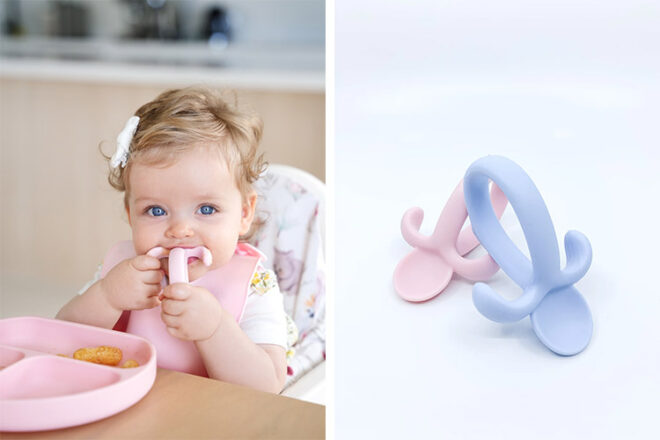 One of the leading names for first food tracking, Nibble and Rest have outdone themselves with the Nibble Spoon, specifically designed to minimise choking with their innovative wide handle. We loved that beyond it's amazing safety standards, with a continuous silicone design, it was an easy clean.

---
FAQ: Your questions answered
What is baby cutlery?
Baby cutlery is specially designed utensils made for infants and toddlers to use during mealtime. Typically smaller, softer, and easier to handle than regular adult cutlery they are much easier for smaller hands to use.
What age can a baby start to use cutlery?
As soon as they start self-feeding, which is typically around 6-8 months of age. Introducing cutlery early on allows babies to be actively involved in mealtime, fostering a sense of independence and self-confidence. However, it's important to consider your child's development and readiness for utensils, as every baby progresses at their own pace.
Is baby cutlery safe for babies?
Yes, baby cutlery is designed with safety in mind. It is typically made from materials that are safe for babies to use, such as BPA-free plastic or stainless steel. Look for rounded edges and smooth surfaces to avoid any potential injuries during feeding.
How is baby cutlery beneficial for babies?
Using cutlery encourages fine motor skills and hand-eye coordination, helping babies gain independence in their feeding journey. They also allow babies to practice scooping, poking, grasping food, encouraging them to explore different textures and tastes.

Know any baby cutlery we should add to our list? Contact us and let us know, we've been curating Australia's best baby products into helpful lists for over 15 years and we're always happy to support new brands and businesses.
Read next
Ask other mums
Looking for a baby cutlery set and still not sure if any of these are right for you? Join the huge #MGVfam in one of our private Facebook Baby Groups and ask thousands of other mums with babies the same age as yours which ones they recommend. Join today!
We want you to know
At Mum's Grapevine, we're a team of passionate mums (with 19 kids!) and over 15 years of experience researching and writing about all things baby and parenting. Our reviews of recommended products, like the ones in this post, may include paid inclusions, but we promise to only feature products that we truly believe in and have used or seen ourselves. We want to ensure that you, our readers have access to the latest and greatest products in the parenting world, and we're committed to maintaining our high standards of quality and honesty. See our Disclosure Policy.
Thank you for trusting us to be your go-to source for all things baby-related.
xoxo