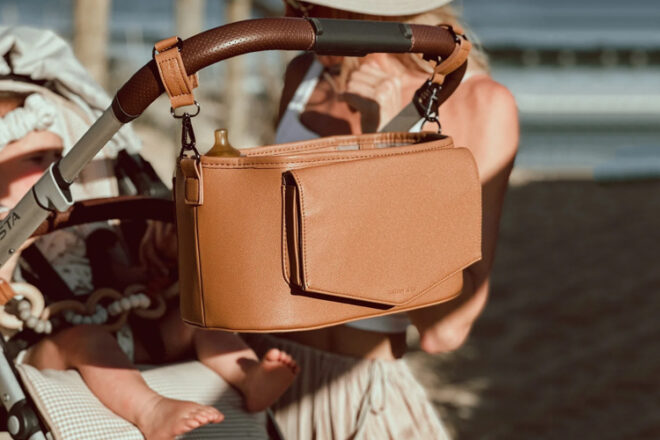 You've heard that ol' saying, "babies come with a lot of stuff", well turns out it's true. I used to head out with my baby and I'd either forget something or have to rummage around in the bottom of my nappy bag to find what I needed. That was until I discovered a Pram Caddy, it's just the pram bag I needed to keep everything organised and within easy reach when heading to the shops.
From chic, faux-leather beauties to ones that double as compact nappy bags, today's modern pram bags come with more compartments and pockets than ever before. And having a pram oganiser puts all the nappies, changing mats, dummies, your phone and car keys all in easy reach while you're on the go.
While all of the best Pram Caddies help with storage and organisation, their designs vary greatly between brands.
What to look for when buying a Pram Bag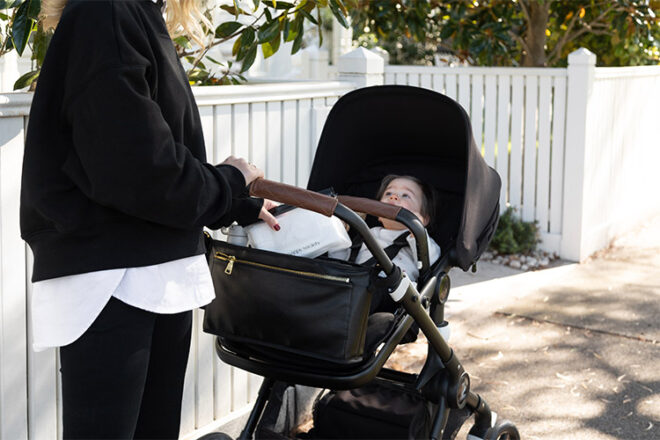 Before you decide what to buy, you need to know what you can buy and why. We've answered some basic questions to help you understand what's available, and what you might need.
Is it essential: No
How much will it cost: $30 to $100
How long will you use it: 1-4 years
Would you purchase before baby arrives: No
Accessories available: Shoulder strap, pram clips, wipe case, dummy case.
Pram Caddy features to consider
Shoulder strap – A quality shoulder strap makes taking your pram essentials with you convenient and easy.
Bottle holder – Whether you want to securely carry a few bottles for baby or an iced tea for yourself, having a functional bottle holder means no more leaks, drips or icky messes to clean up.
Zip opening – If you're likely to use your caddy to store keys and other valuables, having a zip-up top will give you peace of mind that everything is secure.
External pocket – An external pouch or pocket is perfect for storing phones, receipts, trolley coins and any other essentials you're likely to need quick and easy access to.
Universal pram straps – While some stroller brands do offer matching organisers for specific models, the best news is that most pram organisers come with universal straps that fit most pram handles.
Size and weight – Consider how many necessities you'll be wanting to haul around. The bigger the caddy the more weight that's added to the back of your pram.
OUR PICK OF THE CROP
10 Pram Caddies Mums Recommend
To help you find the perfect stroller bag for getting out and about as a family, we consulted our huge Facebook community of Australian mums and listed their most popular choices below.
In no particular order, here are 10 of the more popular Pram Caddies for 2023.
OiOi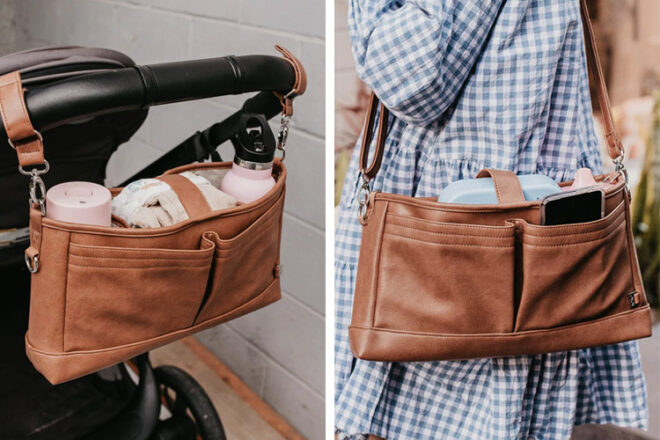 The Tetris of pram organisers, the luxurious OiOi Faux Leather Caddy comes with removable dividers to create one, two or three main sections. Available in eight colourways, we loved the secret zippered compartment that was great for hiding our keys and other valuables.
---
VANCHI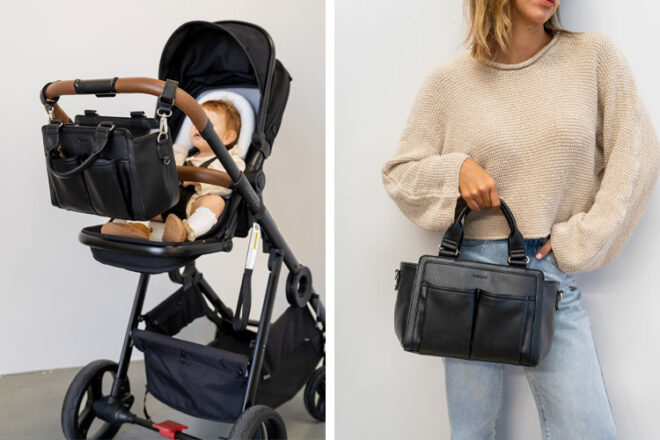 Two bags in one, we loved that VANCHI's Convertible Pram Caddies are cleverly designed to function as practical pram organisers AND luxury shoulder bags. With two styles available, they feature enough space for all of your essentials and 8+ pockets to keep it all organised.
---
Arrived
In a choice of tan, cappuccino or black, The Bea Pram Organiser includes two insulated bottle pockets, handy elasticised slip pockets, and a detachable shoulder strap. The zip-up centre pocket secured all our valuables and the overall stitching and gold hardware made it feel very chic.
---
Toots + Co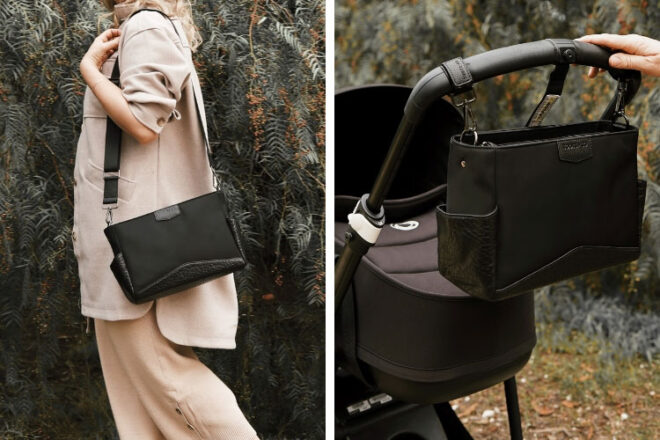 Designed to be the perfect addition for all the years of motherhood and beyond. We thought the nylon quilted exterior and gunmetal hardware looks great, whilst the internal and external pockets, zip fastenings, crossbody strap and roomy opening made our lives easier.
---
Baebina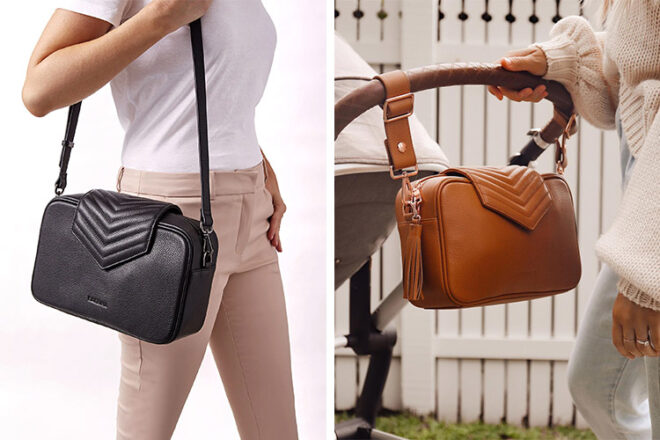 This pram organiser is the ultimate style piece, you'll find yourself bragging about the seven compartments and magnetic closures that keep everything secure and in their place. The water-resistant lining and cowhide leather makes for a perfect crossbody bag with adjustable straps.
---
Hannah & Henry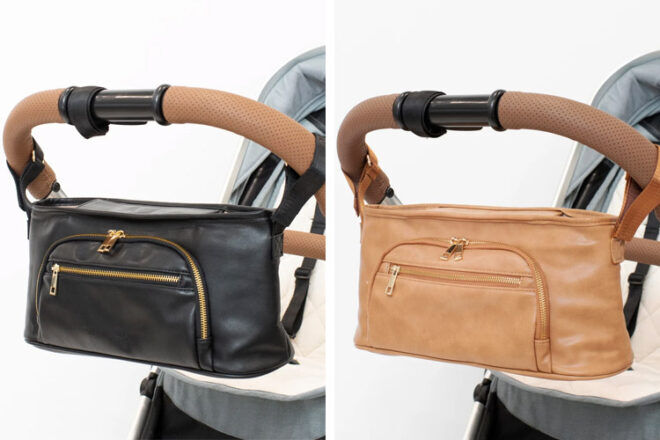 With pockets for everything, Hannah & Henry's vegan leather organisers come with built-in velcro stroller straps and two insulated bottle holders. Having the two zip-up pockets on the front was really handy for getting to our phone and keys and the dedicated wipes pocket was an added bonus.
---
The Nappy Society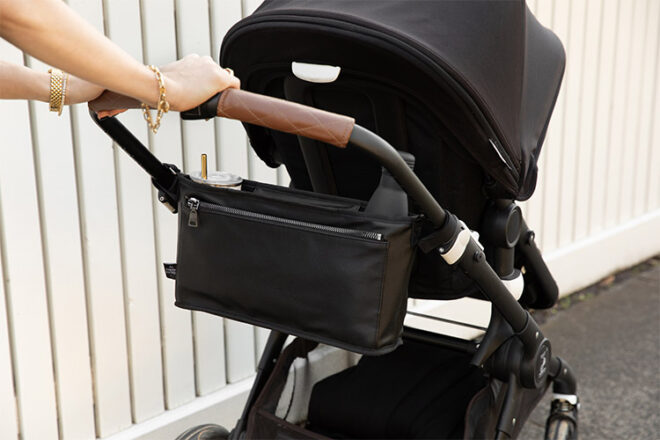 Crafted from vegan leather, The Nappy Society Pram Caddy comes conveniently with not one, but two thermo-insulated bottle pockets. We found the large exterior zip pocket a good size for storing all our mummy valuables. And the universal pram straps are sturdy and fit most prams.
---
Audrey & Me

Designed by a mum of four, the Audrey & Me vegan leather pram organiser has enough storage for everything we mums need to carry. And we thought the double-reinforced coffee cup holder is a nice touch. Available in five stylish colours each caddy comes with matching pram clips.
---
Bubba Bump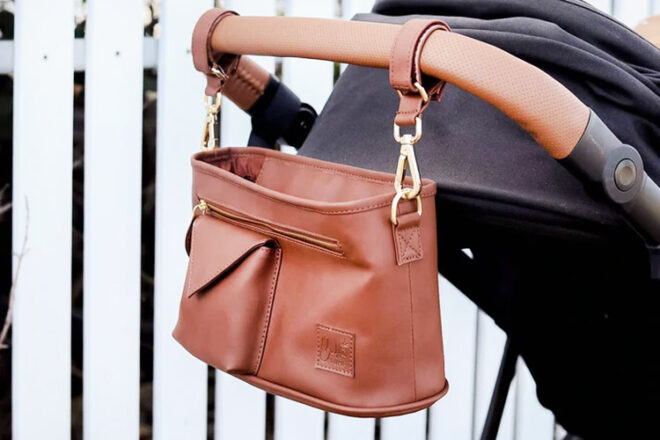 Designed to universally fit all prams, Bubba Bump Pram Caddies use high-quality PVC-free, water-resistant vegan leather and feature six compartments so we always knew where to find things. We love a double function, and when not using baby bottles the bottle pocket neatly held our coffee.
---
Storksak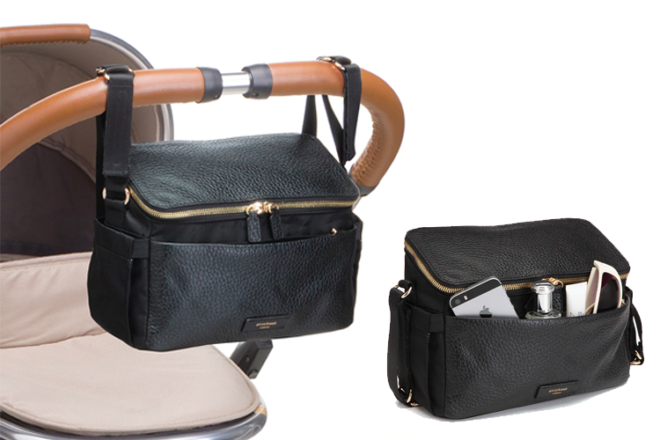 This responsibly sourced, water-resistant quality leather bag comes with stylish plate-gold hardware, a large and functional interior compartment, and a handy removable bottle sleeve. We loved that the stroller straps are built directly into the crossbody shoulder strap which means no more forgetting to pack them.
---
What makes Pram Caddies so good
We consulted the huge #MGVfam Facebook community if they would recommend getting a pram caddy, and this is what they had to say:
Definitely! It will become your handbag – Kate
I've got one that I got given when my 9 yr old was a baby and absolutely love it. I pulled it out before I had my now 3 yr old and it was just as handy. And I've got it set aside for this Bub already – Tiff
I didn't use one with my first, but I wish I did! It's much easier to have little things you use a fair bit in it – Tracey
It was very annoying bending down to the nappy bag all the time, and when I had it hanging it got in the way a lot. Also great for walks etc, rather than taking the whole nappy bag, just have a few nappies etc in the caddy – Amelia
Definitely! Couldn't live without one, I find it odd people don't have them – Alison
I love our pram organiser. We have a universal one and it fits on both our Bugaboo and City Mini GT and our trike bike. Super handy to grab and go for walks – Mel
I wish I still had mine attached now with my 2 year old (on the very rare occasion she's actually in the pram). But yes so so handy for babies – Amy
You don't want to buy a cheap one that doesn't fit / work and then have to buy it twice. Get one that holds a coffee, keys, dummies, a pack of tissues, etc which are always put in the same spot – Meg
 I use mine all the time. So much easier to just throw bits and pieces into as well like phone, keys etc – Tegan
Make sure whatever you get has a zip/closure feature. I found I had a cheapy and everything would fall out when I'd put the pram in the boot – Sarah
 I just tried the different ones on my pram in a baby shop until I found one that fit – Claire
FAQs, Your questions answered
What is a pram caddy?
A pram caddy, also known as a stroller organiser or buggy bag, is a storage accessory designed specifically for use with baby strollers or prams. Attaching to the handlebar or frame it provides additional storage space for us mums to carry all the essentials like bottles, nappies, wipes, keys, phones, and other baby care stuff.
How does a pram bag attach to a stroller?
Pram caddies usually come with adjustable straps or hooks that allow them to be securely attached to the handlebar or frame of the pram.
What does a universal pram caddy mean?
A universal pram caddy refers to a type of stroller organiser that is designed to fit and be compatible with a wide range of pram models. It is called "universal" because it is intended to work with various brands and styles of prams, rather than being specific to a particular model or brand.

Know a pram bag we should add to our list? Contact us and let us know, we've been curating Australia's best baby products into helpful lists for over 15 years and we're always happy to support new brands and businesses.
Read next
Ask other mums
Looking for a bag for your pram and still not sure if any of these are right for you? Join the huge #MGVfam in one of our private Facebook Baby Groups and ask thousands of other mums with babies the same age as yours which ones they recommend. Join today!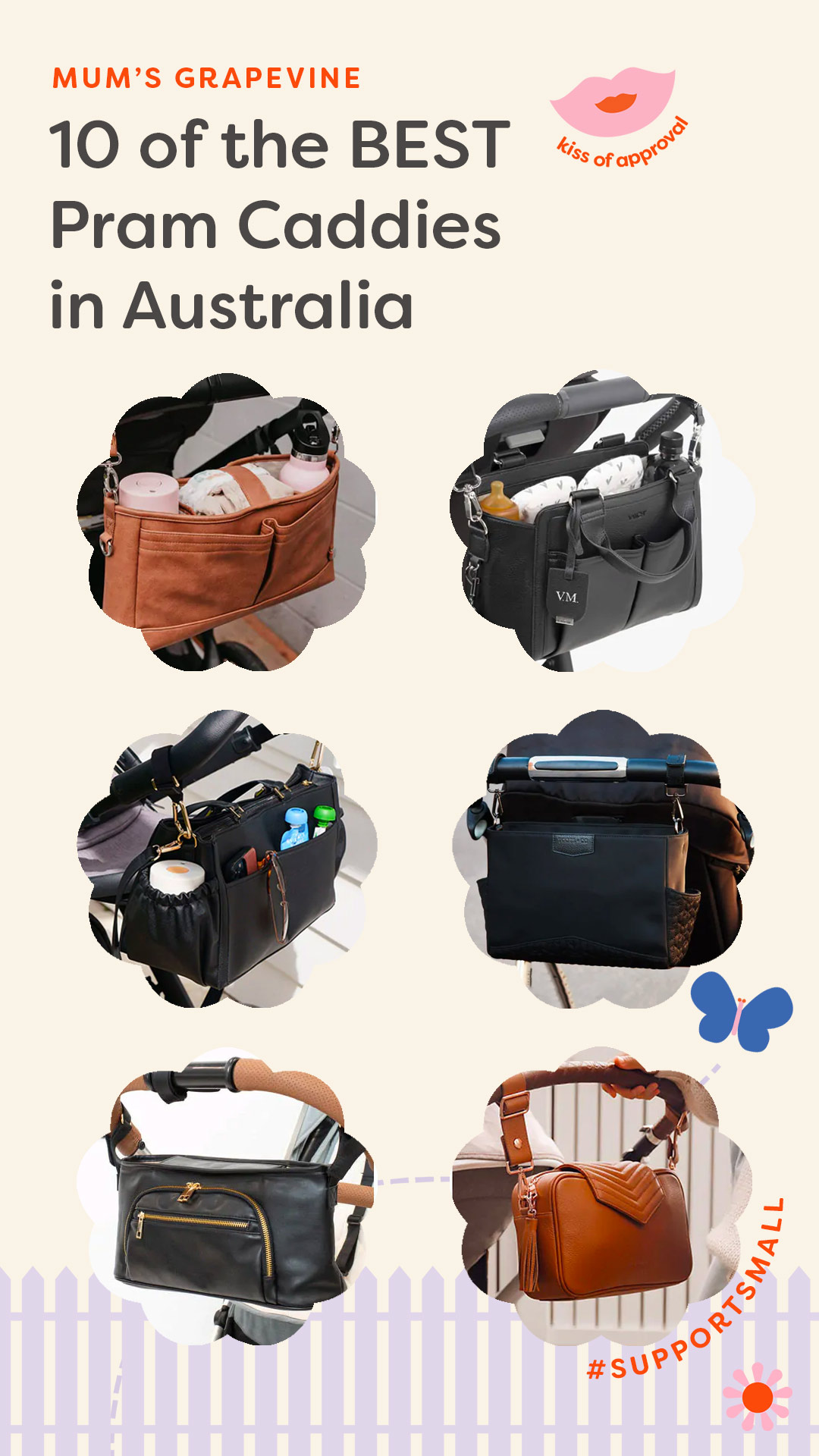 We want you to know
At Mum's Grapevine, we're a team of passionate mums (with 19 kids!) and over 15 years of experience researching and writing about all things baby and parenting. Our reviews of recommended products, like the ones in this post, may include paid inclusions, but we promise to only feature products that we truly believe in and have used or seen ourselves. We want to ensure that you, our readers have access to the latest and greatest products in the parenting world, and we're committed to maintaining our high standards of quality and honesty. See our Disclosure Policy.
Thank you for trusting us to be your go-to source for all things baby-related.
xoxo