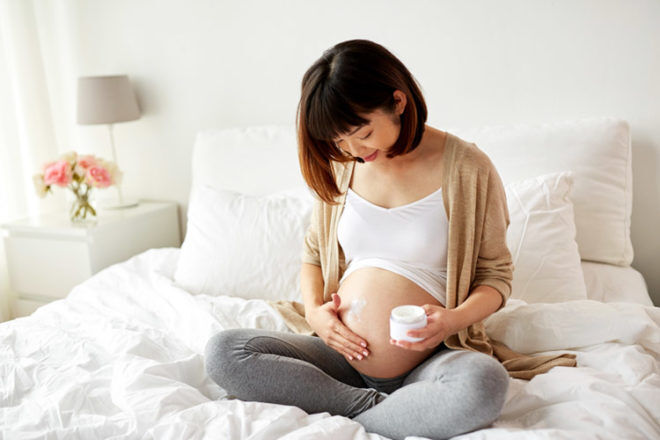 Growing a baby is a beautiful and awe-inspiring experience, but it also comes with its fair share of physical changes, including the appearance of stretch marks.
When I was pregnant I remember feeling so self-conscious about my stretch marks and wanting to find a solution to help reduce their appearance. While stretch marks are a natural part of the process, I discovered that applying a stretch mark cream or oil regularly to my belly helped to keep my skin well-moisturised and reduced the likelihood of permanent marks.
In this product roundup, we will be featuring some of the most popular stretch mark creams and oils, which we have either personally used or have been recommended by fellow mums in our Facebook pregnancy and baby groups.
Helpful tips for buying a stretch mark cream:
Has it been specifically designed for pregnancy stretch marks?
Is it quick-absorbing so it doesn't get on your clothes?
Will the fragrance trigger any pregnancy nausea in you?
Is it safe to use if or when you're breastfeeding?
Does it fit inside your handbag/baby bag?
Do you need to apply it multiple times a day for it to be effective?
Would you prefer a thick creamy butter or an oily lotion?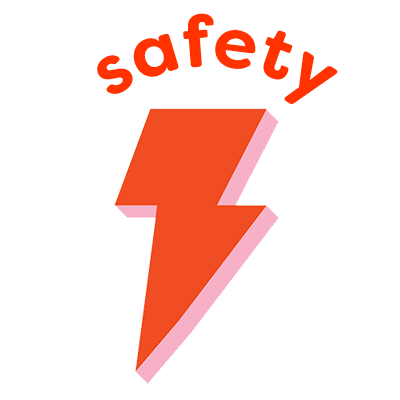 The American Pregnancy Association advises pregnant women to avoid using skincare products that contain retinoids, salicylic acid, and hydroquinone, as they may be harmful to both the mum and bub.
OUR PICK OF THE CROP
9 creams and oils for nourishing bumps
To help you find the best cream to help combat stretch marks, we consulted our huge Facebook community of Australian mums and listed their most popular choices below. Read what the other mums had to say in the Facebook post!
In no particular order, here are 9 of the more popular Stretch Mark Creams for 2023.
---
The Hermosa Co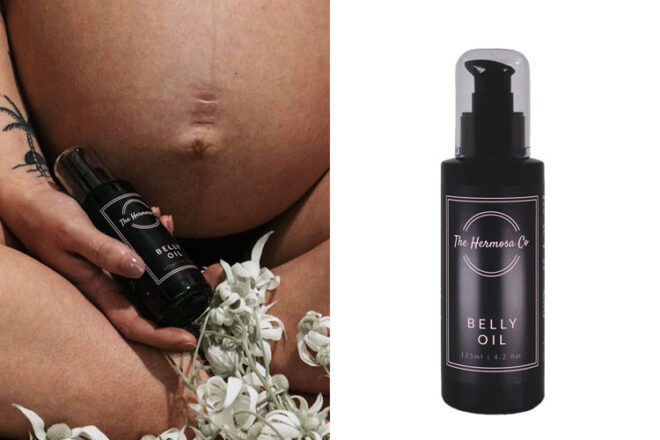 Created by a mum of three, this beautiful blend weaves together five natural oils including avocado, apricot kernel and macadamia to heal and enrich the skin and aid the prevention of marks and scarring, easing your body through the growing process.
One happy customer left the review, "Amazing product, used throughout pregnancy from 12 weeks to term and no stretch marks!!! The oil isn't greasy and didn't leave a mark my on clothes. Highly recommend!"
---
Willow by the Sea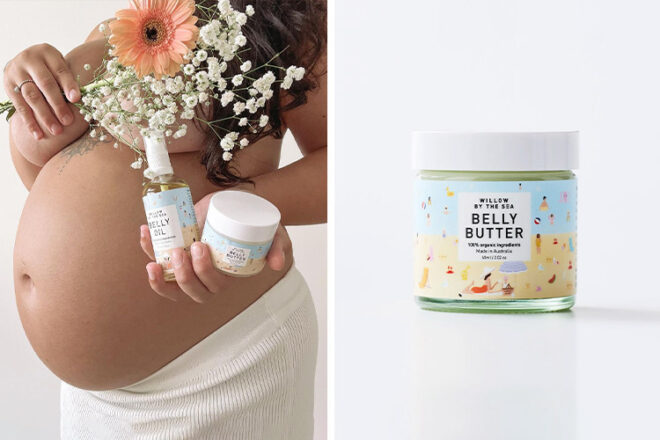 With powerful ingredients that naturally relieve tight and itching bellies, it's no surprise that this is a crowd favourite among mums. Locking in moisture with its sweet almond oil and shea butter, this organic butter leaves you feeling smooth to the touch.
"Absolutely love love love this product! I'm currently 35 weeks pregnant and don't have a single stretch mark anywhere! Long lasting and smells amazing." said one reviewer online.
---
GAIA Skin Naturals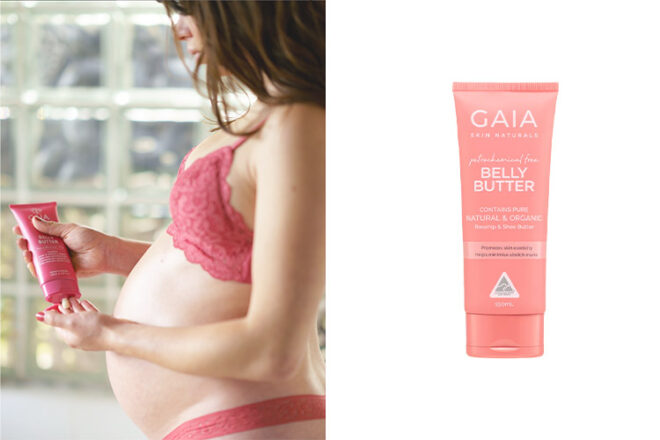 This little beauty gives skin a nourishing boost with its impressive list of rich, moisturising ingredients. Cocoa butter, organic shea butter, organic rosehip and wheat germs oils are absorbed into the skin to rejuvenate, revitalise and restore.
One mum made the comment "Purchased this product at the very beginning of my pregnancy. It worked really well to soften my skin without making it too greasy. At the time my morning sickness was quite bad and I was very sensitive to smells, but this smell didn't affect it."
---
Weleda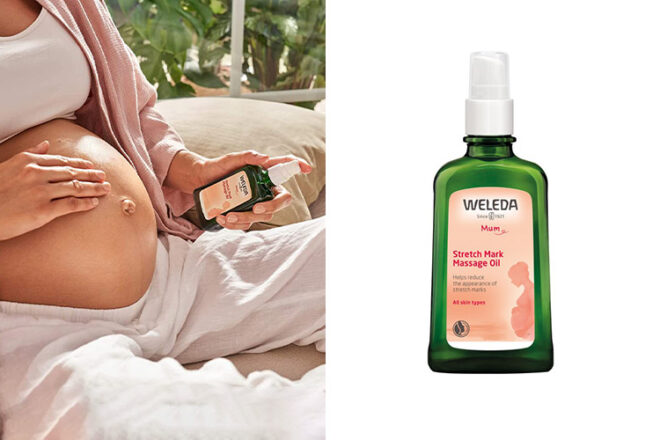 Give that precious bump a calming massage with this soothing oil. It diminishes the appearance of stretch marks, protects mumma's growing tummy from dryness and has a glorious scent thanks to oils such as rose, neroli, myrrh and frankincense.
A reviewer wrote, "Beautifully silky oil (yet non-greasy) that is easily absorbed into the skin and kept my belly feeling moisturised and supple all day"
---
VOYA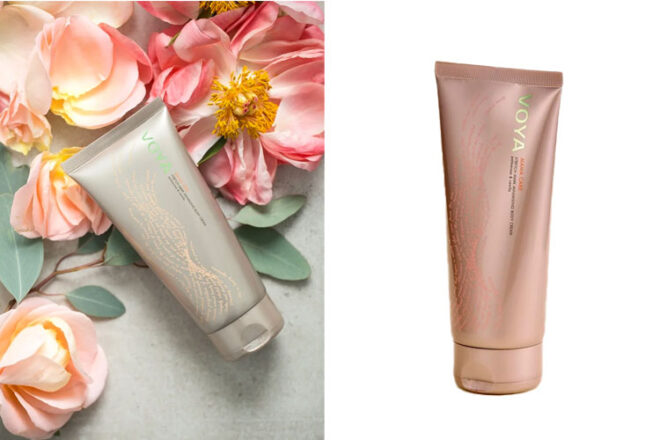 Made from a powerful blend of Fucus Serratus seaweed, Shea Butter, and Coconut Oil, this antioxidant-rich formula deeply moisturises and nourishes your skin. We absolutely loved how quickly this cream absorbed into the skin.
---
Bio-Oil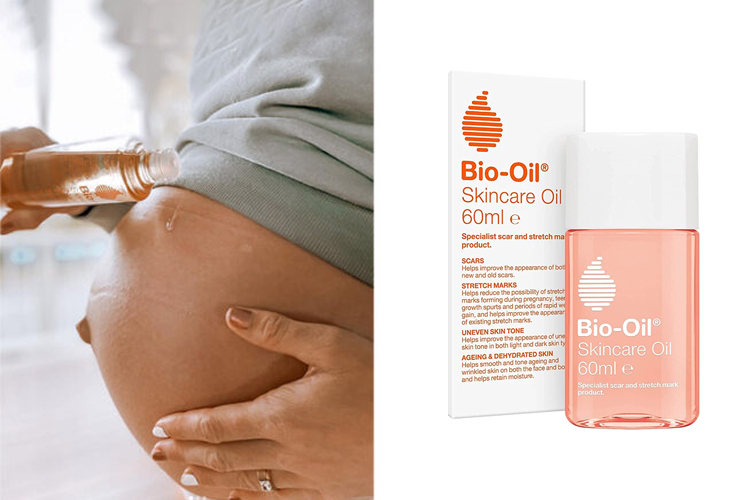 Ready to absorb easily into the skin, this lightweight and non-greasy formula has been trusted by mums for more than two decades. Perfect for preventing the appearance of stretch marks and scars whilst leaving the skin feeling immediately moisturised and protected.
---
Mustela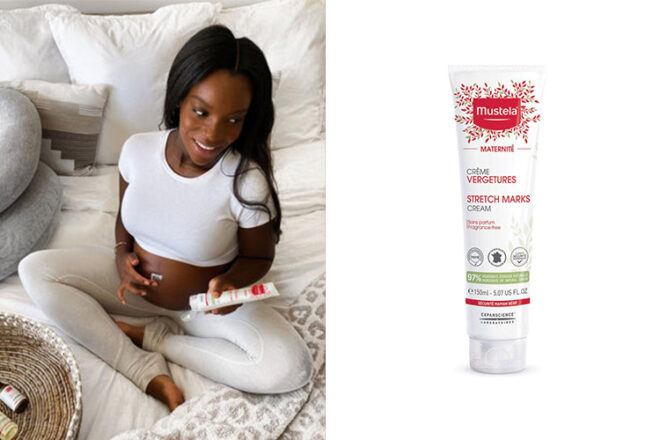 Tested by dermatologists and made in France, this fragrance-free cream helps to prevent and limit the appearance of stretch marks as well as soothing the tingling and itching skin sensations. With its non-sticky residue, it's perfect for a quick and soothing application.
---
Nature Baby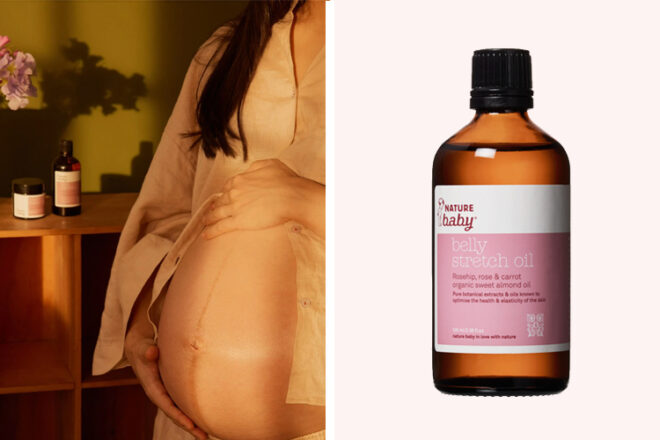 There's something so sweet about massaging a gloriously scented oil onto your growing belly. This adored and award-winning massage oil perfectly blends botanical extracts and organic oils together to maintain the softness and elasticity of your precious skin.
A mum left the review, "Been using this oil since my second trimester and currently through my third trimester and this works like a charm. My belly always feels so smooth and smells so nice. Also, no stretch marks coming up as well as I use this daily after the shower. I love it!"
---
Skin Juice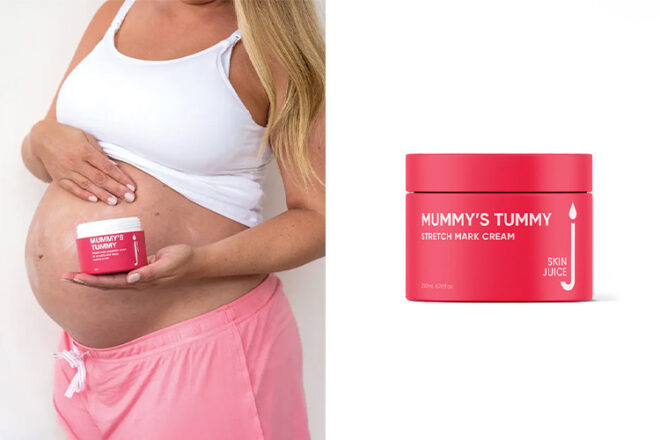 This delicious, buttery spread reduces irritation, itchiness and stretch marks with every application. Don't be surprised if you become addicted to the glorious smell and texture as the berries, grapefruit and plum oils combine with shea butter for a soft, gentle feeling.
"I really love this cream, highly recommend it. Smells amazing, moistened and softened my skin" commented one mum.
---
FAQ: Your questions answered
Managing stretch marks during pregnancy can be overwhelming, so to help you out, we've answered some of the common questions that are asked when it comes to stretch mark prevention in Australia.
What are stretch marks, and why do they occur during pregnancy?
Stretch marks are long, narrow lines or streaks that appear on the skin when it is stretched or under tension. They often occur during pregnancy due to the rapid weight gain and stretching of the skin.
Can stretch marks be prevented during pregnancy?
While it's not possible to completely prevent stretch marks during pregnancy, some strategies can help reduce their severity. These include maintaining a healthy weight, staying hydrated, and keeping the skin moisturised.
When should I start using a cream or oil during pregnancy?
It's recommended to start using a stretch mark cream or oil early on during pregnancy, ideally in the first trimester. This can help prevent the formation of stretch marks and keep the skin moisturised as it stretches.
What ingredients should I look for in a stretch mark cream?
Ingredients like hyaluronic acid, vitamin E, shea butter, cocoa butter, and collagen-boosting peptides can help promote skin elasticity and reduce the appearance of stretch marks.
Remember, stretch marks are like nature's way of giving you a little reminder of all the amazing changes your body has gone through – kind of like a "badge of honour" for being a strong and beautiful mama, so stay hydrated and keep your skin moisturised.

Know a stretch mark oil or cream we should add to our list? Contact us and let us know, the team at Mum's Grapevine have been collating Australia's best baby products into handy lists for new mums for over 15 years and we're always happy to support new brands and businesses.
Read more…
Ask other mums
Looking for cream or oil to keep your belly moistened and still not sure if any of these are right for you? Join the huge #MGVfam in one of our private Facebook Due Date Groups and ask thousands of other mums with babies the same age as yours which ones they recommend. Get answers today!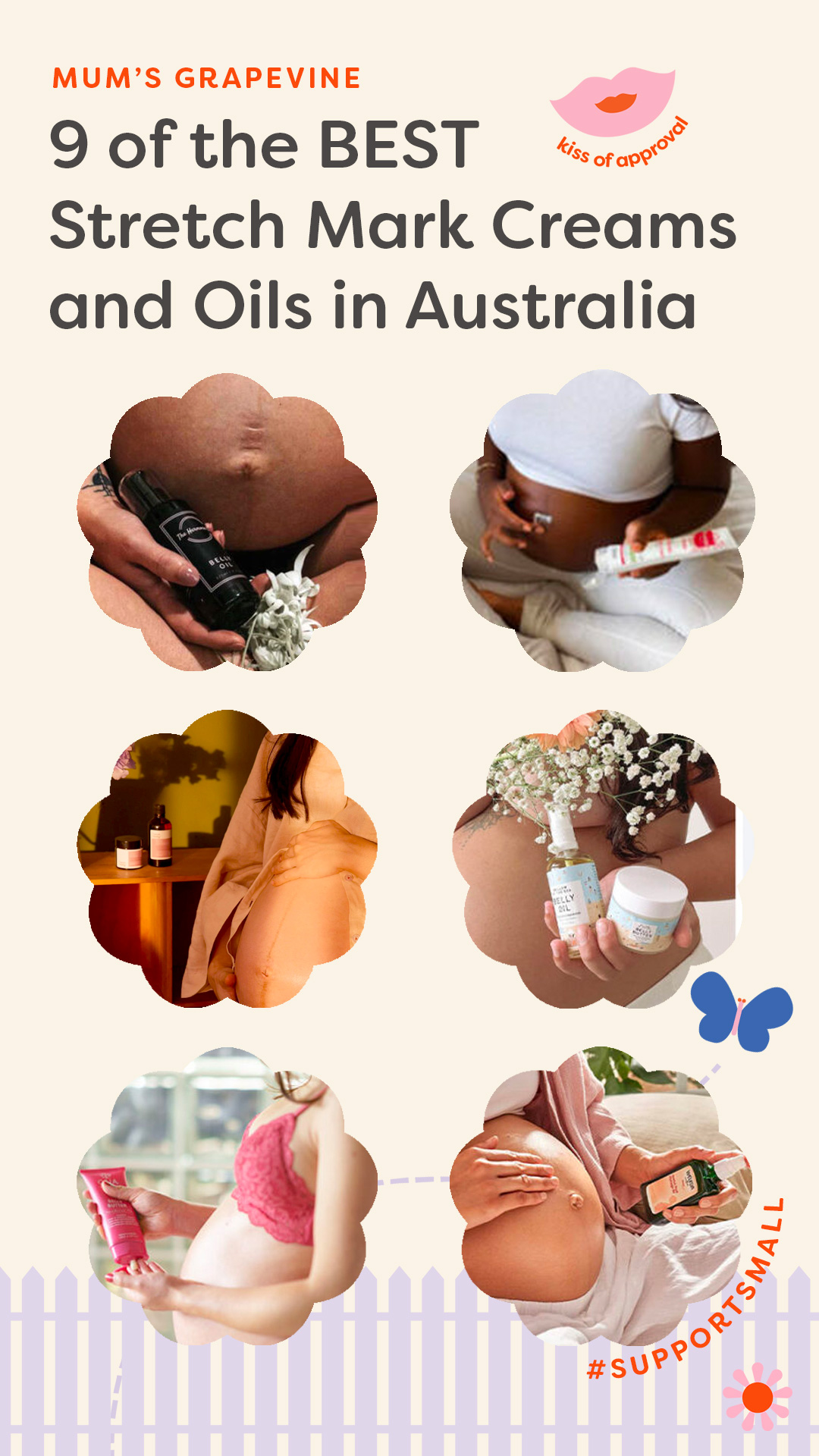 We want you to know
At Mum's Grapevine, we're a team of passionate mums (with 19 kids!) and over 15 years of experience researching and writing about all things baby and parenting. Our reviews of recommended products, like the ones in this post, may include paid inclusions, but we promise to only feature products that we truly believe in and have used or seen ourselves. We want to ensure that you, our readers have access to the latest and greatest products in the parenting world, and we're committed to maintaining our high standards of quality and honesty. See our Disclosure Policy.
Thank you for trusting us to be your go-to source for all things baby-related.
xoxo