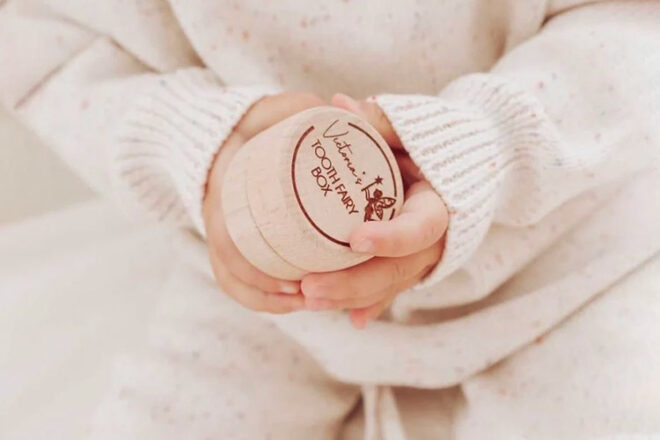 Every child loses their teeth at some point and these whimsical and enchanting tooth fairy boxes are the perfect place to store those precious little teeth. From aesthetically pleasing wooden and stone designs to the cutest soft toys to add an extra sparkle to the tooth fairy magic, you're sure to find the perfect fit for your little one.
Whether you sprinkle some extra glitter around their bed, leave a small note from the tooth fairy or take a photo of your child with their newly lost tooth, make this experience the 'fairy best' and let these tooth fairy boxes make the perfect new addition to your families special traditions.
OUR PICK OF THE CROP
13 Tooth Fairy Boxes to Hold Little Teeth
To help you find the perfect Tooth Fairy Box for your little ones loose teeth, we've put together a list of our favourite picks to help you get started in your search.
In no particular order, here are 13 Popular Tooth Fairy Boxes for 2023.
Maileg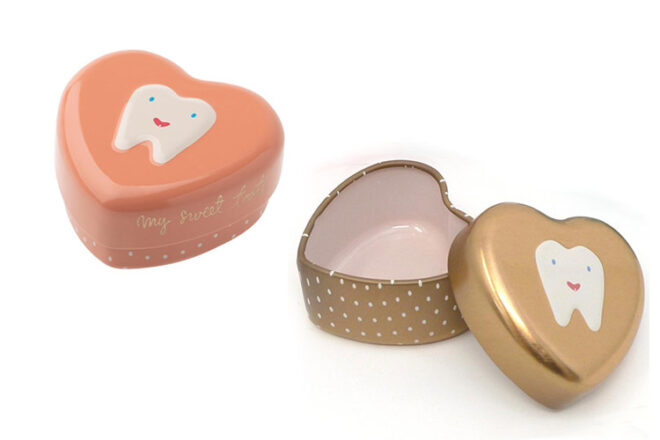 Offered in a range of delightful blue, pink, and gold colours, these tooth boxes feature the cutest tooth on their lid. Made from tin, we love that you won't need to break the bank to keep the magic alive for your little ones.

---
MarleyStudio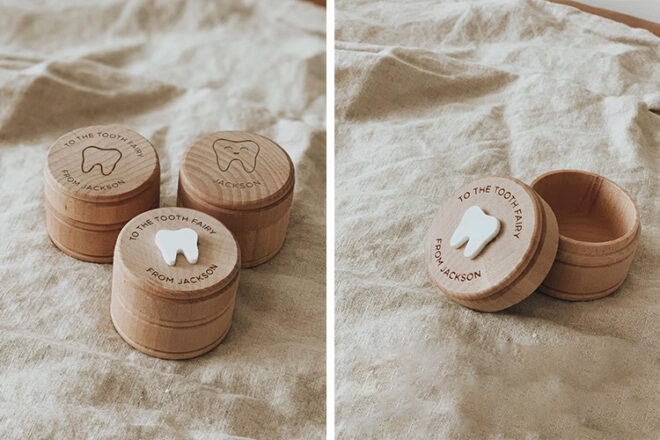 Created in Australia, these natural hardwood round boxes keep your little loves tooth extra safe with their secure twist top. Choices featuring either a fully etched or acrylic design, these personalised tooth fairy boxes are the perfect minimalist addition to their room.

---
Willow and Belle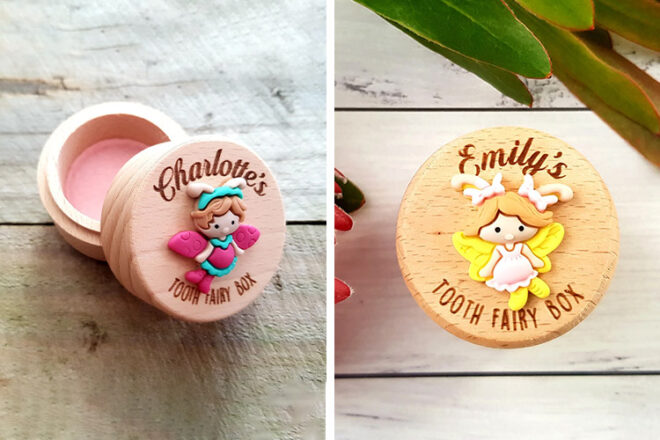 These 3D fairies sit so adorably on top of the round, wooden and felt-lined tooth fairy box. With a choice of different fairies and their laser-engraved names, we know that your little ones will love the whimsy of these funky fairies.

---
T-Leaf Collections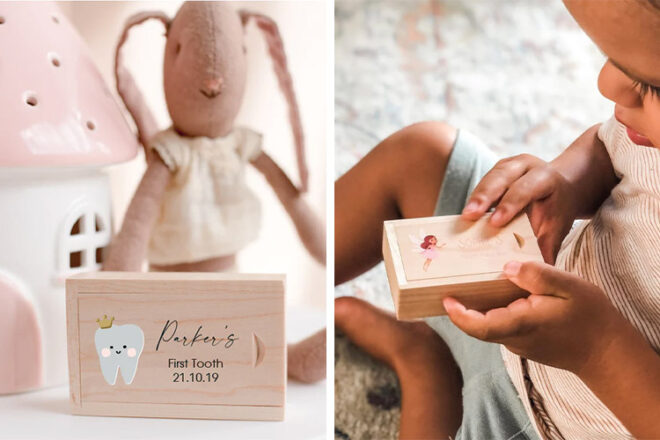 Printed onto a dainty maple wooden box, a range of eight different pictures sit alongside a fully personalised message in any of their 26 fonts. We loved that the lid is easy to slide, ready for all little hands to open with excitement.

---
CMC Gold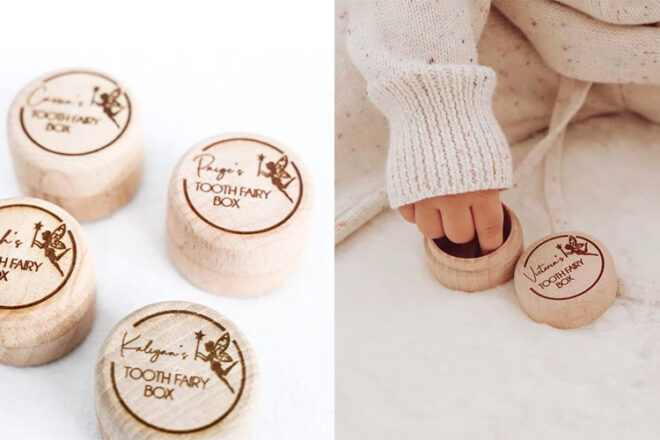 Add some fairy magic to your little loves losing their baby teeth with these dainty wooden tooth fairy boxes. Designed in Australia and featuring a lasered etched, cute fairy image, look no further for a personalised box for your favourite little fairy.

---
Maileg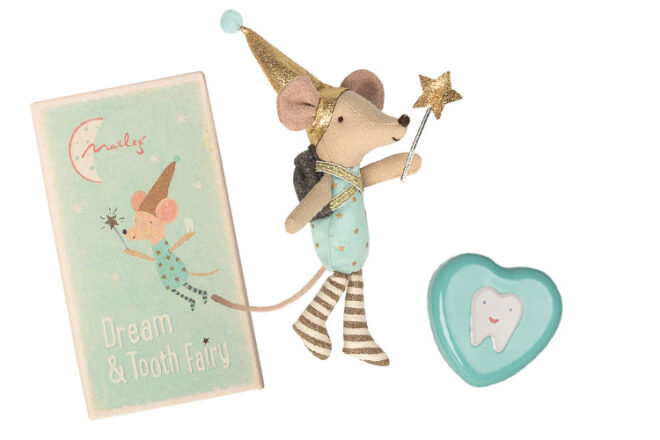 When a tooth is loose, the big brother tooth fairy appears to keep his eye out for it. Once the tooth has been safely stored in his matching blue tin, this little mouse takes the tooth and leaves a small treat behind.

---
Jiggle and Giggle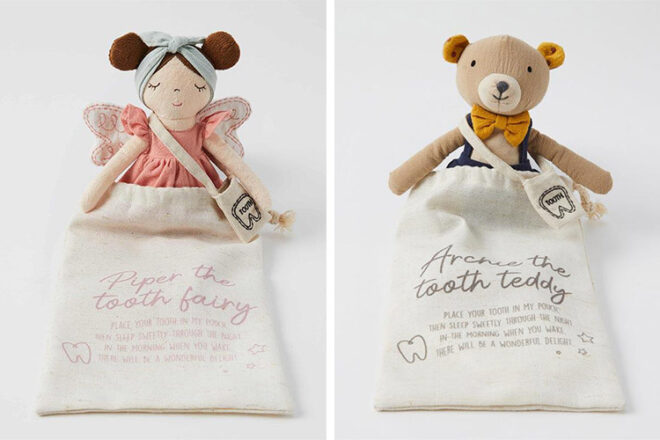 Piper and Archie make the best fairies and teddies to collect a newly lost tooth, with a satchel for baby teeth, we are absolutely smitten by these soft toys which are just the most fun way spread some tooth fairy magic to celebrate their newest milestone.

---
Australian Royal Mint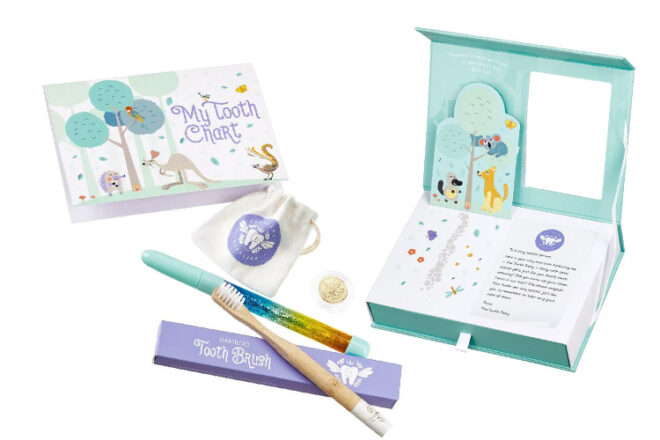 Including a special keepsake box, toothbrush, glitter pen and perfectly paired tooth chart. The Royal Mint tooth fairy kit is back for 2023 with an all-new fairy mushroom coin design, which we think is the perfect gift as a sweet touch to losing their first tooth.

---
Pixie Gifts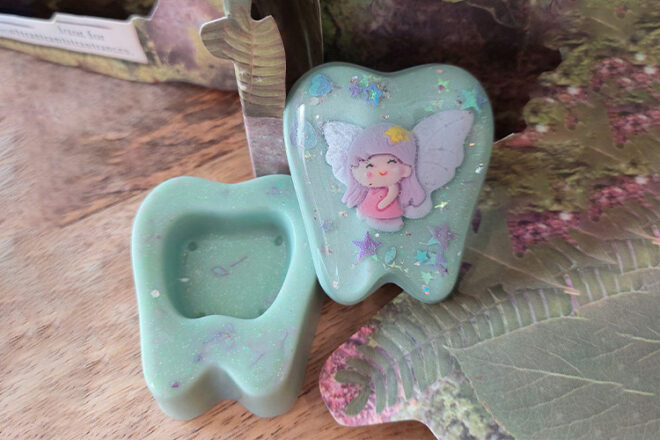 Looking for something both extremely durable but also adorable? Enter PixieGifts. We love their glittered resin and special character designs that will last a lifetime. In the shape of a tooth, these boxes, handmade in Australia perfectly fits a $2 coin.

---
Djeco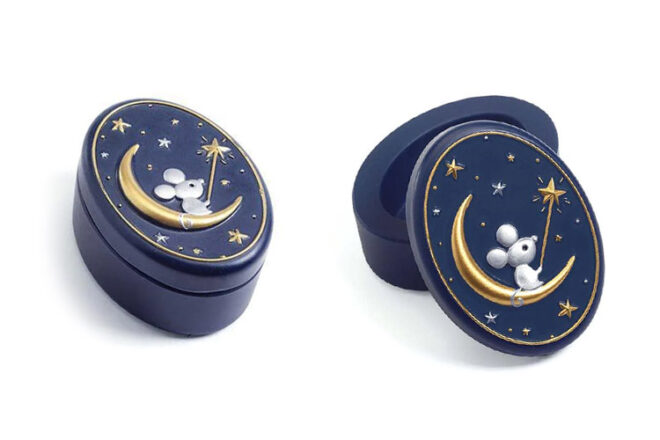 This little mouse on the moon is carefully watching over the tooth inside. Featuring a divine navy colour, with non-toxic gold and silver trims. The silicone stopper helps keep their baby tooth safe until the tooth fairy makes their appearance.

---
Royal Selangor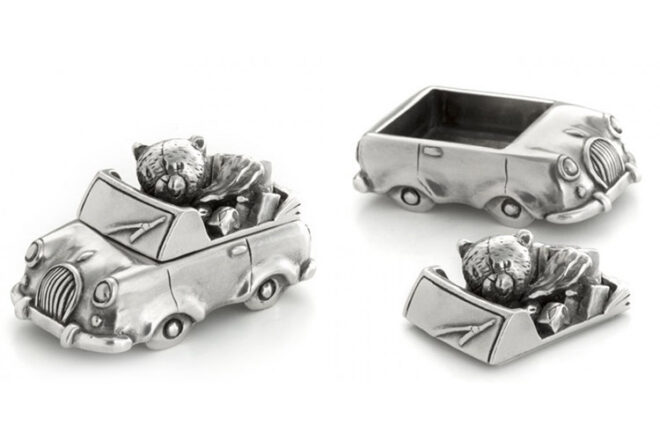 Reminding us of the first tooth boxes of our childhood, these pewter tooth fairy boxes feature the sweetest teddy bear driving to their picnic with a trunk of gifts. The sweetest gifts for babies and children, these cherished treasures will be forever loved.

---
Konges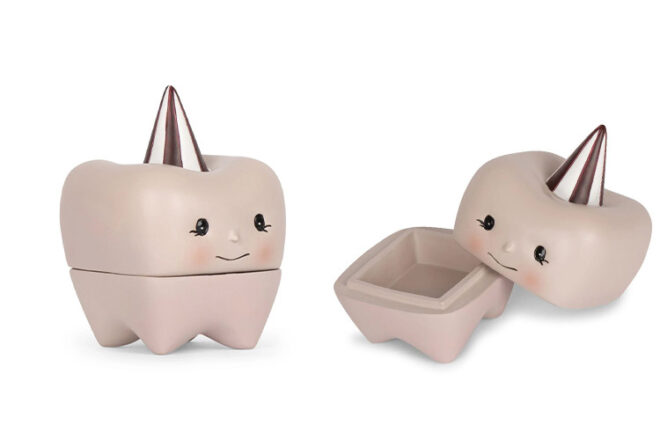 Nicknamed 'Tooth', the tooth fairies' littlest helper is made from 100% stone. This delicate blush tooth fairy box is perfect for keeping the magic alive as your child loses their first teeth. This Scandinavian design is the ultimate mix between aesthetic and sweetness.

---
Little Labels Co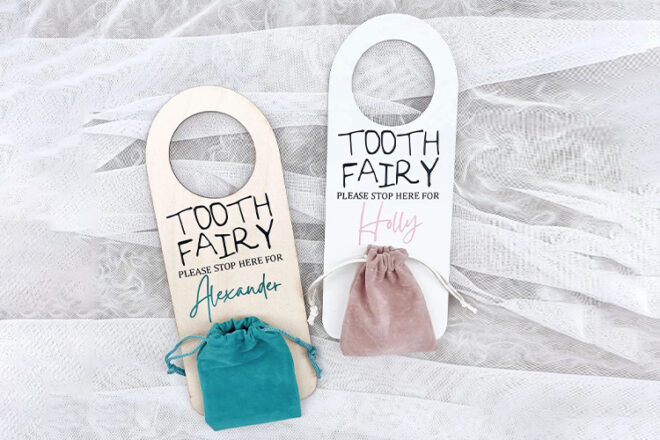 Not only do these personalised wooden signs come in a range of colours, but they're perfect for when the tooth fairy comes to visit those super light sleepers. Just put the tooth in the velvet pouch and hang it on their door.

---
FAQs: Your questions answered
What is a tooth fairy box?
A tooth fairy box is a small box or container designed to hold a child's lost baby teeth. It is a special place where children can store their teeth until the Tooth Fairy visits and leaves a small reward in exchange for the tooth.
At what age could I introduce the tooth fairy?
According to the American Dental Association (ADA), children usually start losing their first baby teeth around the age of 6 or 7. And this is a good time to introduce a tooth fairy box and start the tradition of the Tooth Fairy.
Who is the Tooth Fairy?
The Tooth Fairy is a mythical character in Western culture who is said to visit children after they lose a tooth, and leave a small gift or money in exchange for the tooth. It's thought she takes the teeth to build her castle or help other children grow strong teeth.
How much money does the Tooth Fairy leave?
The amount of money the Tooth Fairy leaves varies depending on a number of factors, such as the child's age, the family's tradition, and the location. According to a recent poll question we asked on Mum's Grapevine Facebook page the going rate is a $2 gold coin.
---
Do you know a Tooth Fairy Box we could add to our list? Contact us and let us know, we've been collating Australia's best baby products into handy lists for over 15 years and we're always happy to support new brands and businesses.
Read more…
Ask other mums
Looking for a safe space to hold a tooth for the faires and still not sure if any of these are right for you? Join the huge #MGVfam in one of our private Facebook baby groups and ask thousands of other mums with babies the same age as yours which ones they recommend. Join today!
We want you to know
At Mum's Grapevine, we're a team of passionate mums (with 19 kids!) and over 15 years of experience researching and writing about all things baby and parenting. Our reviews of recommended products, like the ones in this post, may include paid inclusions, but we promise to only feature products that we truly believe in and have used or seen ourselves. We want to ensure that you, our readers have access to the latest and greatest products in the parenting world, and we're committed to maintaining our high standards of quality and honesty. See our Disclosure Policy.
Thank you for trusting us to be your go-to source for all things baby-related.