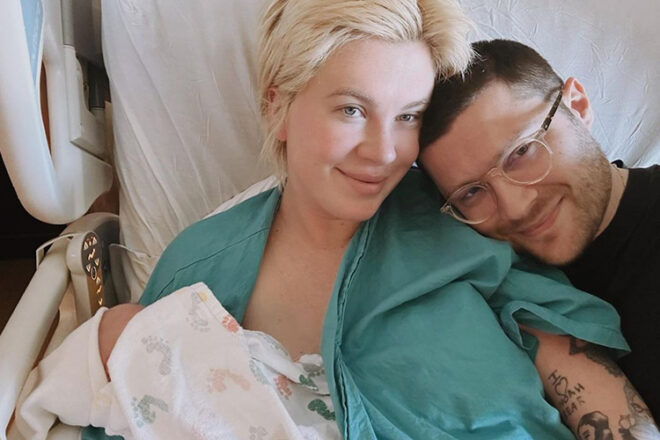 Model Ireland Baldwin, the oldest daughter of Alec Baldwin and Kim Bassinger has announced the birth of her first child.
She took to Instagram with a sweet selfie of the new family in hospital, with the new bubs face concealed by an adorable footprint swaddle. Her partner, musician RAC is lying on her shoulder.
Ireland simply captioned the pic with her daughter's name: "Holland"
View this post on Instagram
Keen fans will know that the name is not a surprise, with the couple announcing it in advance. Ireland said of the place-inspired name on a GirlBoss podcast:
"We're naming her Holland. I'm Ireland, so another country name because we wanted to keep that consistent. And then I love the actress, Holland Taylor."
Interestingly, the name Holland is also a nature-inspired name, with the meaning of 'woodland.' Though it's traditionally a boy's name, we love that Ireland has used it for her little Taurian girl.
The birth announcement was met with an outpouring of well-wishes from friends and family including Ireland's stepmum Hilaria Baldwin who posted two heart emojis.
Singer Meghan Trainor said: "OMG YAYYYYYY CONGRATSSSSS MAMA"
And actress Holland Taylor herself, who baby Holland was named after, wrote: "It is with a special and affectionate delight that I congratulate you, Ireland, and sing out welcome to your darling Holland -!"
So special!
Known for her tongue-in-cheek humour, Ireland followed up her initial birth announcement with this pic of her in the bath for her water birth, holding up a beverage. She funnily captions it:
"The photo I'm going to show my daughter when she back talks."
View this post on Instagram
To commemorate Holland's first week earthside, Ireland shared a series of photos from her labour and delivery as well as very sweet snuggle time with both Mum and Dad.
"what a week "
View this post on Instagram
In the lead up to the birth, Ireland delighted followers with a glimpse into the sweet nursery she had set up. We love that it's bright, colourful and fruit-themed (a great theme for those who are Team Green, too).
"I had so much fun styling this fruit themed nursery for our little girl! @yojaxko killllllllled it with the fruits they painted on the walls!! And of course @rac built everything because if something has more than 4 instructions, I'm not doing it. I thrifted so many fruit themed goodies. The furniture we chose was pieces from my childhood. And of course I spent way too much money on @jellycat stuffies because I had NO CHOICE. "
View this post on Instagram
We wish Ireland, Holland and RAC all the very best as a family of three. Holland is no doubt loved and adored and we can't wait to see how she grows and develops.
Read next …
Missed the latest celeb baby news? Catch up with these articles:
Don't miss any celebrity baby news and pregnancy announcements, subscribe to our newsletter and be first with the news.
---
Ireland Baldwin's stripper themed baby shower (yes, you read right)
March 9, 2023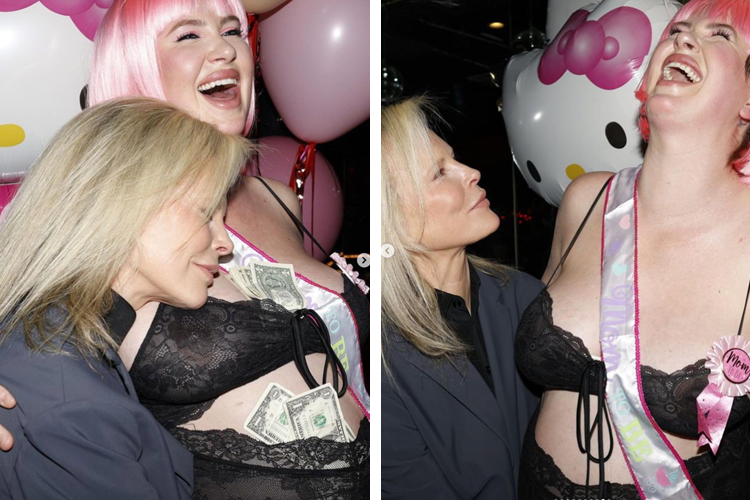 While most of us are having baby showers complete with flowers, games and a grazing table or two, you can bet you celebrities are doing it that little bit different. Very different. Enter model Ireland Baldwin's baby shower at strip club Jumbo's Clown Room in Hollywood.
The mum-to-be
The oldest daughter of Alec Baldwin and only child of Kim Basinger, 27-year old Ireland swapped your typical flowing maternity dress for a revealing black lace ensemble. She completed the look with pink bob wig, pink eyeshadow and a cheapie sash and badge with Mom-To-Be on it. Throughout the night, dollar bills inserted into her bra completed the look.
Here she is with mumma Kim, during a sweet embrace, complete with decolletage and panties full of money:
"baby's first strip club extravaganza "
View this post on Instagram
The venue and decorations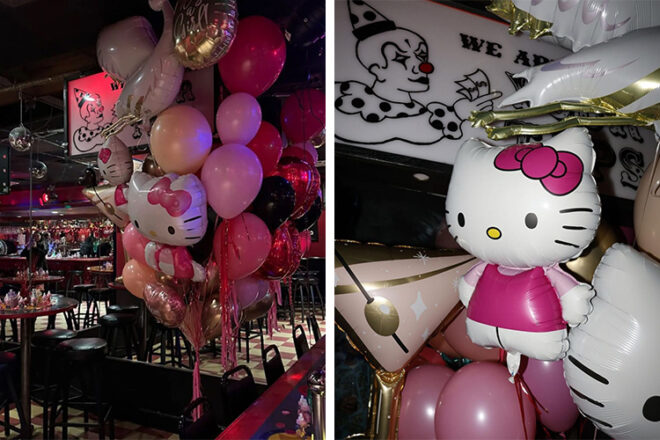 With baby shower venues typically falling into the home, restaurant or even bar category, Ireland and her musician boyfriend RAC (real name André Allen Anjos) went one step further hosting at grungy strip joint Jumbo's Clown Room on Hollywood Boulevard. And whilst most showers or baby sprinkles occur during the day, (save for Baby-Ques which can be held in the evening), 'Baby's First Strip Club' continued late into the early morning.
Ireland shared a bunch of snaps on Instagram to her 675,000 followers, acknowledging that her baby shower was anything but typical:
"Way too many of these to post but it'll have to come in parts My friends and family threw us a very traditional baby shower as you can see. I wouldn't have had it any other way. I was showered… in booty. Thank you to everyone at @jumbosclownroomofficial for making dreams come true and for being so kind. And thank you to everyone coming and big thank you to @thecobrasnake for capturing all of it."
View this post on Instagram
With shiny red walls, red checkerboard floors and clown motifs as the backdrop, lots of stork and Hello Kitty balloons also decorated the space. The couple are expecting a girl who they revealed would be called Holland.
Side note: Interestingly, Hello Kitty, a pop culture icon since 1975, is actually not a cat. She's a girl dressed as a cat. Now you know.
The food and cake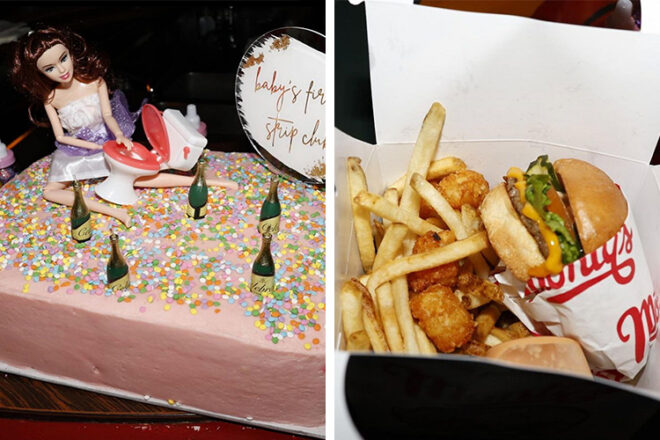 The couple, who got together in 2021, chose to serve vegan burgers and chips from Monty's Good Burger, plenty of shots, and an epic baby shower cake. With baby pink icing, the (actually modest-sized) rectangular creation features a Barbie sitting next to an open toy toilet, surrounded by mini champagne bottles and sprinkles. Oh, and a cake topper reading 'Baby's First Strip Club'… just in case people forgot the theme
The guests
View this post on Instagram
Plenty of friends and family were in attendance, including Ireland's famous actress mum Kim Basinger, 69 and cousin Alaia Baldwin. Here she is with a slideshow of pics from the event and the caption:
"can't wait to meet my lil hollandaise ✨ I love you so much already ‍♀️"
The couple friendly star-studded 'booty' shower also saw Hilary Duff and husband Matthew Koma turn up as well as Rumer Willis (who's also pregnant) and Sailor Lee Brinkley Cook.
Ireland's pregnancy journey
View this post on Instagram
Back on New Year's eve last year, Ireland announced per pregnancy on Instagram via a photo of her ultrasound and the simple caption: "Happy New Year ❤️"
She also joked in a subsequent Insta story that the ultrasound was 'not of a dog,' addressing rumours that the couple was actually getting a puppy. She also shared a photo of her sitting in front of the toilet with the caption:
"If I haven't got back to you RE goodtimes, inquires, responding in general, it's because this was me for the past while. I'm not ignoring you."
Ireland, like many other women, have had their normal lives put on hold whilst they go through severe morning sickness or in some cases, hyperemesis gravidarum. This reminds us of MAFS star Martha who suffered from non-stop sickness during the first part of her pregnancy. She's since given birth to a beautiful baby boy.
Father-to-be, musician RAC may not be familiar to most but his music will be. His song is featured in the Mitsubishi Outlander television ad, with the lyrics 'we're living out the back of the car.'
Throughout her pregnancy, Ireland has shared many photos of her bump journey, including this one with the caption:
"6 months! Time for a Super Bowl of vanilla ice cream with hot sauce in it. Happy Sunday!"
View this post on Instagram
She also shared another image, again referencing food, with the caption:
"a big ass burger lemme tell you shawty is a triple whopper with cheese" in reference to the baby size comparison to a burger (swipe to see)
View this post on Instagram
No matter how you might feel about Ireland's baby-shower theme (pole dancing anyone?), one thing's for sure: baby Holland is much anticipated and much loved. We wish Ireland and RAC a safe pregnancy and we can't wait to hear of the arrival of baby Holland.
Read next …
Missed the latest celeb baby news? Catch up with these articles:
Don't miss any celebrity baby and pregnancy announcements, subscribe to our newsletter and be first with the news.