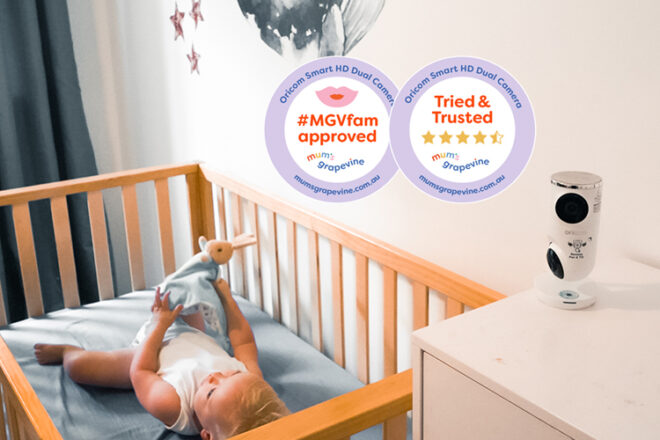 As parents, we want to ensure the safety and well-being of our little ones and Oricom's new Smart HD Dual Vision Camera definitely fills that need. With two cameras stacked atop a single base, the monitor features dual lenses for standard and wide-angle viewing at the same time.
Featuring with state-of-the-art technology, the Dual Vision camera shoots in 1080p HD with pristine infrared night vision, providing crystal clear monitoring even in total darkness.
The Dual Vision cameras are customisable, so you might choose to have the bottom camera pointing to your sleeping baby while the top camera captures the entire nursery. If you have multiple children sharing a room, it's peace of mind knowing you can keep an eye on them both at the same time.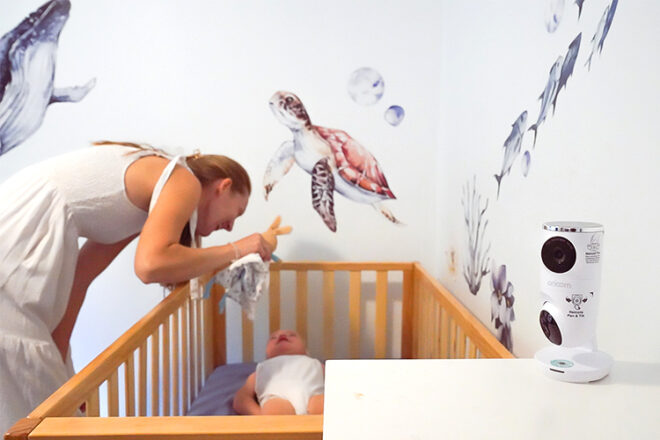 The Oricom HD Dual Vision Camera is loaded with features. Close-up viewing shows the baby's sweet features. Wide-angle viewing lets you monitor more space from your device. Seeing your baby when they begin wriggling around the cot isn't a problem with the easy-to-use pan/tilt feature. Add in the Infrared night vision and real-time temperature and you know exactly what is going on in the nursery no matter the time of day or night.
The AI Motion tracking feature is a real game changer. With the top camera directed towards the nursery, the bottom camera can be set to automatically follow any movement that occurs in your pre-set baby zone and send you an alert. Whether that's your toddler playing quietly after waking from a nap or an older sibling popping into the nursery to visit the new bundle of joy, you can rest assured knowing you will be first to know.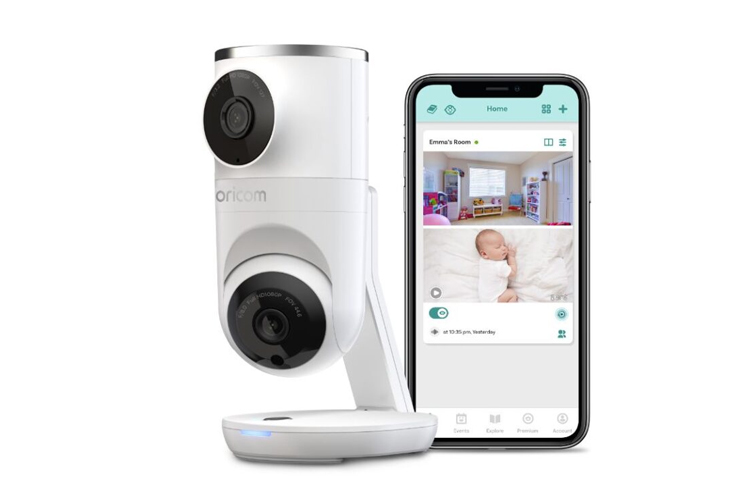 The Dual Vision Camera pairs seamlessly with The HubbleClub for Partners App (available for iOS and Android), allowing parents to view both feeds simultaneously on their smart device at home with unlimited streaming in real-time.
Once connected to the App, the Dual Vision camera records live to the cloud for 24 hours for added security, so you always have a backup in case anything goes wrong. And you can even record your favourite moments and share them with family and friends.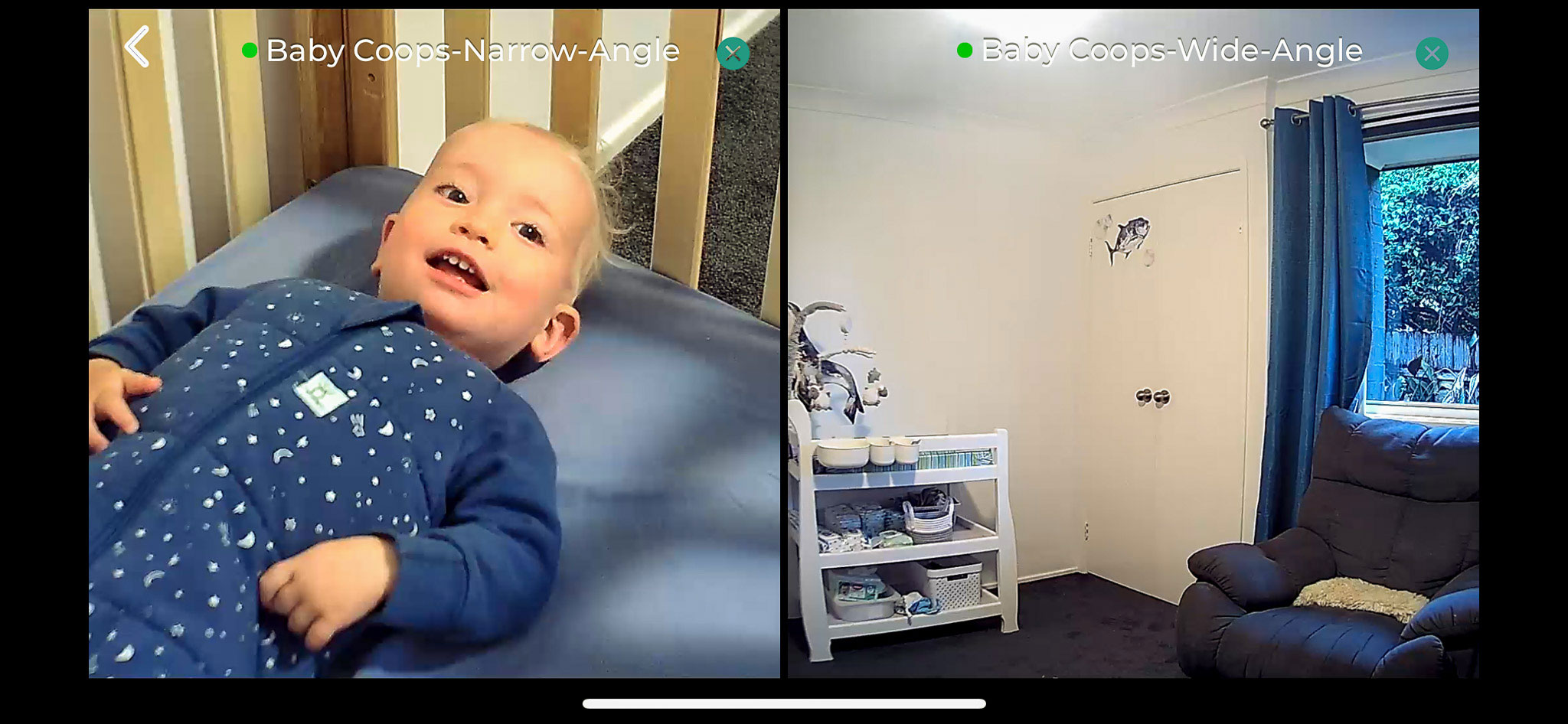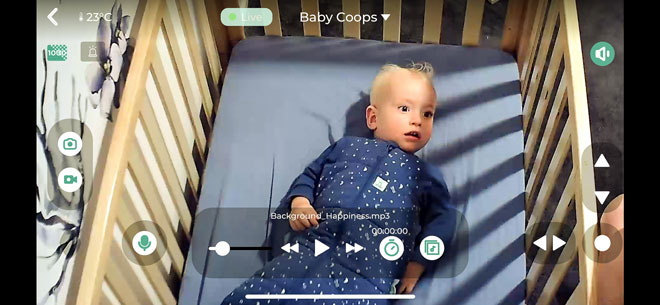 Knowing that every bedtime routine is different, the HubbleClub for Partners App offers an impressive range of nifty features including pre-loaded nature sounds, lullabies, and audiobooks.
You can even soothe and lull your little one back to sleep with a personalised recording of your voice – great for comforting even when you are away from home.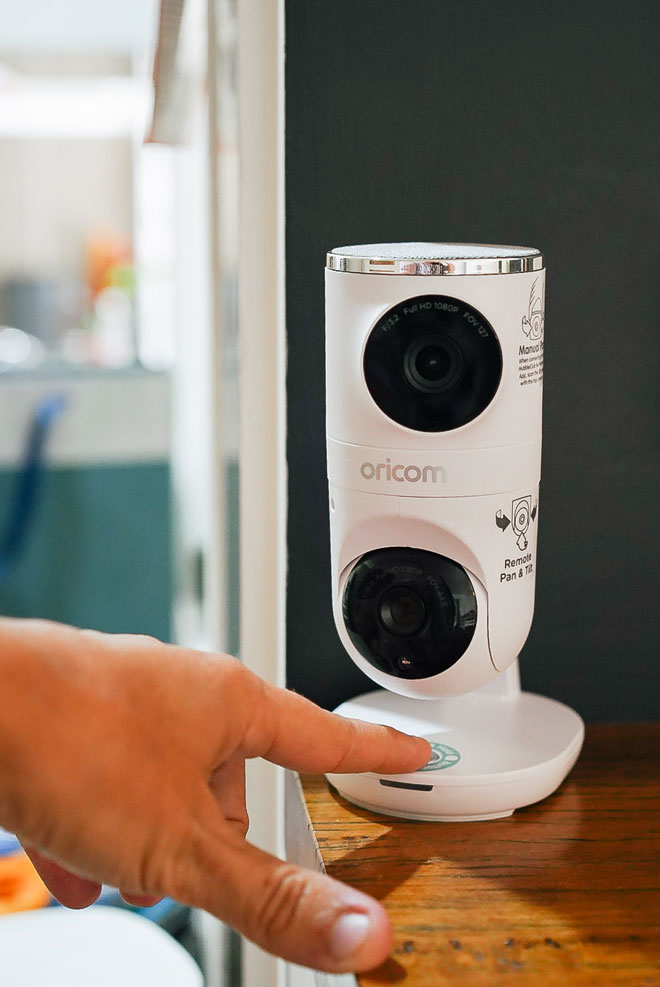 On the base of the camera is the 'Connect-Chat Button', which activates a handy two-way audio call to connected devices.
This could be handy for older children who need that extra feeling of safety and connectedness while they adjust to sleeping alone in their room. Or even provide parents with an easy way to call out to one another quickly from the baby's room (code brown anyone?!).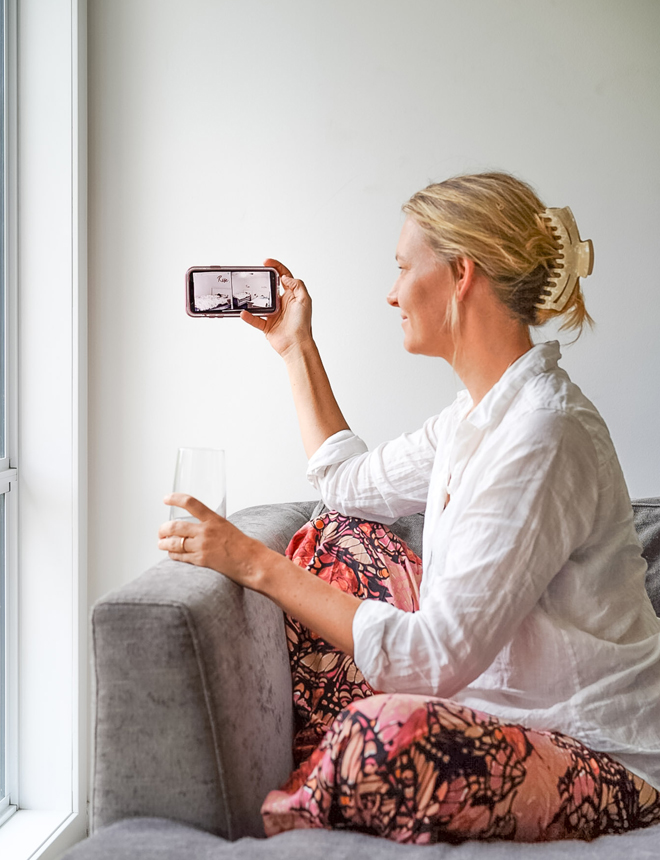 Key Features:
Connected via Hubble Club for Partners App
Smart HD dual camera (normal and wide angle views)
Remote pan & tilt Works for Normal View Camera
Sleep routine management – track resting/waking patterns
Motion tracking (bottom camera automatically follows movement)
Temperature sensor
Two-way talk
Infrared night vision
Preloaded lullabies & natural soothing sounds
Universal wall mount included
Works with Google Assistant and Amazon Alexa
2 Year warranty
With the advanced features offered by Oricom's Smart HD Dual Vision Camera, you can rest assured knowing your little ones are safe. With HD cameras, advanced features and a secure link to the Hubble Club for Partners App, the Dual Vision Camera is a great choice for parents who want to maintain safety and connectedness.
Available online at Oricom ($399).
---
Win a Smart HD Dual Camera Monitor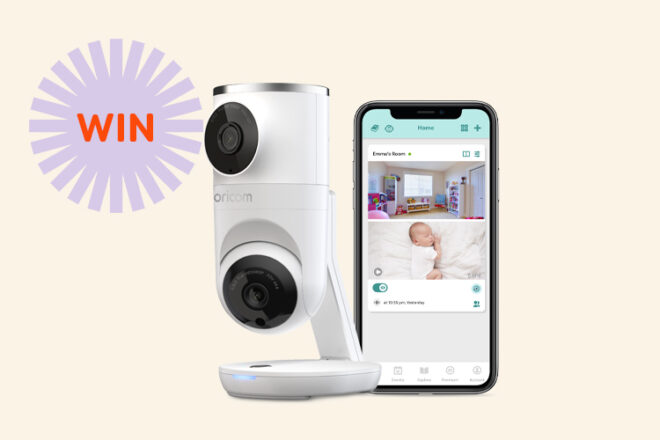 Three (3) lucky Mum's Grapevine subscribers will each win an Oricom Smart HD Dual Camera Monitor valued at $399 each.
Entry is open to all Australian Mum's Grapevine newsletter subscribers.
Competition ends May 26, 2023.
---

Oricom International is an expert in communication technologies and a leader in design and ideas. Being 100% Australian owned, Oricom builds products for the diverse, unique conditions of Australia and New Zealand, and ensures innovative designs and excellent product performance.
Oricom provided a monitor for the purpose of trial and review. All reviews submitted are the honest, authentic and genuine sentiments of the Mum's Grapevine team members participating in this review.