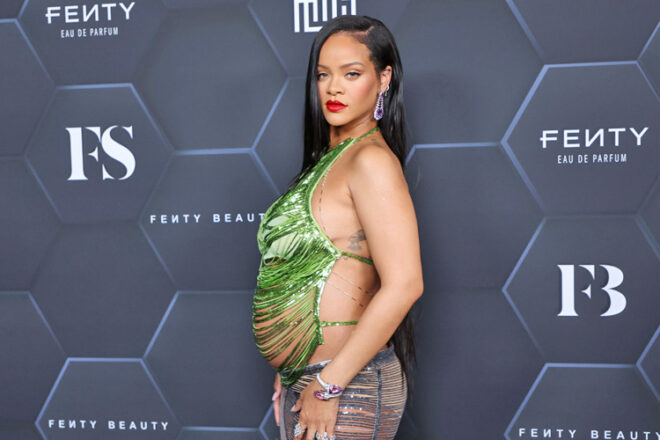 We all know that pregnancy can be a time of immense joy, anticipation, and wonder. It is a period that often brings about a remarkable transformation in a woman's life, but this can also bring about significant changes to a woman's body and emotional state.
With the physical transformations and hormonal fluctuations, it's not uncommon for women to experience a dip in confidence levels during pregnancy.
Throughout both of her pregnancies, global superstar Rihanna has showcased a breathtaking display of maternity style that has effortlessly merged the realms of high fashion and motherhood. From red-carpet appearances to candid paparazzi shots, she has always embraced her changing body with confidence and fearlessness, serving as an inspiration to expecting mothers everywhere.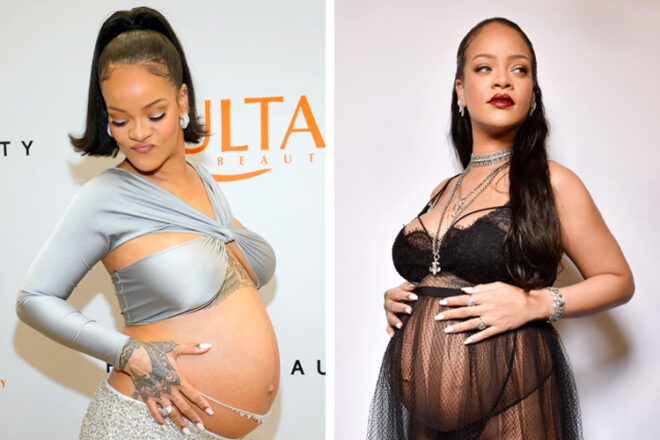 The singer has made it clear that it's important to her to not lose her true self while pregnant. During her first pregnancy, she told Entertainment Tonight on the red carpet "[Pregnancy's] a long nine to 10 months. You have to enjoy it. Fashion is one of my favourite things, so, you know, we're defying what it even means to be pregnant and maternal. It can get uncomfortable at times and so you can dress the part and pretend."
Beyond the realms of fashion, Rihanna's maternity style also represents a powerful statement of self-expression. Her sartorial choices have embodied the idea that pregnancy is not a limitation, but rather an opportunity for women to embrace their bodies and embrace their own unique sense of style.
So here's what expectant Mums can learn from Rihanna about rocking the baby bump, on and off the red carpet.
1. Embrace Your Changing Body
Recognize and celebrate the incredible journey your body is going through. Sure it may be easy to fall into the "oh I can't wear that, my [insert body part here] is too big" but at the end of the day, you are only limited by what YOU feel comfortable in. Want to rock the oversized Tee and leggings? Go for it! Want to rock a tight shirt held together by criss-cross cutouts that run down the front of your body? BadGal RiRi says yes!
View this post on Instagram
2. Find Your Style
Don't be afraid to experiment and find maternity clothes that align with your personal style. Look for trendy and fashionable options that make you feel like yourself, whether it's flowy dresses, casual maternity activewear, or even a hoodie and jeans combo.
View this post on Instagram
3. Highlight Your Best Features
Pregnancy can bring about beautiful changes to your body, so focus on highlighting your favourite features. If you love your glowing skin, wear outfits that accentuate it. If you adore your blossoming curves, choose clothes that showcase and embrace them and if you're comfortable, then why not show off that beautiful baby bump?
View this post on Instagram
4. Accessorize
Use accessories as a way to express your personal style and add flair to your maternity outfits. Hats, statement jewellery, stylish footwear, or even a glamorous pair of sunglasses can elevate your look and boost your confidence.
View this post on Instagram
5. Do the Maternity Photoshoot
A professional photoshoot will not only help you remember this special time of your life but it can also help you feel confident and beautiful with your changing body. The experience allows you to be the centre of attention and serves as a reminder of both your inner and outer strength during this time.
View this post on Instagram
6. Treat Yourself to Self-Care
Ensuring that you take care of yourself throughout your pregnancy is a very important part of looking and feeling your best. Self-care is an essential component of self-love and self-acceptance and whether it's getting a massage, practising gentle exercises, or indulging in an at-home spa day, you send a message to yourself that you deserve care, compassion, and attention.
View this post on Instagram
Although not every one of Rihanna's maternity looks can be considered "realistic" by the everyday Mumma, it is a testament to the power of self-confidence, self-expression, and embracing the transformative journey of motherhood.
While we may not all have access to a fancy stylist or a to-die-for wardrobe, what we can learn from Rihanna is that pregnancy doesn't define you; it enhances you. Stay true to yourself, your passions, and your dreams, and let motherhood become a beautiful part of your story.
xoxo
Read next …
Missed the latest celeb baby news? Catch up with these articles:
Don't miss any celebrity baby news and pregnancy announcements, subscribe to our newsletter and be first with the news.