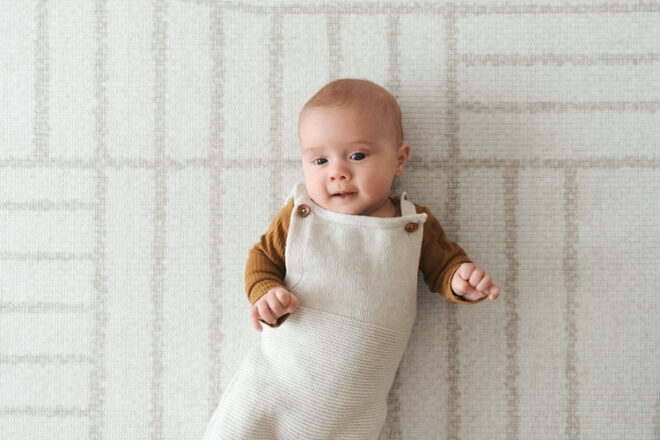 Even though I never wanted to put him down to start with, when my son was born, we realised we were going to need a safe and comfy padded play mat for tummy time. With hard floors, no parent wants their baby to bump their head (we all know how many times they tip over when learning to sit).
Look no further than a baby play mat, these soft, padded floor mats are perfect for babies, toddlers, and even big kids to lay, learn and lounge. With so many different sizes, amazing materials and exciting colours to suit all styles, the hardest choice you'll have is how many rooms you'll want them in.
Whether you're after a playful addition to the nursery, a dedicated spot for play dates or a luxe new look for the lounge, there's a baby mat out there to suit your needs.
Helpful tips for buying a baby play mat:
Is it made of non-toxic foam for extra cushioning?
Can it easily be rolled and taken to the park or beach?
Is the cover removable?
Is it waterproof (for those nappy-free moments)?
Does it have a reversible design?
If you put it near a doorway, can you still open the door?
Do you have somewhere to store it, or will it be on the floor all the time?
Is it going to be used around pets?

One of the mums in our mother's group had a playmat and she brought it with her every time we all met up. It was brilliant for when the bubbas were young.
OUR PICK OF THE CROP
14 padded play mats for tummy time
To help you find the best mats for your little one, we consulted our huge Facebook community of Australian mums and listed their most popular choices below.
In no particular order, here are 14 of the mo popular play mats for 2023.
Rugabub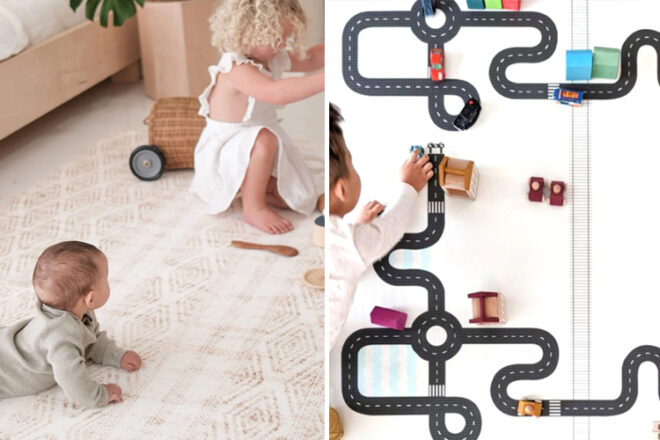 Crafted from non-toxic and biodegradable materials, Rugabub memory foam play mats are PVC and BPA free, hypoallergenic, and extra thick. Having a contemporary design on one side and a roadmap on the other, made it easy to flip the mat when our toddler wanted to play.
---
Munchkin & Bear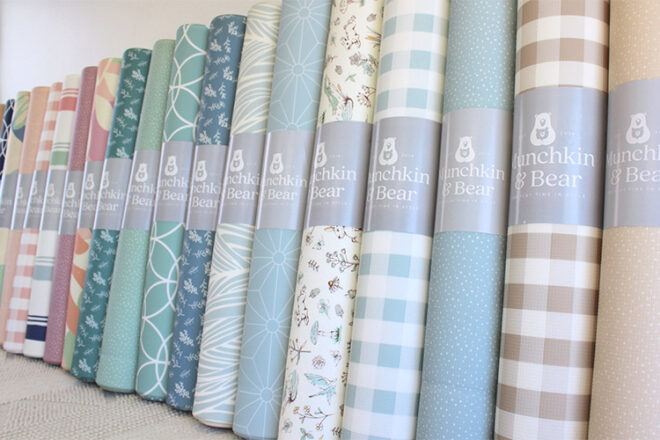 Non-toxic, waterproof and easy to wipe clean, Munchkin & Bear's award-winning play mats have a shock-absorbent foam core that protected our little ones from bumps and bruises. And with 36 dreamy reversible combinations, we had no problem finding the perfect style for our home.
---
Little Wiwa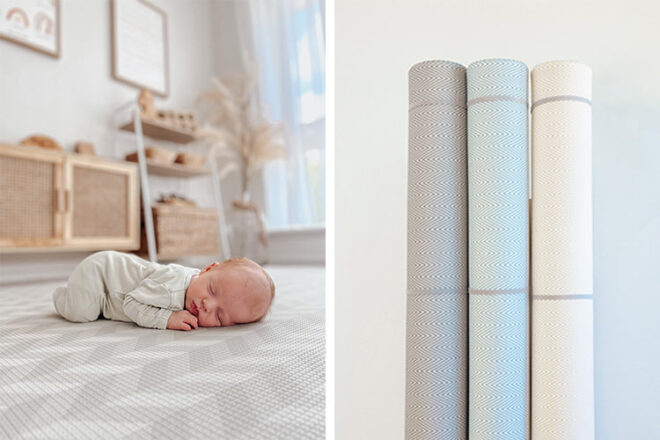 Reversible with simple and elegant designs, the award-winning Little Wiwa play mats are waterproof, non-toxic and thickly padded with biodegradable TPU foam. We love their Scandinavian inspired minimalist designs and neutral colourways.
---
Oaker Designs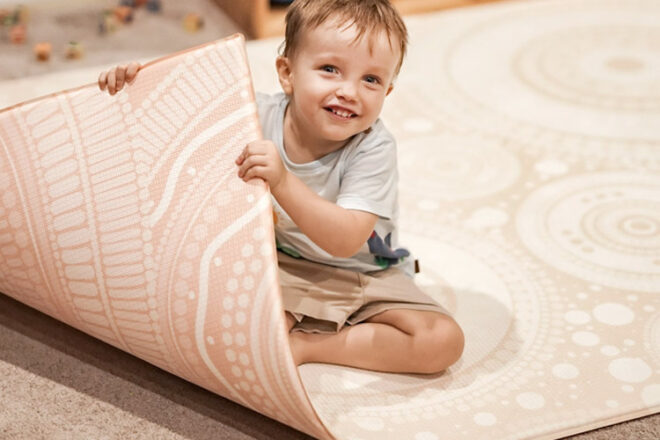 Featuring culturally inspired designs on both sides, Oaker Designs mats are made from high-quality, non-toxic TPU memory foam that was quick and easy to wipe down after snack time. We particularly loved the culturally inspired reversible designs and that it's 100% eco-friendly and hypoallergenic.
---
Snuggly Jacks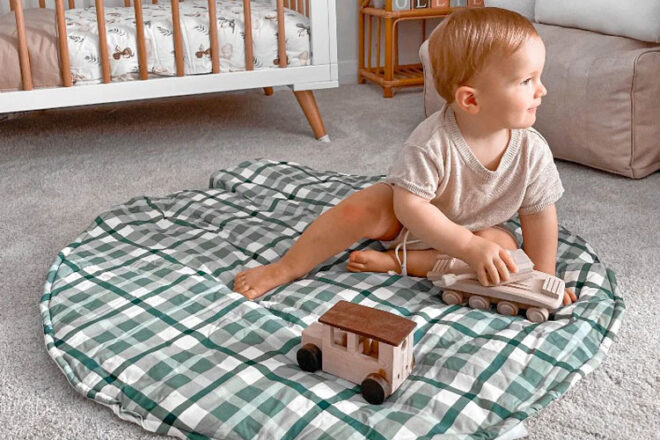 Made from 100% organic cotton, the Snuggly Jacks Play Mats are tried and tested to keep your little one safe and snug. With a 2cm thickness to support the baby's head, we love that it is available in 15 different prints, and is perfect for tummy time and baby development.

---
Softly Summer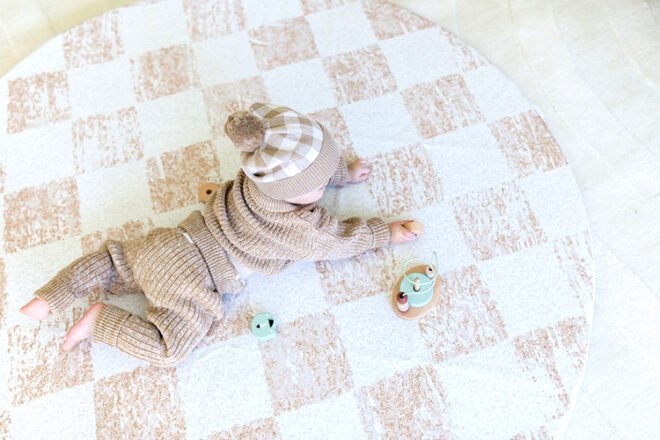 First of its kind, Softly Summer's new Cuvvy Padded Play Mats feature a squishy natural latex rubber core and premium vegan faux leather removable cover. Designed with fur babies in mind they are extra durable so little claws won't pierce the mats. Lots of reversible covers to choose from.
---
Mikró Australia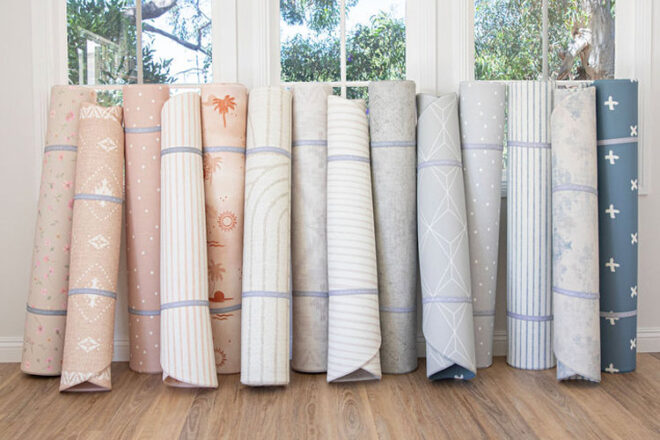 Featuring a durable, water and scratch-resistant outer coating designed in collaboration with a local artist for a truly unique design. We loved that Mikró's non-toxic floor mats use thick, baby-safe foam core to provide perfect padding and absorb impact from when our little ones fall.
---
Luxe at Play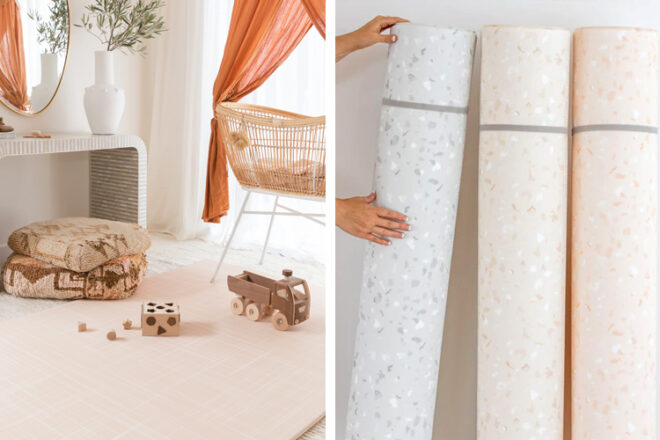 Luxuriously thick, water-resistant and without nasty colour stabilisers or plasticisers, Luxe at Play non-toxic floor mats are made from high-quality TPU material. We feel head over heels in love with their new Terrazzo designs, so contemporary, and even the large was easy to roll up and take with us on our adventures.
---
Little Nation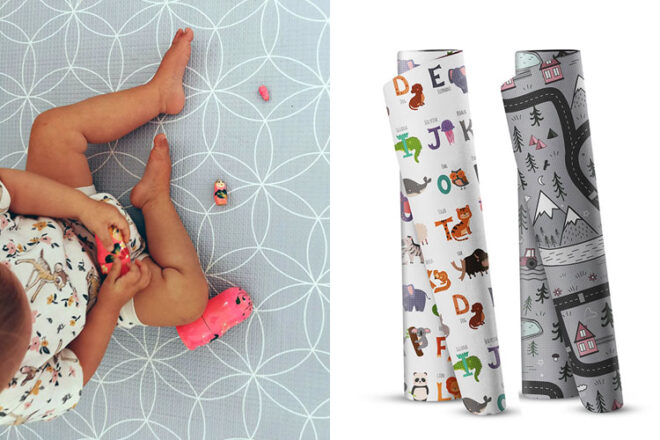 Durable and waterproof, we loved that the Little Nation reversible play mats use 1.5 cm thick TPU foam to cushion our little ones' falls without being overly spongey. Cleverly made from one single piece we found them a cinch to wipe clean, and the designs fun.
---
Rockabye River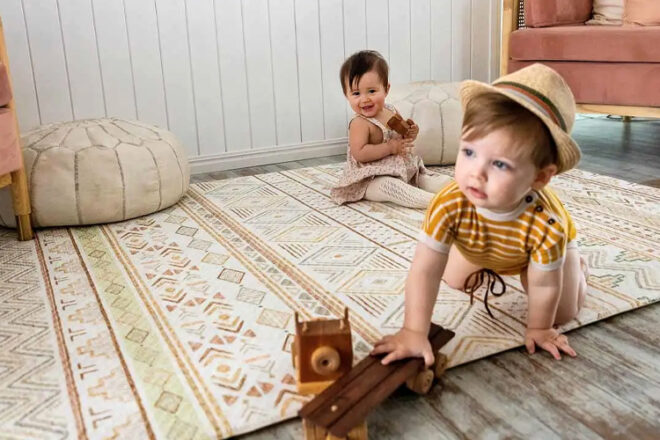 Designed to bridge the gap between style and play, Rockabye River play mats feature both culturally-inspired patterns and thoughtful playful designs. Certified non-toxic and made of shock-absorbing TPU foam we loved that each mat is eco-friendly and biodegradable.
---
Marmalade Lion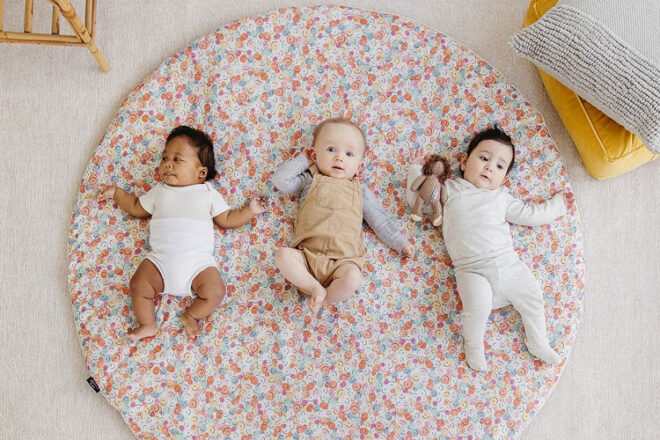 Designed for use inside and out, Marmalade Lion play mats feature a thick memory foam insert that is body temperature activated to keep your little one comfy no matter the surface. We loved that the covers were interchangeable and specially coated for easy clean-ups.
---
Grace & Maggie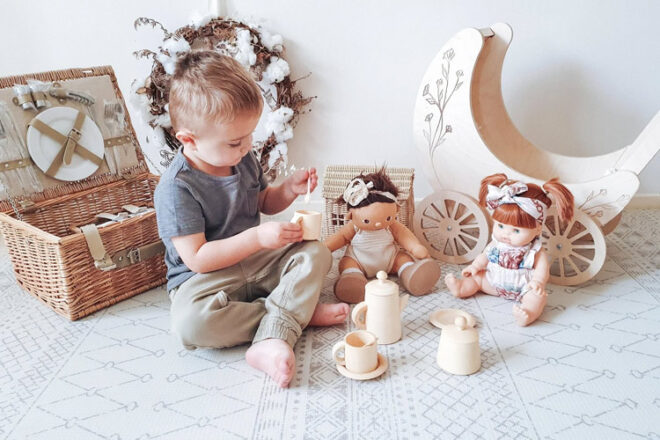 Created from next-generation, non-toxic TPU foam, Grace & Maggie eco-friendly playmats are non-flammable, biodegradable and free from latex, BPA and PVC. We loved that most of the designs come with a contemporary 'Baby Driver' reversible design for extended play.
---
Freddy & Co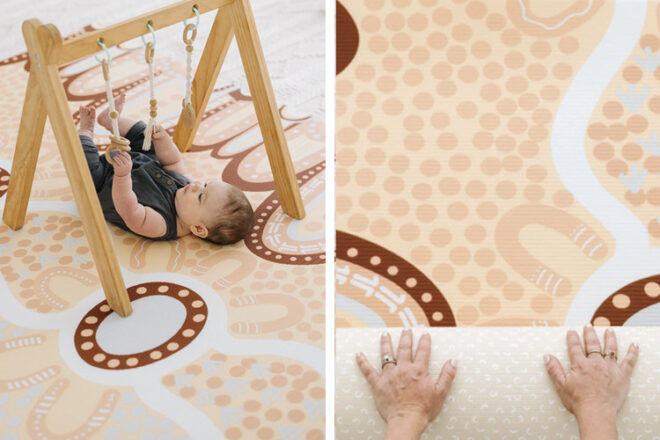 Made with non-toxic TPU foam, and designed by educators, Freddy & Co play mats are amazing for safe fun and learning. We loved the educational adventure little ones are taken on with their Aussie animal, ABC, world map, and road trip designs with décor-friendly prints on the reverse.
---
The Muse Edition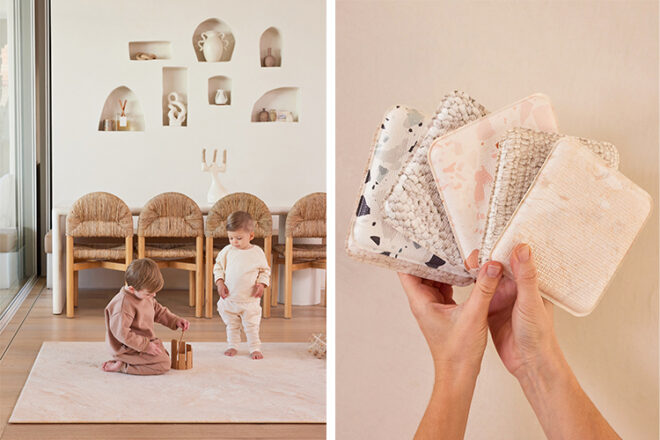 The Muse Edition have introduced Australia's first Padded Foam Play Mat sample service bringing their designs directly to your doorstep to ensure that your buying decision is made with confidence and ease.
---
Loungey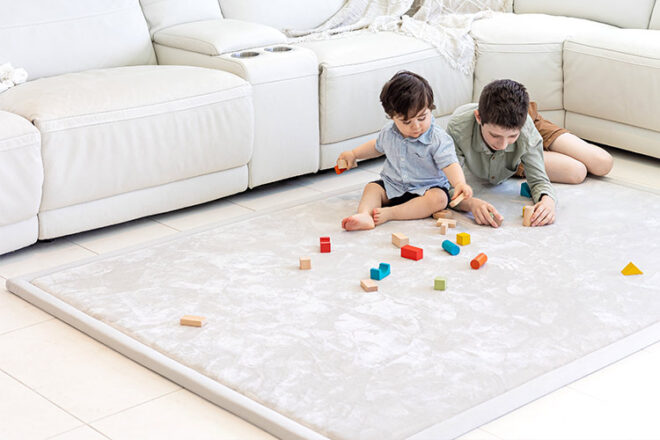 Super thick and wonderfully soft, the Cloudey Tatami mat is made with high quality memory foam for superior comfort. There are heaps of sizes and colours to choose from in two styles; our favourite which feels like velvet, and a luxe edition with a texture similar to fur.
---
FAQ: Your questions answered
Is a play mat worth it?
While not essential in the same way a cot is, play mats make a safe, dedicated play space for our babies. Easy to clean, a padded play mat also protects babies from germs, dust and debris typically found on household floors and hidden in carpets. And many are double sided.
What age can a baby use a play mat?
From birth! A padded play mat made with safe materials can be used from day one as a comfortable place to play and practise tummy time, which the Royal Children's Hospital recommends to begin from birth.
Are foam mats safe for babies?
There has been some consumer discussion about potentially toxic substances found in foam play mats, but according to Product Safety Australia, extensively tested mats taken out specifically for the chemical formamide in baby mats has shown no safety risk to children.
What are some ways to use a play mat?
The sky is the limit with all the imaginative play you can enjoy with babies on their own mat. In the early months, tummy time strengthens neck, shoulder and arm muscles on a baby mat. You could also position a play gym over the mat for overhead entertainment. Once sitting up, a mat provides the perfect surface for play with safe toys such as cloth books, teethers and rattles.
How is a play mat beneficial for babies?
Play-time mats help the development of gross motor skills and fine motor skills through open-ended play. Easy to clean, they encourage our little ones to explore the world around them. And given their padded surface, they're perfect for learning to crawl and walk without worrying about their many falls.

Know a play mat we should add to our list? Contact us and let us know, we've been curating Australia's best baby products into helpful lists for over 15 years and we're always happy to support new brands and businesses.
Read next
Ask other mums
Looking for a padded play mat and still not sure if any of these are right for you? Join the huge #MGVfam in one of our private Facebook Baby Groups and ask thousands of other mums with babies the same age as yours which ones they recommend. Join today!
We want you to know
At Mum's Grapevine, we're a team of passionate mums (with 19 kids!) and over 15 years of experience researching and writing about all things baby and parenting. Our reviews of recommended products, like the ones in this post, may include paid inclusions, but we promise to only feature products that we truly believe in and have used or seen ourselves. We want to ensure that you, our readers have access to the latest and greatest products in the parenting world, and we're committed to maintaining our high standards of quality and honesty. See our Disclosure Policy.
Thank you for trusting us to be your go-to source for all things baby-related.
xoxo