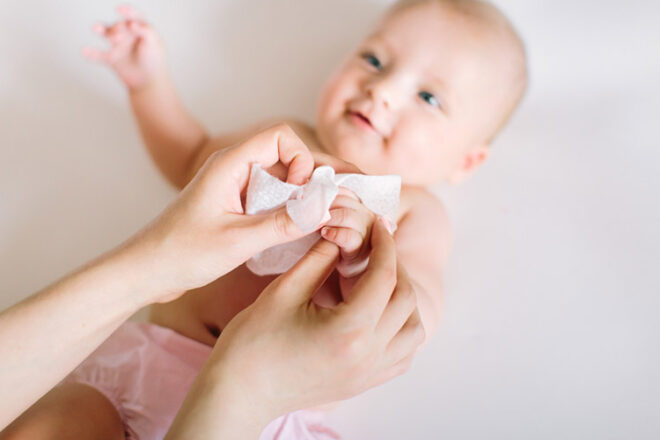 Whether it's tackling nappy blowouts, swiftly wiping away wet spills, or banishing those perpetually sticky little hands (seriously, what have they been touching?), baby wipes have become an indispensable part of every parent's shopping routine.
Baby wipes are specially crafted, pre-moistened towelettes designed to cleanse a baby's delicate skin during nappy changes. As parents, we know the importance of finding the right thickness, gentle ingredients, absorbency, and most importantly, the environmental impact of the product, especially given the substantial daily usage in Australia.
With options ranging from biodegradable wipes to those predominantly made of water, there's a brand out there to cater to every family and their precious little ones.
Helpful tips for buying baby wipes:
Is the cloth made of natural fibres or plastic?
Is the resealable lid sticky enough to be opened and closed many times?
Are they cheaper if you buy in bulk?
Are they safe to use on faces as well as bottoms?
What is the ph level of the wipe?
Are they readily available?
Remember, even if they say they are flushable, DO NOT FLUSH. They still cause all sorts of mischief in the sewer system.

To stop more than one wipe coming out at a time, place a rubber band around one side of the packet, about 2cm from the opening and that will make only one wipe at a time come out.
OUR PICKS OF THE CROP
12 baby wipes for cleaning little tooshies
To help you find the perfect wipes for your baby, we consulted our huge Facebook community of Australian mums and listed their most popular choices below.
In no particular order, here are 12 of the more popular baby wipes for 2023:
Wotnot Naturals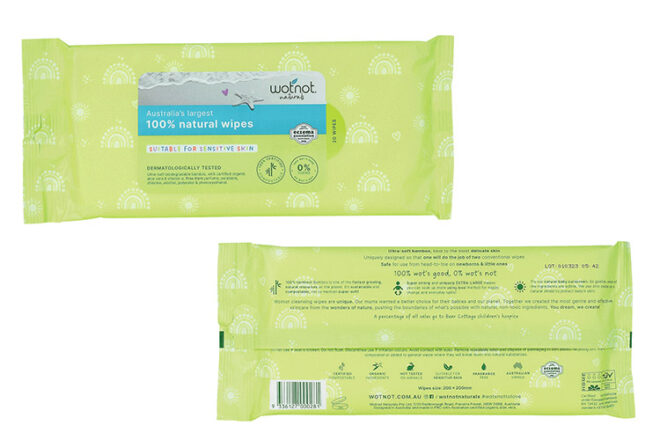 Chemical-free and made using 100% compostable bamboo fibres, Wotnot Naturals baby wipes contain certified organic aloe vera and vitamin E to be as gentle on faces as they are on tooshies. The extra large size was noticeable and appreciated.
---
GAIA Natural Baby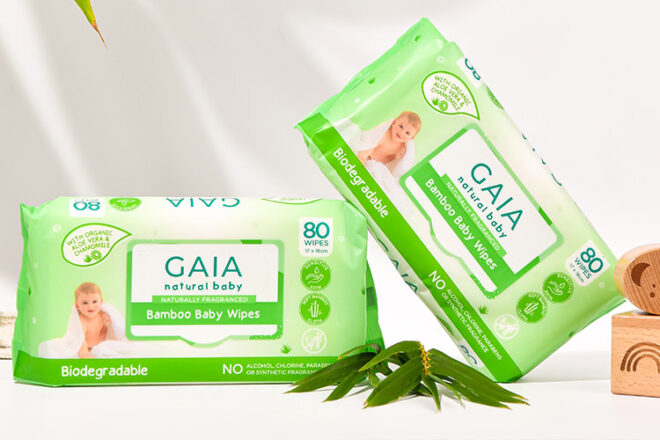 Made from super soft bamboo cloth, Gaia Natural Baby wipes contain organic aloe vera extracts and chamomile with a light scent that made the big blowouts a little more bearable. Available in three handy sizes they are perfect for the baby bag and car glovebox.
---
Tooshies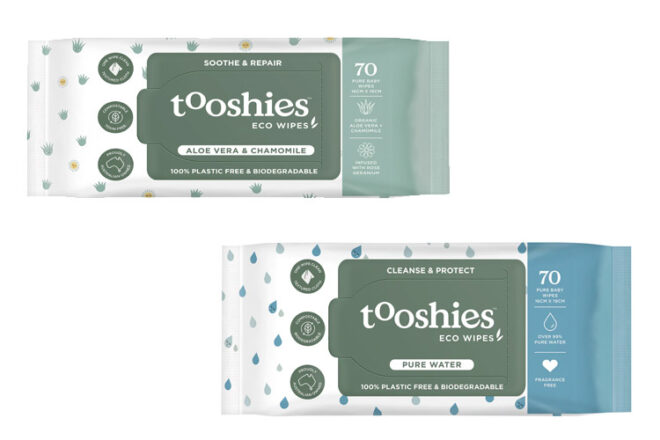 100% plastic-free, the award-winning Tooshies eco wipes are completely compostable and biodegradable. The textured cloth is so soft and we loved that you only need one. And the easy to use 'one hand' opening lid was a nice bonus.
---
Rascal + Friends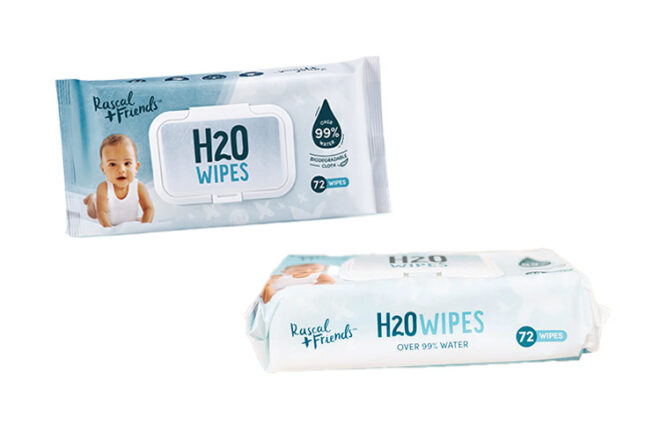 If you're looking for a hydrating clean, Rascal + Friends H20 water wipes are the perfect match. Made of 99% water, these pH-balanced wipes are extra thick to handle even the wriggliest of babies. Conveniently located in the supermarket aisle.
---
Marquise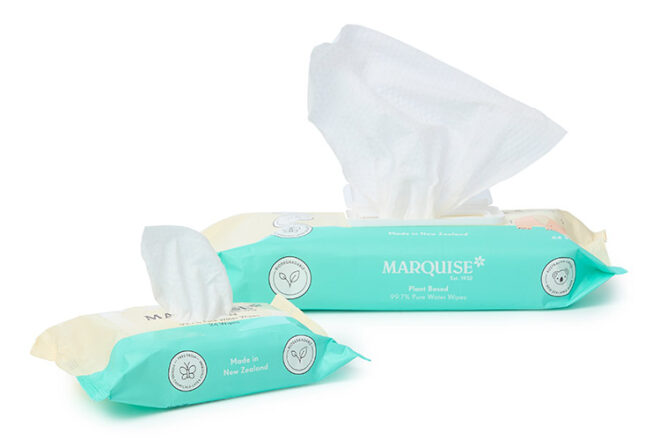 Made in New Zealand, Marquise's 99.7% pure water wipes are dermatologically tested and completely safe for wiping little tooshies, hands and faces. Manufactured from plant-based materials they are compostable too. And their 'let's go' pack is super handy and fitted nicely in our baby bag.
---
Cuddlies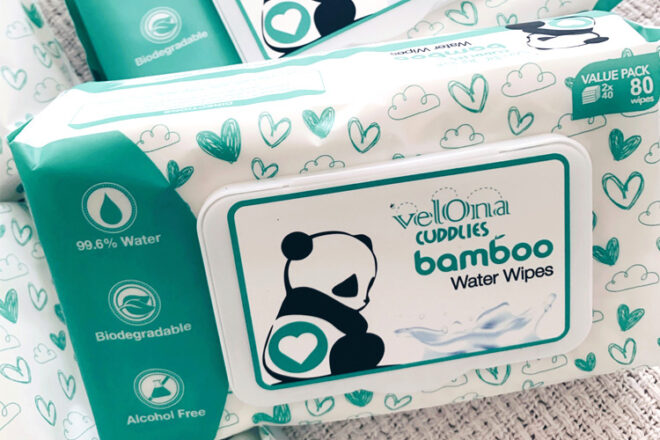 Certified non-toxic and made using organically grown bamboo, Cuddlies Water Wipes are so soft and ultra-absorbent with just the right amount of moistness. And the 99% purified water and aloe extract are so gentle on babies' sensitive skin.
---
Kit & Kin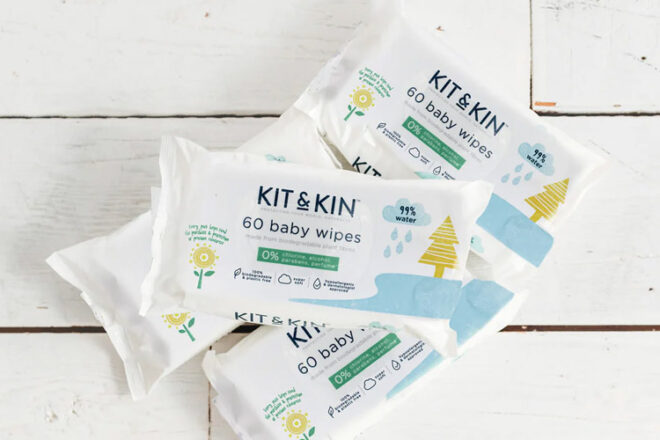 Founded by Spice Girl, Emma Bunton, Kit & Kin's philosophy is to protect the world our little ones grow up in. They are earth friendly, hypoallergenic, and made from a super soft interleaved towel for one by one removal. And we found the patented lid design easy to use, even one-handed.
---
YOU&BOO
YOU&BOO's 99% water wipes are infused with one of the richest sources of Vitamin C in the world – Australian Kakadu Plum. Completely biodegradable and plant-based these wipes help protect against rash and irritation.
---
Joonya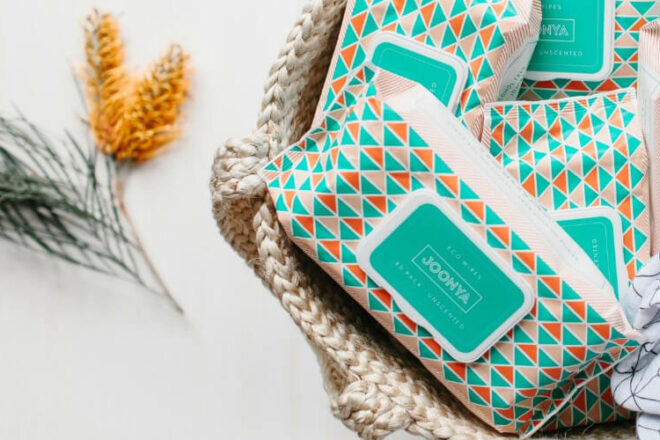 Including the most nourishing Jojoba, Chamomile and Aloe Vera ingredients, Joonya eco wipes have been specifically chosen for their skin safety ratings. We loved their subscription option so you'll never run out of wipes just as you hear that dreaded belly rumble.
---
Bunjie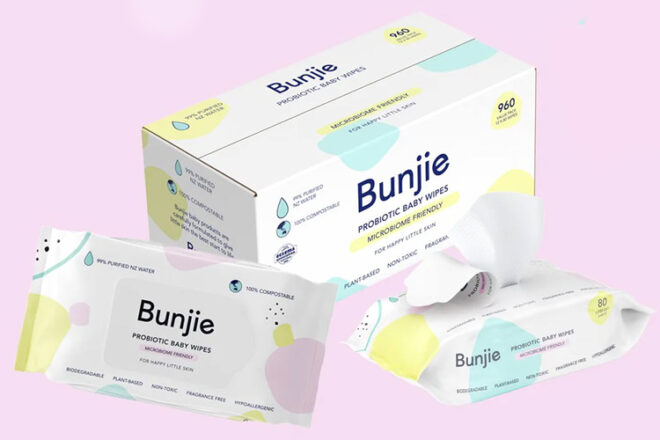 Made in New Zealand from compostable plant-based fibres, Bunjie Probiotic Wipes are the world's first pro-planet wipes that cares for the microbiome on baby's skin. We love that they're fragrance-free and safe for newborn and eczema-prone skin.
---
Haakaa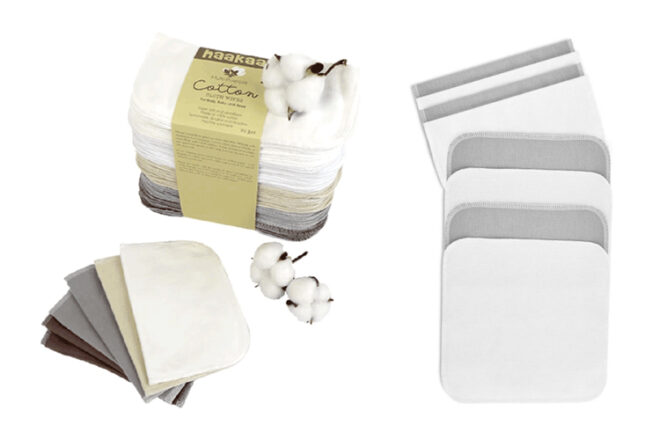 An eco-friendly option to many disposables, Haakaa Cotton Cloth Wipes use soft two-ply cotton to gently clean your baby with water or your choice of cleanser. They are versatile, reusable and we found them safe to pop in the washing machine.
---
New Beginnings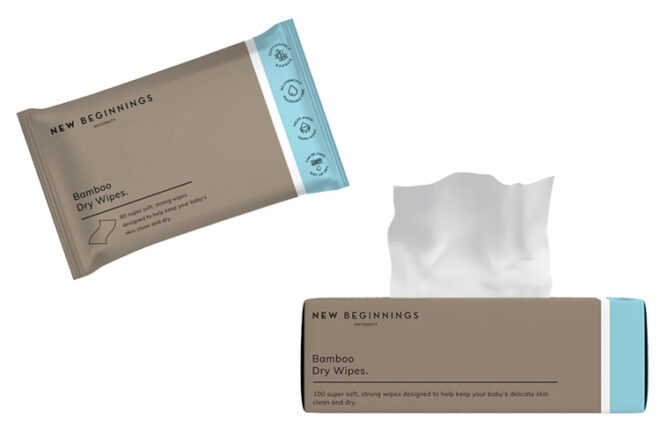 Created using absorbent, biodegradable bamboo, New Beginnings Dry Wipes make a gentle alternative to wet wipes. Simply add a little water and they transform into a durable, soft-touch cloth that is both chemical and fragrance-free.
---
FAQ: Your questions answered
What's the difference between dry wipes and wet wipes?
The choice between dry wipes and wet wipes depends on the specific needs and preferences. Dry wipes offer flexibility in terms of the moisture content used, while wet wipes provide convenience as pre-moistened disposable wipes.
Are there different types of baby wipes available?
Yes, there are different types of baby wipes available to suit different needs. Some wipes are fragrance-free, while others have a light scent. You can also find wipes made purely of water or those with added moisturisers for extra hydration or wipes specifically designed for sensitive or eczema-prone skin.
Can I flush baby wipes down the toilet?
No, please do not flush baby wipes down the toilet. Baby wipes are not as easily biodegradable as toilet paper and can cause blockages in the plumbing system. It's best to dispose of used wipes in a designated trash bin.
How long do baby wipes stay fresh once opened?
Baby wipes typically have a shelf life of around 2 to 3 years, but once opened, they can start to dry out over time. To keep them fresh and moist, make sure to reseal the package properly after each use. If the wipes start to feel dry, you can add a little bit of water to rehydrate them.
Remember, every baby's skin is unique, so it's essential to choose baby wipes that work well for your little one. If your baby shows signs of irritation or sensitivity, stop using and consult with a doctor for personalised advice.

Know a brand of baby wipes we should add to our list? Contact us and let us know, we've been curating Australia's best baby products into helpful lists for over 15 years and we're always happy to support new brands and businesses.
Read next
Looking for baby wipes and still not sure if any of these are right for you? Join the huge #MGVfam in one of our private Facebook Baby Groups and ask thousands of other mums with babies the same age as yours which ones they recommend. Join today!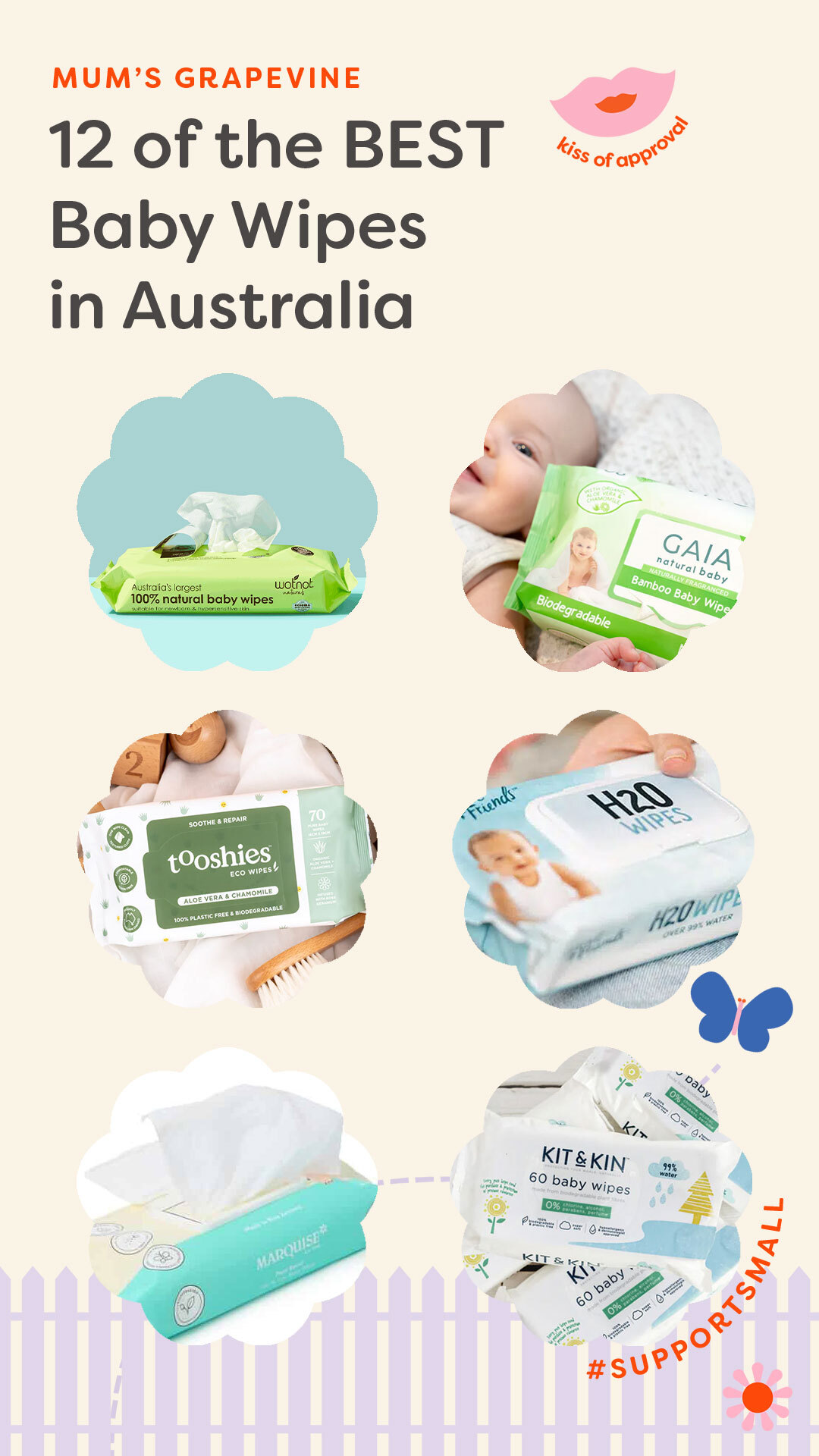 We want you to know
At Mum's Grapevine, we're a team of passionate mums (with 19 kids!) and over 15 years of experience researching and writing about all things baby and parenting. Our reviews of recommended products, like the ones in this post, may include paid inclusions, but we promise to only feature products that we truly believe in and have used or seen ourselves. We want to ensure that you, our readers have access to the latest and greatest products in the parenting world, and we're committed to maintaining our high standards of quality and honesty. See our Disclosure Policy.
Thank you for trusting us to be your go-to source for all things baby-related.
xoxo