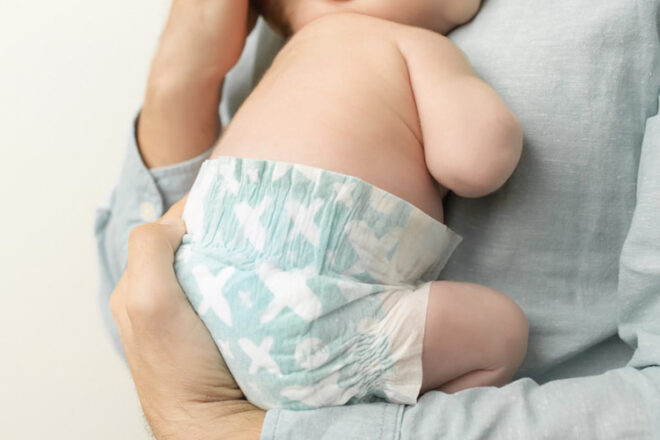 Gone are the days of keeping smelly,  thick and bulking nappies from leaking. Modern disposable newborn nappies are thinner and more convenient than ever.
Newborn nappies are specially designed for babies weighing up to 5kg. They are contoured to fit snuggly around new babies' bottoms to soak up wee and poo without leaking, well that's the hope! Newborns will go through about 8 to 12 nappies a day – thankfully new technologies are making nappies more biodegradable and sustainable.
To get to the bottom of all things nappy for newborns we've listed several leading brands available right now in Australia and what to look for when deciding which are right for you.
What to look for when buying disposable nappies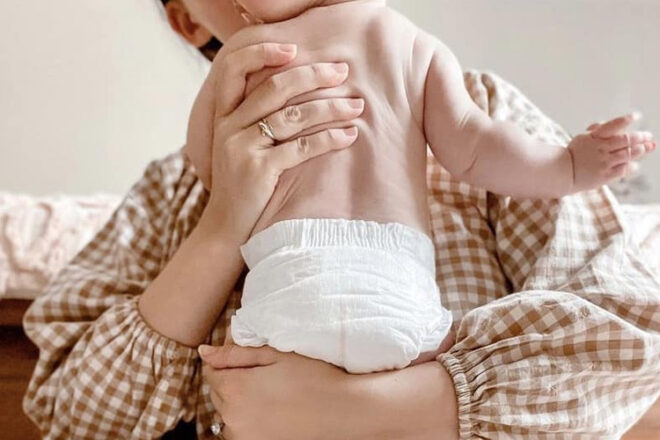 Before you decide which to buy, you need to know what you can buy and why. We've answered some basic questions to help you understand what's available, and what you might need.
Is it essential: Yes
How much will it cost: $5 to $20
How long will you use newborn nappies: 1-4 weeks
Would you purchase before baby arrives: Yes
Nappy features to consider
Fit: Most newborn sizes vary from three to four kilos, so it may be worth looking into the premmie sizes if you have quite a small baby. Most leaks tend to happen from the leg or back of the nappy, so check for elasticised areas that hold mess in, but don't restrict.
Absorbency: Most newborn nappy styles are unisex and work for both day and night.
Materials: Newborn babes have very sensitive skin, so look for features like a soft inner lining and a breathable outer cover, free of harsh chemicals and toxins that could cause nappy rash and other irritations.
Wetness Indicator: A lot of disposable nappies have a wetness indicator that changes colour when the nappy gets wet. Super handy as it lets you know when it's time for a nap change without the need to open the nappy
Cost: The cost of disposable brands varies greatly depending on the materials they're made from. Many biodegradable options are more expensive than traditional kinds, but kinder to babies skin and the environment.

If you have nappies left over in a smaller size you can donate them to The Nappy Collective who distributes them to families in need across Australia.
OUR PICKS OF THE CROP
10 nappy brands small enough for newborns
To help you find a super-absorbent and gentle nappy for your newborn, we consulted our huge Facebook community of Australian mums and listed their most popular choices below.
In no particular order, here are 10 of the more popular nappies mums are using on newborns in 2023.
Tooshies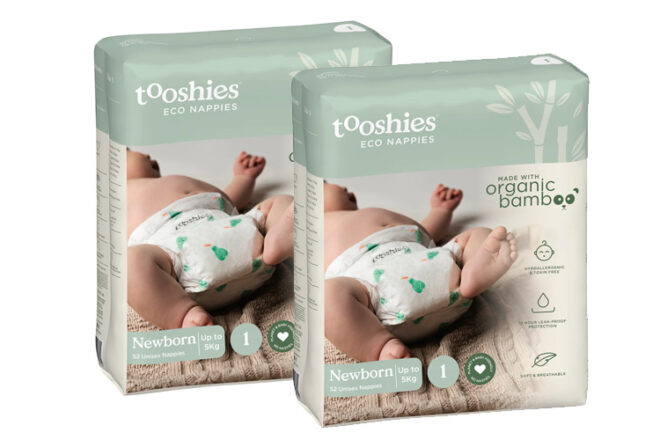 Hypoallergenic and made from organic and sustainable bamboo, Tooshies contain absolutely no nasties to irritate sensitive skin. They're naturally insulating, antimicrobial and fitted with a 100% biodegradable back sheet and triple-layer gusset for dry comfort.
Materials: Organic bamboo fibres
Wetness indicator: Yes
Number per pack: 52
---
Rascal + Friends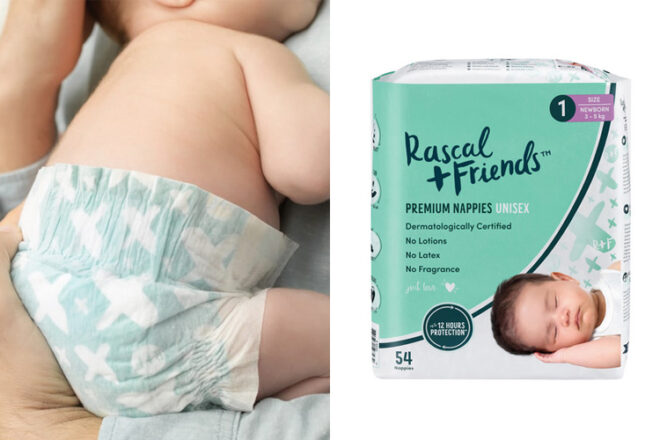 Designed with delicate newborn skin in mind, Rascal + Friends Premium Baby Nappies are made with no nasties, just love. With feather-soft materials, and a handy wetness indicator. We loved that they gave up to 12 hours of protection for those lucky enough to have babies sleeping through.
Materials: Made with sustainable pulp
Wetness indicator: Yes
Number per pack: 54
---
Comfy Koalas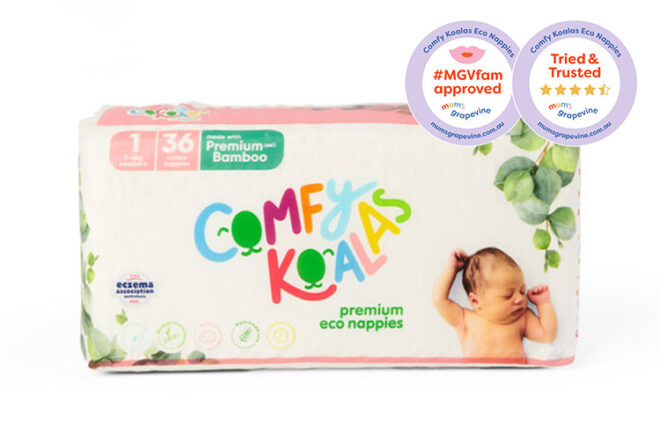 Australian owned and operated, Comfy Koalas are Earth-friendly, absorbent and as comfy as can be. We love that not only do they come with an anti-leakage guard, but also use certified compostable at-home packaging, and are made using responsibly sourced biodegradable bamboo.
Materials: Biodegradable bamboo
Wetness indicator: Yes
Number per pack: 36
---
Marquise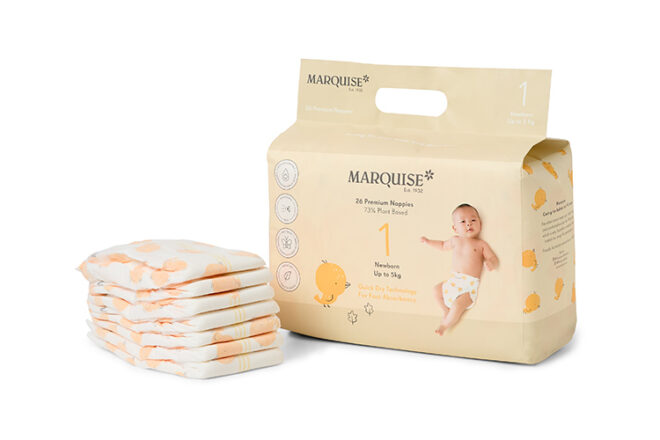 Made with a commitment to comfort and quality, Marquise Eco nappies are everything you need in a newborn nappy. With a 5-layer inner core with quick-dry technologies for 12 hours of leak protection, this Australian owned brand uses plant-based materials and are dermatologically tested.
Materials: Plant-based materials
Wetness indicator: Yes
Number per pack: 26
---
Bamboo Nature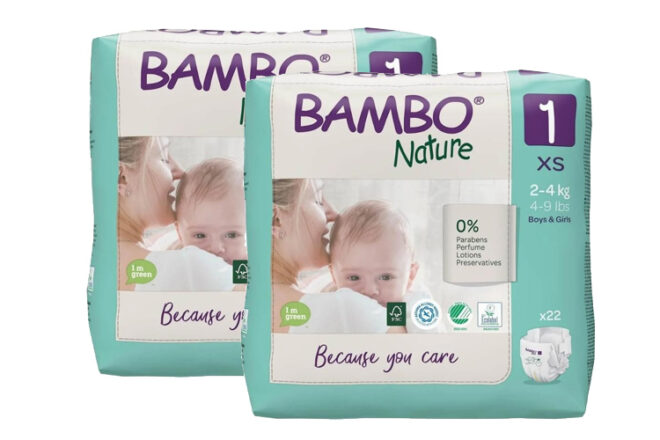 Designed to protect sensitive skin and reduce the risk of allergies and nappy rashes, we love how these nappies are both slim but also super absorbable without using any nasties. Their flexible waistbands and reusable tabs help keep the nappy in place.
Materials: FSC wood pulp
Wetness indicator: No
Number per pack: 22
---
Bamboo Behinds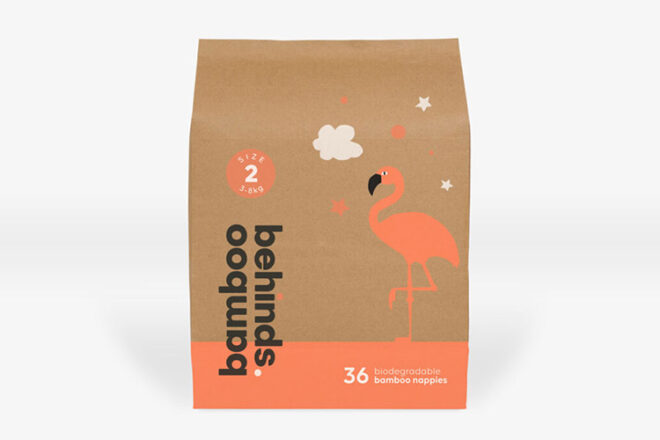 Tirelessly designed for maximum comfort for both you and your newborn, Bamboo Behinds are a non-toxic, chemical free and Australian-owned bamboo fibre nappy that's free from all plastic packaging. And their packets contain a week's worth of nappies, how easy to remember!
Materials: 100% bamboo fibre
Wetness indicator: No
Number per pack: 36
---
Kit & Kin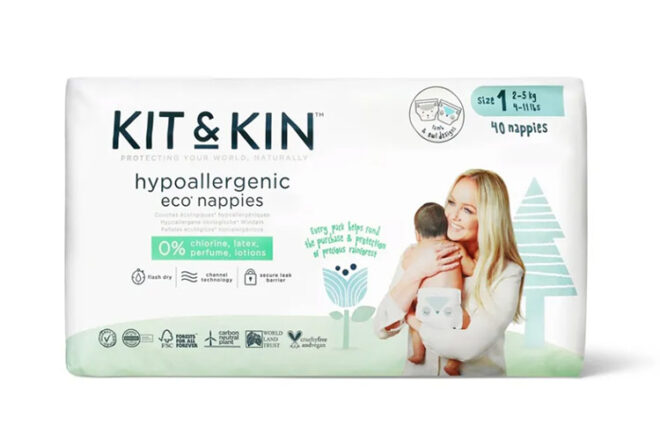 Founded by Spice Girl, Emma Bunton, Kit & Kin's philosophy is to protect the world our little ones grow up in. With 12-hour leak protection, their patented design technology cleverly stopped the classic 'nappy sag' when full. Not to mention their adorable animal designs had our hearts a flutter!
Materials: 100% sustainable materials
Wetness indicator: No
Number per pack: 40
---
Cuddlies.co

These award-winning silky soft bamboo nappies are uniquely designed with 100% bamboo top and back sheets so they are super absorbent, leaving our babies bottoms dry and comfy. We loved that 75% of the materials biodegrade in less than 100 days!
Materials: 100% bamboo fibres
Wetness indicator: Yes
Number per pack: 50

---
CUB Nappies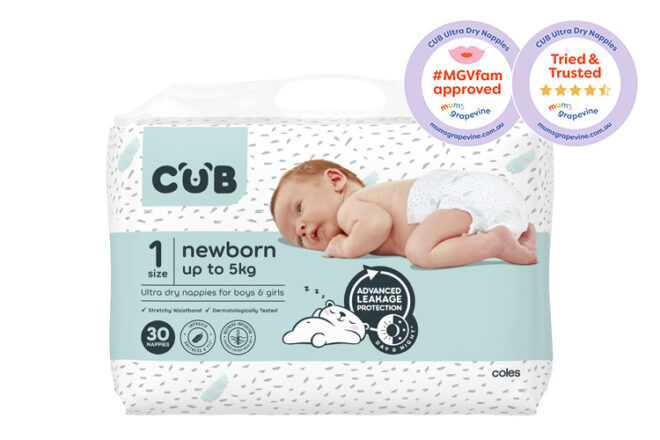 Dermatologically tested, CUB Ultra Dry Nappies keep your little one's delicate skin protected, both day and night, thanks to the advanced super-absorbent 3D core and soft breathable cover.
Wetness indicator: Yes
Number per pack: 30
---
Noopii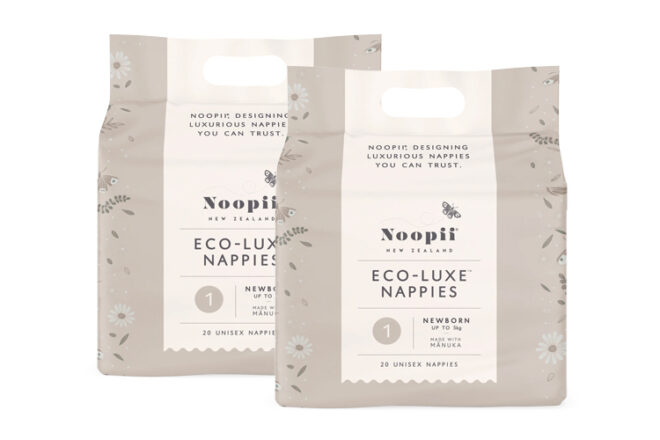 Better for baby and better for the planet, Noopiis use largely renewable and sustainable materials including New Zealand Manuka Hydrosol, a natural antibacterial that prevents nappy rash by inhibiting bacteria growth for sensitive skin.
Materials: FSC-certified forest materials
Wetness indicator: No
Number per pack: 20
---
How many nappies will your newborn use?
We consulted the huge #MGVfam Facebook community about how many nappies they are using a day/week, and this is what they had to say:
"I'm going through about 10 per day at the moment with a 2.5 weeks old"
"Using roughly 8 nappies a day, and I'm changing at each feed"
"With my older two, it was always 8-10 nappies a day for the first two months – so between 56-70 a week."
"8 per day (1 week old)"
"My bub is 3 weeks old and usually I'm changing every 3 hours –  so that's about 9-10 nappies normally but could be anywhere up to 15 if bub has a few accidents or poos right after we change him "
"I change at each feed so at least 8 at the moment. Depends if he does a surprise wee during the change. This little man does that. My first son didn't really do that."
"I'm using 6-10 a day with my seven day old."
"I was going thru 15+ due to bad nappy rash. It's like it burns him when he poos and will scream until his nappy is changed, even for a little poo, but I recently brought some nappy liners, so when he has done a poo but the nappy is still dry, I only have to change the liner. Now I am back down to 8-10ish"
"I went through a Huggies newborn box in 14 days"
"Sometimes just in one nappy change we can use 3 nappies  I will go to change him because he has done a giant poo then as soon as I wipe him and put the fresh nappy under him he will do another giant poo then the third nappy he will keep fresh for a while."
"Oh maybe 50ish a week "
"Way too many, at every feed which is usually every 2-3hrs. Our boy is almost 4wks old though."
FAQs, Your Questions Answered
Are disposable or reusable cloth nappies better for newborns?
For a lot of mums, the choice to use reusable nappies or disposable nappies comes down to the choice between cost, environmental impact and convenience. Cloth nappies are considerably cheaper in the long run and generally better for the environment. But it's hard sometimes to go past just how handy disposable nappies are.
We've written a detailed article on the differences when considering which is right for you Cloth vs Disposable.
How do I know if a nappy is the right fit for my newborn?
A well-fitting nappy should be snug but not too tight around your baby's waist and legs. It should allow room for movement and not leave red marks on the skin. Make sure the waistband is positioned below the umbilical stump if it's still present. To minimise leaks, make sure the nappy is snugly fitted and positioned correctly.
How long are babies in newborn sized nappies?
How long your baby will be in newborn sized nappies will depend on how big and how quickly your babe grows. Typically babies will be in size one (newborn nappy) for up to a month. However, some babies grow into size two within a week, while others may be in size one for up to six weeks.
We asked the huge #MGVfam on Facebook how long their babies were in size one and this is what they said:
"My boy is three months and still fits in size one"
"My son was in them for about 4 months. He's now two and in size 3 going into 4"
"Not at all for my first, only about 2 weeks for the next two. But I'm very tall so my babies were a bit bigger"
"Two boxes of newborn nappies was enough. All four kids were between 3.6 and 4.1kgs"

Know a brand of newborn nappies we should add to our list? Contact us and let us know, we've been curating Australia's best baby products into helpful lists for over 15 years and we're always happy to support new brands and businesses.
Read next
Ask other mums
Looking for nappies for your newborn and still not sure if any of these are right for you? Join the huge #MGVfam in one of our private Facebook Baby Groups and ask thousands of other mums with babies the same age as yours which ones they recommend. Join today!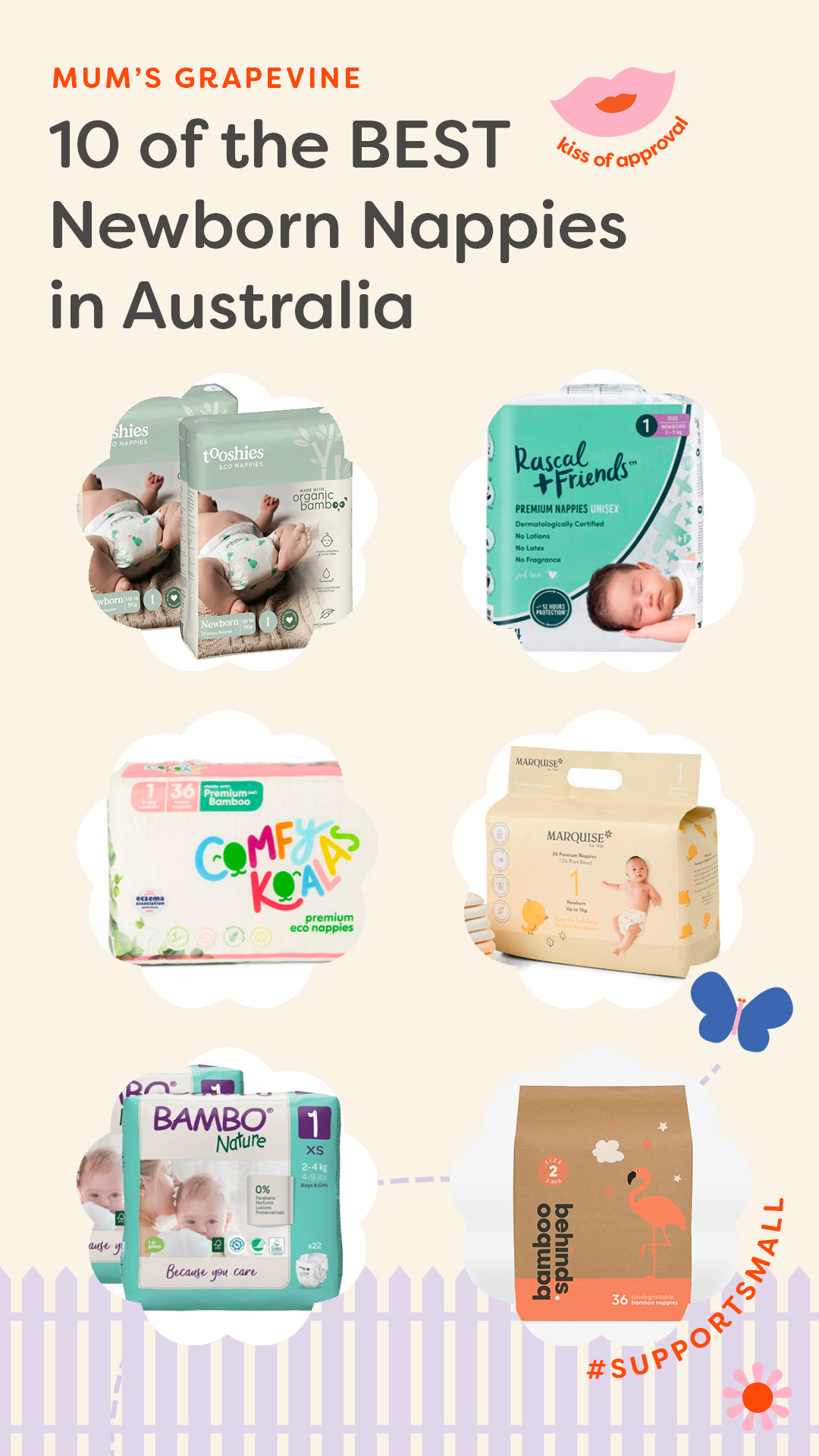 We want you to know
At Mum's Grapevine, we're a team of passionate mums (with 19 kids!) and over 15 years of experience researching and writing about all things baby and parenting. Our reviews of recommended products, like the ones in this post, may include paid inclusions, but we promise to only feature products that we truly believe in and have used or seen ourselves. We want to ensure that you, our readers have access to the latest and greatest products in the parenting world, and we're committed to maintaining our high standards of quality and honesty. See our Disclosure Policy.
Thank you for trusting us to be your go-to source for all things baby-related.
xoxo