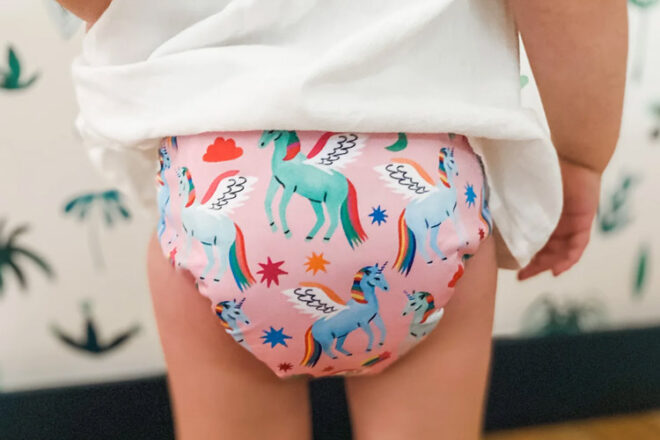 As parents, we know that keeping our babies comfortable and dry is a daily priority. And if you're thinking about using modern cloth nappies to keep your babies' sensitive areas free from plastics, or to do your part for the environment and save some money not buying disposables, reusable cloth nappies are a safe and easy-to-use alternative.
Reusable cloth nappies have come a long way from the terry-towelling squares, safety pins and pilchards our grandmothers and mothers used to use. Nowadays, Australian cloth nappies are wonders of modern technology, carefully crafted to be comfortable, absorbent, cost-effective and easy to wash.
Top tips for starting Cloth Nappies
If you are thinking of starting with reusable cloth nappies, we consulted the huge Mum's Grapevine Facebook community for their top tips for mums starting out with cloth nappies and these are their tips.
"That you might not save any money because you end up with a stash of 200, the prints are addictive" – Cindy
"Hire a kit first to find what works best for you and bub before buying an entire stash" – Katrina
"Need larger sized clothes than standard disposable nappies your little one wears" – Michelle
"Having a breastfed and cloth nappied baby is very cheap!!!!" – Simone
"Ask for them as baby shower gifts." – Louise
"That's it's not that hard!!!!!! And not as scary as everyone thinks." – Nadia
"Get a silicone-type dish scrubber to help clean the nappies but better yet, use a liner." – Lillian
"Spending more money on quality inserts is well worth it!" – Jahs
"Start at 3 months of age, that way you don't feel like you are washing 10-15 reusable  diapers a day as babies use a lot in the initial stage." – Raquel
"That you need a decent washing machine that actually reaches the required temperatures and lengths of washes for it to work and be sanitary." – Lana
"Don't go cheap… go quality and try lots of Australian cloth nappy brands." – Christine
"You need a dryer. So much harder if you only have a small amount and require the sun to shine." – Elle

Before investing in a full kit, get a trial pack from a few brands (or visit a 'nappy library') and see which style and type you prefer.
OUR PICK OF THE CROP
13 reusable cloth nappies (loved by mums!)
To help you find a super-cute cloth nappy for your little bubs tooshie, we consulted our huge Facebook community of Australian mums and listed their most popular choices below. Read what other mums had to say in the Facebook post!
In no particular order, here are 13 of the most popular cloth nappy brands for 2023.
Cloth Bums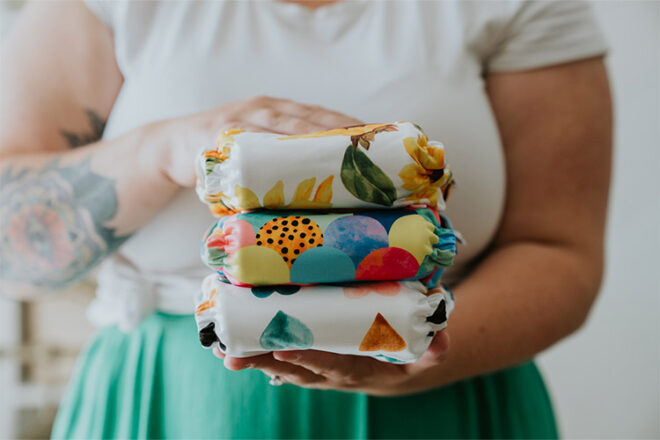 Made with the softest materials, these one-size-fits-most nappies are the perfect partner to get you through those pesky nappy years. Including a size range of 3kg all the way to 18kg, they have press studs and Velcro closures that were a breeze to use.
---
EcoNaps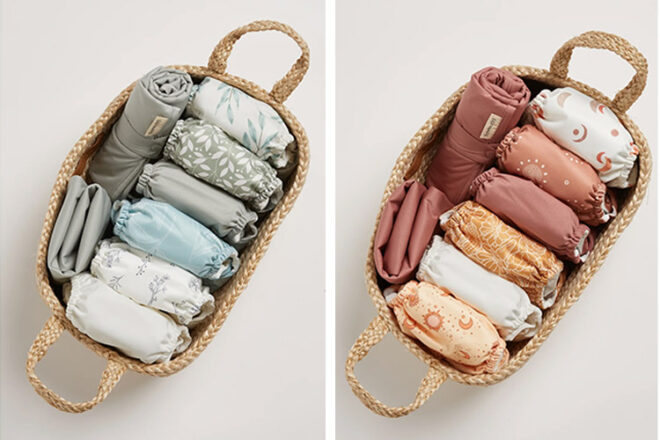 Designed in Byron Bay and boasting the first plastic-neutral reusable nappies in the world, EcoNaps easily resized with the snap of a few buttons to accommodate bubs from 3.5 to 16kgs. They're wearable as a pocket or with a thirsty bamboo insert for leak-free absorbency at night.
---
Mumma Bear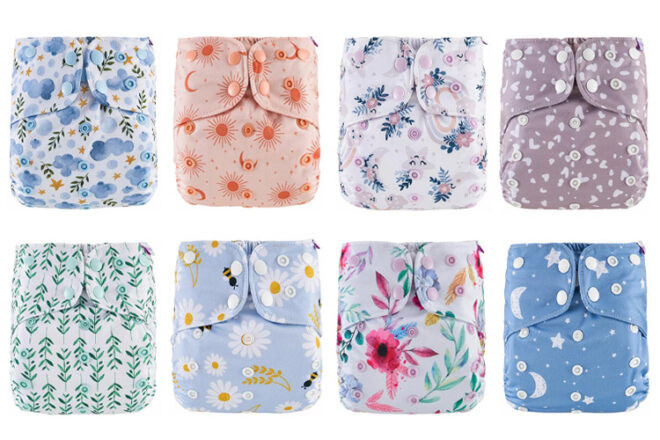 Lovingly designed for a comfortable and leak-free experience, Mumma Bear Premium Nappies include a 4-layer bamboo insert for extra protection. We thought the tummy elastic was a nice inclusion for a snugger fit and that they're quick drying, minimising the wait time between uses.
---
My Little Gumnut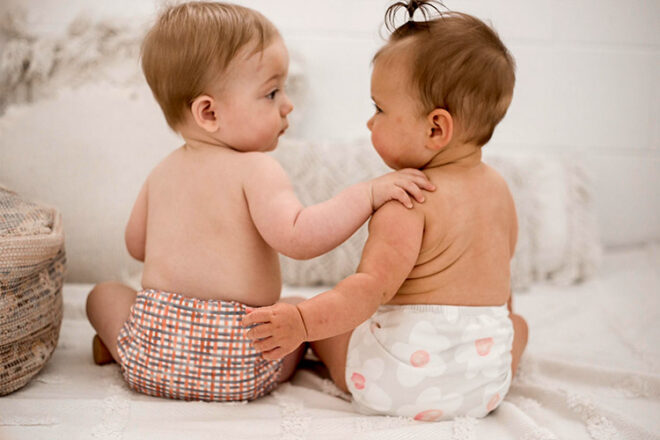 Ready to use, My Little Gumnut nappies come with a breathable, water-resistant outer shell and a super-thirsty bamboo insert. We found that the bamboo fleece pockets quickly wicked away any moisture and protected our little one's tooshies from nappy rash.
---
Brolly Sheets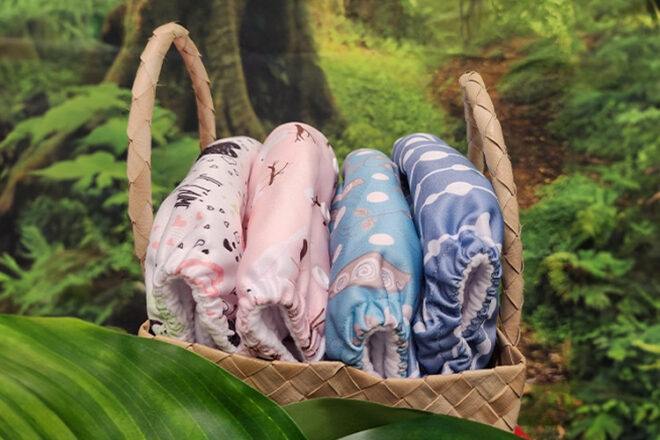 When a mum who understands the importance of comfort and convenience, designs a cloth nappy with stay-dry suede and microfibre, we knew we're in for a treat. Snazzi Pants are so easy to use, there's no pinning, folding, tucking, or stuffing needed.
---
Cloth & Crown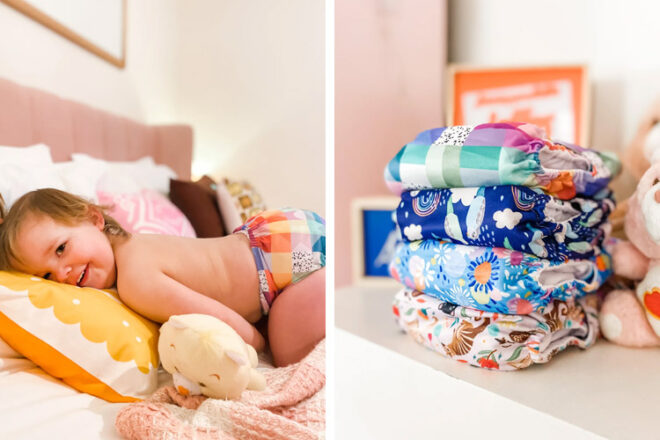 Offering playful prints designed by female artists, Cloth & Crown OSFM Pocket Nappies come with adjustable snaps for a perfect fit from newborn to 3 years. We loved the easy-to-use pocket style featuring waterproof PUL shells, stay-dry lining, and absorbent inserts that keep little ones dry.
---
Pea Pods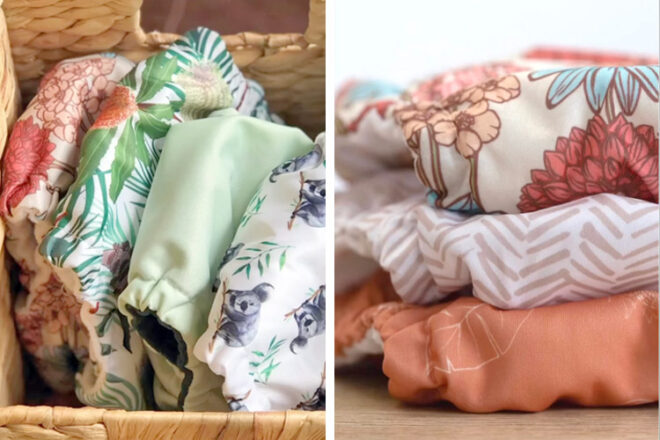 A complete unit that includes an absorbent insert, Pea Pods feature internal leg elastic that adjusts as easily as a bra strap for a snugger fit. We loved that by adding a microfleece night booster we had up to 12 hours of overnight protection.
---
Hippybottomus
You'll never worry about running out of the right size again with the award-winning Hippybottomus's one-size-fits-most designs. A natural antibacterial, their bamboo charcoal fleece inners are amazingly soft for sitting against our baby's most delicate skin.
---
Monarch Store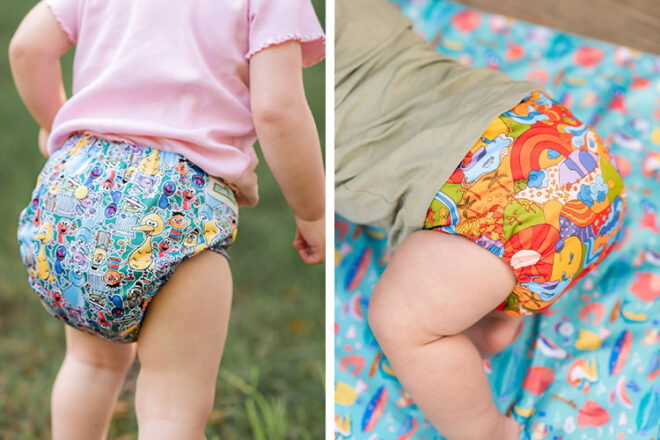 Playful and practical, Monarch Store's hand-painted nappies come with a 5-layer bamboo and a 5-layer hemp insert so you we can mix and match to get the perfect level of absorbency. We love that they're super adaptable and even double as swim nappies just by changing the insert.
---
Bamboo Grove Co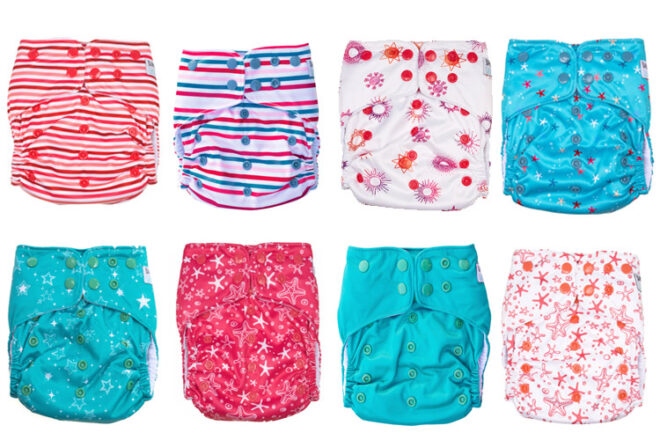 Suitable for babies 3.5 to 15kg, Bamboo Grove Co's hybrid design means these adaptable nappies can be used as either a pocket nappy or an all-in-2. We loved that their bamboo-cotton inserts are hypoallergenic and when added together the give a huge six-layers of protection.
---
Bare & Boho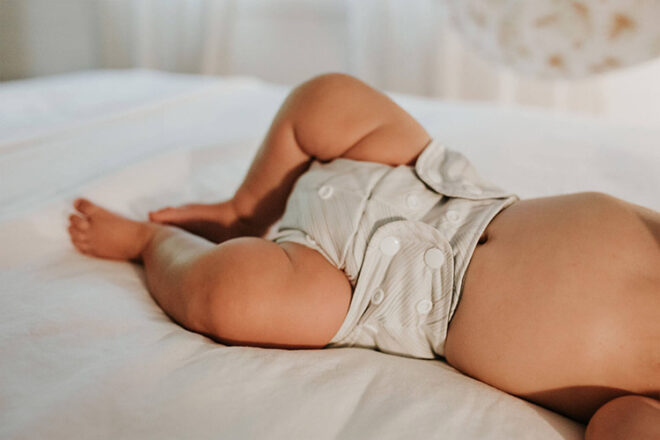 Bare & Boho's, one-size-fits-most reusable cloth nappies not only feature a 4-layer absorbent cloth insert and double-layered gussets for leak protection, but also come with an additional 4-layer booster as well. The outer shells are conveniently water-resistant and were so simple to wipe down.
---
Real Nappies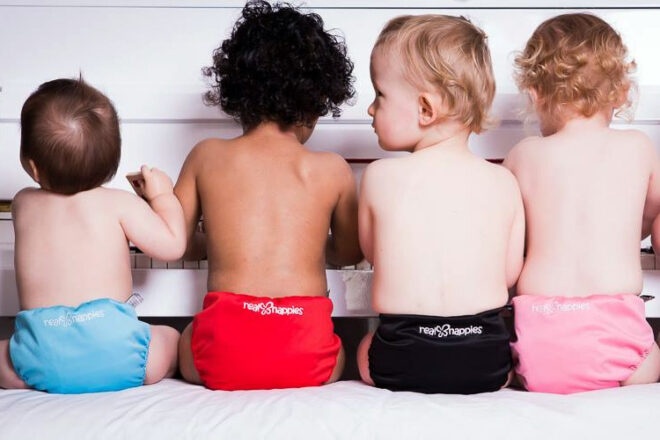 With so many bundles and singles to choose from and the option for organic-only materials, Real Nappies have done all the guesswork for you. Don't forget to add pre-folded inserts, snug wraps, booster pads, biodegradable nappy liners and nappy fasteners.
---
Lulu & Finn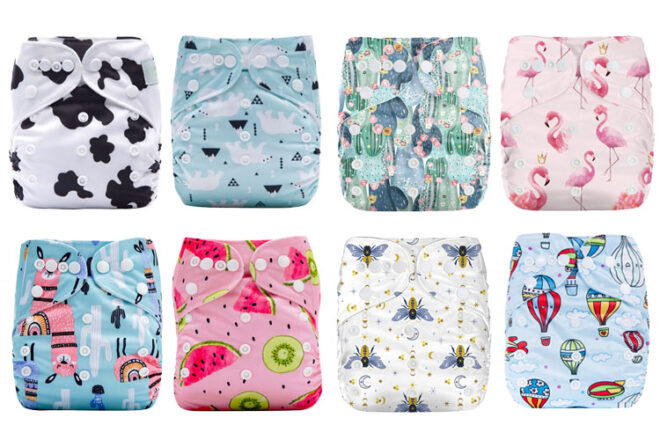 Designed to suit newborns through to toddlers, Lulu & Finn Cloth Nappies are adjustable with snapping buttons. We thought the elastic around the legs gave a secure fit, and the large pocket was big enough to stuff with additional inserts for extra absorbency.
---
Types of reusable cloth nappies:
All-in-one nappies (AIO) are similar to disposable nappies in that the cover and absorbent inner layer are attached. But while an AIO diaper means there's no need to add inserts, it also means you'll have to wash the whole thing when it's dirty.
All-in-two nappies (AI2) are made up of an outer shell and an absorbent insert that snaps into the cover. When wet, simply change the insert for a fresh one and reuse the cover. This means less washing.
Fitted nappies are reusable styles that are fully absorbent and worn with a waterproof cover over the top.
Pocket nappies are fitted with a built-in pocket for inserting liners and boosters for extra absorbency.
One-size-fits-most nappies (OSFM) are available in a single size and equipped with adjustable snaps or velcro to grow with your baby. Many brands will see you from newborn to toilet training with just one size.
---
FAQ: Your questions answered
What are modern cloth nappies?
Modern cloth nappies, also known as cloth diapers, are an eco-friendly alternative to disposable nappies. They are made from fabric materials and can be washed and reused multiple times, reducing waste and environmental impact.
How do reusable cloth nappies work?
Reusable cloth nappies consist of an absorbent inner layer and a waterproof outer layer. The absorbent layer absorbs moisture, while the waterproof layer prevents leaks. They typically fasten with snaps, Velcro, or adjustable closures, providing a secure and customizable fit.
How many reusables do I need?
You'll need at least 25 if you plan on using reusables exclusively right up until toilet training. The exact number will vary depending on the composition and your bub's toileting habits, but our mums recommend having about three or four days' worth available at any one time.

Know an Australian reusable nappy brand we should add to our list? Contact us and let us know, we've been curating Australia's best baby products into helpful lists for over 15 years and we're always happy to support new brands and businesses.
Read next
Ask other mums
Looking for a reusable nappy and still not sure if any of these are right for you? Join the huge #MGVfam in one of our private Facebook Baby Groups and ask thousands of other mums with babies the same age as yours which ones they recommend. Join today!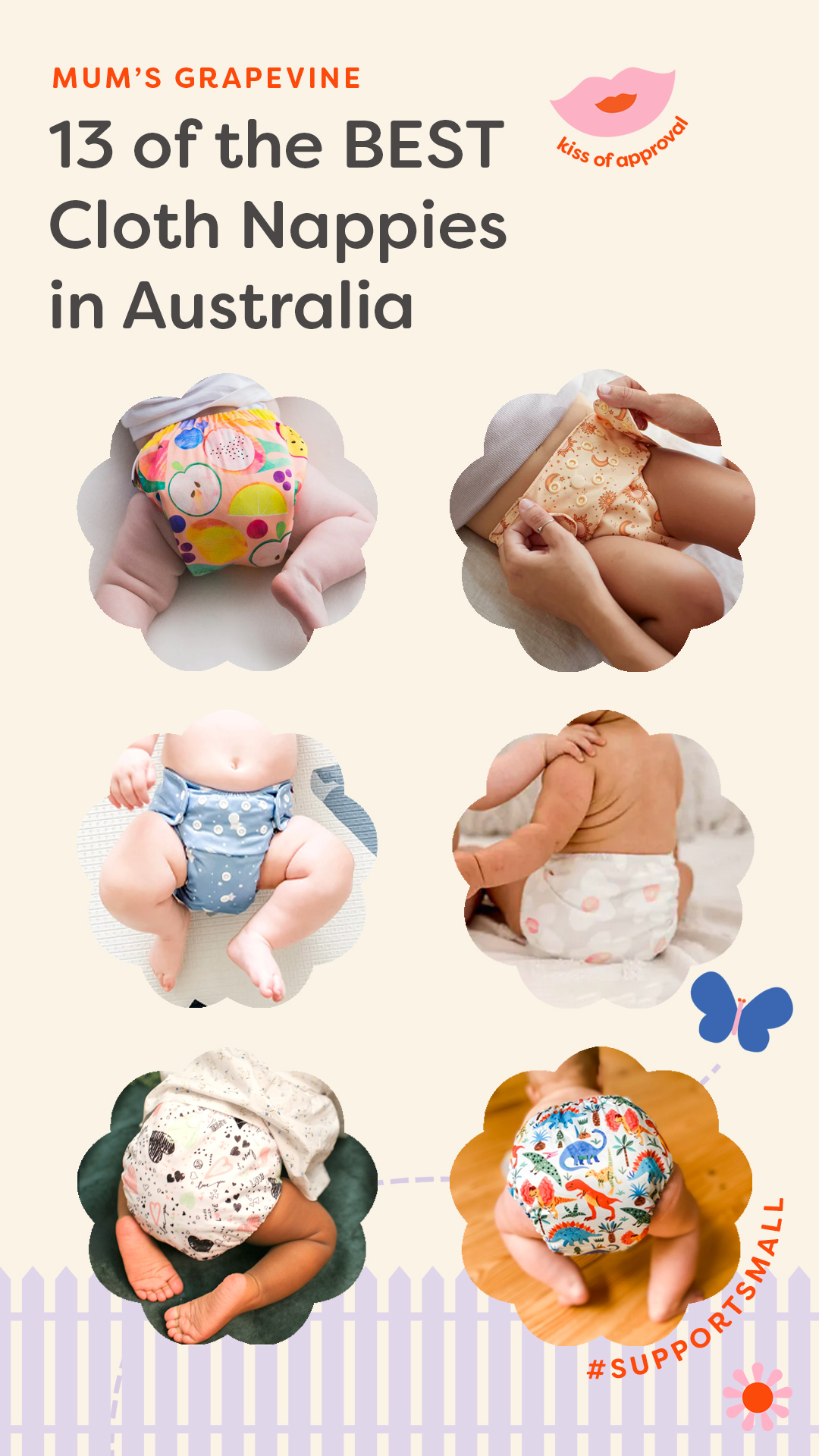 We want you to know
At Mum's Grapevine, we're a team of passionate mums (with 19 kids!) and over 15 years of experience researching and writing about all things baby and parenting. Our reviews of recommended products, like the ones in this post, may include paid inclusions, but we promise to only feature products that we truly believe in and have used or seen ourselves. We want to ensure that you, our readers have access to the latest and greatest products in the parenting world, and we're committed to maintaining our high standards of quality and honesty. See our Disclosure Policy.
Thank you for trusting us to be your go-to source for all things baby-related.
xoxo