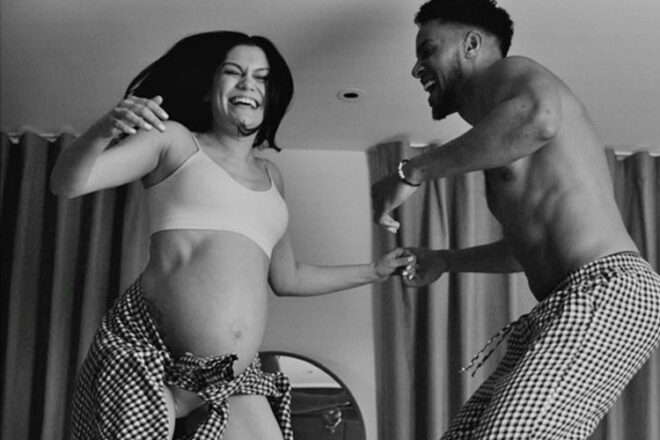 Jessie J, the sensational singer with a voice that could melt hearts and move mountains, has just shared some absolutely adorable news with her fans. The songstress has revealed the name of her precious newborn son after a month of him being Earthside. Cue the collective swooning.
Jessie took to the realm of social media to share the first official photograph of her new bubba, kitted out in a knitted jumper that had us Googling if it came in adult sizes, and unveiling her little bundle of joy's moniker.
"Mans like…
Sky Safir Cornish Colman"
View this post on Instagram
The name Sky holds a captivating meaning that resonates with the vastness and beauty of the heavens above. Derived from the Old Norse word "ský," which translates to "cloud," Sky embodies the essence of boundless possibilities and infinite horizons. His middle name, Safir, is an Arabic name that translates to Saphire in English. It symbolizes strength, wisdom, and inner beauty and embodies the hope that the child will shine brightly, illuminating the lives of others with their inherent grace and wisdom.
To celebrate his one-month birthday, Jessie shared a Reel on Instagram showing videos from little Sky's birth, his first cuddles with Mum and Dad and moments from the past month.
"Tomorrow you are a month old. It's felt like one long best day of my entire life.
Mummy and Daddy love you more than anything in this world baby boy.
And if you have followed my journey you would have often shared in my pain. Please join me in sharing in my joy. "
View this post on Instagram
Up until now, the Father of Jessie's baby had been relatively unknown, the singer keeping that part of her life private. With Father's Day in Denmark just passing, Jessie shared a video of her partner Chanan, a Danish-Israli basketball player to celebrate. In her caption, she wrote:
"Ah f*** it. I can't keep secreetssssss with ALL AH DIS LOVEEEE INSIDE OF MEEEE
Happy 1st Father's day baby • Damn it looks good on youuuu"
View this post on Instagram
Posting to his own Instagram, Chanan celebrated his little man's first month with a beautiful black and white image. His caption read:
"So that happened
Tomorrow my young king is 1 month old.
And although my expectations were high you are everything and more. Since you were born, work, food and sleep seem completely irrelevant. When you look deep into my soul while taking the biggest shit in my hands I smile, when you pee all over me while I change you I laugh, when you frantically kiss/suck on the side of my face, shoulder or neck looking for your mothers breast my heart smiles, and when you fall asleep on me with your arms wrapped around me I feel complete.
Ben Shelli I already love doing life with you. Your greatness has absolutely NO limitations, and until the end off my days I'll always protect you, teach you right from wrong, guide you when needed/asked, help you with your home work and find you some one that can teach you how to spell, support you in ups, downs and all of the in between and of course love you unconditionally.
Love you long time your Aba"
We just adore how much love has entered Jessie's life and have loved watching her celebrate her pregnancy and new mum life. So, here's to Jessie J, Chanan and their little ray of sunshine, Sky. May their days be filled with endless laughter, warm cuddles, and a lifetime of unforgettable moments.
Read next …
Missed the latest celeb baby news? Catch up with these articles:
Don't miss any celebrity baby news and pregnancy announcements, subscribe to our newsletter and be first with the news.
---
Jessie J is a Mum, welcoming her rainbow baby boy
MAY 22, 2023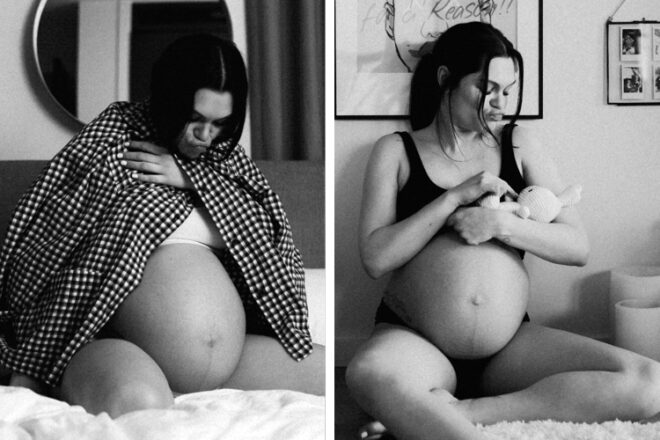 The moment we've all been waiting for has finally arrived – Jessie J is officially a proud Mum. The chart-topping pop sensation has just announced the birth of her first child, and we couldn't be more thrilled for her.
Posting on her Instagram stories, the singer-songwriter made the announcement that she has welcomed a baby boy.
Her story read:
"A week ago my whole life changed
My son entered this world and my heart grew twice the size
The feeling is indescribable
I am flying in love
He is magic
He is all my dreams come true
He is my whole
He and I are both doing great
I am soaking up every second and still can't believe he is real, here and mine
I am so grateful phew
*happy tears*
For all of you that have followed my journey to this moment, thank you for all your continued love and support.
I will be back on Instagram when I'm ready."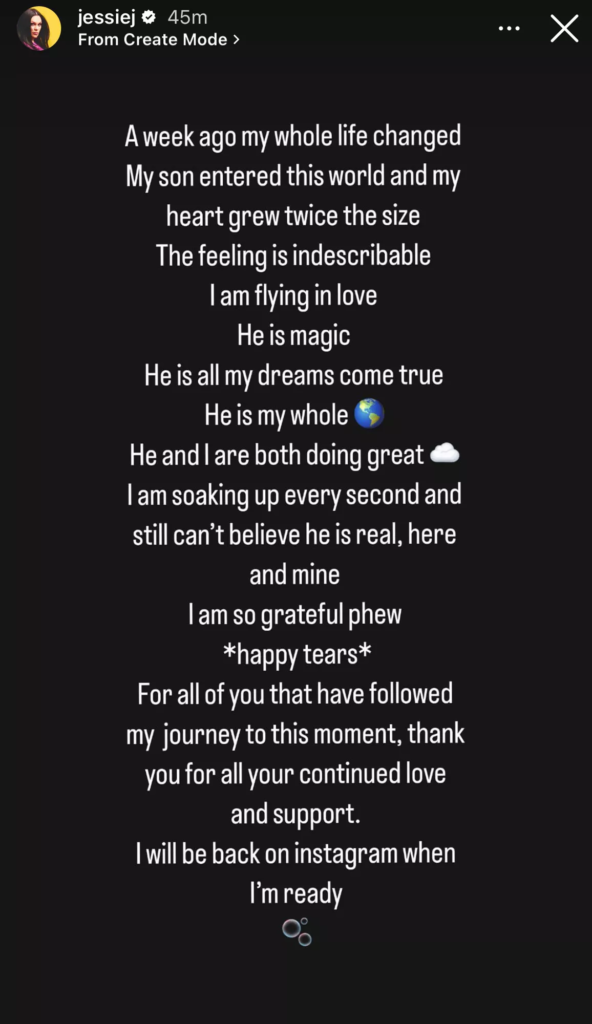 Is it just us, or could part of this announcement be turned into a song?
There's been no photo or name announcement from Jessie just yet. From her story she is just enjoying and navigating the 'baby bubble' and we wish her nothing but love and light.
Since announcing her pregnancy in January, Jessie has been extremely active on Instagram, documenting and sharing her life as usual with travelling and performing shows but with the added experience of being pregnant. She even sneakily announced the baby's gender in a casual video post of her singing one of her songs 'The Award Goes To'. In the caption she managed to slip in the information that she was in fact expecting a boy.
"Since I wrote this song every time I play it or sing it he moves like crazy…
Oh yeah…I'm having a boy
And I promise I am wearing underwear"
View this post on Instagram
In late January the Grammy-nominated star got very real with her followers posting a video that showed herself glammed up for a night out followed by how she looked the next morning. She wrote:
"I present to you… The night before v's the morning after"
View this post on Instagram
In a promotional post for an acoustic concert she held in London, Jessie looked incredible wearing a yellow shirt and sweater combo, pulled up to show off her baby bump.
View this post on Instagram
For Jessie's baby shower in February, her friends and family gathered at a restaurant where she wore a white form-fitting dress and was surrounded by lots of love and laughs to celebrate.
"Never felt so loved and never laughed so hard @laurenwillson impression of giving birth and @isthathollyp baby cry
Love my friends and family and all the people who couldn't make it on the day • Your energy was felt
So grateful for the thoughtfulness and celebration of this baby! I can't wait to meet you"
View this post on Instagram
For a classic 'hump day' post the singer shared a great snap that showed her baby bump taking up pretty much the entire frame with her face just making an appearance.
"Happy hump day"
View this post on Instagram
The British star attended this year's Brit Awards where she sported a very glamourous fire engine red two-piece with a giant fluffy jacket that we're totally jealous of.
"Last time I walked this red carpet was 10 years go. MAD.
Them.. "Can we get a profile shot"
Me… "Of what" 🤰🏻
I've missed "JESSSAY JESSAAAAAAaaay this way… JESSAAY"
@brits thank you for having me"
View this post on Instagram
For her 35th birthday, Jessie made a post with a number of photos as well as a caption with a list of nothing by happy things.
"1. I am 35 years old tomorrow and this is the best birthday gift I will ever get
2. Hide and seek gone wrong
3. My Mum playing with my Dads water bottle
4. My Mum turning me into her art project / strawberry Froyo
5. Making my nephew laugh is one of my favourite things
6. My Mum has the softest hands in the world
7. Right before the 🌧️
8. 👯‍♀️
9. Fresh air does wonders"
View this post on Instagram
By the end of April Jessie was more than ready to meet her little man, posting a couple of videos of her very much still pregnant. First she wrote:
"Please be looking for the exit"
View this post on Instagram
Then:
"Still pregnant
Still singing
Still hyped my little titties are now filling a size L bra
Still can't believe it's real
Still my fav audience member
Still need to pee
Still doing my epi no (IYKYK)"
View this post on Instagram
Finally, just before giving birth, the singer posted a montage of photos from her maternity shoot and we love how open and free she was with herself. She told her followers that when talking to her photographer she said: "I don't want no fancy pictures, no retouching. I want to look back at these and remember this time exactly as I looked and felt".
View this post on Instagram
From sold-out stadiums to sleepless nights, we know that Jessie J is ready to take on this new adventure with grace, humour, and all the strength she's known for. So join us in congratulating this talented artist on the arrival of her bundle of joy, and get ready to sing along as she adds a new verse to the soundtrack of her life.
Read next …
Missed the latest celeb baby news? Catch up with these articles for all the goss:
Don't miss any celebrity baby and pregnancy announcements, subscribe to our newsletter and be first with the news.
---
Jessie J announces pregnancy a year after miscarriage
JANUARY 09, 2023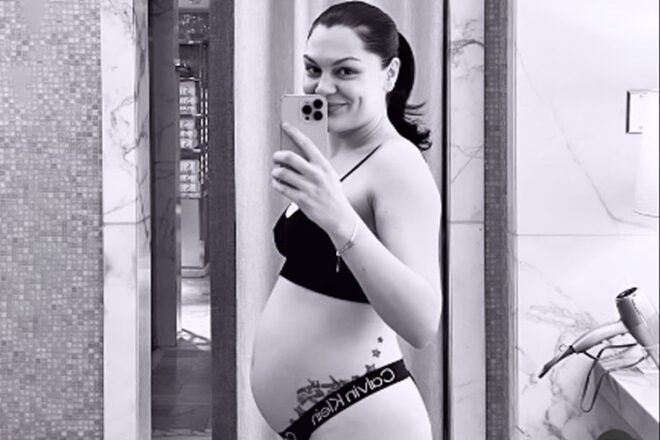 Singer-songwriter Jessie J has shared the heartwarming news that she is in fact expecting her rainbow baby.
The 34-year-old posted to Instagram a video reel of a collection of photos and videos including her pregnancy test and posing with her growing bump, all with her own song 'Sunflower' in the background. The emotional video was accompanied with the caption:
"I am so happy and terrified to finally share this…
Please be gentle with me 🫂
Honestly, ya girl just wants to ugly cry in public in a catsuit eating a chocolate covered pickle with no questions asked 🤸🏻‍♂️"
View this post on Instagram
The British star has been very open about her past experience as she suffered a miscarriage just over a year ago in November 2021. In a now-deleted Instagram post, Jessie showed a photo of herself holding up a positive pregnancy test letting followers know that she had decided to have a baby on her own. But after going in for her third scan she was informed that there was no longer a heartbeat.
A few weeks later after removing the post Jessie shared a video her singing with a devastatingly honest and emotional caption. First, she explained why she had posted and then deleted the original post writing:
"I posted about losing my baby just hours after I was told. I reacted in work mode. It's safe to say I sometimes pour more energy into creating an unhealthy process of my own pain in front of a camera, than I do acknowledging it behind one in real-time. "The show must go on" mentality reacted before the human in me did."
View this post on Instagram
She went on to talk about the want and need for miscarriages to be openly spoken about more.
"…I am so sorry if you have ever been through it alone or not, or are going through it right now at any stage of pregnancy. Losing your baby is one of the worst feelings in the world."
Since posting the pregnancy announcement that she is once again expecting, the 'Price Tag' singer has shared some words of wisdom on her Instagram story while dealing with the lovely pregnancy insomnia. With text to a plain black background, Jessie writes about how pregnancy is "the most relatable but unique journey" and "how telling someone how they feel or what to feel is just not the way to do it".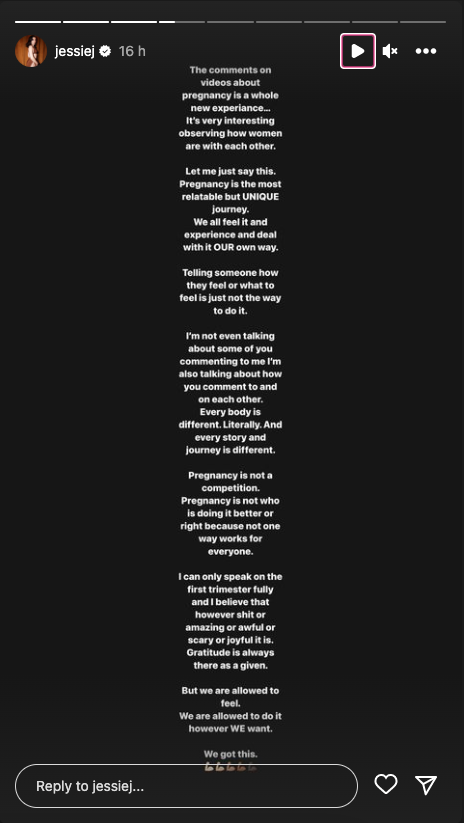 We could not be happier for Jessie and her rainbow baby and although the road has been rough, we just know that she is going to make such a beautiful mother. Wishing good health and love their way – we cannot wait to meet the new addition.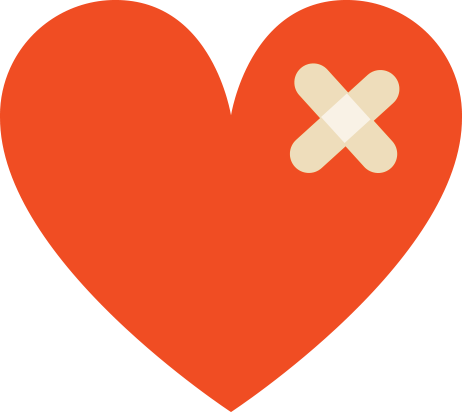 Support Services
If you have experienced infant loss please know there are plenty of support services available for you and your partner including …
SANDS Miscarriage, stillbirth & newborn death support – 1300 308 307
Pregnancy, Birth & Baby – 1800 882 436
Bears of Hope – 1300 114 673
Read next …
Missed the latest celeb baby news? Catch up with these articles for all the goss:
Don't miss any celebrity baby and pregnancy announcements, subscribe to our newsletter and be first with the news.