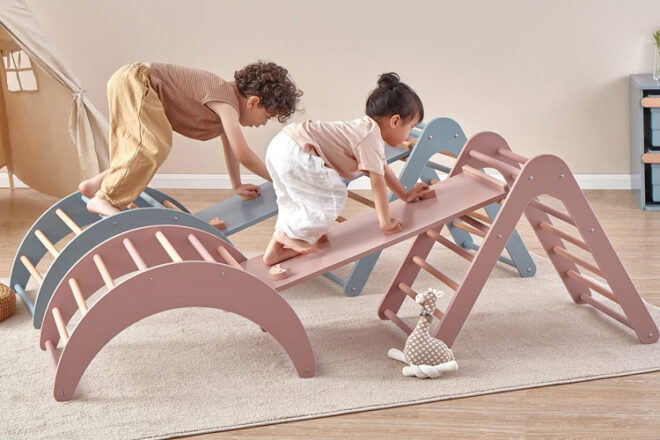 If you're looking for a fun and versatile toy for your child, you might want to consider a Pikler triangle. This wooden climbing structure has been around for almost a century and has gained a lot of popularity recently.
Piklers are great for children's development, as they promote physical activity, spatial awareness, and problem-solving skills. Plus, they're a lot of fun to play with.
In this product roundup, we'll be looking at some of the best Pikler triangles on the market, highlighting their features, benefits, and what makes each one unique. Whether you're a parent, teacher, or caregiver, you're sure to find a Pikler triangle that suits your needs and your child's interests.
So, let's dive in and explore the world of Pikler triangles
What to look for when buying a Pikler Triangle
Before you decide what to buy, you need to know what you can buy and why. We've answered some basic questions to help you understand what's available, and what you might need.
Is it essential: No
How much will it cost: $100 to $350
How long will you use it: 1-6 years
Would you purchase before baby arrives: No
Accessories available: slide, ladder, whiteboard, blackboard, scramble net, climbing wall, tent covers
Pikler Triangle features to consider
Safety: While there are no mandatory safety standards for Pikler triangles in Australia, some companies are voluntary meeting the Australian Standards for Playground Equipment & Surfacing and Safety of Toys.
Age appropriateness: The advice is to be guided by your child's own developmental stage. However, most triangles come with a recommended age range.
Folding frame: A unit that folds is easy to pack away and store, which is handy if you don't have much space.
Size: This depends on your child's age, and also how much room you have available. Mini Pikler Triangles are perfect for babies trying to learn to stand.
Weight limit: Most Pikler Triangle climbing frames have a hefty weight limit that will take the weight of a couple of babies or toddlers.
OUT PICK OF THE CROP
6 Pikler Triangles Mums Recommend
To help you find the right climbing frame for your active baby or toddler, we consulted our huge Facebook community of Australian mums and listed their most popular choices below.
In no particular order, here are 6 of the more popular Pikler Triangles for 2023:
Nimble Kids

From shape-sorting styles to rainbow dowels, Nimble Kids' Pikler range offers little explorers a safe place to climb and adventures-a-plenty. Each frame is weight tested to 100kgs, meets Australian safety standards and is made with sustainably sourced Australian hoop pine.
One online customer commented "The large pikler we got for our son has been the best investment we have made for our play area. I particularly love that it has been oiled and sealed for his dirty little hands and the colours are perfect"
Foldable options: Yes
Add-ons: Standard ramps, magnetic whiteboard, tent cover
Assembly required? Some assembly required for the Small Pikler & Shape Sorter
Age recommendation: 6 months – 6 years
---
Boori

Foster motor skills, strength, and balance with the Boori Tidy Pikler Climbing Triangle. Made from sustainably sourced engineered timber, we love that it comes in three beautiful colourways making it the perfect addition to any home.
One reviewer wrote "Beautiful product, made really well. My 11 month old loves it!"
Foldable options: No
Add-ons: Ramp, climbing board
Assembly required? Yes
Age recommendation: 6 months – 5+ years
---
My Happy Helpers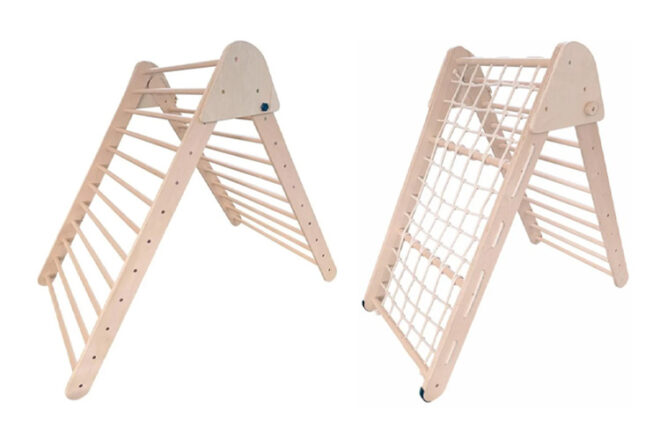 Lightweight and stable, My Happy Helpers climbing frames inspire little adventurers to reach new heights. They use hardwearing birch and come in assorted heights for kids of all ages. Each meets the Australian and New Zealand standards AS8124: 1, 2, 3 and 6.
"If you have a "climber" I highly suggest investing in a pikler – we love the Grande! Definitely worth the extra cash, my 15 month uses it everyday, hours on end fun!" said one parent online.
Foldable options: Yes
Add ons: Blackboard, scramble net, cube and boat rocker
Assembly required? Yes
Age recommendation: From 6 months
---
Jenjo Games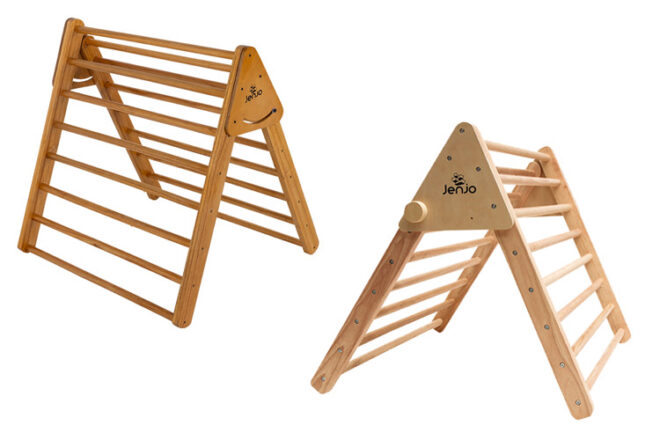 Available in a choice of two sizes to cover all ages, the Jenjo ClimbA inspires active exploration from as young as six months of age. It uses premium varnished hardwood for maximum longevity and strength and comes with a hex key for simple assembly.
One customer left the following review "Our daughter is absolutely in love with it. It has been so good on rainy days not just for climbing but for imaginative play."
Foldable options: Yes
Add ons: ClimbA Mini, Cube, Seesaw, Arch, Ladder, Rock Climbing Frame & Balance Beam.
Assembly required? Yes
Age recommendation: From 6 months (ClimbA Mini), from 3 years (ClimbA)
---
My Duckling

A Montessori-inspired climbing triangle, the My Duckling Pikler Triangles are designed to assist little ones develop their motor skills and strength. Available in two sizes and handcrafted from plywood, we love that these Pikler triangles are built to last.
A reviewer wrote "Amazing quality. Smooth finish. Very sturdy too. Definitely a toy that would be used well for many months to come."
Foldable options: Yes
Add-ons: Climbing ramp, play cube, ramp and slide hybrid
Assembly required? Yes
Age recommendation: 6 months – 5 years
---
All 4 Kids

Foldable and easy to store, the All 4 Kids Ian Pikler Triangle is a great way to encourage babies and toddlers to gain confidence, balance, stability, and strength at their own pace. A minimalistic but versatile structure, we love it's safe and stable design.
Foldable options: Yes
Add-ons: Climbing ramp, play cube
Assembly required? Yes
---
FAQs Your Questions Answered
What is a pikler triangle?
A Pikler triangle is a wooden climbing structure for children that was developed by Hungarian pediatrician Dr. Emmi Pikler. It consists of a set of interconnected wooden dowels or rungs arranged in a triangular shape. The triangle is typically made of high-quality wood and is designed to be strong, sturdy, and safe for children to climb on and play with.
Are Pikler triangles safe for babies?
Pikler triangles are generally designed and intended for children who are able to climb and move independently, typically around 6 months to 6 years of age. While it is possible for babies to use Pikler triangles, it is important to ensure that they are supervised at all times and that the triangle is used in a safe and appropriate manner.
What are the benefits of a Pikler triangle?
Play triangles are known to work wonders for the physical and cognitive development of babies, tots and kids. They strengthen muscles, improve children's spatial awareness and get little bodies moving at their own pace. And by facilitating lots of open-ended play, young imaginations are given the freedom to thrive. It's little wonder the Montessori community loves this minimalist climbing frame.

Know a play triangle we should add to our list? Contact us and let us know, we've been collating Australia's best baby products into shortlists for over 15 years and we're always happy to support new brands and businesses.
Read next
Ask other mums
Looking for a baby climbing frame and still not sure if any of these are right for you? Continue your search online by jumping into one of the Mum's Grapevine Facebook Baby Groups and ask thousands of other Australian mums what they recommend.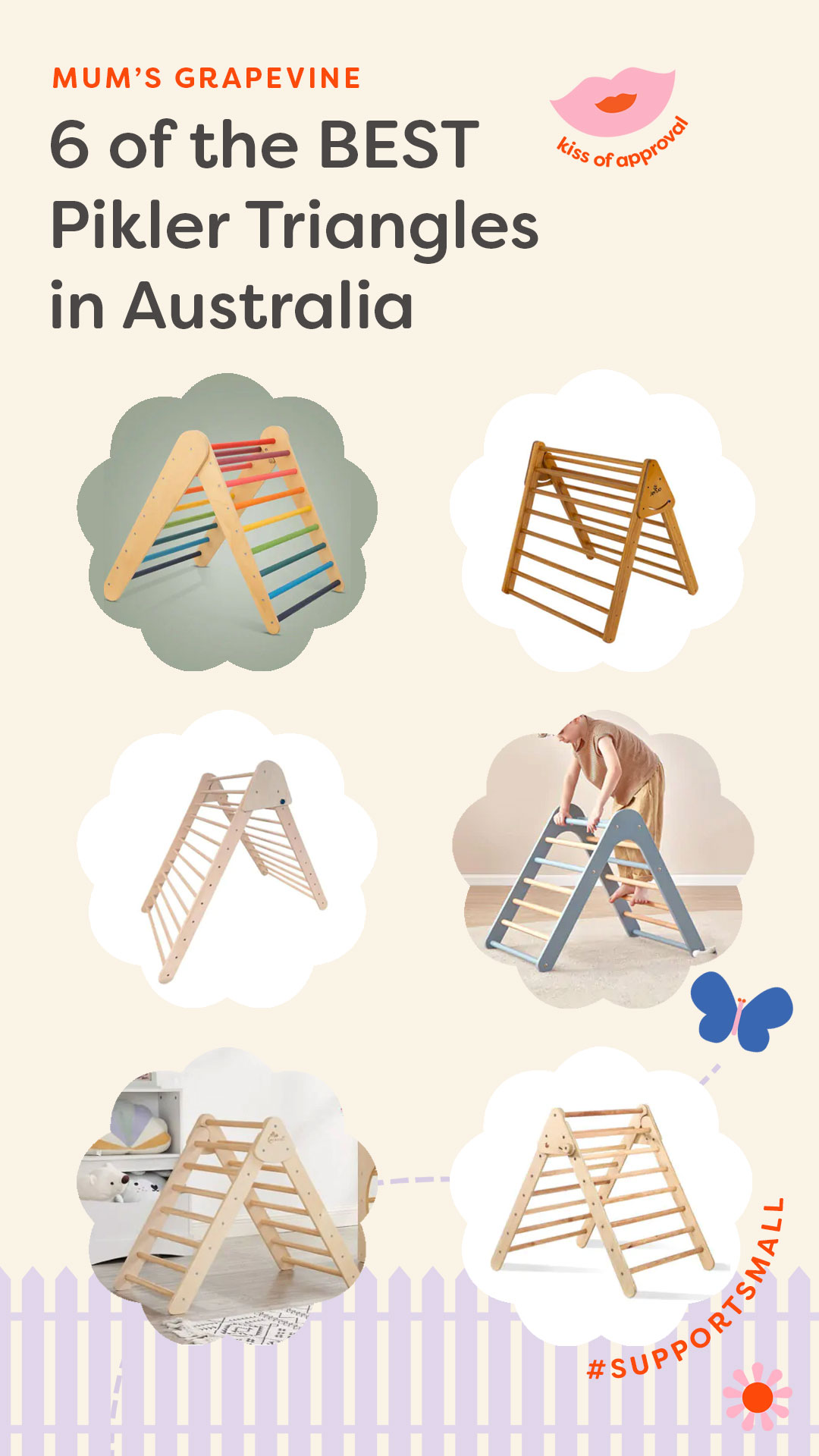 We want you to know
At Mum's Grapevine, we're a team of passionate mums (with 19 kids!) and over 15 years of experience researching and writing about all things baby and parenting. Our reviews of recommended products, like the ones in this post, may include paid inclusions, but we promise to only feature products that we truly believe in and have used or seen ourselves. We want to ensure that you, our readers have access to the latest and greatest products in the parenting world, and we're committed to maintaining our high standards of quality and honesty. See our Disclosure Policy.
Thank you for trusting us to be your go-to source for all things baby-related.
xoxo