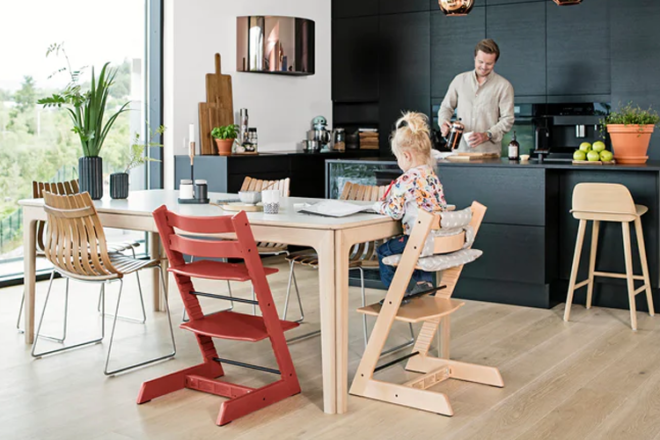 We know that mealtimes can be stressful enough, but what do you do when your little one reaches that in-between stage where they are too big for a high chair and too small for a regular seat? A booster seat for dining  chairs or junior chair could be just the answer you're looking for.
A toddler dining chair is a perfectly sized all-in-one seat that replaces a regular seat at the table. A feeding booster seat, on the other hand, secures to an existing dining chair to give littlies the boost they need to enjoy their toddler meals at the table or bench.
Whichever style you go for, a perfectly proportioned chair allows height-challenged tots to join in with family meals, learn good table manners and develop greater independence.
What to look for when buying a toddler dining chair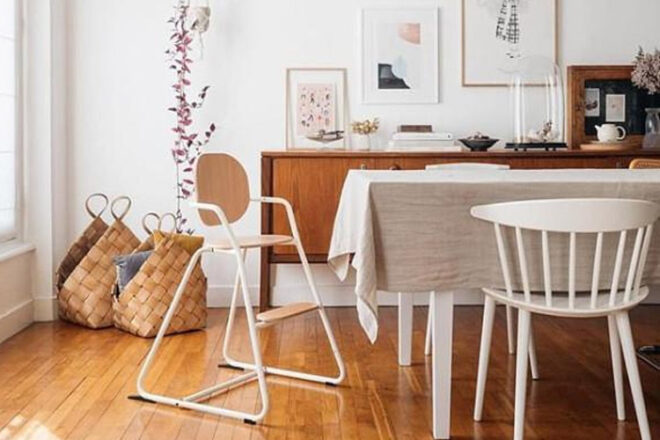 Before you decide what to buy, you need to know what you can buy and why. We've answered some basic questions to help you understand what's available, and what you might need.
Is it essential: No
How much will it cost: $99 to $600
How long will you use it: up to 8 years per child
Would you purchase before baby arrives: No
Accessories available: harness straps, high chair tray, padded seat mat, safety bar.
Helpful questions to ask when buying a booster seat or toddler chair:
Where will I store it when not in use?
Does it fit under your dining room table?
Can it be washed easily?
Is it strong enough to hold my child as he grows and gets heavier?
Can I adjust the height as my toddler gets taller?
Does the booster seat fit safely on our existing chairs?
Is it comfortable to sit on?
Can it be adjusted to a desk chair for later use?
OUR PICK OF THE CROP
12 booster seats & chairs mums recommend
To help you find a kid's dining chair or booster seat for the table, we consulted our huge Facebook community of Australian mums and listed their most popular choices below.
In no particular order, here are 12 of the most popular toddler chairs or booster seats for 2023.
Stokke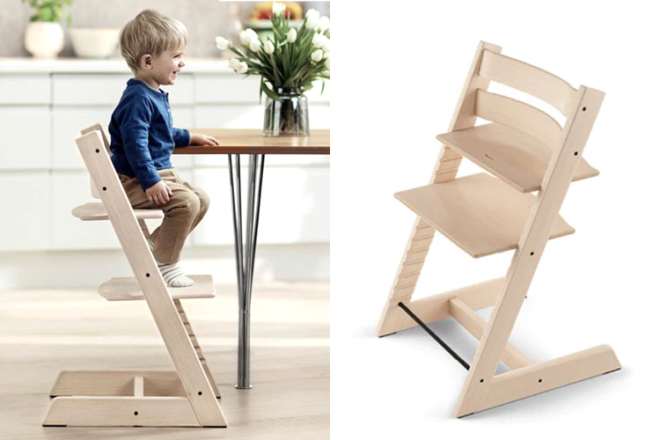 Celebrating its 50th anniversary, Stokke's award winning Tripp Trapp chair is cleverly designed for every stage of a childs development. Available in 14 colours, the classic design has a fully adjustable footrest and seat which can hold up to 136kg.
---
My Happy Helpers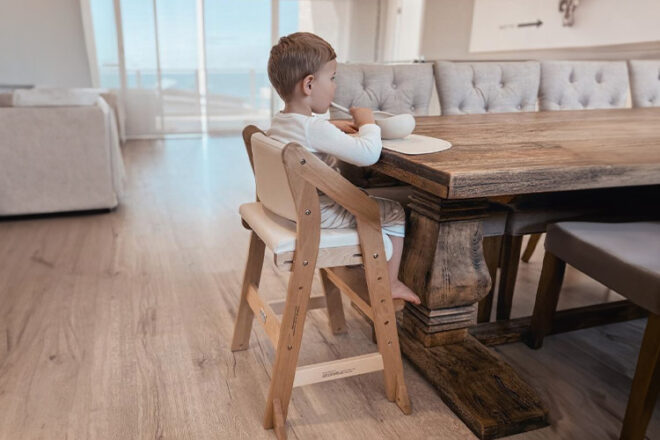 Made from solid European birch and vegan leather, the Dine and Grow toddler chair from My Happy Helpers features a clever design that stops kids from slipping and sliding around on the seat. Not only is the seat height adjustable you can also move the seat back and forward – great addition!
One mum posted a review online "It suits our dining table and makes our toddler feel like she's 'all grown up' It's a solid and well-made piece of furniture that we will have in our home for years."
---
My Duckling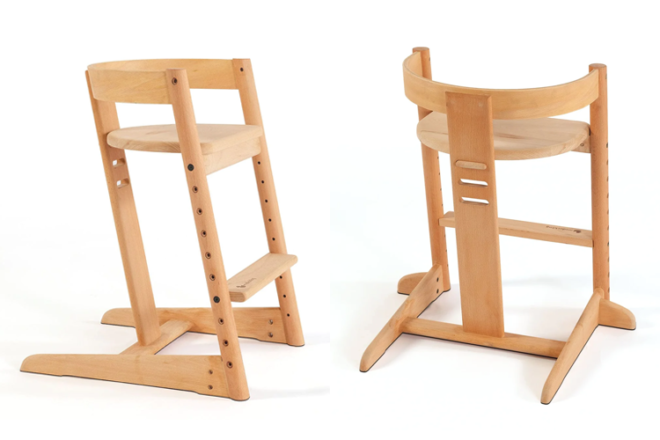 Handcrafted from quality beech wood, My Duckling's adjustable MIA chairs are eco-friendly and made-to-last. With three different height settings and eight settings for the footrest, we found it suitable for kids of all ages and stages.
"Such a stylish high chair that compliments our home. We love the optional cushion which gives baby that extra protection & comfort" commented one happy customer.
---
Leander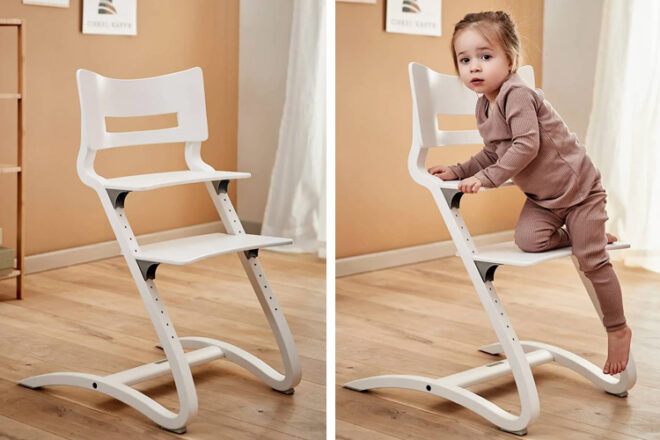 This Scandinavian toddler dining chair boasts a lightweight, ergonomic design that seamlessly blends into the modern home. Lower the level of the footrest and seat to accommodate longer limbs and adjust the backrest to support growing bodies. Clever!
One reviewer said "Amazing chair, sits beautifully with our table and so easy to clean."
---
Upsy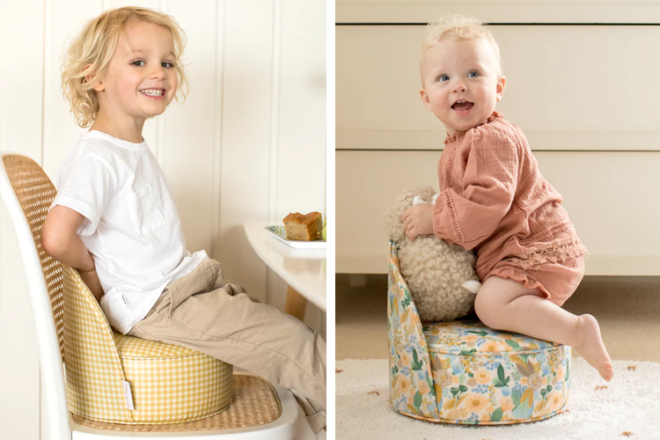 These pretty little perches are just the spot to pop a bot at mealtimes. Suitable for 18 months up to eight years, they come in a glorious range of prints and colours. We found each seat to be splash-proof, lightweight and totally portable – and trust us, you'll want to take these everywhere!
Highly recommended online, one mum left this review "Gorgeous! Love the colour. The quality is amazing. Getting so much use already. Pop mine in the handy carry bag to take over for visits to Nan too! Great Purchase."
---
Nibble & Rest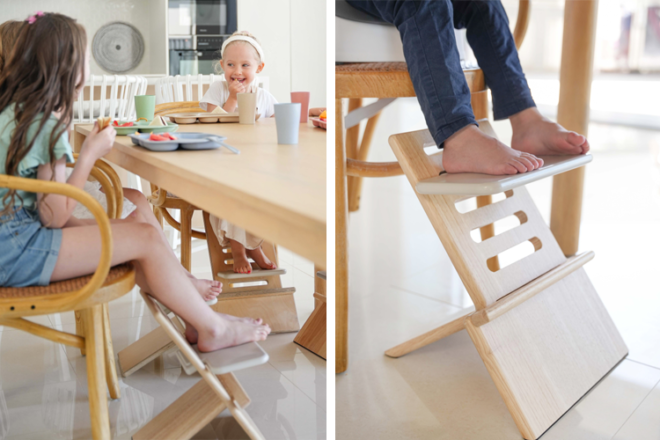 Providing fundamental foot support, the Footsi Grow is a height-adjustable children's footrest providing the utmost support and comfort for kiddos at the table. With a sleek and versatile design, we found it really easy to change heights – ensuring it will effortlessly grow with our child over time.
A reviewer online said "We absolutely love our Footsi Grow. My child used to constantly sit with her feet up on the chair and be so fidgety at the table. Now she's able to sit STILL! Cannot recommend it6 enough"
---
Charlie Crane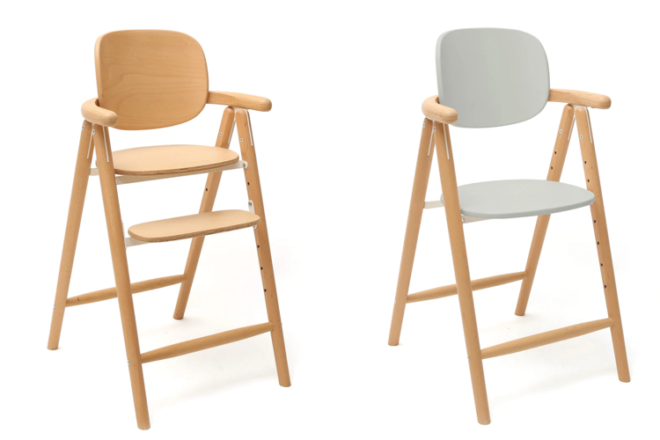 Crafted from noble, natural materials, the TOBO Evolving high chair features three adjustable heights and four footstool heights. Available in four stylish and very modern colours, we were impressed with how beautifully this junior dining chair blended into our home.
---
Kaylula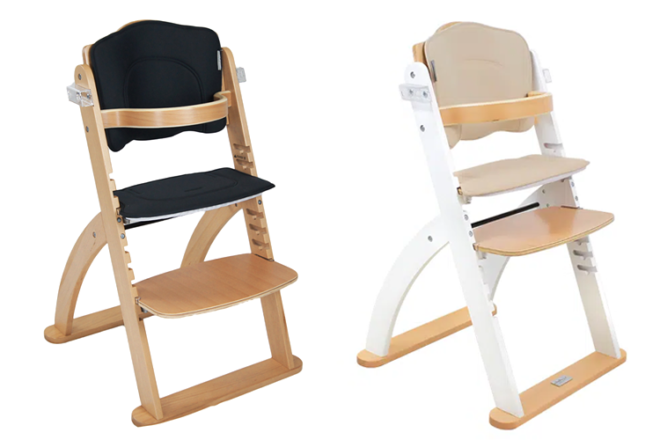 With a push of a button, the Kaylula Ava Forever chair fully adjusts in seconds. The perfect height for a dining table and made from European beechwood, we found the interchangeable seat and footrest panels to be a clever feature for extending the chairs' use.
One mum recommened online "We love the ease of this high chair. Well worth the investment for the quality, design and functionality. A real favourite in our house"
---
Childhome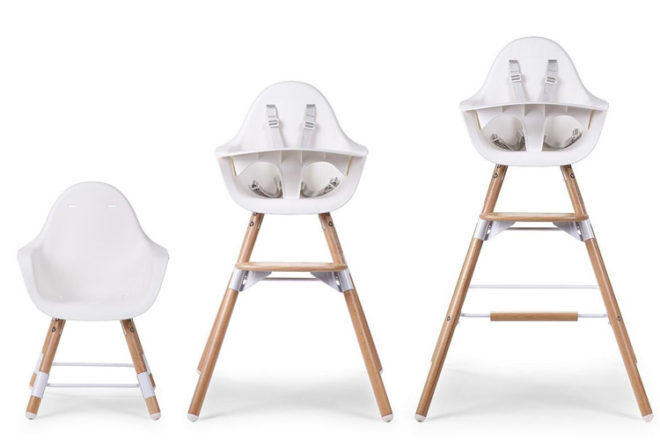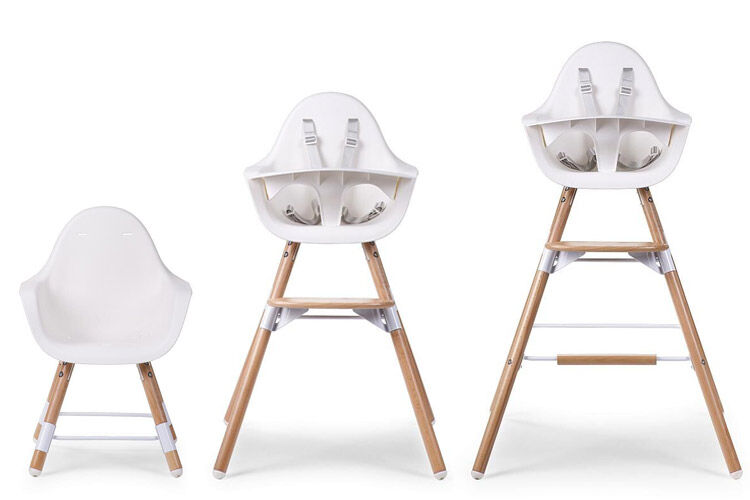 Looking for a solid chair that grows with your child? The Evolu 2 is a European-designed dining solution that comes with a five-point safety harness, safety bar and footrest. From baby's first food right through the toddler years, this one's got you covered.
"Our baby loves sitting in this chair. Easy to keep clean and goes with the rest of our furniture ." commented one reviewer online.
---
Mocka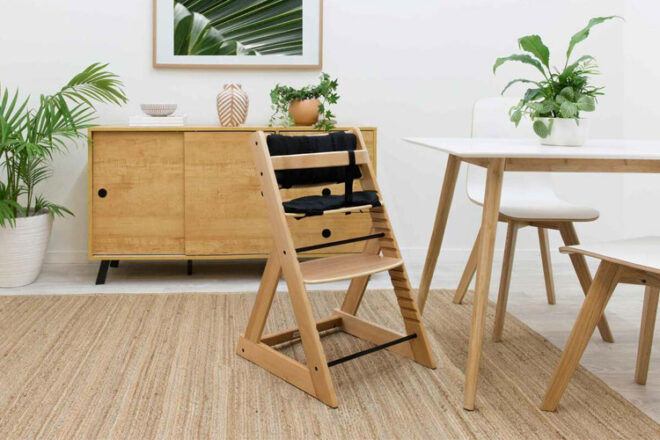 Specially designed to allow kids to sit at the dining table with the rest of the family. The Mocka Soho has a front bar for safety and adjustable seat and footrest heights making it a great long-lasting junior chair.
A happy customer left this review "Bought this chair for my 15-month-old as he was outgrowing his highchair, wish I bought it sooner and not worried with a highchair! I love that he can sit at the table with us, he loves it too! Great quality and design".
---
BabyBjorn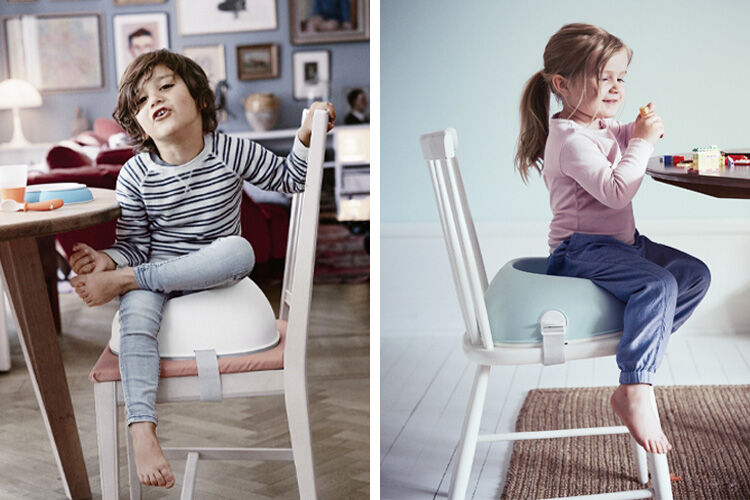 From camping trips to visits to Nanna's, this portable booster seat for the table is light enough to take everywhere. In a choice of white or mint-green, it easy to clean and comes with a rubber strip underneath for extra grip. It's best suited for tots above three years and fits most chairs.
"Great transition seat from high chair to big chair. Perfect for my 3 yr old, boosts her up to just the right height. Love how easy it is to clean too!" said one mum.
---
IKEA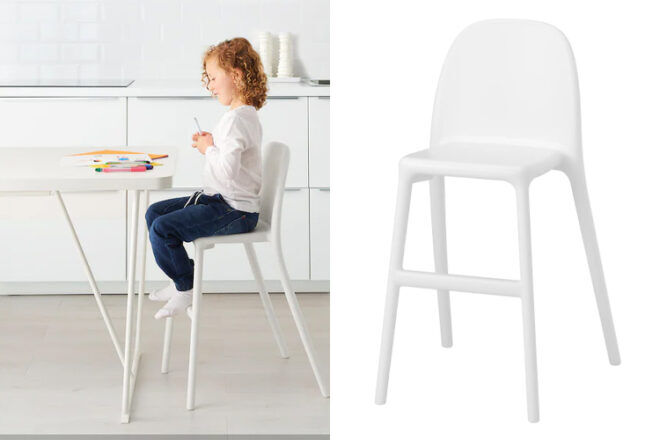 If your toddler has an aversion to being strapped in, then this could be the answer. Sturdy, modern and easy to clean, this much-loved chair has a ladder-like design giving your little monster the freedom to come and go as they please.
"Absolutely awesome product. My son loves being able to sit at the table" a review wrote online. Meanwhile another happy mum wrote "My son loves being able to get up and down on this himself, giving him independence. Love that it's easy to clean/wipe down and light weight."
Bumbo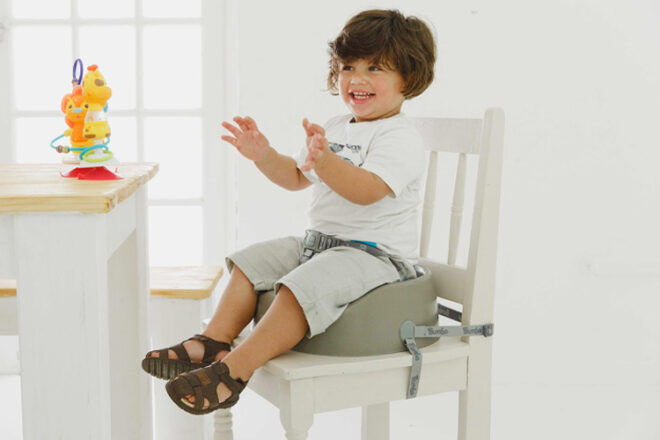 Little ones as young as 18 months can enjoy the extra height this comfy backless booster seat for the table provides. Lightweight and boasting a smooth all-over surface that won't scratch your best chairs, this is an easy one to take with you on your outings.

Know a brand of junior chair we should add to our list? Contact us and let us know, we've been curating Australia's best baby products into helpful lists for over 15 years and we're always happy to support new brands and businesses.
Read next …
Ask other mums
Looking for a booster seat for the table and still not sure if any of these are right for you? Join the huge #MGVfam in one of our private Facebook Baby Groups and ask thousands of other mums due at the same time as you which ones they recommend. Join today!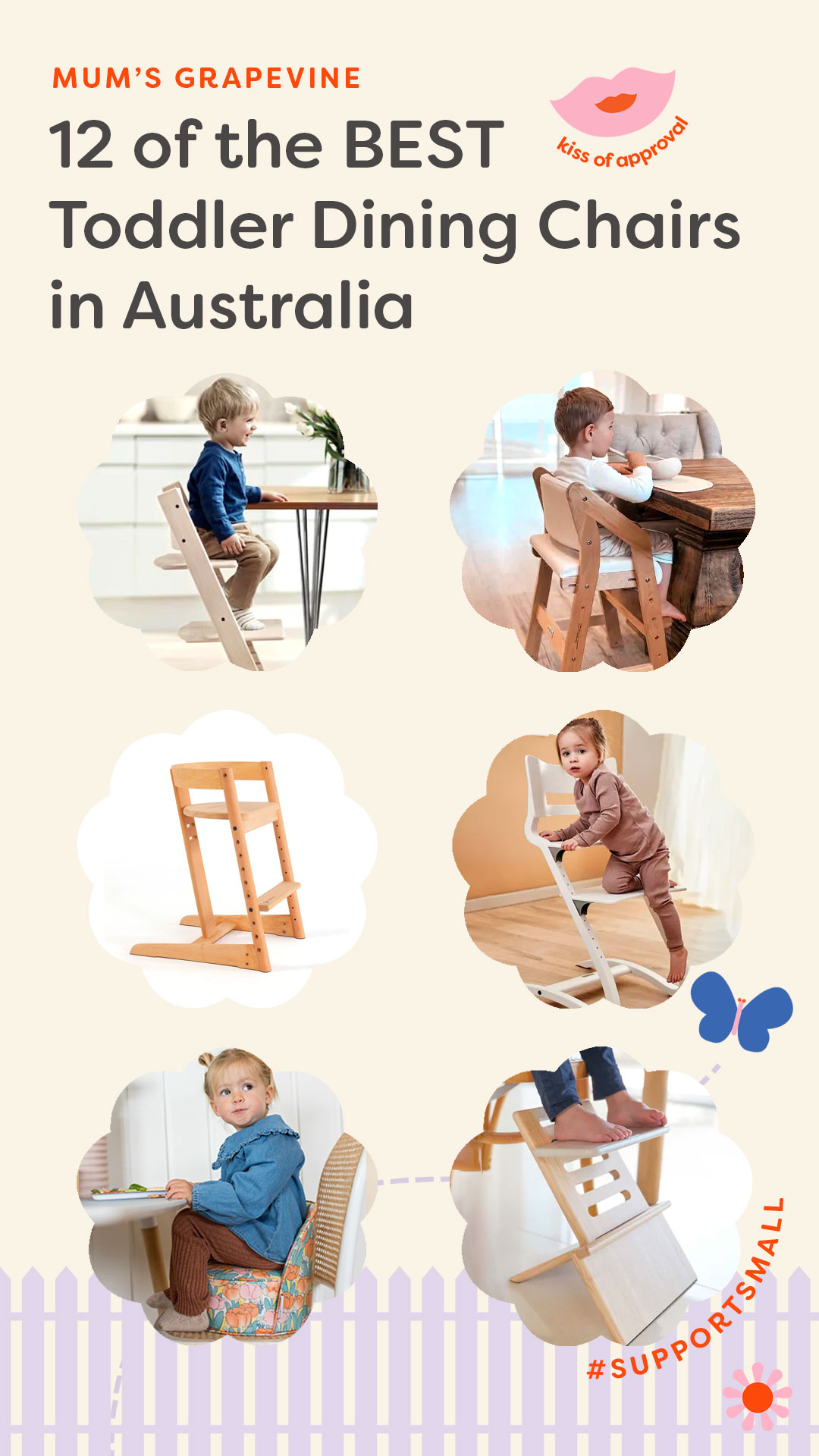 We want you to know
At Mum's Grapevine, we're a team of passionate mums (with 19 kids!) and over 15 years of experience researching and writing about all things baby and parenting. Our reviews of recommended products, like the ones in this post, may include paid inclusions, but we promise to only feature products that we truly believe in and have used or seen ourselves. We want to ensure that you, our readers have access to the latest and greatest products in the parenting world, and we're committed to maintaining our high standards of quality and honesty. See our Disclosure Policy.
Thank you for trusting us to be your go-to source for all things baby-related.
xoxo