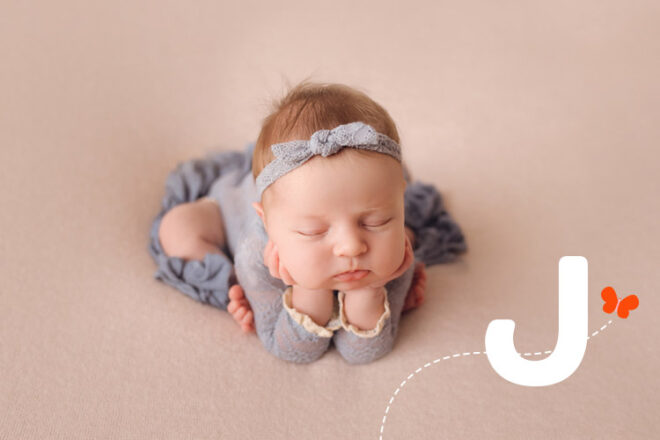 We're on a quest to find the perfect girl name, and maybe one starting with J will be your favourite. If you're not into something too common, you're in luck: the first J name doesn't appear till number 78 on the most popular list 2022. In case you're wondering, the name is Jasmine, a sweet floral name.
Perhaps you're interested in J because there's a Jacqui or Judith in the family that you'd like to pay homage to. Or maybe you've already got a little Jasper and you'd like to continue the J train with siblings. Whatever your reason, we've asked our huge online community of half a million mums who shared the baby names that they felt were just right
Sit back, grab a cuppa and let's look at over 700 names that start with the 10th letter of the alphabet. There might just be some unique ones that'll make your shortlist.
J girl names with a theme
You can find great inspiration from themes, and the letter D brings the goods. Some are nature-based without being obvious, others have a celebrity stamp of approval and some are fitting for both boys and girls.
Unique J names for girls
Give your daughter a mysterious unique names that's and oh-so different. Proud to explain their name? You're in luck!
Jareatah
Jendayi
Joval
Justys
Jyn
July
Jentah
Jerica
Iconic names for girls starting with J
From pop to politics, here are some J names after some very iconic women:
Jojo: after Jojo Siwa
January: after January Jones
Jewel: after the singer Jewel Kilcher
Jordin: after Jordin Sparks
Jacinda: after Jacinda Ardern
Jolene: after the song
Jessie: after Jessie J
Jemima: after the beloved Playschool character
J girl names with unexpected meanings
What's in a (great) name? Am equally great meaning, that's what. Here are some of our favourite J names with meanings that have that extra bit of twinkle.
Jimena: 'heard'
Jenna: 'white wave'
Jenesis: 'new beginnings'
Jaylee: 'blue jay meadow'
Juno: 'queen of heaven'
Jaci: 'moon'
Julep: 'rose water'
Jaralie: 'appreciation'
Celebrity daughters starting with J
Blake Lively and Ryan Reynolds' daughter, James
Joshua Jackson's daughter, Janie
Sean Comb's daughter, Jessie
Jana Pittman's daughter, Jemima
Dwyane 'The Rock' Johnsons' daughter Jasmine
Ashley Tisdale's daughter, Jupiter
Ed Sheeran's daughter, Jupiter
Megan Fox's daughter, Journey
Zac Hanson's daughter, Junia
View this post on Instagram
View this post on Instagram
---

Our favourite J girl name is: Jemima
---
Jaana
Jaanah
Jacant
Jacci
Jacent
Jacenta
Jacentah
Jacente
Jacey
Jaci
Jacia
Jaciah
Jaciel
Jaciela
Jaciele
Jacinda
Jacinta
Jacintah
Jacinte
Jacinth
Jacintha
Jacinthe
Jacinthia
Jacinthy
Jacintia
Jackee
Jackelyn
Jackey
Jacki
Jackie
Jacklin
Jaclyn
Jacqueline
Jacquelyn
Jacquetta
Jacqui
Jacquith
Jacy
Jacynth
Jadae
Jadah
Jadda
Jaddah
Jadea
Jadeah
Jadeann
Jadee
Jadera
Jadienne
Jadviga
Jadwiga
Jae
Jaea
Jaed
Jael
Jaele
Jaelea
Jaelee
Jaelei
Jaeleigh
Jaeley
Jaeli
Jaely
Jaemey
Jaemi
Jaemia
Jaemiah
Jaen
Jaenel
Jaenela
Jaenell
Jaey
Jahlia
Jahlie
Jahmeala
Jahmela
Jahmey
Jahmi
Jahmie
Jahmil
Jahmillah
Jahmille
Jahmyla
Jahmylla
Jahnavi
Jaia
Jaiah
Jailey
Jaili
Jaime
Jaimea
Jaimeah
Jaimie
Jaimila
Jaimille
Jaimyla
Jain
Jainel
Jakea
Jakee
Jaketah
Jakete
Jakevah
Jakevia
Jaki
Jakia
Jakie
Jakke
Jakkea
Jakkee
Jakki
Jakkie
Jakky
Jaklyn
Jakushitsu
Jaky
Jale
Jaleh
Jameale
Jamee
Jamelah
Jamey
Jamie
Jamila
Jamima
Jamin
Jamuna
Jan
Jana
Janah
Janalee
Janalisa
Janan
Jananee
Jananey
Janani
Janania
Jananiah
Jananie
Janann
Jananni
Janany
Jancintha
Jane
Janea
Janée
Janel
Janelis
Janell
Janella
Janellah
Janese
Janesey
Janess
Janesse
Janet
Janeth
Janey
Janica
Janice
Janie
Janielle
Janille
Janina
Janine
Janis
Janith
Janna
Jannell
Jannella
Jannelle
Jannette
Jannie
Janot
Janya
Janyah
Janyce
Janycka
Jaonah
Jara
Jardan
Jardana
Jardanah
Jardane
Jardania
Jarden
Jardena
Jardene
Jardenia
Jardin
Jardina
Jardine
Jardyn
Jardyna
Jardyne
Jardynia
Jareata
Jareatah
Jareet
Jareeta
Jareetah
Jaretta
Jari
Jaria
Jariah
Jarida
Jarika
Jarina
Jarita
Jarman
Jarvia
Jarviah
Jarvya
Jarvyah
Jaryte
Jarytte
Jasmain
Jasmaine
Jasman
Jasmane
Jasmeet
Jasmin
Jasmina
Jasmit
Jassmain
Jassmaine
Jassmit
Jaya
Jayah
Jayani
Jaycie
Jayne
Jaynele
Jaynelle
Jaytta
Jaz
Jazee
Jazey
Jazi
Jazie
Jazy
Jazz
Jazzee
Jazzey
Jazzi
Jazzie
Jazzy
Jean
Jeane
Jeanette
Jeaneva
Jeania
Jeanice
Jeanie
Jeanine
Jeanne
Jeannie
Jedida
Jeen
Jeena
Jeene
Jeetanna
Jelaina
Jelainah
Jelaine
Jelana
Jelanah
Jelane
Jelayna
Jelean
Jeleane
Jeleen
Jeleene
Jelena
Jelene
Jelika
Jelin
Jelyna
Jelynah
Jelyne
Jem
Jema
Jemimah
Jemma
Jemmie
Jemmsa
Jemyma
Jemymah
Jen
Jena
Jenafar
Jenai
Jenall
Jenalle
Jenay
Jendayi
Jenea
Jenel
Jenela
Jenelah
Jenele
Jenell
Jenella
Jenesis
Jenet
Jeni
Jenifer
Jenille
Jenna
Jennae
Jennafar
Jennay
Jennaye
Jennel
Jennele
Jennell
Jennett
Jennette
Jenni
Jennie
Jennifar
Jennifer
Jennille
Jenny
Jenova
Jensine
Jenyfer
Jeong
Jera
Jeralyn
Jerelyn
Jerica
Jermain
Jermaine
Jermana
Jermayne
Jermyn
Jerolyn
Jerri
Jersey
Jerusha
Jerushah
Jeryl
Jerylin
Jesabel
Jesabela
Jesabelah
Jesabele
Jesabell
Jesabella
Jesabellah
Jesabelle
Jescie
Jesea
Jesee
Jesen
Jesey
Jesie
Jesmin
Jess
Jessa
Jessabel
Jessaca
Jessalyn
Jessamine
Jessamyn
Jessca
Jesse
Jessea
Jessebelle
Jessee
Jessey
Jessi
Jessia
Jessica
Jessicka
Jessie
Jessika
Jessy
Jessyca
Jessye
Jeta
Jetah
Jetia
Jetiah
Jetje
Jett
Jettah
Jette
Jetti
Jettia
Jettie
Jetty
Jeuleah
Jewal
Jewele
Jewelea
Jeweleah
Jewelei
Jeweleigh
Jewelett
Jeweletta
Jewelette
Jeweli
Jewelia
Jeweliah
Jewelie
Jeweliet
Jeweliete
Jewell
Jewelle
Jewely
Jewelyet
Jewelyette
Jewlyett
Jez
Jezebel
Jezebela
Jezebelle
Jhoana
Jil
Jilian
Jiliana
Jilianah
Jiliane
Jiliann
Jilianna
Jiliannah
Jill
Jilleen
Jillian
Jilliana
Jilly
Jilyann
Jilyanna
Jilyannah
Jimena
Jimi
Jimin
Jin
Jina
Jinelle
Jing Wei
Jinny
Jira
Jirca
Jirina
Jirka
Jo
Jo Ann
Jo Beth
Jo Dee
Jo-Ana
Joahna
Joakima
Joan
Joananna
Joandra
Joaneil
Joanka
Joanmarie
Joann
Joanna
Joannanette
Joanne
Joaquina
Joaquinah
Joaquine
Joaquyn
Joaquyna
Joaquynah
Joaquyne
Joayn
Joayna
Jobea
Jobee
Jobeth
Jobey
Jobi
Jobia
Jobie
Jobina
Jobitt
Jobitta
Jobrina
Jobya
Jobye
Jocalin
Jocalina
Jocalyn
Jocelina
Jocelinah
Joceline
Jocelinn
Jocelle
Jocelyn
Jocelyne
Jocelynne
Joci
Jocia
Jocie
Jocilyn
Jocilynn
Jocinta
Jocosa
Jode
Jodea
Jodee
Jodele
Jodell
Jodevea
Jodey
Jodi
Jodie
Jody
Joebeth
Joebetha
Joebethe
Joedee
Joedey
Joedi
Joedie
Joedy
Joela
Joelah
Joele
Joeli
Joelia
Joelie
Joell
Joella
Joellah
Joelle
Joellen
Joelly
Joen
Joenah
Joenn
Joenna
Joesey
Joette
Joevana
Johan
Johanah
Johanka
Johann
Johanna
Johbeth
Johbetha
Johbethe
Johdea
Johdee
Johdey
Johdi
Johdie
Johdy
Johonna
Joi
Joia
Joice
Joise
JoJo
Joland
Jolanda
Jolande
Jolander
Jolanka
Jolanta
Jolante
Jolantha
Jolanthe
Jolaunda
Jolene
Jolet
Jolete
Joletta
Joli
Jolie
Joliette
Joline
Jolli
Jollie
Jolly
Joly
Jolye
JoMei
Jona
Joncee
Joncey
Jonci
Joncie
Jondra
Jone
Jonee
Joneen
Joneena
Joneene
Joney
Joni
Jonie
Jonilee
Jonina
Joninah
Jonine
Jonna
Jonni
Jonnina
Jonvonah
Jony
Jonyna
Jonynah
Joo Mi
Jora
Jorah
Jorai
Jordan
Jordana
Jordane
Jordanna
Jordea
Jordee
Jordi
Jordian
Jordie
Jorgina
Joria
Joriah
Josalin
Joscelin
Joscelyne
Joseceline
Josefa
Josefina
Josefine
Josepha
Josephe
Josephine
Josetta
Josette
Josey
Josi
Josia
Josiah
Josie
Juniper
Junita
Junn
Junula
Justa
Justean
Justeane
Justeen
Justeene
Justein
Justeine
Justena
Justeyn
Justeyna
Justeynah
Justeyne
Justice
Justina
Justinah
Justine

Join the conversation
Looking for a girl name that starts with J and still haven't found one on our list? Head over to our social page, and take a look at the original post, there are more than 600 names for girls that start with J in the comments.
We've got the scoop on the best baby names for boys or girls. Explore our extensive baby name collections for popular names, unique names, names from around the globe, and top names for boys or girl names.
Read next …
Got baby name brain freeze?
Swing by the Mum's Grapevine Due Date Groups and connect with other mums-to-be who are just as excited about baby names as you are. Swap ideas, discuss your favourite names, and make the naming journey a memorable one. Come on in everyone's welcome – and let's talk baby names!