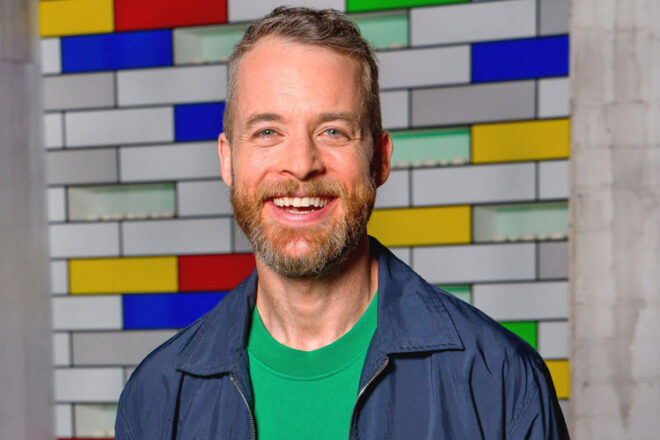 Once again putting his comedic flair to good use, Hamish Blake harnessed his passion for baking unforgettable birthday cakes to create a visual masterpiece for little Rudy's sixth birthday.
Back from a European holiday where Rudy had her actual birthday – at LEGO Land in Denmark, cake night was slightly delayed this year. But even with jet lag and the general chaos of coming home after an overseas trip, Hamish was absolutely ready.
"CAKE NIGHT SAT NIGHT BABY! Somehow it's this again. Under Family Lore I create whate'er birthday cake my child doth request and my daughter has last minute thrown this at me. A LEGO set cake, that is of our family, fully edible, as LEGO characters, eating a pink dog cake at a picnic but (and this is critical) it comes in a real LEGO box. It needs to be fully assembled in the box, and also (last min addition) there's smoke when you take the lid off. As you can see in the vid, I have the LEGO model (I lied by the way, I didn't make it, @mcnaught.ryan did) and I've got a good lead on getting the box made. I just have to figure out how to make entirely edible LEGO and create overly intricate characters out of icing. But don't worry, I've got a secret weapon! (Overconfidence) (JK: 🥃). Join me if you so desire on my stories tomorrow night! 🎂 🤞"
View this post on Instagram
So equipped with his baking tools, a glass of whisky, and even some help from his Mum and his friend, Hamish got to work.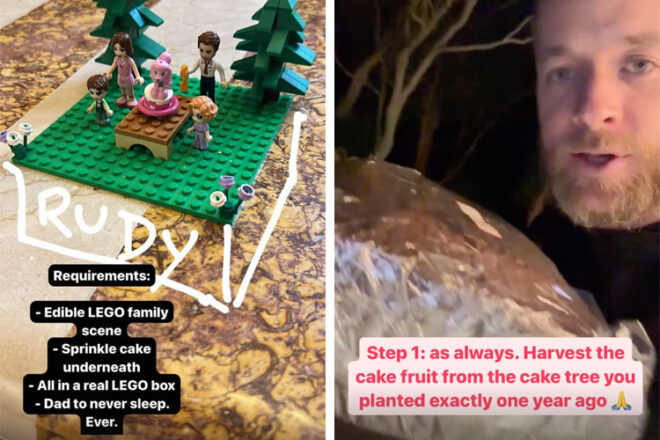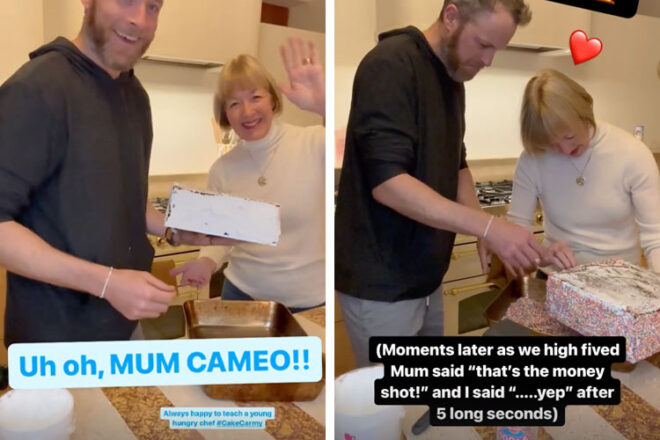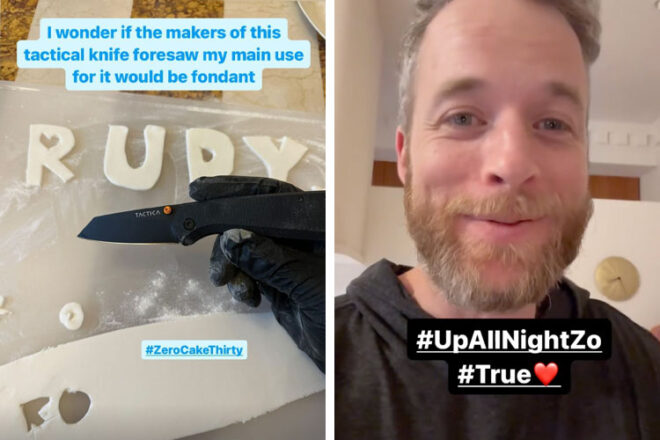 After bidding good night to his wife (and trying to convince her to stay up with him), Hamish had the realisation that for the cake to be as accurate as it could be to LEGO, he was going to have to add the studs to the top. With a bit of tough maths, he realised he would need to cut out 256 of them.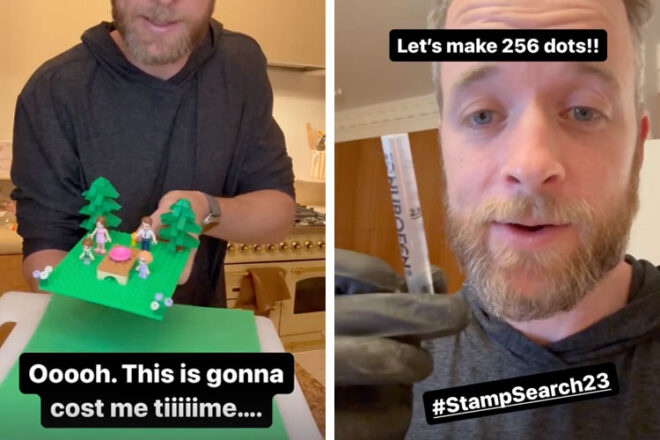 After finding the perfect tool (a medicine syringe) he cut it into a stamp and began the long job of crafting those dots.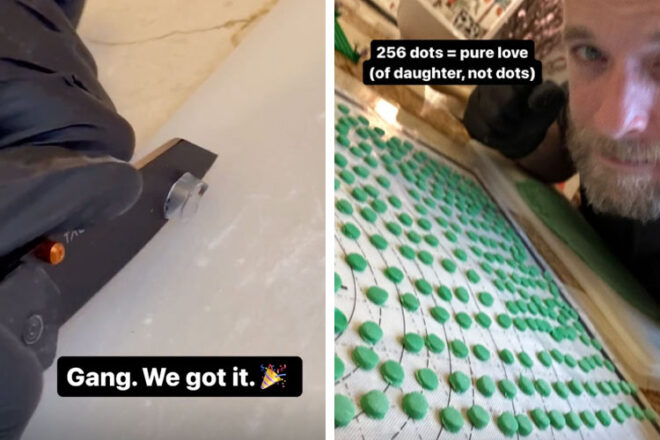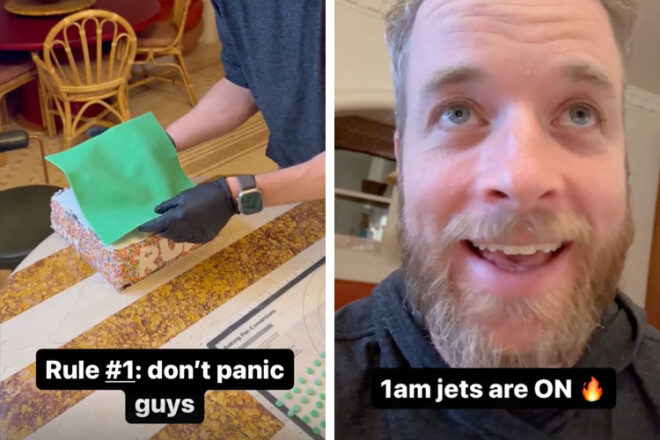 With 1 am upon him he knew that the next tough part of his job was upon him – making his LEGO family.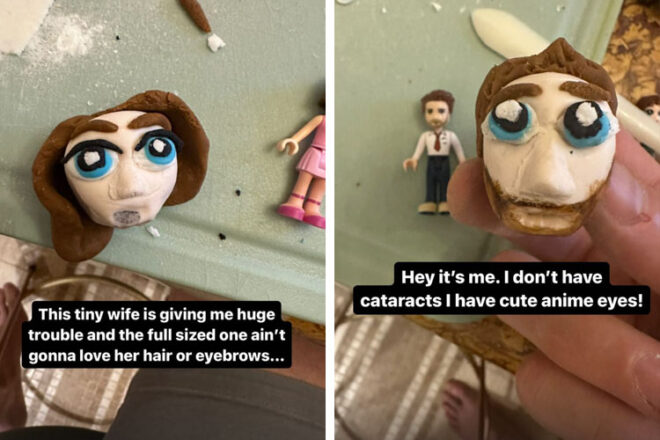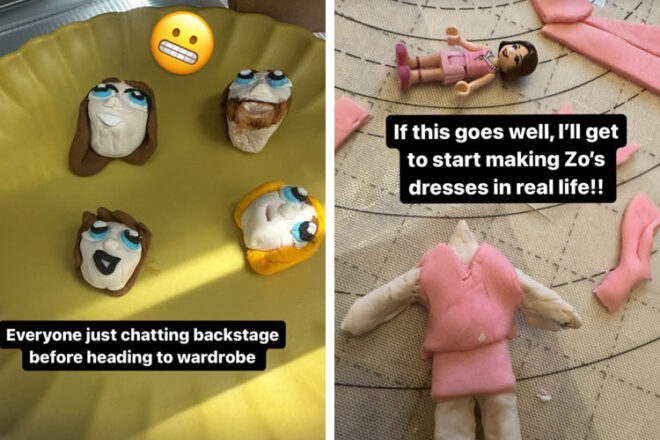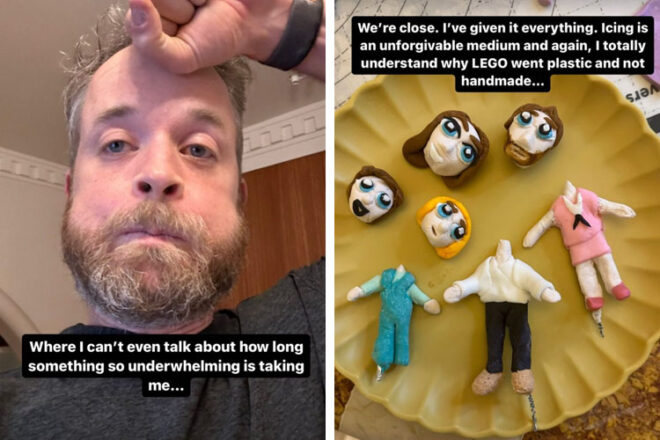 And after lots of laughter at the characters he created, he made the final assembly.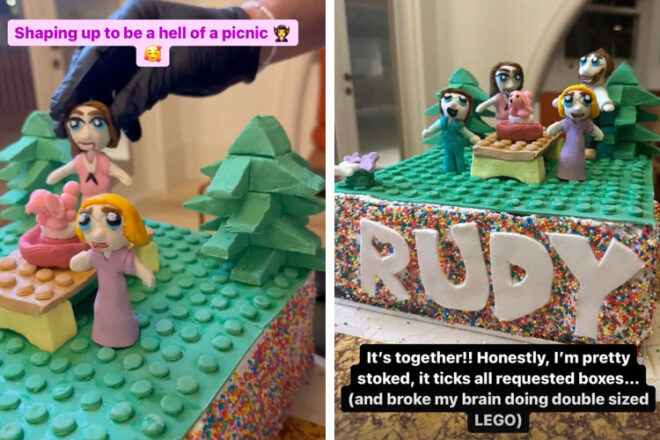 With a loving note from his daughter to make all the effort that much sweeter Hamish finished the night off (at around 4 am).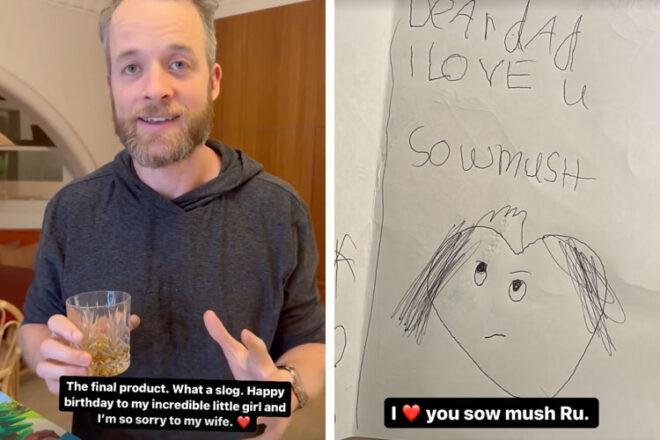 And with that, we have another year of Cake Night with Hamish Blake behind us. As we wait in excitement for next year's creation we once again marvel at Hamish's incredible skills and commitment on being such a great Dad.
Happy Birthday Rudy!
---
Cake Night with Hamish Blake: Sonny Turns Nine
MAY 12, 2023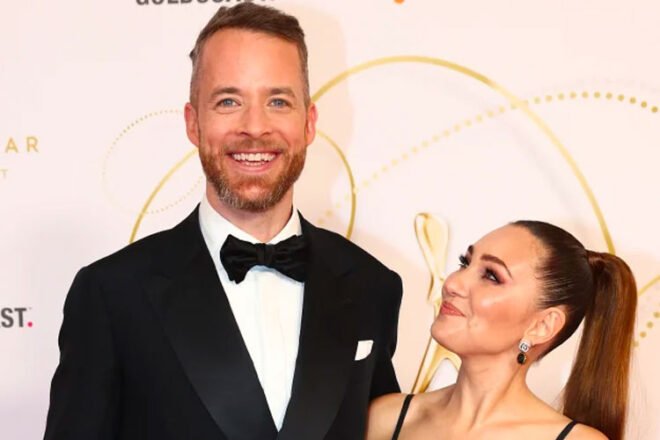 We all know by now that when it comes to celebrating his kids' birthdays, Hamish Blake, the iconic Aussie entertainer, is not one to settle for ordinary. And this year was no different.
For Sonny's ninth birthday he went with what might be Hamish's hardest task yet… a MOVING Rubik's Cube!
"I can't believe it's here again. Tomorrow night if you're interested I will attempt to make my sons Rubiks Cube birthday cake where the cake can move like a real cube and is the worlds first "solve-able cake". How will I do this? My hope is that the 3D printed skeleton of the cube my bro in law and a gun YouTuber (Makers Muse) helped me make will a) work and b) hold the cake mixture in it. Slightly baffled? Me too, that's why I'm filming this in my garage because I have to begin in 24 hours and I am in way over my head and trying to get the parts ready. I'm going to put the story so far up in my stories, but the actual cake making is tomorrow. Pour a 🥃 and join me Friday night from 7ish! (Maybe 8, I'm usually slow to start)"
View this post on Instagram
With probably the latest night yet, Hamish got underway creating the Rubiks Cube masterpiece.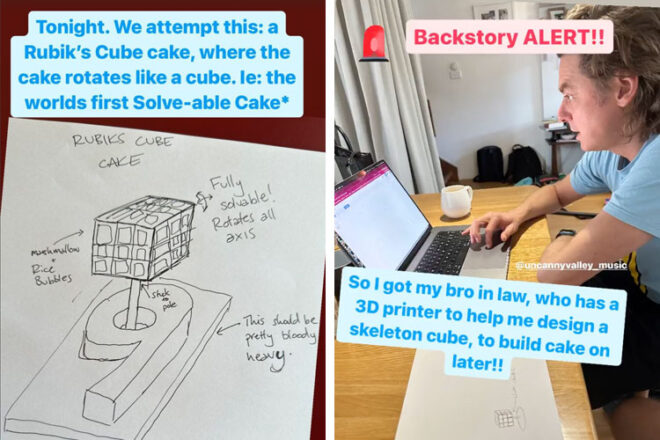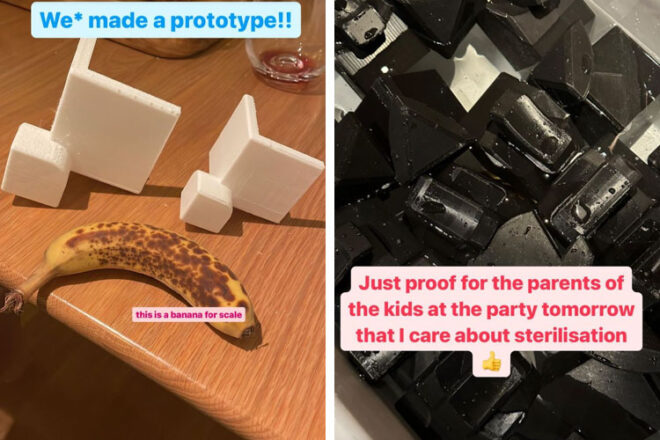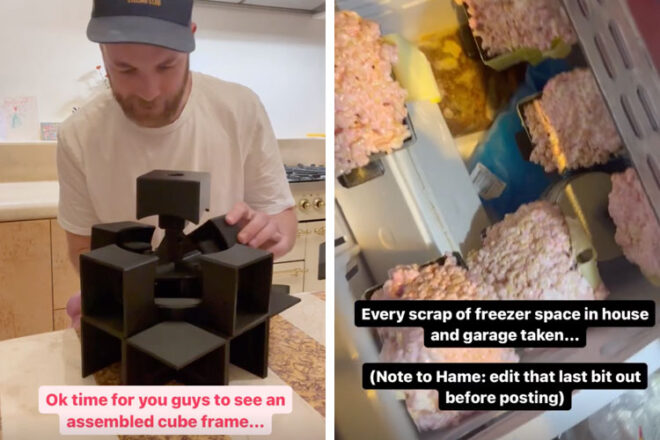 As the night went on, Zoë returned home from an event to find a very (falsely) confident Hamish who tried to convince his wife that he had finished.
Not 100% believing Hamish she continued to linger around before finally heading off to bed.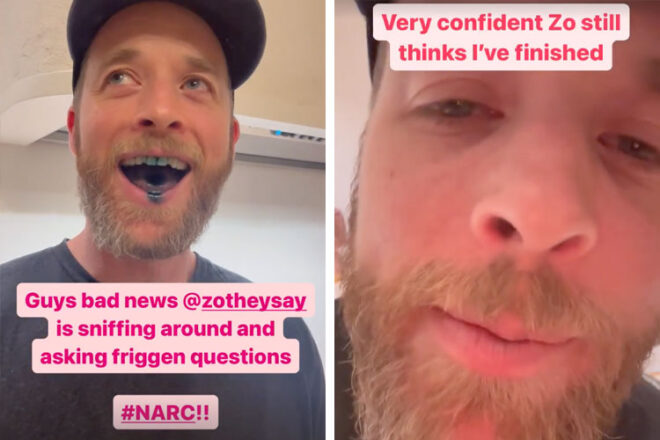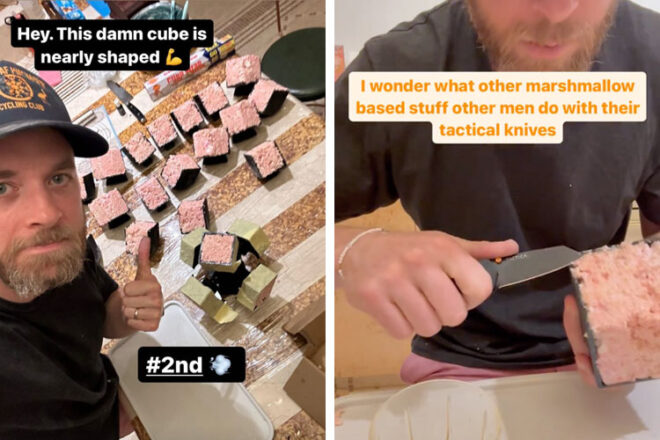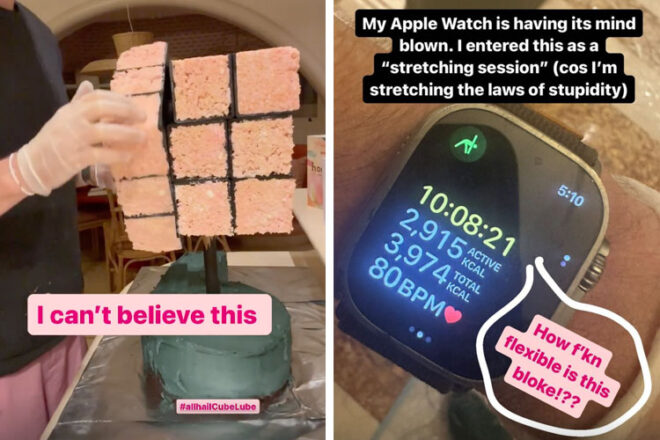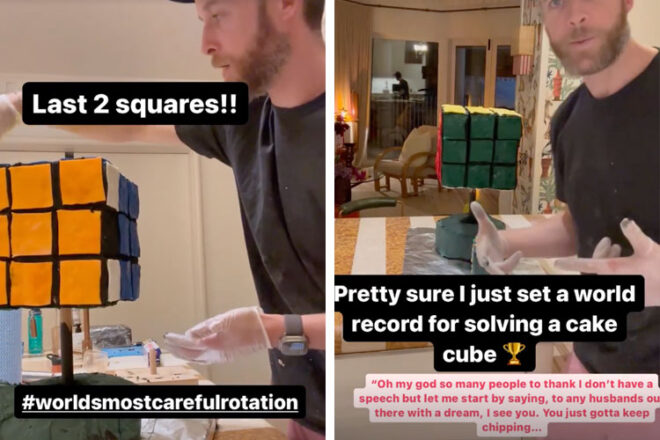 And just like that, the masterpiece was completed! A fully functional, partially edible, giant Rubiks Cube cake.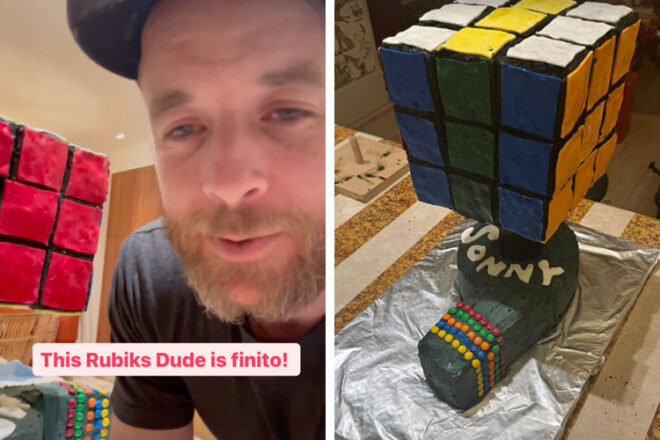 Sonny is certainly lucky to have Hamish as his Dad, continuously hitting the mark to make sure the cake that his kids want for the birthday always comes to life! The countdown is now on for the next.
---
Cake Night with Hamish Blake: Rudy Turns Five
JUNE 23, 2022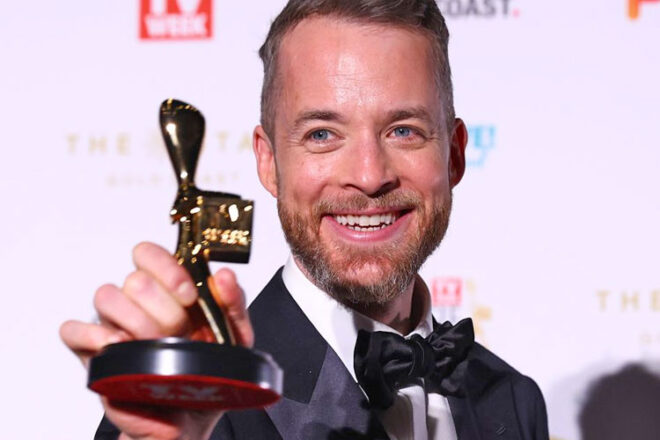 Back again with Gold Logie winning Hamish Blake for his infamous Cake Night and his latest adventure has taken him to the land of Trolls.
This year for her fifth birthday, Rudy wished for a cake made to look like her favourite character from the Trolls movie "Mr Dinkles".
"How is it another Cake Night tonight already. I'm accordance with Family Lore, tonight I must craft a cake for my 5 year old. It is a character from the Trolls Movie, don't feel bad if you don't know it, his name is Mr Dinkles and he's basically a worm who's in the movie slightly more than an extra. However, he's resonated with my daughter so that's what she wants. He is also in a candy shop, his mouth can move (this will be tough) and can poop out a tiny cupcake (this also presents an engineering challenge). Look, I know it's super abstract, but the adventure will be in my stories tonight and I'm sure I will discover the answer to these building challenges as I go"
View this post on Instagram
Armed with his usual tools and liquid courage, Hamish got to work on fulfilling Rudy's wishes. Scroll through to see how it turned out.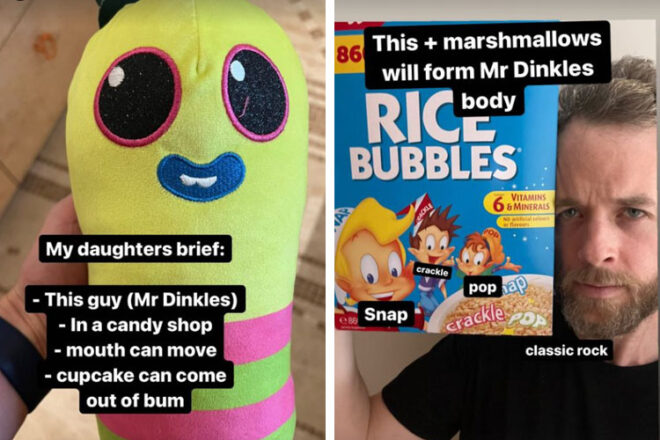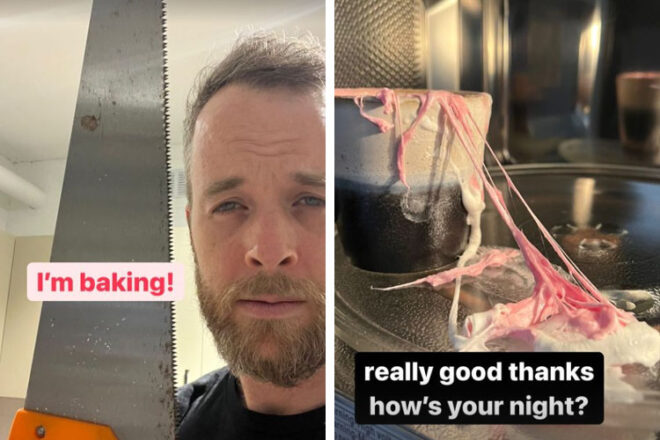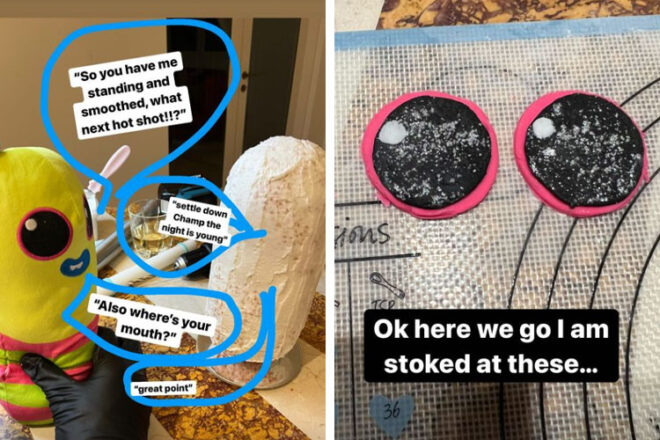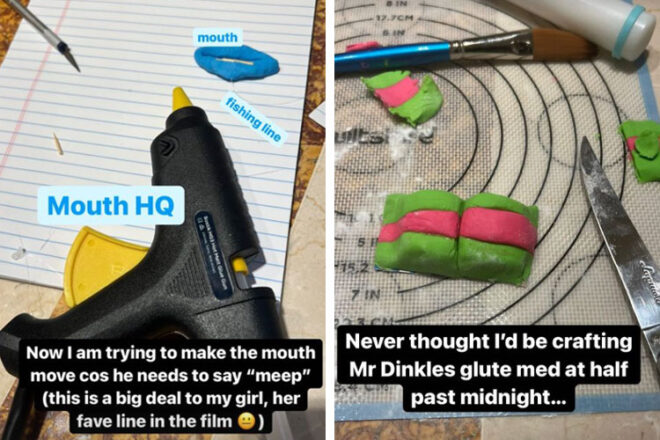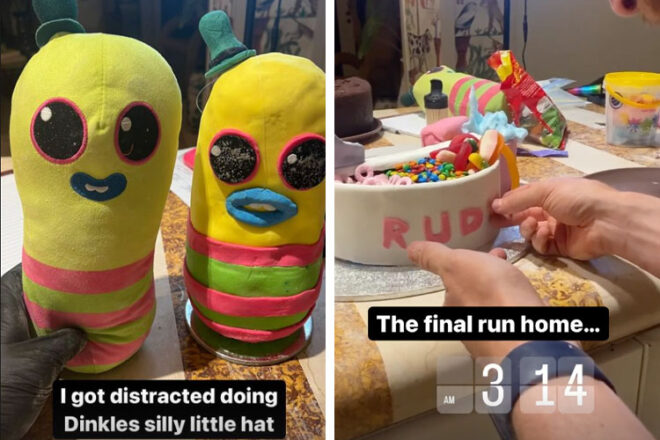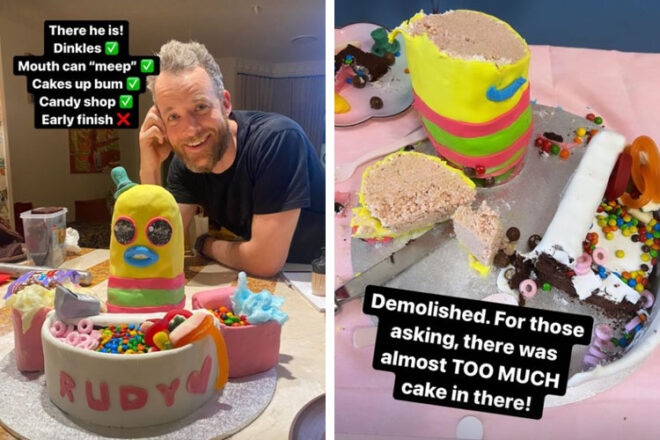 Voila! Once again Hamish smashed it with the cake decorating. We don't know how but he truly does seem to step it up each year. And that's Cake Night 2022 – signing off. Happy Birthday, Rudy!
---
Cake Night with Hamish Blake Returns – with a Twist
MAY 13, 2022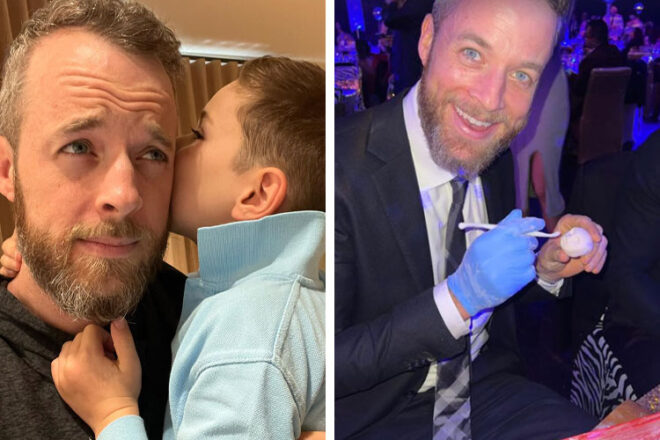 In the world of celebrity parents, Hamish Blake stands out not only for his humour but also for his extraordinary baking talents. As his son's eighth birthday rolled around, Hamish has outdone himself once again. But this year there was a twist.
This year Sonny asked his Dad for an Avatar: The Last Airbender cake.
"CAKE NIGHT FRIDAY!! Today is my boy's 8th Birthday (HBD Sonny, you are the greatest guy I know x) and in keeping with a sacred tradition, I shall craft him a birthday cake of his desiring. But as his party is Sat, and that's what you need the cake for, it's gonna be Friday night I make it. The brief has finally been decided upon, and whispered to me, as is also tradition. If you're not aware of an animation called Avatar: The Last Airbender, you'll wanna brush up by Friday if you'd like to watch the Aang cake (plus a few requirements) be attempted in my stories. I feel immense pressure for this one. But I will give it my all. May all the elements be with us"
View this post on Instagram
Then came Hamish's brief:
"This is the brief for my Son's 8th birthday cake tonight. I already feel the familiar twang of this being too much, and the law of averages states I'm due for a flame out, but nevertheless, here we are. I will begin posting about 7ish on my stories, if you feel like dropping by to watch a man crumble under the pressure of making a cartoon figure out of icing…"
View this post on Instagram
But along with the brief came the twist… Hamish and Zoe were attending a charity ball the same evening meaning that Hamish needed to be proactive and start preparations early. So sit back and scroll through our highlights of another Cake Night with Hamish.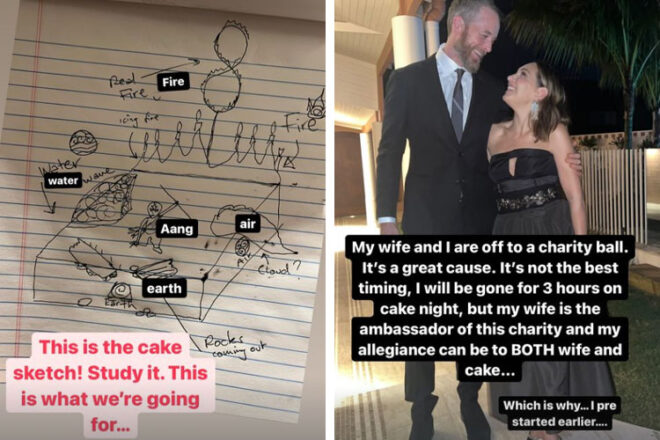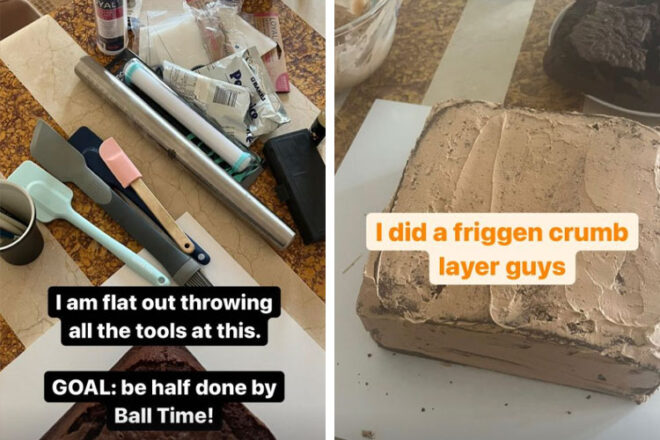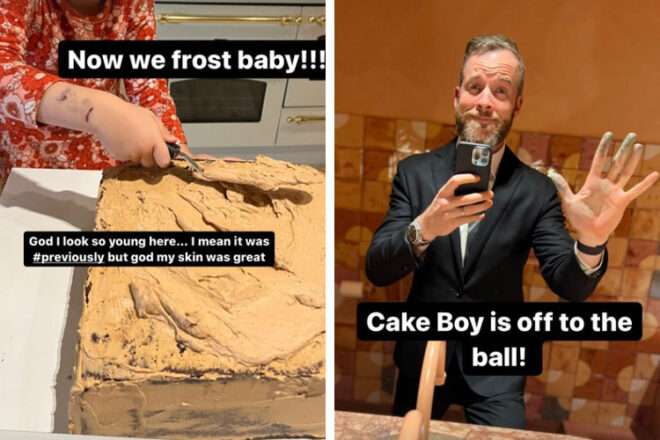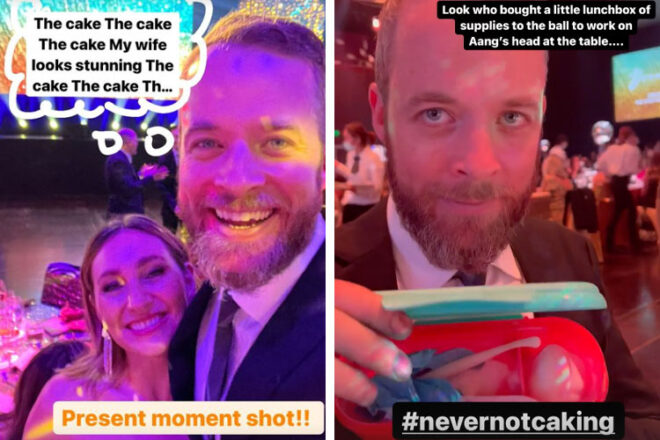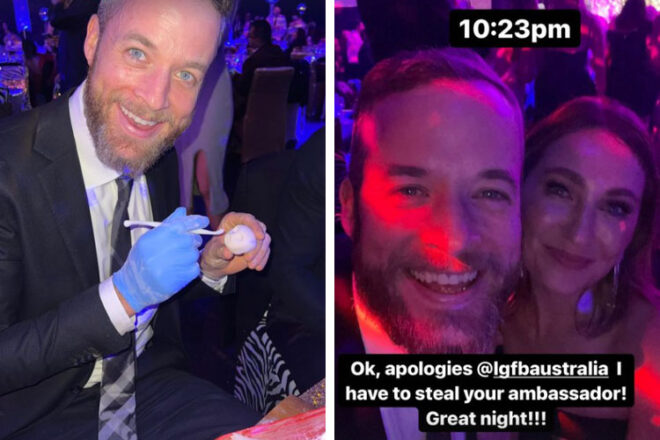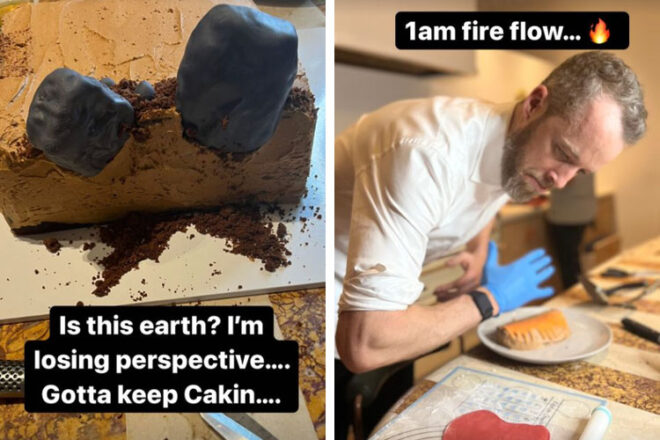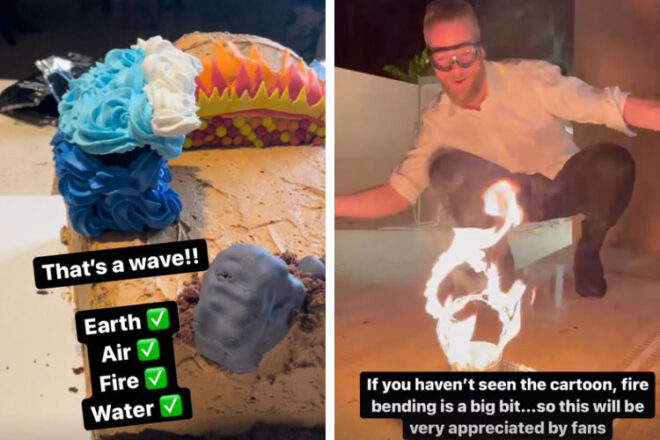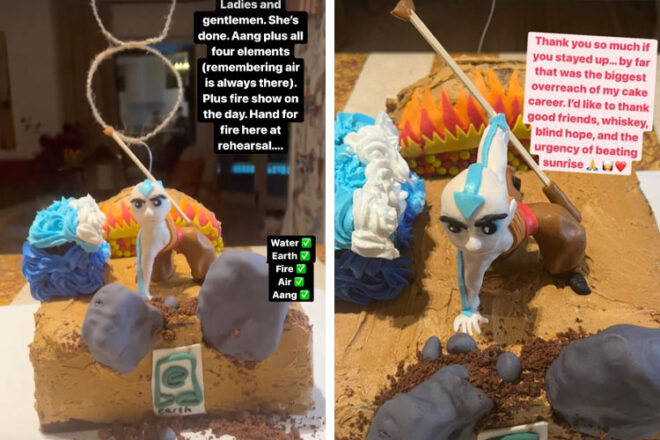 ---
Hamish Blake's Magical Cake for Rudy's Fourth Birthday
JULY 16, 2021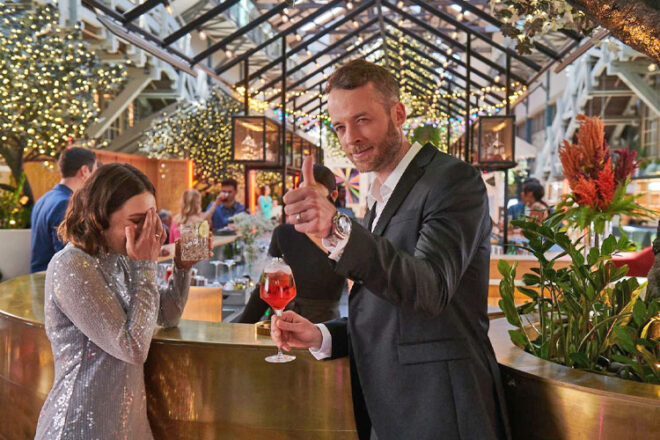 Off we go again on another cake adventure with the one and only Hamish Blake and this time, it's a magical one.
"WE'RE ON. Tomorrow is my little girl's 4th birthday and as is ancient lore in our household, that means I shall make her any cake she desires. This year, to be honest, and with a whole universe of love for my favourite tiny girl in the world: it's gotten f*cking ridiculous. It's a unicorn, flapping its wings, with a rainbow coming out of its mouth, under a cloud, that's raining glitter. But I'm willing to have a crack because I believe there's no greater force than a fathers love (plus icing and whiskey). If you'd like to join, about 7:30 tonight I'll be pouring the first drink and flattening the fondant on my stories. Swing by if a man panicking about an uneven cake cloud (I'm guessing a likely issue here) is your idea of lock down fun."
View this post on Instagram
Another birthday in lockdown didn't mean slowing down or taking shortcuts for this Super Dad. With the ever-mystical minds of any four-year-old girl, we were not exactly surprised to find out that the brief this year was anything but simple. But with perseverance Hamish might have given followers one of the funniest cake makes he's done yet.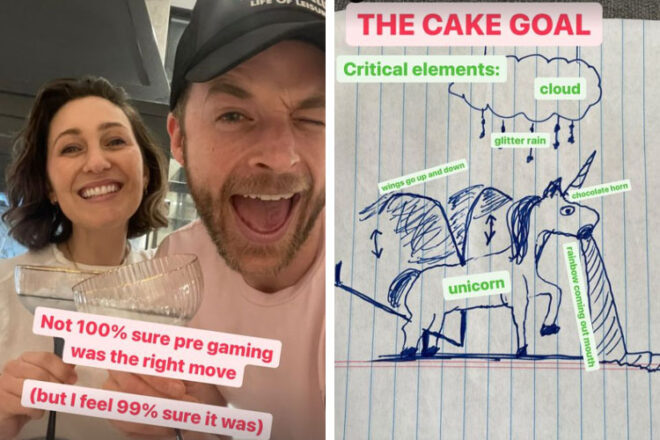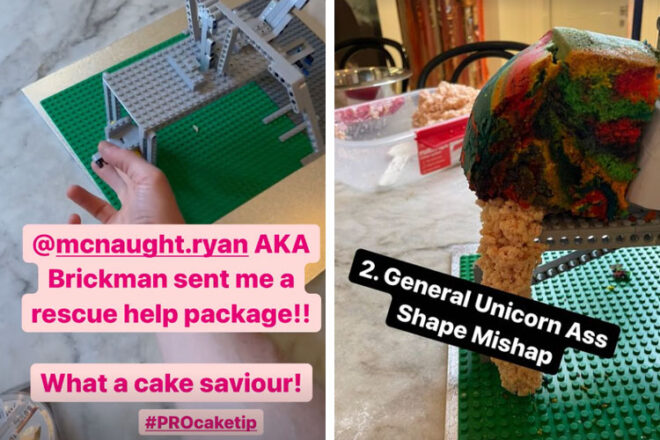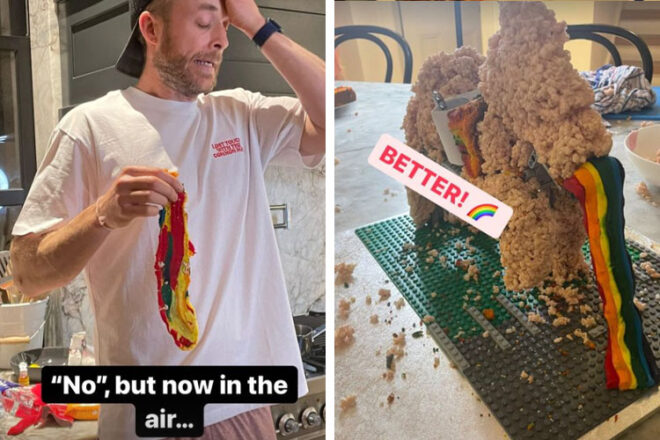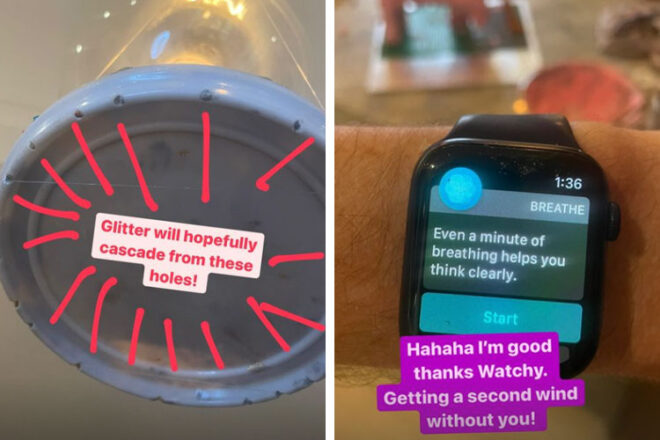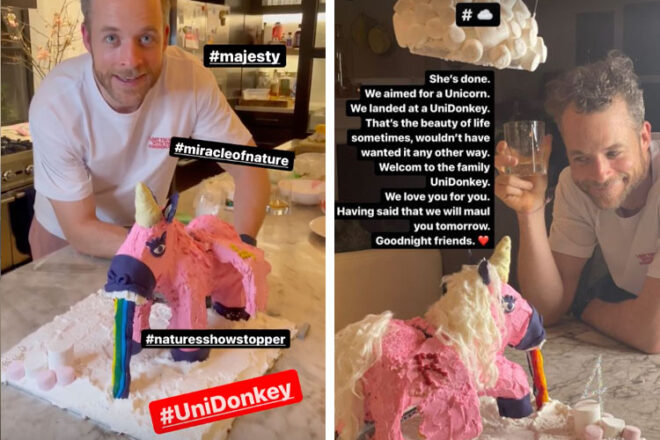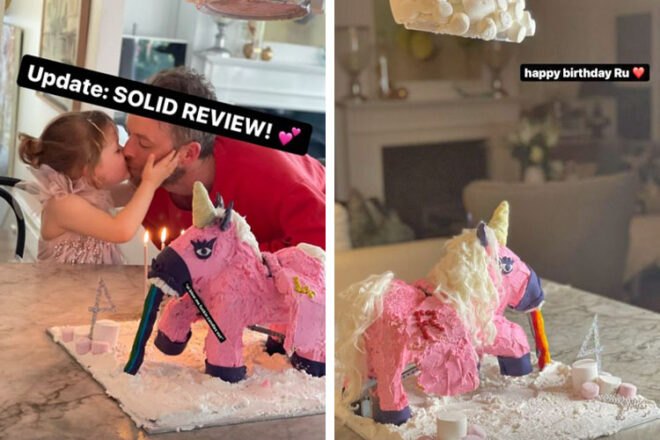 And that concludes another year of fabulous baking from Mr Hamish Blake. From Pikachuu to the 'UniDonkey' it's no secret that each year these cakes are becoming more detailed, more intricate and shows what an incredible Dad Hamish is. Happy Birthday, Rudy!
---
Pokemon GO: Hamish Blake's Pickachuu Birthday Cake
MAY 07, 2021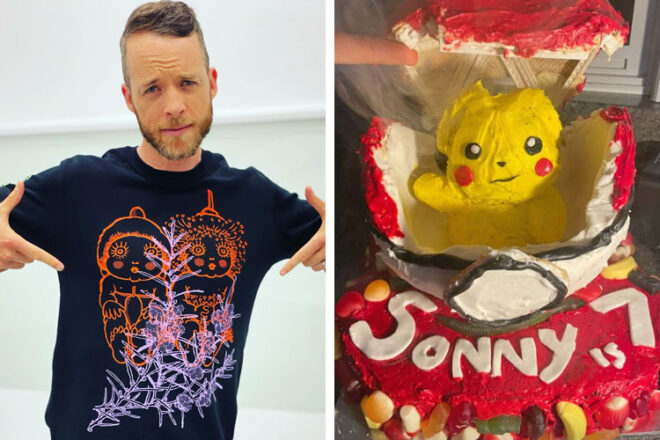 He's done it again folks. Yep, that's right Hamish Blake is back for another year crafting his son Sonny the birthday cake of his dreams.
This year: Pikachuu!
"Tonight. Is. Cake Night. This is me receiving some of the brief from my boy for his 7 year old birthday cake. This the 5th year in the row I have tried to fulfil the prophecy that I will make him "any cake he desires". This year the client has really gone to town in the scope of works. It's a Pikachu. He's coming out of a Pokeball (that's a Pokémon thing, not a bowl of brown rice and salmon and cabbage). There is jelly in the Pokeball. There is smoke. It goes "pfffft" when it opens. Pikachu has his hand up for a high five.
Look we all know I'm due for a crash and burn on a cake, but I will be giving it my best on stories tonight. I aim to start at 7. So you know, that probably means 8/8:30. Let's CAKE!!"
View this post on Instagram
With the help of his LEGO Masters team, Hamish got baking on what might've been his most difficult cake yet. Here are some of our highlights: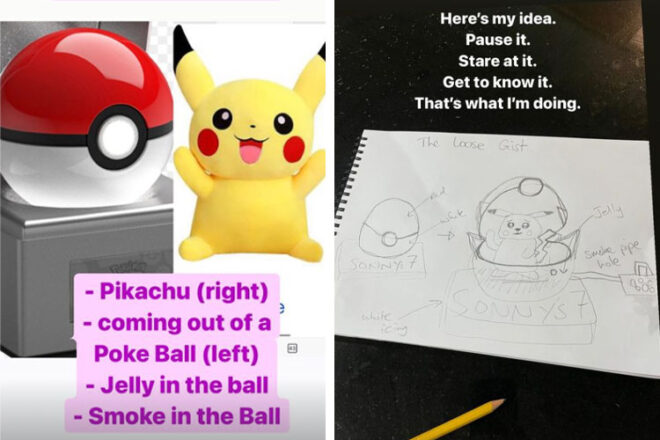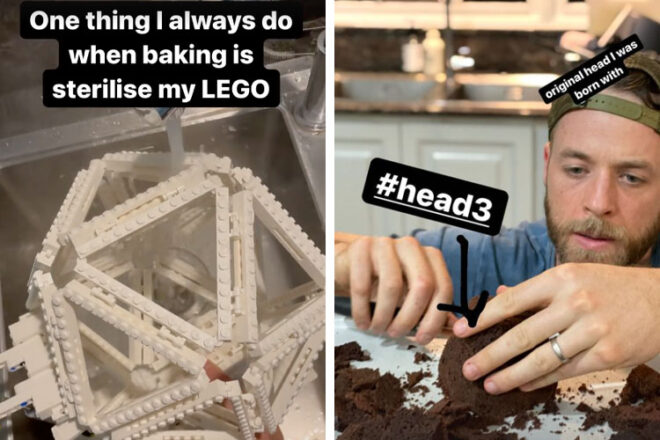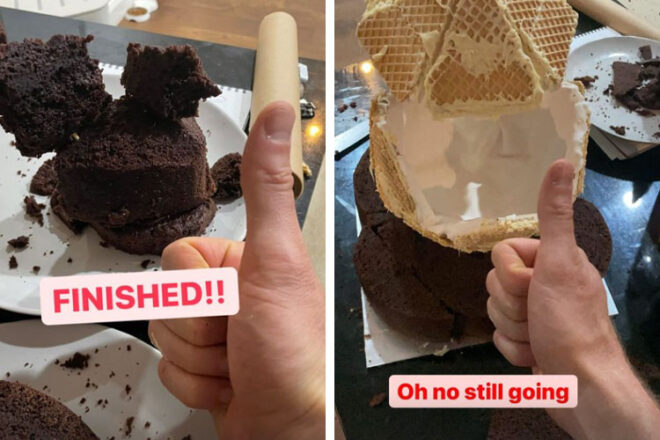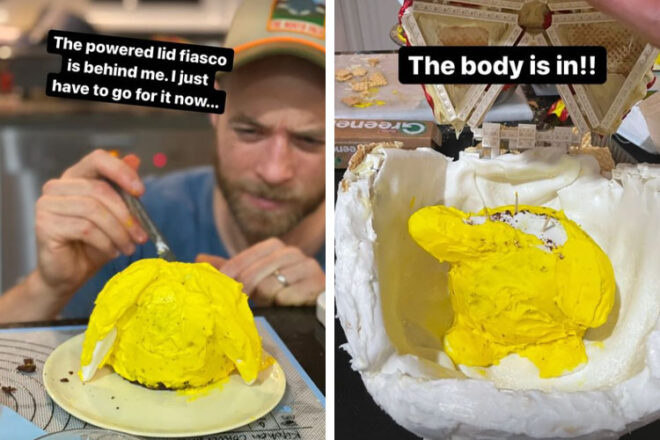 What a wild ride! We are sure Sonny absolutely LOVED his Pikachuu cake and wish him a very happy seventh birthday.
---
Hamish Blake's Daughter Joins Cake Night
JULY 17, 2020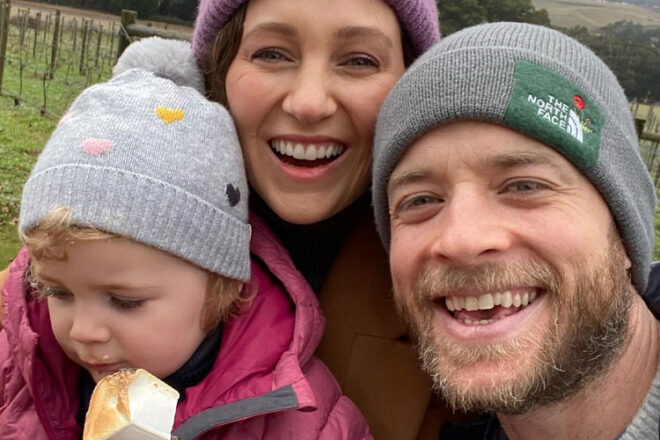 With another year over the horizon, the day has come when Hamish Blake begins a new chapter… baking a birthday cake for his now three-year-old second child Rudy.
In an Instagram video Hamish shared that he was gearing up to create his daughter's birthday cake and how the brief slightly changed.
"A new chapter begins. My daughter turns 3 tomorrow. I was all set to make her a unicorn cake that pooped out glittery little (chocolate) turds. Then I learnt a harsh lesson in client/agency dynamics as she last minute changed the brief. Tonight I will be making a far less exciting cake, but it's the one she wants and there's no changing her mind. As always, I have very little idea how this will go apart from knowing there will be drinking involved. As always, you're welcome to join on stories. Think I'll start throwing icing around about 8."
View this post on Instagram
Keeping it simple, the Dad of two was set with the task of fashioning a cake inspired by Rudy's favourite comforter "Sheepy". Here are some of the highlights of how it went: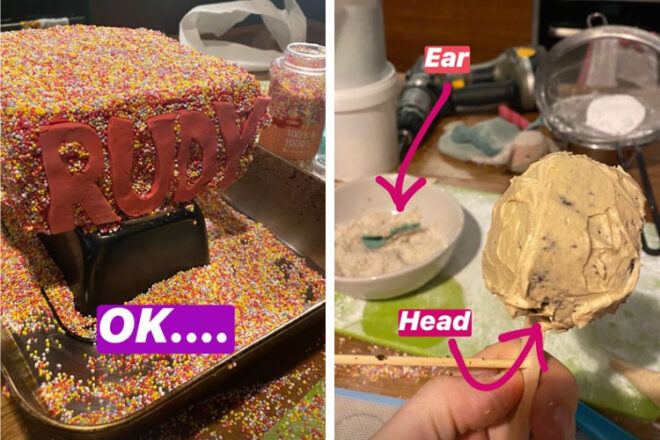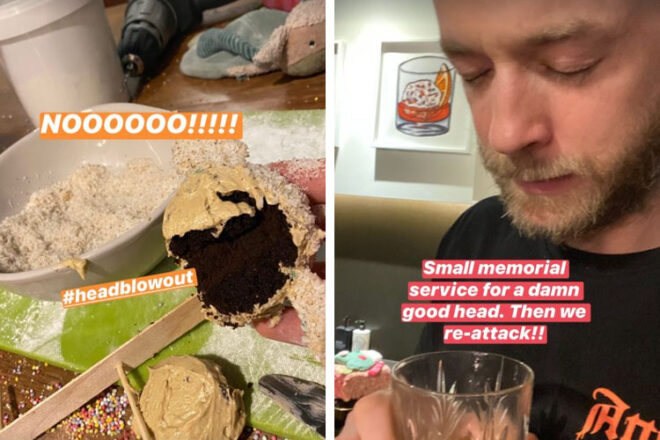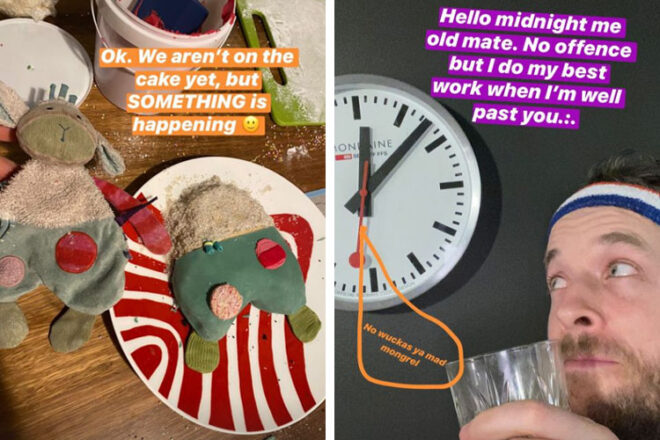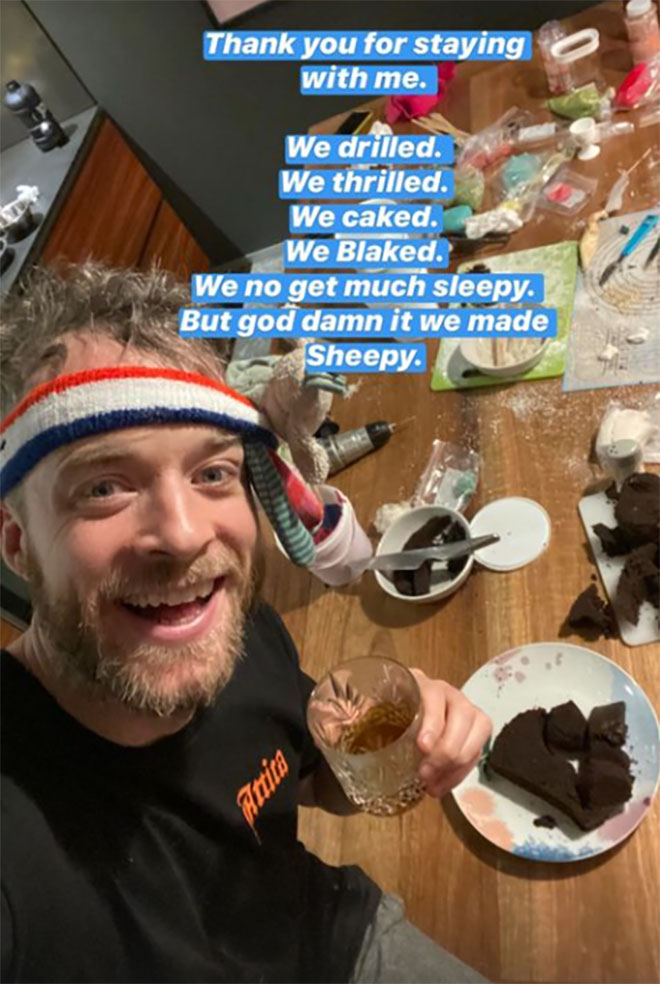 Complete with a moving head it's safe to say Hamish has kicked a goal once again and is pretty much up there with Dad of the year! We can't wait to see what he does next year.
---
Hamish Blake Creates a Roaring Wonder for Sonny's Birthday Cake
MAY 10, 2020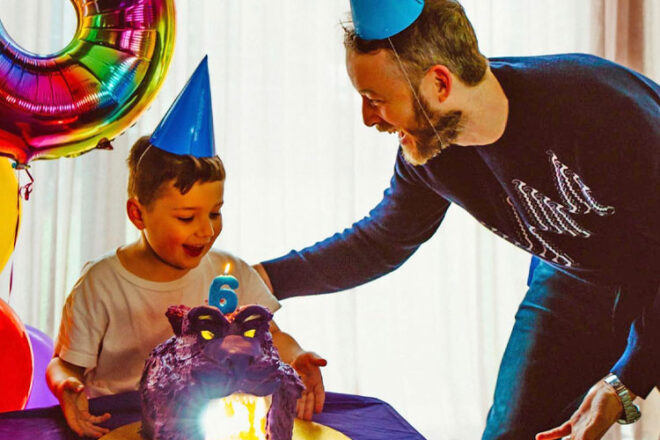 Even amidst the Victorian Covid-19 lockdown, Hamish Blake has once again out done himself with his son Sonny's sixth birthday cake.
Following the popularity of the Alladin remake, this year Sonny asked for the Cave of Wonders and Hamish was more than up to the task. Posting to Instagram Hamish shared the brief:
"Cake Time! It's that time of year again where I pledge to my son I will make whatever birthday cake his heart desires using only determination and blind optimism! (And cake). This year it's a classic, the Cave Of Wonders from Aladdin, you know, the cave he goes into to get the lamp (you know). The mouth glows. The eyes glow. Sonny has asked this faithfully be recreated. I have a little idea brewing involving a very powerful torch I own for when I frequently go camping, so I'm getting pumped. I will be caking SAT NIGHT on my stories, feel free to swing by for the journey. It's ok if you're late though, last year I got sidetracked watching The Life Aquatic and kick off was delayed 2 hours. I'm gonna give it my best Sonny Boy!! #BlakeItTillYouCakeIt"
View this post on Instagram
Take a look at some of the hilarious moments of the night below: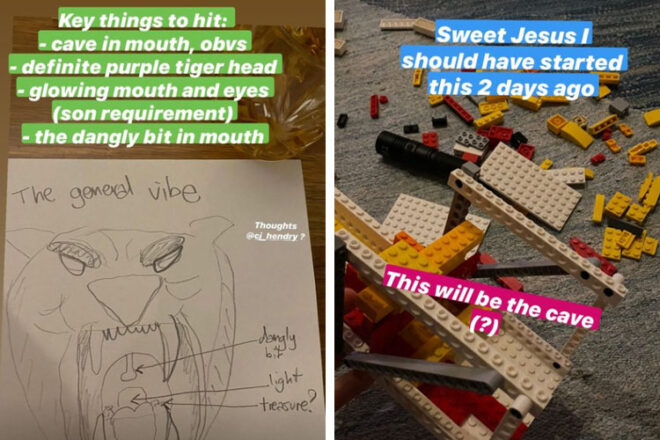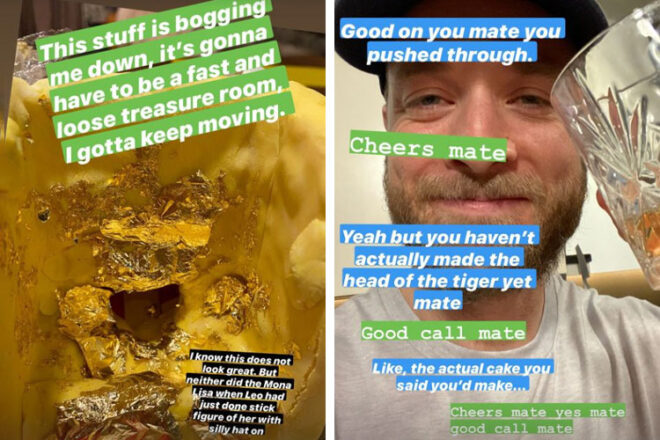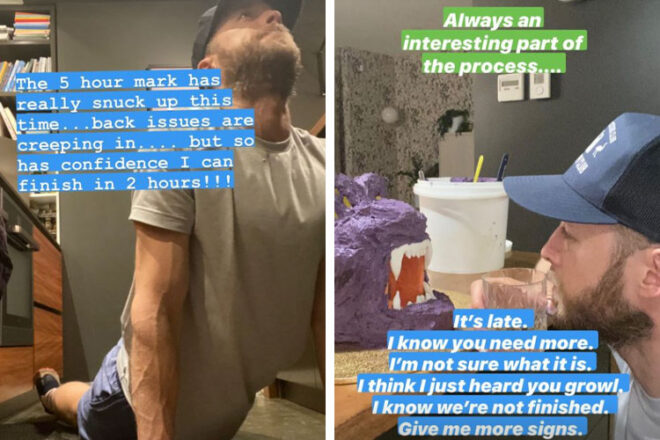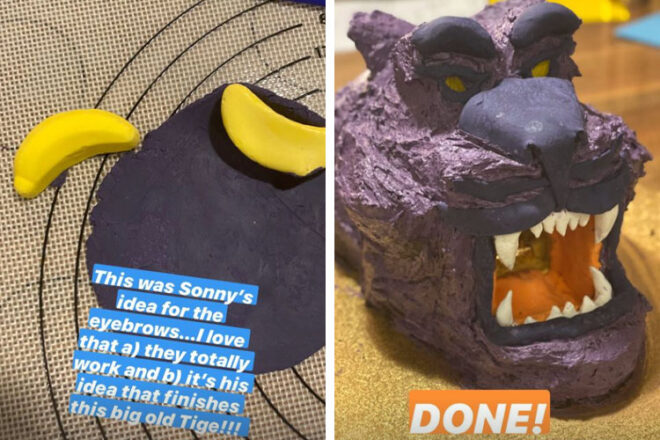 As always Hamish pulled it off (albeit always in the early hours of the morning). Zoë congratulated her husband once again on his hard work on her Instagram.
"My little boy turned six today, and my husband once again triumphed in his kid-throws-up-an-idea-for-a-cake-and-he-makes-it-the-night-before-no-matter-how-ambitious, game. (It's the cave of wonders from Aladdin. It was extraordinary. There was a lot of LEGO, tequila and sticky tape involved. He was up til 2:30 getting the nose right. I am so impressed.) Tbh the best mother's day gift was not having to host a party. On that: Happy Mother's Day, mums! You're terrific, you know that? I'm your biggest fan. Don't make me come over there and hug you. I'll get into trouble with the coppers."
View this post on Instagram
We are wishing Sonny a very happy sixth birthday and are very excited about Rudy's third birthday upcoming and what the next chapter will bring.
---
Cake Time: Hamish Blake Baking Skill Wows Again
MAY 10, 2019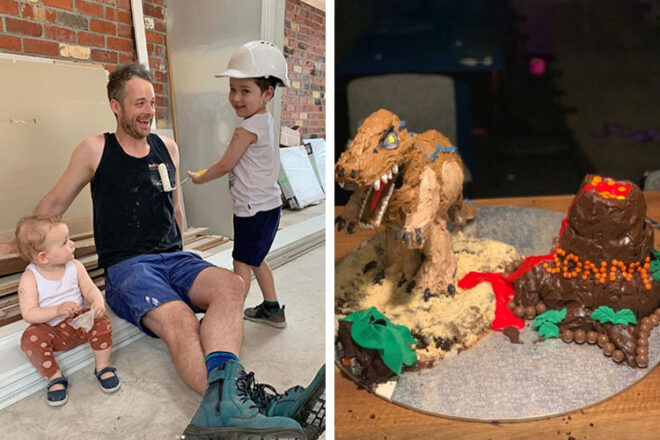 It is once again that time of year when viewers tune in to the wondrous cake-baking skill of Hamish Blake. Each year since his eldest son, Sonny, turned three, the radio presenter/funny-man/dad of the year has taken a request from his toddler as to what kind of cake he would like to have to celebrate his birthday.
So far we've seen a Mack Truck, that included a real working hinged back door and The Slimer from Ghostbusters that spewed slime straight from his mouth. This year though seems like it will be the biggest yet.
"🚨 TONIGHT 8pm on my stories!! 🚨 For the past two years, I have made my little guys birthday cake, a tradition that begins in our house on your third birthday (I guess). This year is by far the hardest. A velociraptor. That can open and close its mouth. And roar. And can "whack me in the head with its tail" (Sonny direct quote). An outlandish request I should have turned down, but, my Italian heritage dictates that a father can never refuse a cake request on the day of his sons birthday. So tonight we attempt history. For those that have been part of the journey in the past you will know my strategy: hope, procrastination, scotch, some hail Mary's, blind confidence, over spending at the supermarket. Let's do this 🎂 💪"
View this post on Instagram
The brief, simple. Hamish took to his stories to have Sonny tell everyone his vision.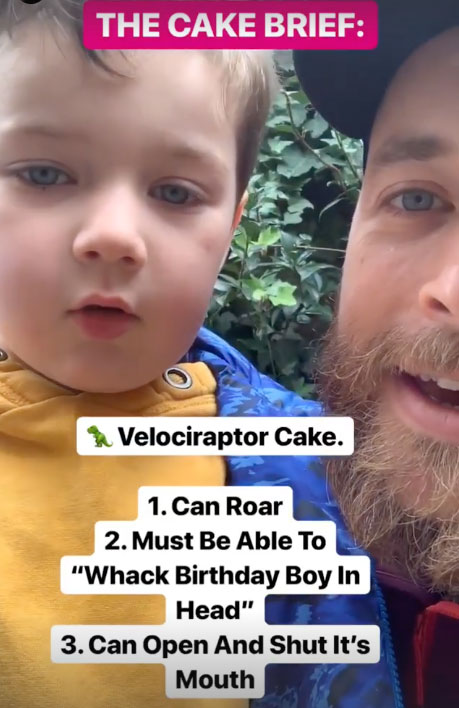 With his newest television show 'LEGO Master Australia' having just aired, it only seemed appropriate that to help make the cake come to life, LEGO had a helping hand in the structure.
Along for a wild ride, followers got to see the behind-the-scenes of the craftmanship, insider conversations with his wife Zoë (who told him to stop posting stories and actually work on the cake), and some sage advice that we definitely had to share: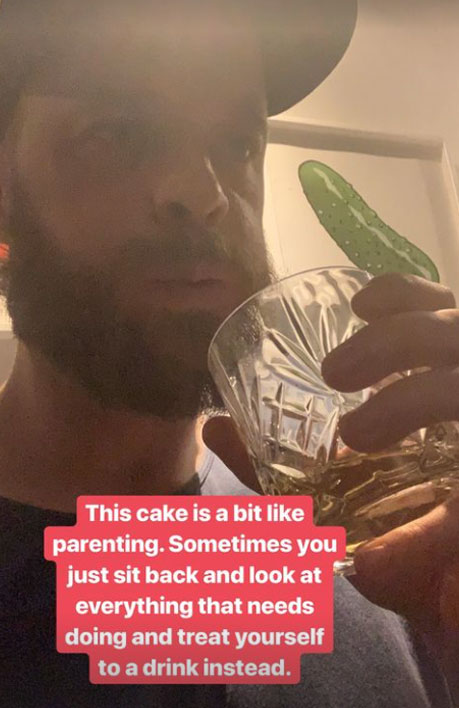 Six hours later and the cake turned out to be a huge success!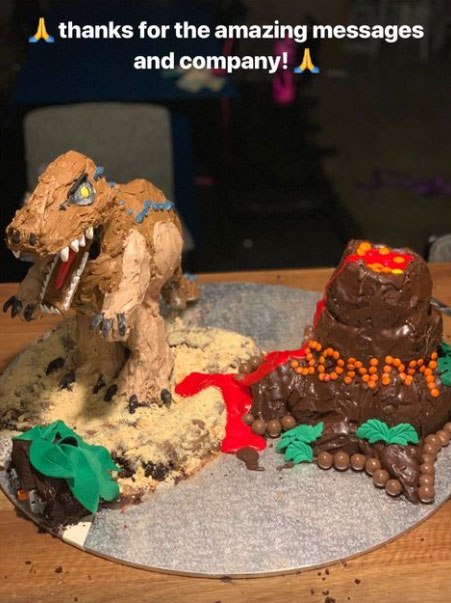 Over on her Instagram, Zoë commended her partner on his hard work creating their son's birthday cake.
"I of course salute my sweet birthday boy, but I also wanna salute his dad @hamishblakeshotz, who stayed up til 2am (watch his stories for the journey) and using only hubris, cake, sticky-tape, rice bubbles, marshmallows, tons of icing, optimism, audacity, whisky, and a phenomenal Lego dinosaur frame from Brickman (@mcnaught.ryan), created a cake-ish Velociraptor that roared, snapped its jaws and whipped its tail, as per Sonny's offhand, half-thought out brief. It was brilliant. So impressive. I would have quit at 'dinosaur.' I especially loved all the other parents thanking him for ruining their kids' expectations forever. That said, I think we can all agree he has reached Peak Cake™️, and next year it's an ice cream cake from Maccas."
View this post on Instagram
We are wishing Sonny a very happy fifth birthday and cannot wait to see what next year's challenge will bring.
---
Hamish Blake Bakes a Slime-Filled Cake for Sonny's Birthday
MAY 12, 2018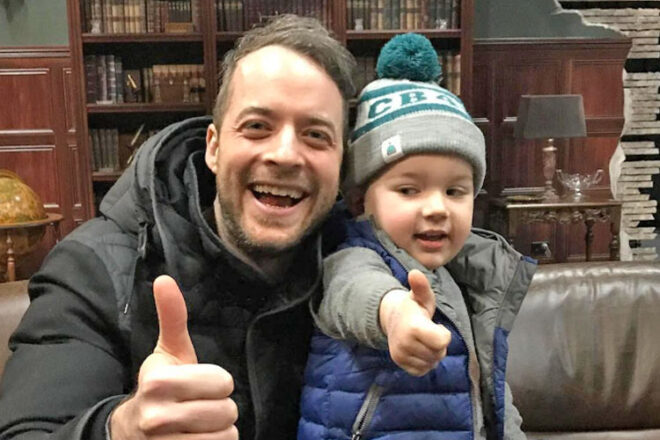 Super dad has done it again, back for another year Hamish Blake has baked and decorated the most awesome cake for his son Sonny's fourth birthday.
The assignment: Slimer from Ghostbusters.
Taking viewers along for the ride on his Instagram story, Hamish up to his usual antics with a glass of whiskey in his hand got to work on the incredible green monster.
"The making of a slime spitting Slimer cake is happening RIGHT NOW on my stories. Tune in unless you have a life!"
View this post on Instagram
Complete with an in-built hose to have slime spilling out of the mouth of the Slimer, it seems as though the cake was an absolute hit with his son.
"Slime fairly happy with how the big moment played out 🤮👍 #CakeItTillYouBlakeIt"
View this post on Instagram
We can't wait to see what Sonny (and hopefully Rudy too!) has him baking next.
---
Hamish Blake Bakes Awesome Truck Cake for Son's Birthday
MAY 08, 2017
Equipped with "many beer and no idea" Hamish Blake has managed to pull off a legendary Cars-themed birthday cake for his son. Hamish's wife, Zoe, shared his extraordinary efforts on Instagram, proving her hilarious hubby is not only funny but also quite the whiz with fondant!
As most parents do, Hamish and Zoe spent the night before their son's third birthday making the final preparations for his party. Hamish's job? To make a Mack the Truck cake for their Cars obsessed little man, Sonny.
View this post on Instagram
Despite his wife's reservations, Hamish impressed the pants off everyone with his Mack Truck cake, complete with an edible hinge. What's even more incredible? He did it without Googling instructions (and having never even heard of fondant before).
Amazing!
View this post on Instagram
As Zoe writes in her Instagram post, "Good dads doing good deeds deserve good talk, so good on you, Hamie Oliver."
From the photos, it looks like the cake was a big hit! We're certainly impressed. With Blake Bubba #2 expected this year, we're sure that Hamish will be on double birthday cake duties for many many moons to come.
Hamish isn't the only celebrity-dad-by-day-cake-master-by-night. Check out Chris Hemsworth's amazing cake which he made last year for his daughter, India.
---