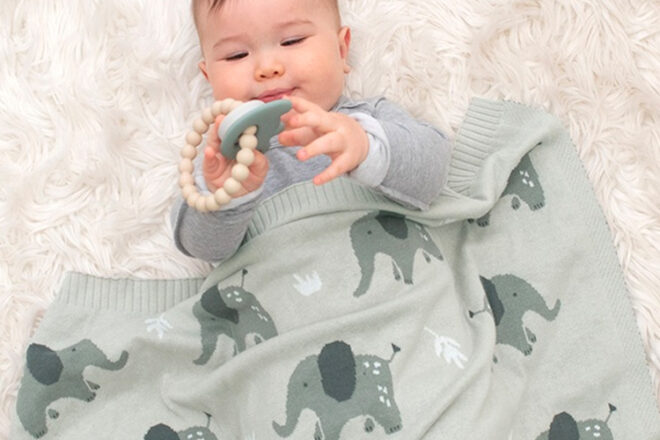 Keeping baby snug as a bug during the night goes a long way towards a better sleep (for them and you). As the cooler months roll in, there's no better time to invest in a few cosy Baby Blankets for getting out and about or staying in for a snuggle.
Soft enough to sleep with yet light enough to take on their travels, a blankie needs to provide little ones with supreme comfort while being lightweight and breathable for when the nighttime wriggles begin.
But do you go with wool or cotton? A cot size or bassinet size? Blankets come in all shapes and sizes, and in the colours of the rainbow, so to lend a hand, we've listed some key points to consider when you're looking for that first special blankie for your wee one.
What to look for when buying a blanket for baby
Before you decide what to buy, you need to know what you can buy and why. We've answered some basic questions to help you understand what's available, and what you might need.
Is it essential: No
How much will it cost: $30 to $200
How long will you use it: 1-4 years
Could you purchase before baby arrives: Yes
Baby shower gift idea: Perfect!
Baby Blanket features to consider
Material: You'll want to avoid rough or scratchy fabrics so choose one that's made from soft, hypoallergenic, and breathable materials like organic cotton, bamboo, merino wool or fleece.
Breathability: Having a blanket made from a breathable material helps regulate your baby's body temperature so look for blankets that allow for proper air circulation to prevent overheating.
Size: As well as keeping the baby warm, blankets make fantastic floor mats, sunshades and even nursery decorations. Sizes range from bassinet to cot and single bed sizes – so think about the ways you'll use the blanket before you buy one.
Washability: Like all things a baby needs and uses, the Bambino blanket may get a little messy. Look for materials that are machine washable and dry quickly – the sooner Bub is reunited with that special blankie the better.
Safety: Opt for blankets that are free from small parts, buttons, or other potential choking hazards and avoid blankets with long strings or ribbons that could pose a strangulation risk.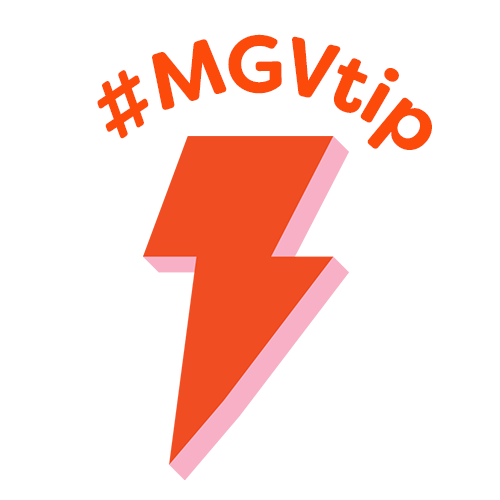 There is an easy little test you can do at home to see if the blanket material is breathable; simply hold the blanket next to a fan and if you can feel the breeze through the blanket, the material is breathable.
OUR PICK OF THE CROP
11 Baby Blankets Mums Recommend
To help you find a super-cute and snuggly blanket, we consulted our huge Facebook community of Australian mums and listed their most popular choices below.
In no particular order, here are 11 of the more popular Baby Blanekts for 2023:

Aster & Oak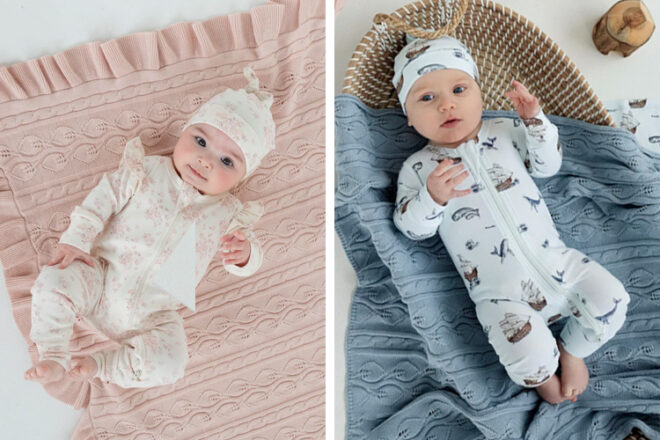 These exquisite heirloom knit blankets come in a choice of nine natural hues that will blend in seamlessly with any nursery colour scheme. Made with pure GOTS certified organic cotton and dyes, they are both environmentally friendly and gentle on baby's skin.
One mum commented online "Since finding out I was expecting a little girl I've quietly become obsessed with Aster and Oak, this blanket seriously makes my soul happy! It's so pretty!"
Material: 100% organic cotton
Size: 100cm x 100cm
Colours: oat, snow, fog blue, blush
---
Thread the Word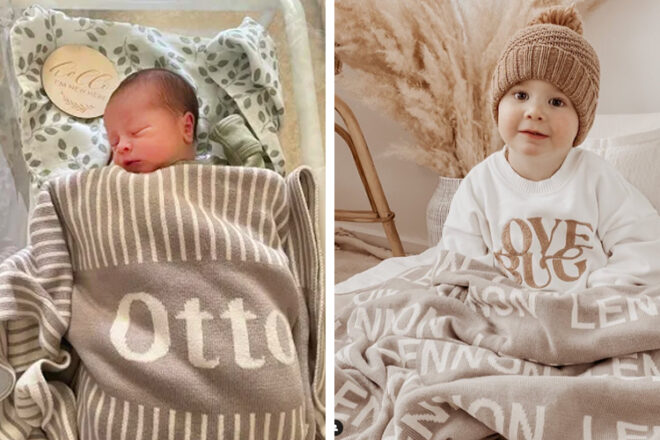 With over 16 designs, 24 colours and 68 cute symbols to choose from you're spoilt for choice at Thread the Word. We love that they are made in Australia from either 100% organic cotton or 100% cotton and are available in newborn, bassinet, cot, adult or single bed sizes.
"The blanket is such good quality, I have given it a machine wash and it has held its shape perfectly. I'm very happy with this baby blanket." said one reviewer online.
Material: 100% cotton
Sizes: Newborn, Bassinet, Cot, Single Bed, Adult
Colours: Hundreds of styles and colours to choose from.
---
Merino Mana Australia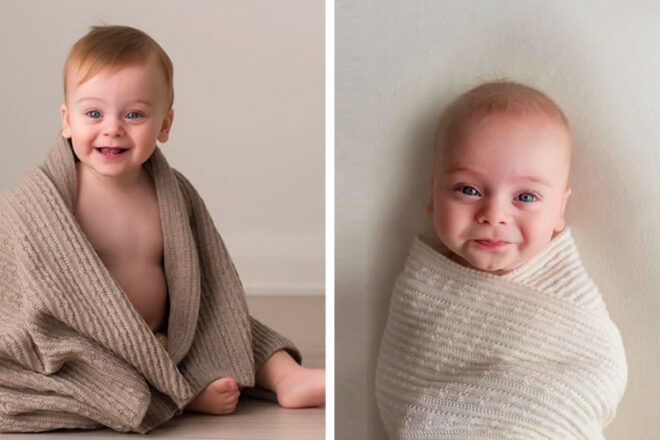 Crafted from the finest quality Australian and New Zealand merino wool, Merino Mana blankets are keepsakes to treasure for years to come. With natural temperature regulating properties, they ensure baby stays cosy during the colder months and cool in the summer.
Material: Merino wool
Size: 85cm x 100cm, 110cm x 80cm, 110cm x 70cm
Colours: cream, pink, cherry, navy, soft grey
---
Namely Co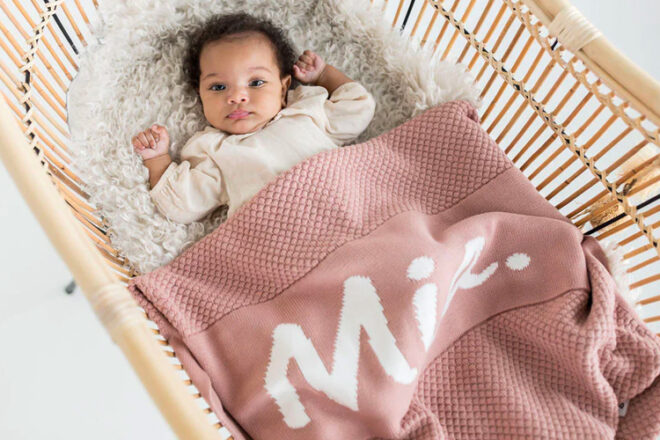 In a choice of 100% organic cotton or luxurious cashmere, Namely Co blankets are keepsakes to treasure. Whether it be sightseeing in the pram or going bye-byes in their bassinet, the blankets cocoon little ones in cosy comfort and warmth.
A reviewer online wrote "My daughter suffers from eczema and I found it hard to find a good quality blanket for her to cuddle. This blanket not only looks great but feels great too and is 100% cotton which is a great bonus for her and doesn't cause any flare-ups or breakouts! Would recommend this blanket for sure!"
Material: 100% organic cotton
Size:s bassinet, cot, single bed, double bed
Colours: Hundreds of styles and colour combinations
---
Kip&Co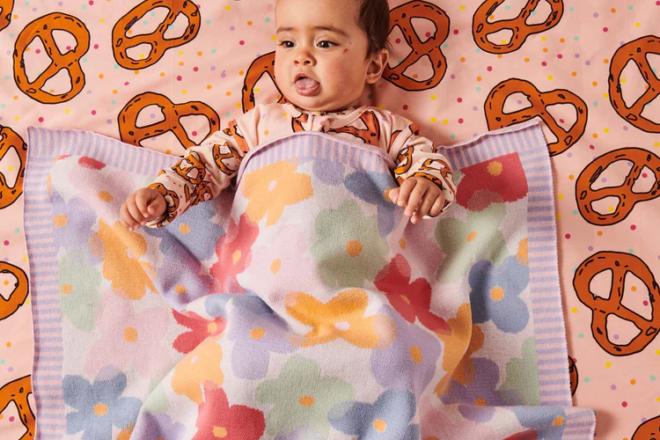 Beautifully crafted from 100% cotton, Kip&Co Cotton Knitted Blankets are the perfect keepsake. Snuggly soft and featuring Kip&Co's signature bold patterns that we know and love, these blankets are designed to be loved for years to come.
Material: 100% organic cotton
Sizes: 100cm x 80cm
Colours: ants pants, swan lake, can't bear it, be a star, paper daisy
---
Snuggly Jacks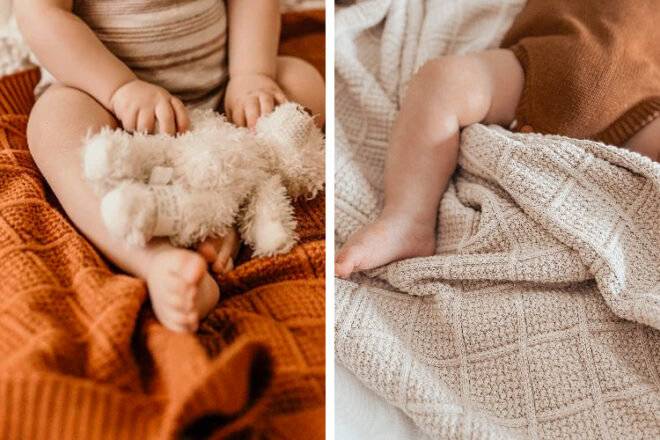 There's something for every bunny in the Snuggly Jacks range of cotton yarn infant blankets. Breathable and warm, reversible styles combine statement prints with delicious softness. Plus, they're machine washable and kind to baby's skin with no nasties or wool irritants.
"This blanket is lovely. It's soft and looks exactly like the picture. It is also thicker than I thought it would be which is perfect. I would recommend." one happy customer said online.
Material: 100% organic cotton
Size:s 100cm x 80cm
Colours: forest, honey, taupe, cinnamon, cream, rose,
---
Minimink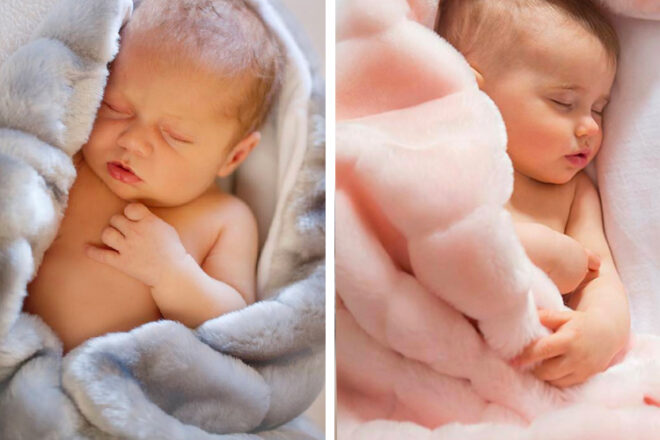 Luxuriously thick and warm, Minimink's snuggle-worthy faux fur blankets are lined with soft 100% cotton velour. Featuring a unique design with three corners and one rounded edge, they're designed to stand the test of time and make for a great gift.
Material: opulent faux fur
Size:s 100cm x 100cm, 110cm x 140cm, 200cm x 150cm
Colours: milk, honey, pink, chocolate, cherry, ebony, silver, white
---
Little Turtle Baby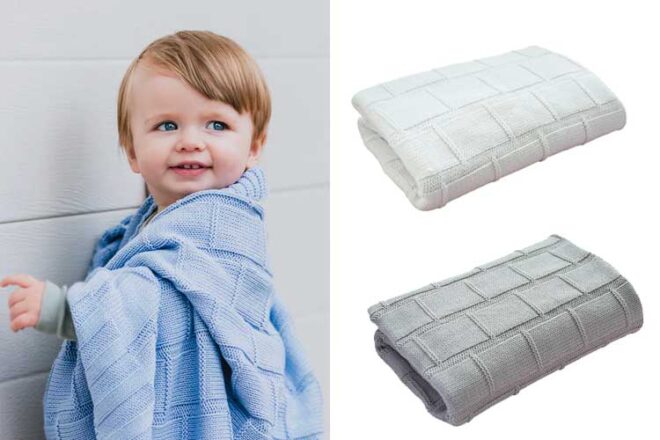 Wrap your precious little one in the snuggly goodness of Little Turtle Baby's organic cotton baby blankets. Crafted from the softest cotton yarns, these blankets are like a cozy hug for your bub, whether they're catching Z's in the cot or embarking on adorable pram adventures.
Material: 100% organic cotton
Size: 120cm x 75cm
Colours: baby blue, grey, white
---
Uimi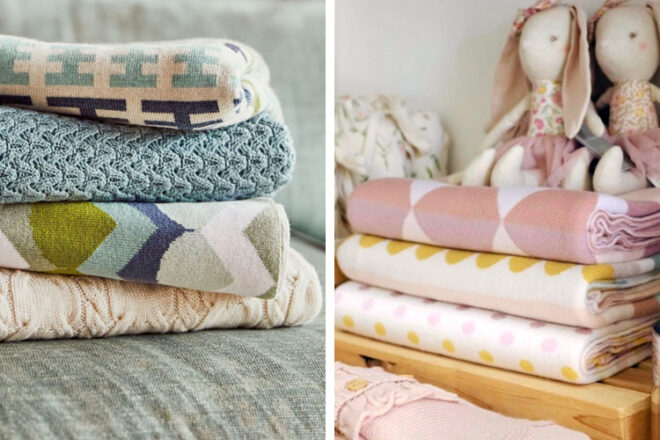 Proudly manufactured in Australia, Uimi kids blankets are made from natural and sustainable fibres that are biodegradable and breathable. Lush to the touch, Egyptian cotton and Merino wool has ideal properties for keeping little lambs warm and snug.
One reviewer said, "I love Uimi's products. Nice and warm during winter. I am also amazed at how colourful their range is every winter and summer."
Material: Merino Wool or Cotton
Size:s 100cm x 80cm, 115cm x 105cm, 120cm x 110cm, 200cm x 150cm
Colours: Hundreds of styles and colours
---
Indus Design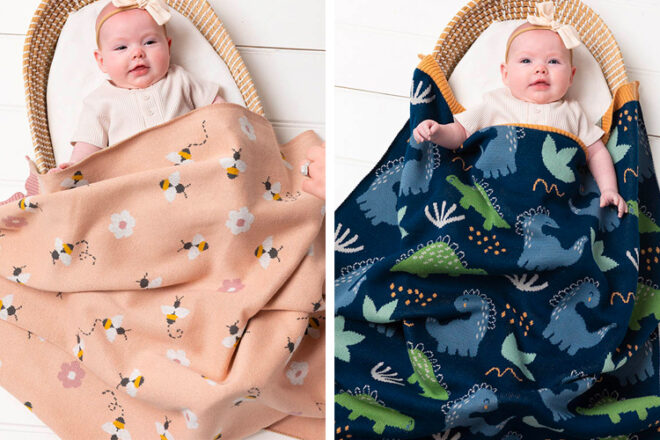 Whatever your nursery style, there's an Indus blanket that will fit right in. Inspired by nature and made using the finest quality natural fibres, the range includes cosy reversible quilted designs, cotton weaves in adorable prints and classic textured knits in trending shades.
Material: 100% Cotton
Size:s 100cm x 80cm
Colours: sunshine, hippo, zebra, ladybug, love, butterflies, bear, bees, dinosaur
---
Living Textiles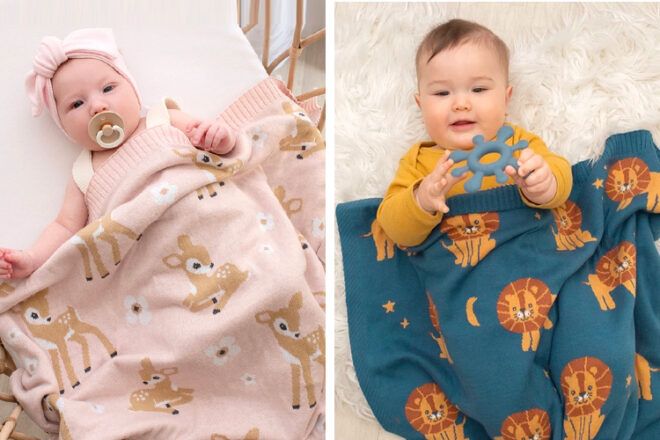 Perfectly sized for the pram or bassinet, Living Textiles Whimsical Baby Blankets adds a dose of style to any adventure. Made from super soft 100% cotton, we love that each blanket comes with its own too cute animal design.
Material: 100% Cotton Knit
Size:s 75 x 85cm
Colours: blush, grey, lilac, sage, blue
---
Susukoshi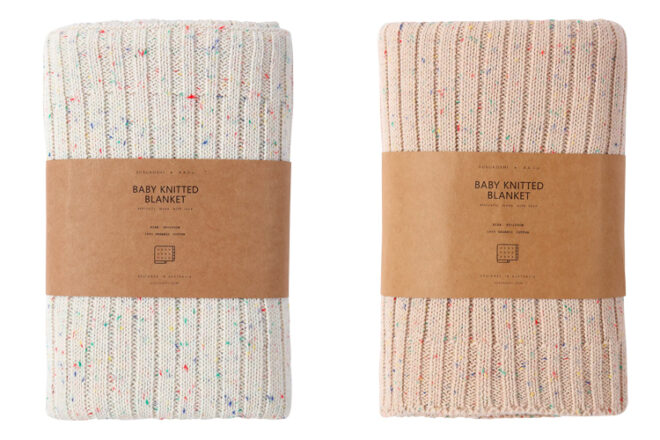 Fashioned from the softest organic cotton, susukoshi Knit Blankets are an ideal addition to any nursery. Suitable for newborns and up, they come in a range of neutral colourways that have a beanie to match which definitely has us saying "Awww".
One happy customer left the review "I love the quality, styles and colours. Particularly the speckled colours it's a bit addictive! Such a yummy brand – I can't get enough!"
Material: 100% organic cotton
Size:s 100 x 95cm
Colours: cookie sprinkle, jelly bean, cream, mustard
---
FAQs Your Questions Answered
How many blankies does a baby need?
Many parents manage just fine with one special blankie for baby, others like to have one for the house and another for when they're out and about with the pram.
How do you safely use blankets in the cot?
According to Red Nose Australia, if you are using blankets in the cot, you should ensure baby's feet are positioned at the end of the cot and use lightweight blankets that won't cause put bub at risk of overheating. Loose bedding isn't safe in the cot, so blankets should be tucked in firmly so that they won't cover bub's face during the night.
How big is a standard baby blanket?
In Australia, sizes vary quite a bit between brands, but most blankets are approximately 100cm x 90cm and super convenient for bundling up bubs in the pram, keeping them warm in the car, or even popping on the floor as a play rug.

Know an Australian baby blanket that we could add to our list? Contact us and let us know, we've been curating Australia's best baby products into helpful lists for over 15 years and we're always happy to support new brands and businesses.
Read next …
Ask other mums
Looking for a blanket for your baby and still not sure if any of these are right for you? Continue your search online by jumping into one of the Mum's Grapevine Facebook Baby Groups and ask thousands of other Australian mums what they recommend.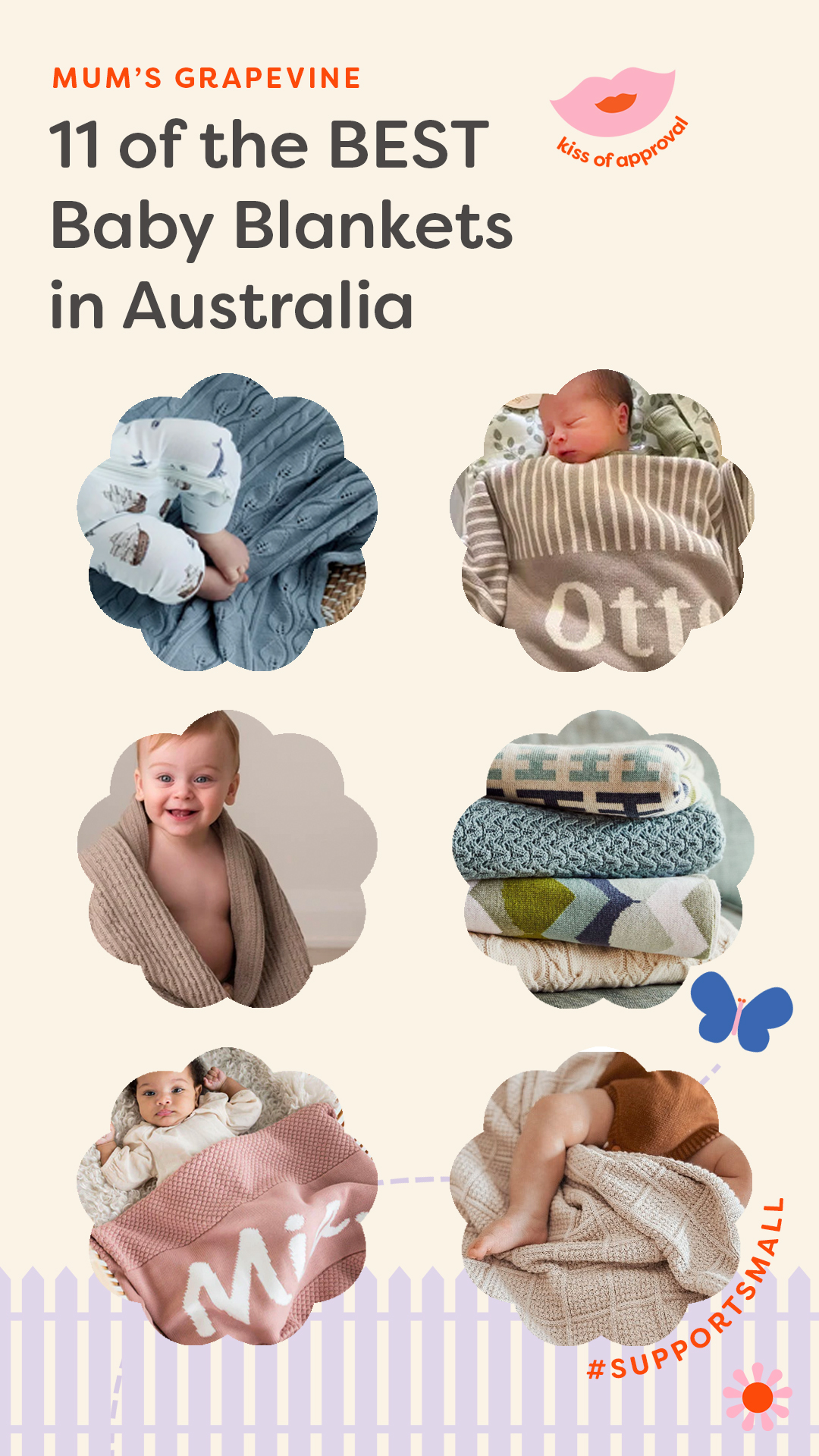 We want you to know
At Mum's Grapevine, we're a team of passionate mums (with 19 kids!) and over 15 years of experience researching and writing about all things baby and parenting. Our reviews of recommended products, like the ones in this post, may include paid inclusions, but we promise to only feature products that we truly believe in and have used or seen ourselves. We want to ensure that you, our readers have access to the latest and greatest products in the parenting world, and we're committed to maintaining our high standards of quality and honesty. See our Disclosure Policy.
Thank you for trusting us to be your go-to source for all things baby-related.
xoxo