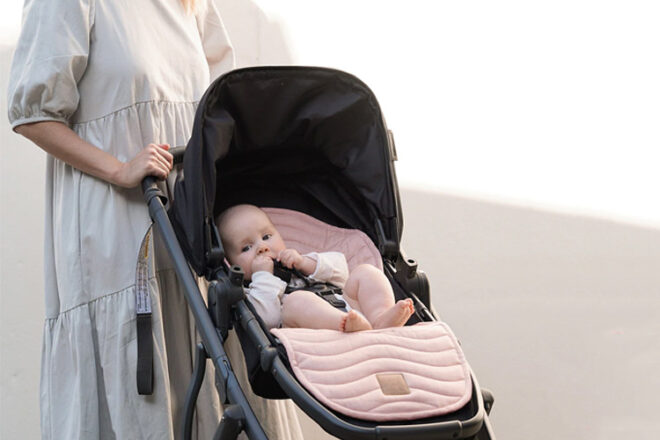 For every dash to the shops or leisurely stroll, there's bound to be an unexpected spill on the pram. Keeping the buggy free from baby's mess may seem like an impossible task, but pram liners are a huge help, and we've found nine stand-outs available right here in Australia.
A pram liner is a removable cushion or padding that is designed to fit inside a baby stroller or pram. They come in a variety of materials including cotton, bamboo, or polyester, and can be reversible with different patterns or colors on each side. They are often machine washable, making them super easy to clean and maintain.
Helpful tips for buying pram liners in Australia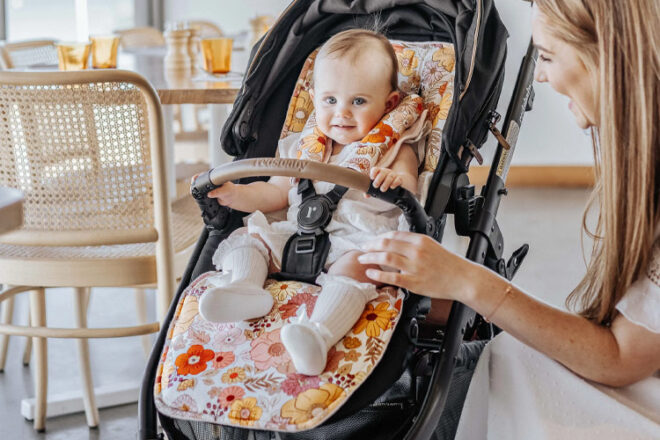 Practicality: While a little extra cushioning is great for comfort, keep in mind that the pram still needs to fold down easily for everyday use. Steer clear from anything with too many lumps and bumps!
Easy to clean: Designed to minimise general wear and tear on your stroller's seat, a stroller liner experiences everything from sweat in the warmer months to spills and toilet training whoopsies. Having a liner that is easy to clean or machine washable is a worthwhile investment.
Comfort: Look for a liner made from quality fabric. Yes, it needs to wash well but softness is a big thing here too. Some materials have temperature-regulating properties to keep babies warm in the cooler months and cool when summer rolls in. Comfort is key.
---
OUR PICK OF THE CROP
8 Pram Liners To Keep Prams Clean
To help you find a stylish and washable liner, we consulted our huge Facebook community of Australian mums and listed their most popular choices below. Read what other mums had to say in the Facebook post!
In no particular order, here are 8 of the most popular pram liners 2023.
Harmony J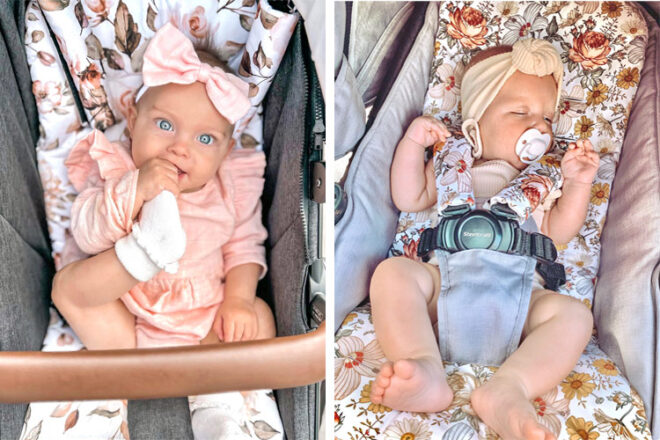 Finding a reversible liner that fits your pram is easy at Harmony J: Select your pram brand from the huge list and search through the fabulous prints and colours on offer. Made in Australia from 100% cotton, you can also add waterproofing and extra wadding.
One happy customer left the review: "I received my beautiful pram liner the other day. It's very soft and comfortable and would highly recommend it and will definitely suggest to other family and friends to buy"
Washability: Machine washable
Material: 100% cotton fabric
Sizes: pram model specific (100's to choose from)
---
Bambella Designs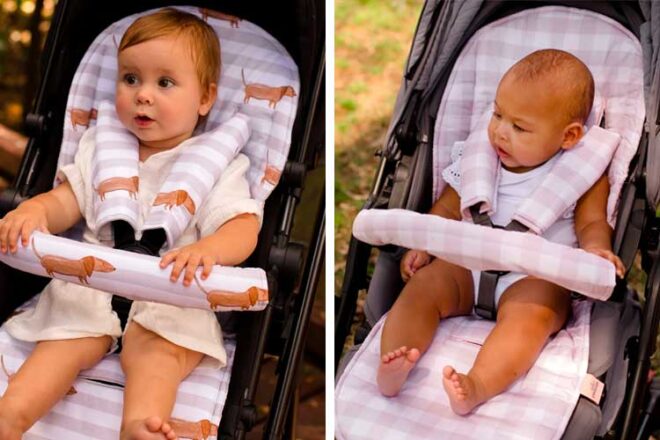 Indulge your little one in comfort with Bambella Pram Liners. Universally designed for all prams with a 5-point harness, these luxe padded designs with side wings provide ultimate comfort. Made with a 100% cotton cover and an absorbent layer of PUL wadding.
One happy customer left the review "Very impressed with this beautiful pram liner! It fits great in my pram, is nice and comfy for my bub and great quality. Definitely value for money!"
Washability: Machine washable
Material: 100% cotton cover
Sizes: Universal
---
Wonderland4Children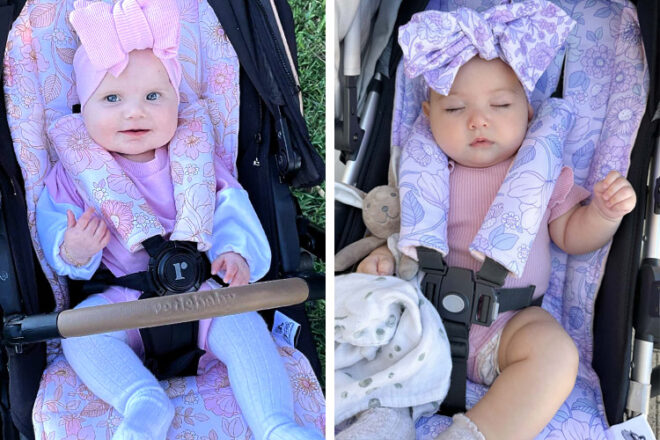 Designed in Australia, Wonderland4Children reversible liners are crafted from 100% cotton fabrics and soft polyester wadding to be lightweight and loads of fun. Machine-washable and available in glorious prints, they feature a soft quilted backing on the reverse side.
A review said: "I absolutely love my liner! It makes my pram so bright and pretty and protects my pram and is so easy to take off and wash!"
Washability: Machine washable
Material: 100% cotton fabric
Sizes: Universal
---
Funky Babyz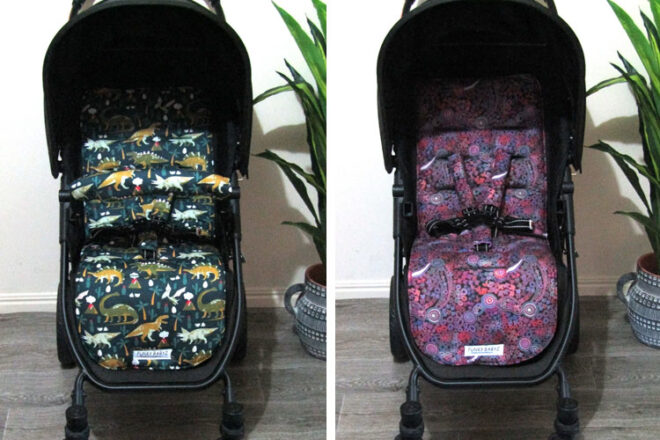 From fab florals to modern prints, this Australian-made range has something to suit every bub's style. Reversible and universal in size, they're padded with thick wadding and have double-stitched belt holes. Add matching straps and belly bars for a complete set.
"Huge range of interesting designs to choose from. Excellent craftsmanship and reasonable pricing for a quality product. Have bought four now and would recommend it to everyone." said one reviewer.
Washability: Machine washable
Material: 100% cotton fabric
Sizes: 3 sizes for universal fitting
---
The Muse Edition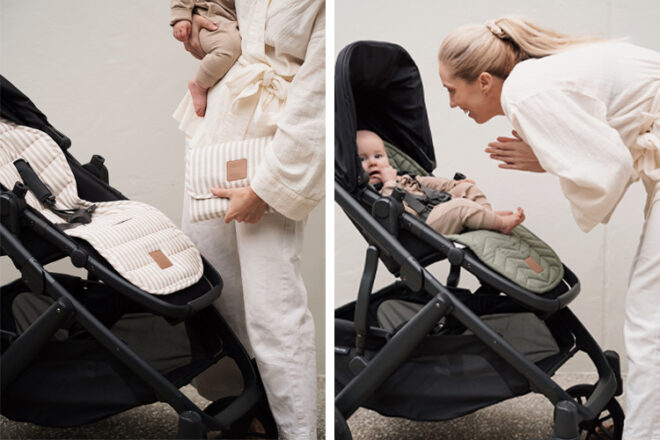 Crafted from high-quality linen fabric and featuring bespoke quilting, The Muse Edition universal liners keep your little one cool in summer, cosy in winter and stylish all year round. They are fully reversible and come packaged in gift-ready linen bags.
Online, one mum left the comment "The quality and finishing of the liner is exceptional not to mention the print is versatile and classy. Highly recommended!"
Washability: Machine washable, dry flat
Material: Linen blend fabric
Sizes: Universal (osfm)
---
More pram liner brands to love …
Your questions answered
We asked the huge Mum's Grapevine community of new mums if they found a pram liner helpful, and this is what they said to look out for …
"That padding is better than just a plain liner. It's more comfortable for them and still machine washable" – Hannah
"Shoulder strap covers are just as important!" – Joy
"Get one that fits your pram, also one that clips in, my son's one just sat in there with hole for the straps etc, but it slid down way to easily." – Shae
"A dark colour to hide the stains" – Angela
"They find a way to smoosh food all over the seat regardless it's just one extra thing to wash

" – Cassy

"Universal isn't always a good fit, find someone that makes them for your specific pram, they fit so much better"- Jess
"Have a spare incase it doesn't dry in time" – Kirsty
Know a liner we should add to our list? Contact us and let us know, we've been curating Australia's best baby products into helpful lists for over 15 years and we're always happy to support new brands and businesses.
Read next…
Ask other mums
Looking for a liner for your pram and still not sure if any of these are right for you? Join the huge #MGVfam in one of our private Facebook Baby Groups and ask thousands of other mums with babies the same age as yours which ones they recommend. Join today!
We want you to know
At Mum's Grapevine, we're a team of passionate mums (with 19 kids!) and over 15 years of experience researching and writing about all things baby and parenting. Our reviews of recommended products, like the ones in this post, may include paid inclusions, but we promise to only feature products that we truly believe in and have used or seen ourselves. We want to ensure that you, our readers have access to the latest and greatest products in the parenting world, and we're committed to maintaining our high standards of quality and honesty. See our Disclosure Policy.
Thank you for trusting us to be your go-to source for all things baby-related.
xoxo