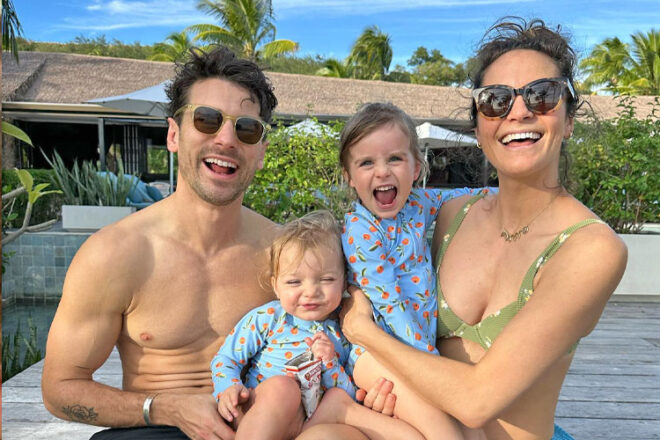 With people finally feeling the return of the travel bug it seemed as though pretty much every person whether they're from the southern or northern hemisphere decided to take a much-needed holiday during 2023. And of course, this includes some of our favourite celebrities.
Whether they were jet-setting off the Europe, traveling to the nearest tropical paradise or taking a much-needed staycation, we know one thing for sure, over the past few months we've seen a handful of stars and their loved ones touch down in enviable locations.
Hamish & Zoë Foster Blake
Known for their brilliantly adventurous holidays, the Blake Family's travels this year were no exception. After a bike riding tour of New Zealand back in January, the family of four made their way to Japan where they explored Tokyo and Kyoto, visited Disneyland Japan and even had a 'Ninja Experience'. Zoë posted to her Instagram:
"Udon know just how much we enjoyed our trip to Japan! Was such excellent, excellent fun to explore Tokyo and Kyoto as a family, and really crank our tourism dial up to an 11. We loved it so matcha. Thank you for being Japan, Japan. There's no one else like you.
Ps Made a highlight of all the, um, highlights."
View this post on Instagram
Returning from Japan, Hamish and Zoë weren't home for too long before they were off again taking off on another family bike ride but this time through France. The Blakes on Bikes spent five days riding through Provence before spending some relaxing time in the South of France followed by a special trip to Denmark where they celebrated Rudy's sixth birthday at LEGOLand.
View this post on Instagram
View this post on Instagram
View this post on Instagram
But don't worry, they managed to make it home before Hamish's most anticipated annual Cake Night.
---
Chrissy Teigen & John Legend
After the huge announcement that Chrissy Teigen and John Legend had welcomed not one, but TWO babies this year, we just know that the family of four were excited to get away on a family holiday. Sunning it up in Mexico, the model shared happy snaps of her family lounging by the pool, having fun on the beach and indulging in some sweet treats.
View this post on Instagram
View this post on Instagram
View this post on Instagram
---
Emily Seebohm & Ryan Gallagher
Announcing their pregnancy in July, Emily Seebohm and Ryan Gallagher have shown nothing but loved bliss on their social media and their recent babymoon trip to Fiji was no exception. With the breathtaking Fijian sun setting behind them, Emily and Ryan posed for pictures while on a boat ride.
View this post on Instagram
---
Kourtney Kardashian Barker
It's no secret that the Kardashians know a thing or two about holidaying and with an annual trip to Italy every (northern hemisphere) summer for the past few years Kourtney Kardashian Barker continued her tradition but being further along in her pregnancy this time the reality tv star vacayed a little closer to home. In the stunning location of Hawaii, the soon Mum of four revealed that she took her daughter Penelope and her friends to the tropical paradise to celebrate P's eleventh birthday. Showing off her baby bump in two-piece bikinis, Kourtney shared photos of the girls on their trip (including Kim Kardashian's eldest daughter North) having fun and enjoying the sun.
View this post on Instagram
View this post on Instagram
View this post on Instagram
---
Ashley Graham
Mum of three, Ashley Graham travelled to Italy in June with her husband on a couple's getaway that we are for sure jealous of. With a carousel of photos showing their time spent in Scilla, the model wrote:
"Scilla, a hidden gem by the sea in the South of Italy, is a place I hope to call home one day. It's a coastal treasure with so much charm, beauty, and culture – I can't help but want to share Scilla with the world. When planning your next European adventure, don't forget to add this magical town to your itinerary"
View this post on Instagram
---
Martha Kalifatidis & Michael Brunelli
Now it certainly seemed as though at one point or another, pretty much everyone was in Europe this year including MAFS couple Martha Kalifatidis and Michael Brunelli. With little Lucius only five months old, they began their trip in Lake Como for a wedding, a quick stopover in Milan and ended in Rome. Martha made a super sweet post on Instagram during their stay in Rome as it happened to be the location where the couple found out they were in fact pregnant with baby Lucius.
"This time last year when we were in Rome we found out I was pregnant… today you're 5 months and I still don't believe you're here and you're ours."
View this post on Instagram
View this post on Instagram
View this post on Instagram
---
Shay Mitchell
Shay Mitchell was yet another celebrity vacationing in Europe this year, travelling around Italy with her two daughters Atlas and Rome.
View this post on Instagram
---
Lara & Sam Worthington
Also spotted in Italy, as well as Greece, France and Spain was Lara Worthington where she holidayed with husband Sam Worthington and their family.
View this post on Instagram
View this post on Instagram
View this post on Instagram
---
Rebecca Judd
Adding to the Aussies in Europe were Rebecca and Chris Judd who stayed in the UK before heading to Greece and Ibiza. Bec put together some videos showing off their six-week vacation which showed their time together as a family of six, with their friends and in the sunshine.
View this post on Instagram
View this post on Instagram
View this post on Instagram
---
Claire Holt
Australian actress Claire Holt also chose Europe as the destination where she and her family celebrated her babymoon. Living it up in Ibiza the star had her baby bump front and centre as she soaked up some Vitamin D.
View this post on Instagram
View this post on Instagram
---
Matty J & Laura Byrne
It seems that another popular destination for the stars this year has been Fiji. Bachelor alumni Matty J and Laura who tied the knot earlier in 2023 finally took their honeymoon to the tropical destination and even brought the kids along for it. Laura hilariously captioned her post about the trip:
"Honeymoons are supposed to be the most romantic time of your life, and there is nothing that screams romance quite like 4 kids, getting your period on day one and a husband whose hobby is swimming lengths of the hotel pool underwater.
FIJI you're BULA-tiful, cheers to the best week with the ones I love the most"
View this post on Instagram
---
Carrie Bickmore & Fifi Box
Aussie radio hosts Carrie Bickmore and Fifi Box seemed to both have the same idea as Matty J and Laura spending some time in Fiji with their families together. Both sharing videos to their Instagrams, the blonde bombshells looked radiant on the beach indulging in some much-needed family time.
View this post on Instagram
View this post on Instagram
---
Jennifer Hawkins-Wall
Add Jennifer Hawkins-Wall to the list of Australian celebs who made their way to Fiji. The model shared with her followers that she and her family also spent a holiday on the island.
View this post on Instagram
---
Tim & Anna Robards
The original Bachelor alumni Tim and Anna Robards decided on Bali for the mid-year family getaway to celebrate a friend's wedding. Bringing along daughter Elle who is already looking all grown up, the couple looked utterly happy and relaxed in their shared photos.
View this post on Instagram
View this post on Instagram
---
Brooke Jowett & Chris Cavanagh
With their baby arriving literally any second now, Brooke Jowett and Chris Cavanagh have made the most of their last few months as a family of two. The couple first headed to Bali for their babymoon where they seemed to enjoy themselves relaxing, swimming and eating.
View this post on Instagram
Chris then surprised Brooke in early July with a staycation at the Crown Metropol Melbourne together.
View this post on Instagram
The couple then headed to the Gold Coast for a second babymoon filled with winter sunshine. Brooke shared the trip saying:
"Pure baby moon bliss ☀️🙌 A much-needed 48 hours in paradise"
View this post on Instagram
Read next …
Missed the latest celeb baby news? Catch up with these articles for all the goss:
Looking for your own holiday inspiration? Take this as a sign! Check out these tips on planning a babymoon or simply putting together a kid-friendly family holiday.