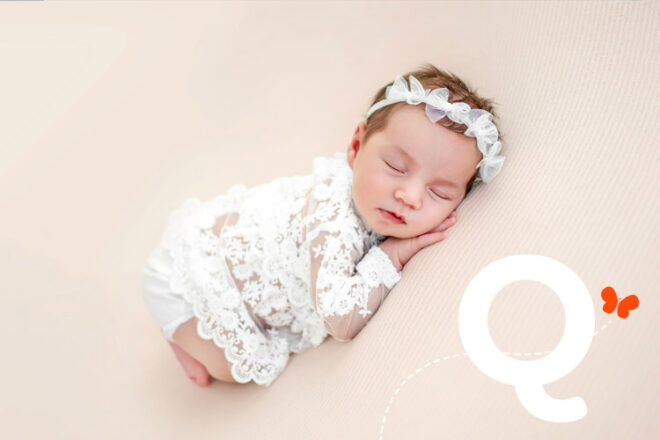 We're marching through the alphabet in search of the perfect name fit for a queen, and what better letter than Q? If you like names that aren't popular, the 17th letter is a diamond in the rough that might spark your interest.
From quirky to quizzical, perhaps there's a name amongst this long list that you could bestow on your little lady. There are names with meanings inspired by nature like Qaraah which means 'cloudlet' – how gorgeous is that? There are also stunning options for if you're team green, like Quinn, Quincy and Quamah which we adore.
Sit back, relax and let's have a squizz at the very best names that Q has to offer.
Nature-inspired Q names
Think there are no nature-inspired Q names to be found? Think again! Q brings forth some fresh options:
Unique Q names for girls
Give your daughter a mysterious unique name that's oh-so different. Proud to explain their name? You're in luck!
Quarla
Qiara
Quella
Quaya
Qynnlee
Quierah
Queturah
Iconic names for girls starting with Q
From stage to screen, here are some Q names after some very iconic women:
Queen: after Queen Latifah
Quinten: after Quinten Bryce
Quincy: after Quincy Jones
Q girl names with earthly meanings
We love names with nature-based meanings. These don't necessarily sound earthy (like River) but hidden behind the exterior is a meaning inspired by the land:
Quasar: 'meterorite'
Qamar: 'moon'
Qaraah: 'cloudlet'
Qodisa: holy, celestial'
Quanda: 'slender young tree'
Quennel: 'dweller by the oak tree'
Quynh: 'night blooming flower'
---

Our favourite Q girl name is: Quinley
---
More girl names that start with Q
Qaailah
Qaali
Qaaniah
Qaanita
Qabalah
Qabool
Qacha
Qadeeja
Qadeera
Qadence
Qadriya
Qahira
Qaifa
Qaliyah
Qamara
Qamayr
Qamelia
Qamille
Qarasafahl
Qareebah
Qari
Qarina
Qarla
Qarma
Qasayed
Qaseh
Qashrina
Qasih
Q'Auri
Qeleigh
Qeta
Qetsiyah
Qeturah
Qeuryn
Qhairina
Qhaisara
Qhalisya
Qhawe
Qhawekazi
Qhayiya
Qhuinn
Qi
Qian
Qiana
Qiandra
Qiannah
Qianyi
Qianzy
Qiao
Qiara
Qi'Aura
Qierra
Qierstin
Qiesha
Qiesya
Qila
Qilani
Qingyuan
Qiniso
Qinsley
Qinthara
Qiona
Qiqi
Qira
Qis
Qisha
Qismah
Qist
Qistina
Qisya
Qitarah
Qiu
Qiuana
Qiya
Qora
Qori
Qorianka
Qotrunnada
Qoya
Qua
Quadaisha
Quadeshia
Quadijah
Quadira
Quadreka
Quadrima
Quahah
Quainna
Quajenee
Quala
Quanasia
Quanda
Quane
Quanette
Quanshae
Quant
Quanta
Quantasha
Quantavia
Quantaya
Quante
Quantella
Quanteria
Quanterra
Quantia
Quantiana
Quantina
Quantisha
Quanya
Qua'Nylan
Quanza
Quaron
Quartevia
Quartney
Quasha
Quashana
Quashanda
Quashawn
Quashawna
Quashay
Quashayla
Quasheema
Quatavia
Quateria
Quatesha
Quatia
Quatina
Quatrina
Quayanna
Quayla
Quazi
Qubilah
Quddoosiyyah
Qudeisha
Qudrat
Qudsia
Qudsiyyah
Que
Queana
Queencess
Queene
Queenell
Queenester
Queenetta
Queenette
Queenisha
Queennayzjah
Queensley
Queenstar
Queenza
Queenzy
Queisha
Quek
Quelise
Quelita
Quelynn
Quemalee
Quemiah
Quen
Quenbie
Quencia
Queneisha
Queneshia
Quenette
Quenia
Quenisha
Quenita
Quenna
Quennell
Quennie
Quentasia
Quenteria
Quentin
Quentina
Querina
Quesia
Quessie
Quest
Questa
Quetcy
Quetsalesk
Quetta
Quetura
Quetzi
Quia
Quiairra
Quian
Quianah
Quiandra
Quiani
Quianne
Quiara
Quida
Quillen
Quillian
Quillie
Quillyn
Qui'Mara
Quimya
Quin
Quinai
Quinaja
Quinanna
Quinarra
Quinasia
Quinaya
Quinbie
Quincee
Quincella
Quindara
Quindasia
Quindi
Quinea
Quinessa
Quinnzel
Quinoa
Quinsea
Quintana
Quintara
Quintasha
Quintashia
Quintasia
Quintavia
Quintaya
Quintaysia
Quintazha
Quintell
Quintella
Quinten
Quintenne
Quintera
Quinteria
Quinterra
Quinterria
Quintia
Quintilla
Quintin
Quintina
Quintisha
Quinton
Qunn
Quoba
Quratul
Quren
Quri
Qurratu
Qurratu'Aini
Quyen
Quylla
Qwana
Qwanda
Qwanesha
Qwer
Qyanna
Qyara
Qyla
Qyn
Qynaana
Qynn
Qynne
Qyra
Qadira
Qamra
Quartilla
Queta
Queysha
Quiana

We've got the scoop on the best baby names for boys or girls. Explore our extensive baby name collections for popular names, unique names, names from around the globe, and top names for boys or girl names.
Read next …
Looking for more baby name inspiration? Make your way through our alphabet of baby names:
Navigating the baby name maze?
Slide into the Mum's Grapevine Due Date Groups and connect with other mums-to-be facing the same name-game puzzles. Share your journey, spill the beans on your faves, swap ideas and share the quest for the perfect baby name. Come on in everyone's welcome – and let's talk baby names!