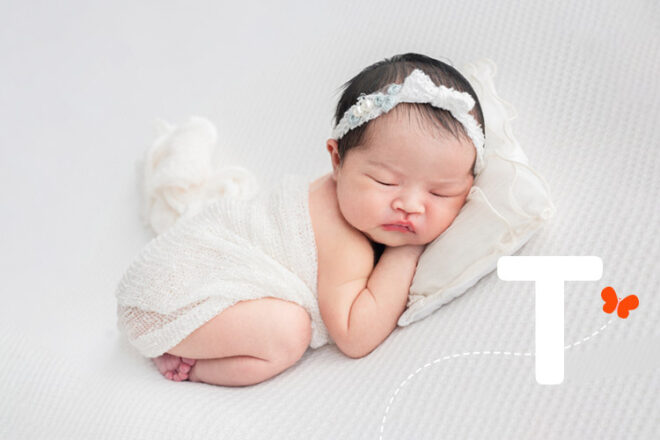 We're travelling through the alphabet in search of name perfection, and a stop number 20 might just be the ticket. T, the 20th letter of the alphabet is not the most common letter for girl names, but that's what makes it so appealing for some.
Maybe the letter T stands out as a contender because it has an edge to it, or because you're after a name that turns heads. Or perhaps you're looking for something that's unique, that no one else has.
Whatever your reasoning, we've dived headfirst into the ABCs of baby-naming to find the most beautiful and unique monikers for girls that start with T. We asked the huge online Mum's Grapevine community to share their favourites.
T girl names with a theme
You can find great inspiration from themes, and the letter T brings the goods with lots of different options.
Some are nature-based without being obvious, others are old-wordly and making a comeback and some are are contenders if you're Team Green:
Girl nicknames that start with T
Australians just love to shorten or Aussie-fy a name, so it makes sense that we're comfortable in giving our babies a nickname as their actual name.
T has some real contenders – could something short and sharp be on your shortlist?
Tully
Tilly/Tillie
Tali
Tottie
Tarra
Tana
Taffey
Ty
Iconic T names for girls
From screen to sports and everything in between, there's sure to be an iconic T name for your little star:
Tippi: after actress Tippi Hedren
Teresa: after Mother Teresa
Téa: after actress Téa Leoni
Tiffany: small blue box, anyone?
Torah: after olympic snow-boarder Torah Bright
Tuesday: no one likes Monday, but Tuesday could work!
Tiana: after the fearless Disney princess
Temperley: after the iconic fashion label
Unique T names for girls
Give your daughter a truly unmissable name with something unique and oh-so different. Turn heads with these rare gems:
Takoda
Tamorah
Tajsa
Tivona
Tzvia
Timaula
Tamesis
Toa
Taves
Pairings for T names
If you're partial to a hyphenated name, an uber-cool T name tempered with a more traditional name makes a great combination.
Tora-Lea
Tessa-Jane
Tracee-Rae
Tali-Rose
Tia-Jean
Talia-Mae
Taja-Grace
Alternative spellings for T girl names
Have a Tracy in the family but want something same-same but different? An idea is to choose an alternative spelling:
Tracy: Tracey, Tracee, Traci, Traice, Traicy, Traici, Tracie, Traycee
Tahlia: Talia, Tahleeah, Taliya, Taliyah, Tahleea, Tarleah
Taffy: Tafee, Taffea, Taffee, Taffi, Tafy
Celebrity daughters with T names
View this post on Instagram
---

Our favourite T girl name is: Tullulah
---
Taalah
Taanach
Taariq
Taban
Tabassum
Tabatha
Tabbi
Tabbie
Tabea
Taborah
Taborri
Tace
Taceta
Tacetah
Tacey
Taci
Tacincala
Tacita
Tacy
Tadako
Tadewi
Tadi
Tadita
Taelon
Taelyn
Taffea
Taffee
Taffey
Taffi
Taffy
Tafy
Tahirah
Tahlia
Tahnee
Tahney
Tahni
Tahzai
Tahzay
Tai
Taido
Taifa
Taila
Tailor
Tailynn
Taima
Taina
Taini
Tainn
Taipa
Tait
Taite
Taitum
Taja
Tajsa
Taka
Takako
Takala
Takalah
Takara
Taki
Takia
Takira
Takiyah
Takoda
Tal
Tala
Talaitha
Talasi
Tale
Taleen
Taleetha
Talen
Talesa
Taleta
Taletha
Tali
Talia
Talieya
Taline
Talisa
Talisha
Talith
Talitha
Taliya
Taliyah
Tallie
Tallis
Tallon
Tallula
Tallulah
Tally
Tallya
Tallys
Talon
Talor
Talula
Talulah
Talya
Talyah
Talyn
Tam
Tama
Tamah
Tamaka
Tamali
Tamanna
Tamar
Tamara
Tamarah
Tamarind
Tamary
Tamasha
Tamatha
Tamber
Tambre
Tambree
Tambrey
Tambur
Tameka
Tamesis
Tamia
Tamika
Tamiko
Tamira
Tamirah
Tamitha
Tamma
Tammie
Tammy
Tammye
Tamora
Tamorah
Tamra
Tamsa
Tamsan
Tamsen
Tamsin
Tamson
Tamsyn
Tamya
Tamyra
Tan
Tana
Tanaka
Tanasha
Tanashia
Tanaya
Tandice
Tanesha
Taney
Taneya
Tangee
Tangia
Tanginika
Tani
Tania
Tanie
Taniel
Tanika
Tanish
Tanisha
Tanith
Taniya
Taniyah
Tanner
Tannesha
Tansy
Tanu
Tanuja
Tanushi
Tanvi
Tanya
Tanzi
Tapanga
Tapi
Tapti
Tara
Tarala
Taran
Tarana
Taraneh
Tarangini
Tarannum
Taree
Taren
Tareva-Chine'
Taria
Tariana
Tariel
Tarika
Tarin
Tarisai
Tarja
Tarjani
Tarquinia
Tarra
Tarsha
Taruna
Taryn
Tasanee
Tasha
Tashi
Tasia
Tasita
Tasmin
Tasmine
Tassilyn
Tasya
Tat
Tata
Tatania
Tate
Tatia
Tatiana
Tatianna
Tatiannia
Tatie
Tatjana
Tattianna
Tatum
Tatyana
Tauret
Tave
Tavi
Tavia
Tavie
Tavita
Tawana
Tawanda
Tawi
Tawnie
Tay
Taya
Tayce
Taycita
Tayen
Tayla
Taylah
Taylar
Taylee
Taylie
Taylor
Tayna
Taynanna
Tayte
Taz
Tazanna
Tazara
Tazi
Tazoo
Tazu
Teagan
Teagen
Teah
Teara
Tebeth
Teca
Teddi
Teddra
Tedra
Tedrah
Teeah
Teena
Tegan
Tehya
Teigra
Teishymn
Tejal
Tejana
Teji
Tekla
Tekli
Teleri
Telissa
Telle
Telly
Telma
Telyn
Tema
Temima
Temina
Temira
Temora
Temperance
Tempestt
Tempyst
Tena
Tenaya
Tendai
Tender
Tendra
Teness
Tenley
Tennen
Tenyasha
Teodora
Tera
Terah
Teranika
Terceiro
Terehasa
Tereixa
Terena
Terenna
Terentia
Teresa
Teressa
Terhi
Teri
Terin
Terpsichore
Terra
Terre
Terrena
Terrenna
Terrey
Terri
Terry
Terrylyn
Ters
Tersh
Tersha
Tersia
Tertia
Tery
Teryl
Tesa
Tesha
Tesia
Tesica
Tess
Tessa
Tessica
Tessie
Tessika
Tessy
Tetisheri
Tetsu
Tevy
Tex
Texcean
Teyna
Teza
Thada
Thadda
Thaddea
Thaddeah
Thadine
Thady
Thadyne
Thais
Thaisa
Thalassa
Thalia
Thalius
Than
Thana
Thandiwe
Thao
Thara
Thea
Theah
Theala
Theda
Thedora
Theeah
Thekla
Thema
Themis
Themista
Theodosia
Theola
Theone
Theophania
Theophilia
Thera
Thereasa
Theresa
Thi
Thira
Thirza
Thisbe
Thomasa
Thomasina
Thomasine
Thomassa
Thorborg
Thordia
Thracia
Thu
Thuraya
Thurid
Thuy
Thy
Thyra
Thyrrni
Thyrza
Tia
Tiah
Tiana
Tianna
Tiara
Tiaret
Tiarra
Ticia
Tie
Tiegan
Tiegs
Tiegy
Tien
Tiena
Tienette
Tiera
Tierra
Tiesha
Tieve
Tifanee
Tifany
Tiff
Tiffani
Tiffanie
Tiffany
Tiffie
Tiffy
Tigerlily
Tikia
Tila
Tilly
Timandra
Timaula
Timberly
Timera
Timi
Timora
Timotha
Timothea
Tina
Tinble
Tineka-Jawana
Ting
Tinisha
Tinka
Tiny
Tiombe
Tionne
Tiphany
Tiponi
Tiponya
Tira
Tirza
Tirzah
Tish
Tisha
Tishah
Titania
Titian
Tiva
Tivona
Toakase
Tobit
Toinetta
Toinette
Toireasa
Tokiko
Tola
Tolena
Toley
Tolia
Tolinka
Tomai
Tomasina
Tomi
Tomiko
Tommie
Tommy
Tona
Toni
Tonia
Tonya
Topanga
Tophaz
Tora
Toral
Torey
Tori
Toria
Torie
Toril
Torill
Torille
Torree
Torri
Torrie
Torry
Tory
Tosca
Tosh
Tosha
Toshi
Tosia
Totie
Tottie
Totty
Tourmaline
Tova
Tovah
Tove
Toyah
Toynetta
Toynette
Toyo
Tracee
Tracey
Traci
Tracie
Tracy
Traice
Traicey
Traici
Traicie
Traicy
Trang
Tranquilia
Tranquility
Treasa
Treena
Trella
Tresa
Tresah
Tressa
Treva
Treve
Triana
Trianna
Trice
Tricey
Tricia
Trifena
Trifene
Triffena
Trifin
Trifina
Trifine
Trilby
Trilochana
Trin
Trina
Trinah
Trind
Trine
Trinette
Trinh
Trini
Triniti
Trinity
Triny
Trisa
Trish
Trisha
Trishna
Trista
Tristana
Tristessa
Triveni
Troy
Tru
Truda
Trude
Trudi
Trudie
Trudy
Trula
Trupti
Trusha
Truta
Tryamon
Tryna
Tryne
Tryphena
Tu-Sha
Tuanetta
Tueanette
Tuhina
Tulasi
Tulee
Tulei
Tuley
Tuli
Tulia
Tulie
Tulli
Tully
Tuly
Tusti
Tuwa
Tuyen
Twila
Twyla
Tyana
Tyanne
Tyara
Tydfill
Tye
Tyeisha
Tyesha
Tyiesha
Tyisha
Tykia
Tyne
Tynice
Tyra
Tyree
Tyrell
Tyrina
Tyronica
Tyrza
Tzila
Tziporah
Tzippa

Join the conversation
Looking for a girl name that starts with T and still haven't found one on our list? Head over to our social page, and take a look at the original post, there are more than 300 names that start with T in the comments.
We've got the scoop on the best baby names for boys or girls. Explore our extensive baby name collections for popular names, unique names, names from around the globe, and top names for boys or girl names.
Read next …
Looking for more baby name inspiration? Make your way through our alphabet of baby names:
Lost in the baby name jungle?
Hop on over to the Mum's Grapevine Due Date Groups and hang with other mums-to-be playing the same name game. Swap ideas, reveal your top picks, and let's make this naming adventure fun and joyful. Ready for a chat? Join us!