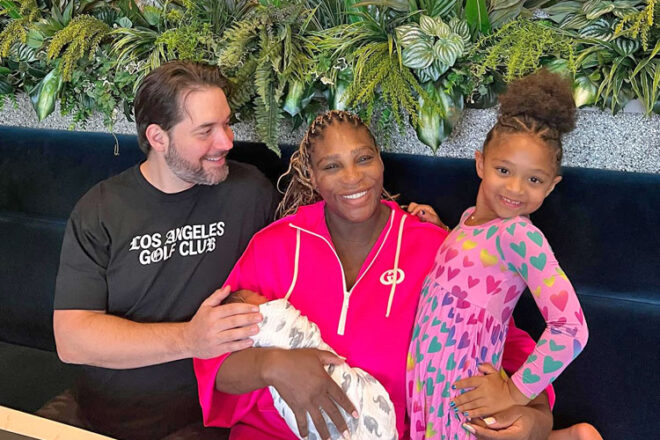 The tennis world's beloved champion, Serena Williams, has once again graced us with heartwarming news that she and her husband Alexis Ohanian have welcomed their second bundle of joy, a baby girl named Adira River Ohanian.
Taking to Instagram to share the exciting announcement, Serena posted the cutest picture of her little family sitting at a restaurant with the newest addition wrapped up in her arms.
"Adira River Ohanian 😍❤️"
View this post on Instagram
Alexis also shared on his Instagram some extra snaps of baby Adira's first few days earthside, captioning:
"Welcome, Adira River Ohanian.
"I'm grateful to report our house is teaming with love: a happy & healthy newborn girl and happy & healthy mama. Feeling grateful. @serenawilliams you've now given me another incomparable gift — you're the GMOAT. Thanks to all the amazing medical staff who took care of my wife & our daughter. I'll never forget the moment I introduced olympiaohanian to her baby sister.
"Your peace would have been like a river, your well-being like the waves of the sea."
View this post on Instagram
With such a powerhouse for a Mumma, it's no surprise that baby Adira's parents have once again chosen such a strong name for their newest little girl. The stunning name Adira holds a beautiful and meaningful significance. Of Hebrew origin, the name means 'strong', 'noble' and 'powerful' encapsulating a sense of inner strength, resilience, and dignity. Her middle name, River, is a nature-inspired name that symbolically represents a sense of continuity, adaptability, and the passage of time.
That Serena and Alexis welcomed another baby girl isn't a surprise to fans of the tennis star as the family shared their gender reveal at the end of July on Serena's YouTube. In the 6-minute video, fans got to watch as Serena got ready for the reveal party making guesses as to what she thought the gender would be. Festivities continued with friends and family who partied it up until it was time to cut into the cake to reveal the gender – only there was a catch.
Alexis surprised Serena by having the cake yellow inside, not really revealing anything. After some laughs and Serena trying to face-plant cake into Alexis's face, the Dad-to-be gathered everyone where they could see to sky to reveal an incredibly spectacular drone show which spelled out the news everyone had been waiting for.
We are so excited for this beautiful family and the addition of their second baby girl. We just know Olympia is going to make the best big sister ever and Adira will be surrounded by nothing but love. Congratulations to Serena and Alexis!
Read next …
Missed the latest celeb baby news? Catch up with these articles for all the goss:
Don't miss any celebrity baby and pregnancy announcements, subscribe to our newsletter and be first with the news.
---
Serena Williams Serves Up Another Ace: Baby Number Two on the Way
MAY 02, 2023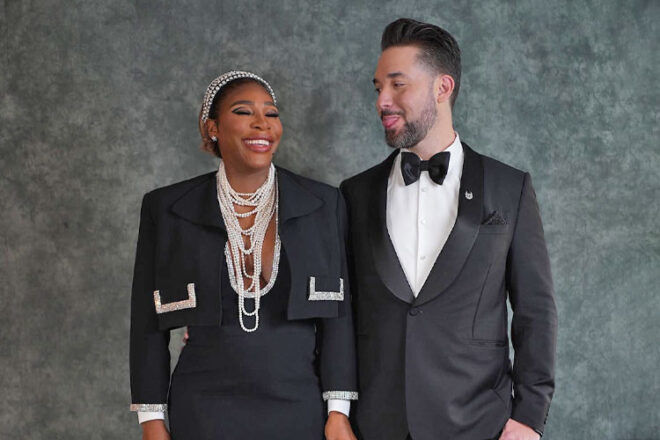 It's a double fault for her opponents but a grand slam of joy for Serena Williams who has announced that she and husband Alexis Ohanian are expecting their second baby together.
While attending the annual Met Gala in New York City, the tennis star debuted her growing bump in a stunning Gucci gown finished off with pearls and a whole lot of glamour.
Over on Instagram, Serena confirmed her pregnancy by posting photos of herself and Alexis, writing:
"Was so excited when Anna Wintour invited the 3 of us to the Met Gala."
View this post on Instagram
Alexis also posted to his own Instagram to share the news. The co-founder of Reddit captioned the photos:
"Mama (@serenawilliams) & Papa love this parenting-thing, so we're back at it 😁 and @olympiaohanian is gonna be the best Big Sister—she's been asking & praying for this for a minute."
View this post on Instagram
Serena and Alexis have one child together, Alexis Olympia Ohanian Jr (who goes by Olympia),  born in September 2017.
Just last month Serena shared on her social media her birth story with Olympia during Black Maternal Health Week to raise awareness about complications that women of colour and women around the world suffer while pregnant and giving birth. She wrote in her caption:
"I shared my birth story and I was stunned by the outpouring of support and similar experiences women have had. According to the Centers for Disease Control and Prevention, Black women in the United States are over three times more likely to die from pregnancy or childbirth-related causes. But this is not just a challenge in the United States. Around the world, thousands of women struggle to give birth in the poorest countries. Every mother, everywhere, regardless of race or background deserves to have a healthy pregnancy and birth."
View this post on Instagram
Serena loves to share the time she spends with her firstborn, posting pictures of them usually in matching outfits, having snuggles, or going on adventures. More recently Serena posted a series of photos as well as a boomerang of Olympia and herself in matching pyjamas with the caption:
"Nighttime shenanigans with Olympia"
View this post on Instagram
We can't wait to watch the tennis superstar and 23-time Grand Slam winner gear up to ace motherhood once again. With her powerful forehand and unstoppable drive, Serena has shown that she can conquer any challenge on the court, and we have no doubt that she will bring that same spirit to her growing family. Congratulations, Serena, Alexis, and Olympia!
Read next …
Missed the latest celeb baby news? Catch up with these articles:
Don't miss any celebrity baby news and pregnancy announcements, subscribe to our newsletter and be first with the news.
---
Meet Serena Williams' adorable newborn daughter
SEPTEMBER 14, 2017


Tennis ace Serena Williams has given a rare glimpse into her private world, releasing a touching video clip of her journey to motherhood. It comes just days after she gave birth to her gorgeous daughter, Alexis Olympia Ohanian Jr.
Serena, who is engaged to Reddit co-founder Alexis Ohanian, has finally revealed her precious little girl in an Instagram snap, urging her followers to check out her nine month journey via her website. There was speculation that Serena had given birth earlier this month, after Beyonce congratulated her via social media.
View this post on Instagram
In a YouTube clip posted by her fiancee, we get a fly-on-the-wall look into this extraordinary athlete's motherhood journey. The champion had previously revealed that she'd won this year's Australian Open while eight-weeks pregnant. Serena admits there were complications with the birth, but in the end it's all forgotten as she adoringly holds her daughter.
The video takes us from that first ultrasound (complete with doctor proclaiming the pair are pregnant), through the Aussie Open victory and beyond, capturing sweet moments between the couple and their pets. There's even a little sneak peek into the baby's nursery, complete with golden cot (we're thinking it could be an Incy Interiors Ellie rose gold cot!).
Make sure to subscribe to our newsletter so you never miss any celebrity baby news.
---
Serena Williams bares her baby bump for Vanity Fair
JUNE 28, 2017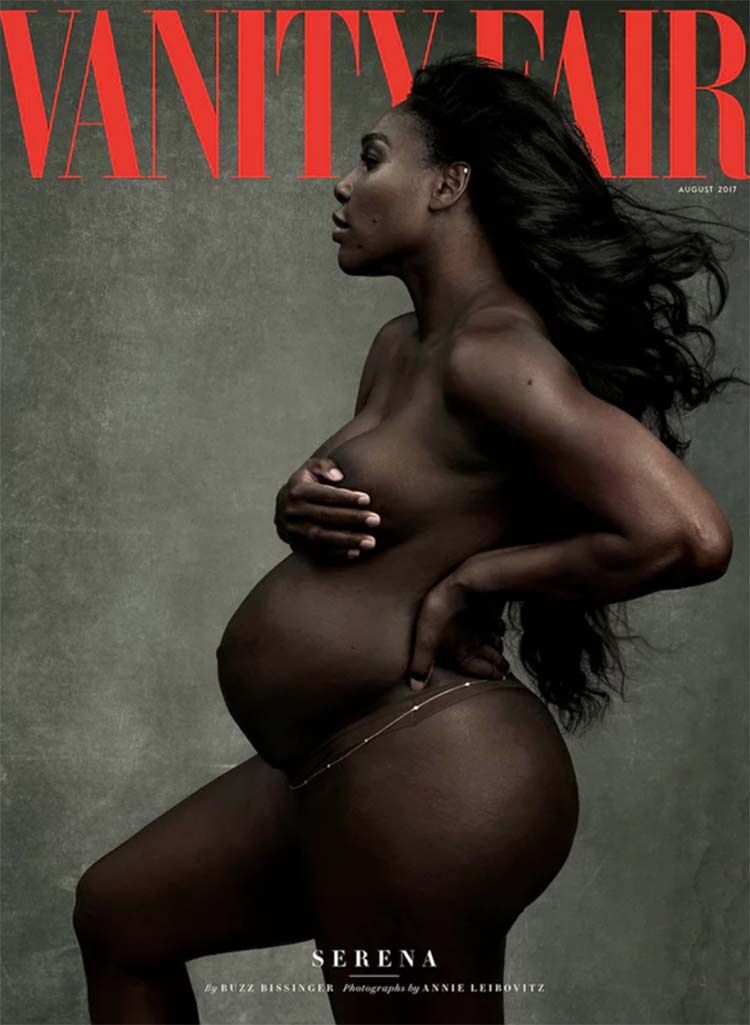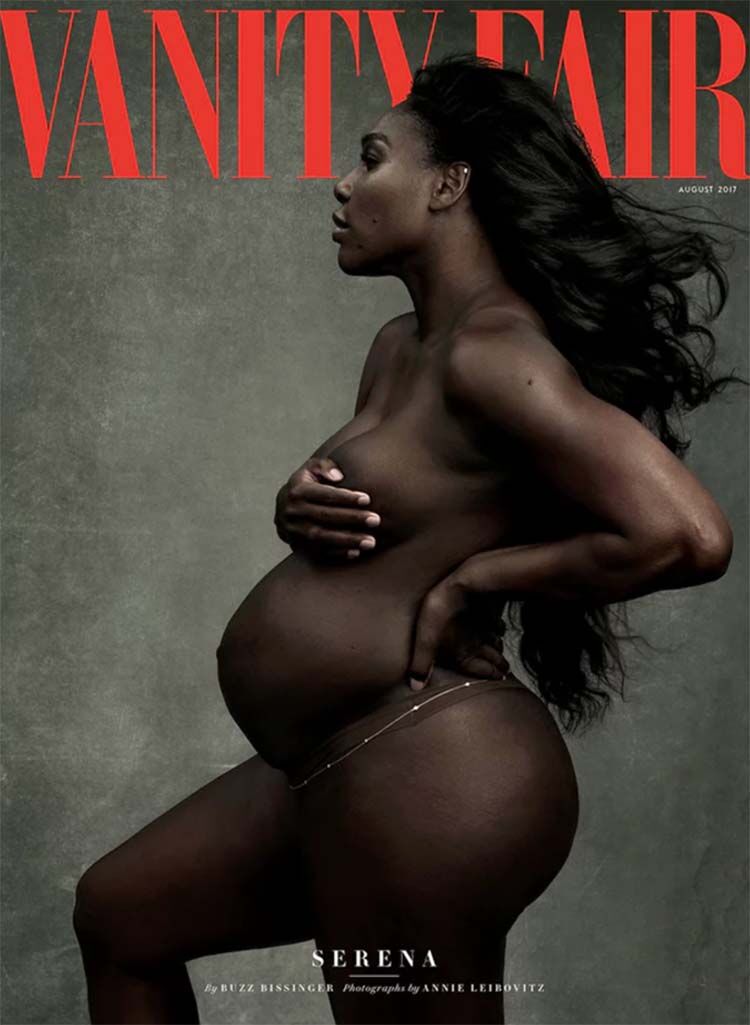 Serena Williams has shown off her baby bump in a spectacular nude photo shoot for Vanity Fair.
The tennis superstar shows her pregnancy bod in all its glory in a stunning photo from celebrity snapper Annie Leibovitz on the cover of Vanity Fair's latest edition .
Check out my Vanity Fair Cover. Question- what do u guys think boy or girl? I'm waiting to find out but would love to hear your thoughts. pic.twitter.com/Nnq4VKCu8N

— Serena Williams (@serenawilliams) June 27, 2017
Serena is having a baby with her fiance, Reddit co-founder Alexis Ohanian. She announced her pregnancy on Snapchat in April 2017. Serena shared the nude cover shot with fans on Twitter, inviting them to guess whether she's having a boy or a girl.
"If you would have told me last year in October or November that I would have a baby, not be pregnant but have a baby, I would have thought you were the biggest liar in the world," Williams tells Vanity Fair.
"This is kind of how I am right now. This is happening sooner than later, and it's going by so fast."
And the mum-to-be also opens up about how she discovered she was pregnant while in Australia at the start of the year. She went on to win the Australian Open.
View this post on Instagram
After throwing up, and noticing her breasts had become larger, Serena humoured her friend and took a pregnancy test, expecting it to be negative.
"I did a double take and my heart dropped. Like literally it dropped," Serena tells Vanity Fair.
"Oh my God, this can't be – I've got to play a tournament. How am I going to play the Australian Open? I had planned on winning Wimbledon this year."
View this post on Instagram
Serena and Alexis, who met in Rome, plan to get married after the baby is born and the 23-time grand slam title winner expects to be back on the pro tennis circuit in January 2018.
Love your celebrity pregnancy and baby news? Then sign up to our weekly newsletter to make sure you don't miss any updates.
---
Serena Williams won the Australian Open eight weeks pregnant
APRIL 21, 2017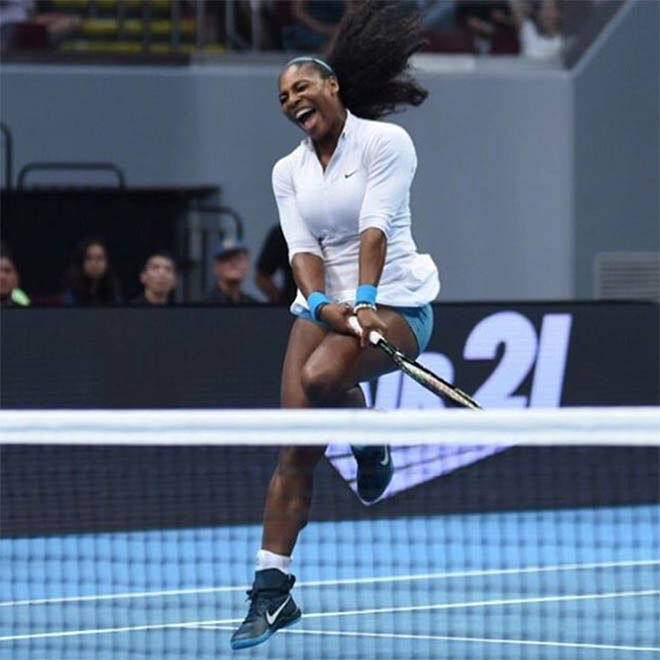 Talk about a social media Grand Slam! Tennis ace Serena Williams has surprised fans with a different kind of sneaky shot, revealing on Snapchat that she's courting motherhood. And it turns out the incredible athlete was actually eight weeks pregnant when she won the Australian Open earlier this year!
Serena Williams pregnant!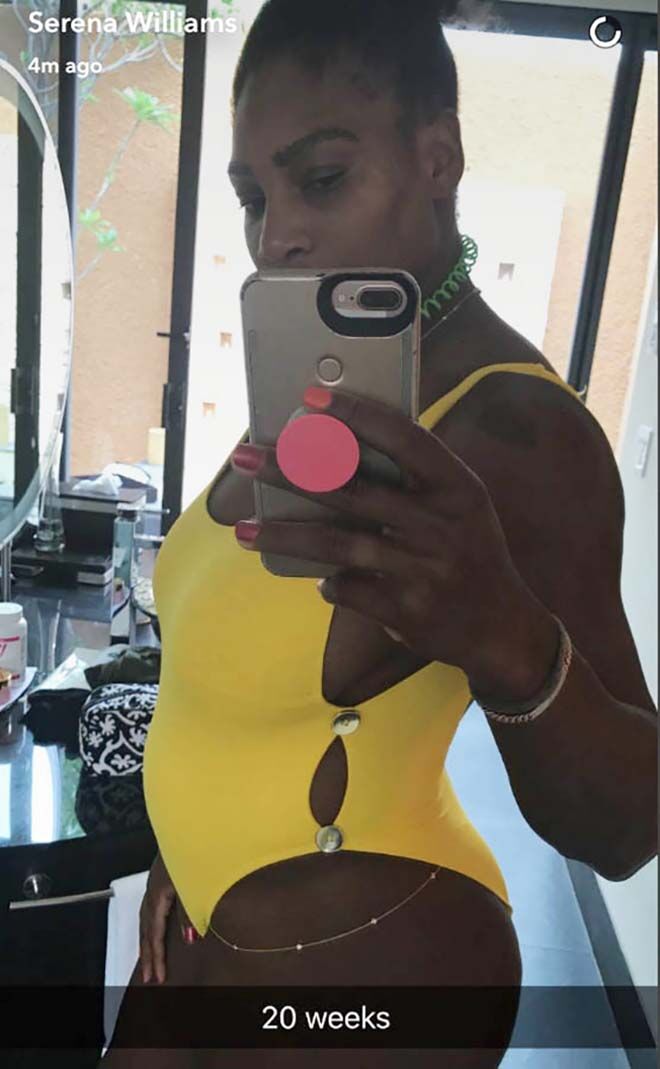 Serena, who is engaged to Reddit co-founder Alexis Ohanian, posted a Snapchat (which was later deleted) showing a small baby bump with the caption '20 weeks'. Her pregnancy has since been confirmed by a representative.
View this post on Instagram
But it appears the sporting superstar hinted earlier in the week that she may be struggling with morning sickness, posting this image to Instagram with the caption 'Fighting to get up this morning'. We hear you, Serena!
View this post on Instagram

Serena is not the only celeb to reveal this week that she has a bun in the oven. Take a look at model Megan Gale's adorable pregnancy reveal, which came after the heartbreak of miscarriage.