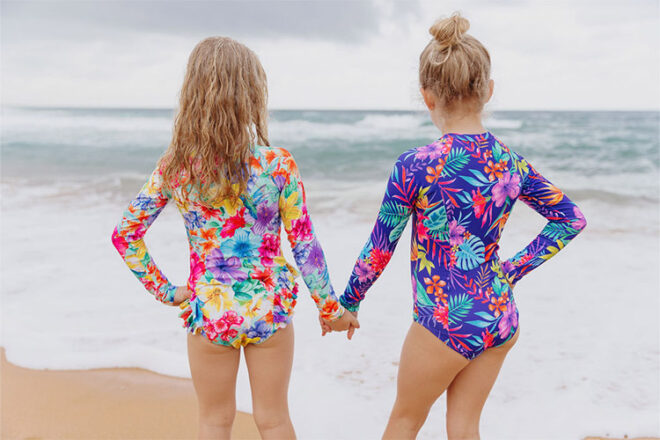 As summer approaches and your kids embark on sun-filled adventures, it's time to gear them up with protective swimwear that's both fun and functional.
Kids' swimwear isn't just about covering up; it's about unleashing their aquatic spirit. Whether they're splashing around in boardshorts, diving into the waves in rashies, or exploring the underwater world in long-sleeved bathers, these outfits are designed to make a splash and keep your kids safe and comfortable under the sun's warm rays.
We've searched high and low to find a variety of swimsuits that will keep your little ones comfy from dawn to dusk. This range of swimwear includes adjustable one-pieces and easy-on rashies with zips.
OUR PICK OF THE CROP
16 Quality Kids' Swimwear Brands
As seasoned mums ourselves, with over 16 years of experience and part of a vibrant Grapevine community of over 100,000 Australian mums, we understand the struggle of finding the perfect swimwear for your little ones.
That's why we've compiled this list of 16 of the most popular kids' swimwear brands, all recommended by mums just like you!
Cheeky Chickadee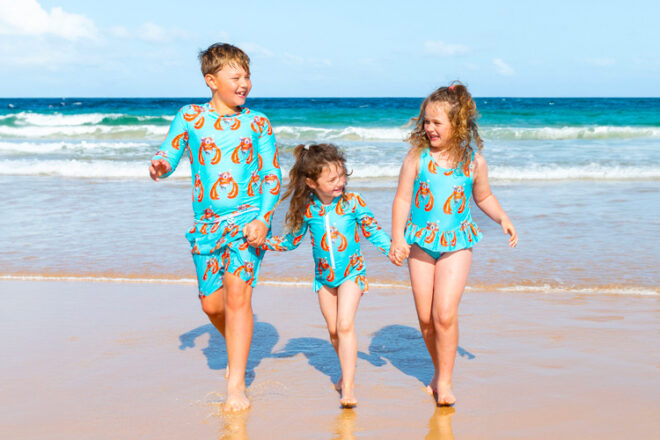 Dive into summer fun with Cheeky Chickadee Swimwear! These suits are a splash of joy, quick-drying, and chlorine-resistant. With hand-painted watercolour prints, your little ones will be the coolest swimmers in town.
One mum online commented "These bathers are beautiful AND functional. Easy to slip on an off with the zippered front, they provide great sun protection."
Sizes: 3mths – 12 years
Rating: UPF 50+ Sun Protection
Shipping: Flat rate shipping $10 or free shipping over $49
---
Fernleigh Avenue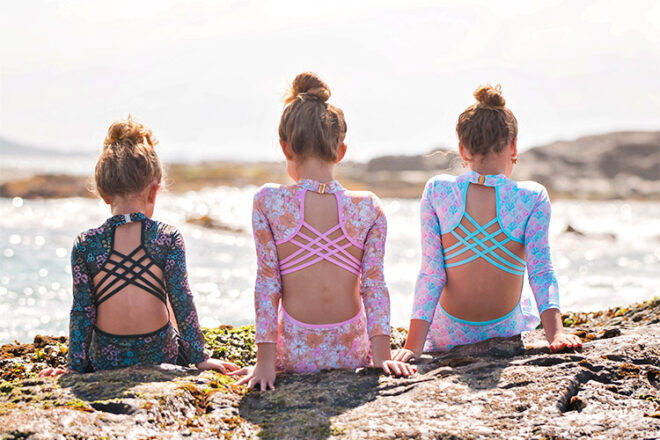 Ride the waves in style with Fernleigh Avenue Swimwear! Designed for eco-conscious mini mermaids, these suits boast dreamy ruffles and trendy back straps. Made from 80% recycled fabric, they're a sustainable splash of fashion for your little one.
Sizes: 1 – 12 years
Rating: UPF 50+ Sun Protection
Shipping: Flat rate $9.95
---
Tribe Tropical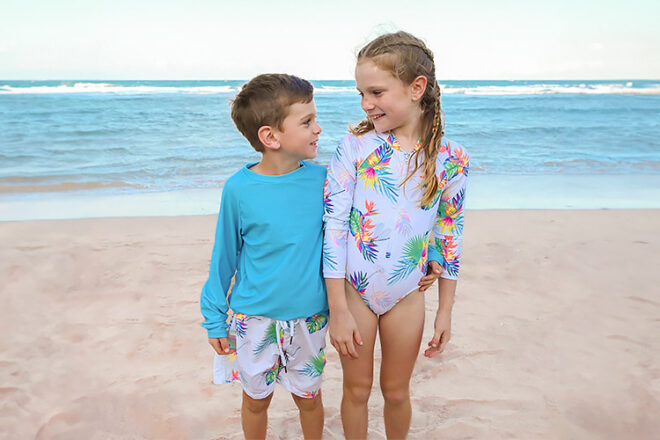 Tribe Tropical's award-winning swimwear is a sun-sational choice for kids! With UPF 50+ sun protection, zip protectors, high necklines, and double lining, they've got your little sunbeams covered. Plus, nappy clips in baby and toddler suits make changing a breeze!
"Such great quality togs. My girls love them, and I feel good knowing they are sun-safe. They last heaps longer than other swimmers too. Love them." said one mum online.
Sizes: 6m – 14 years
Rating: UPF 50+ Sun Protection
Shipping: Flat rate $7.95 or free shipping over $130
---
Purebaby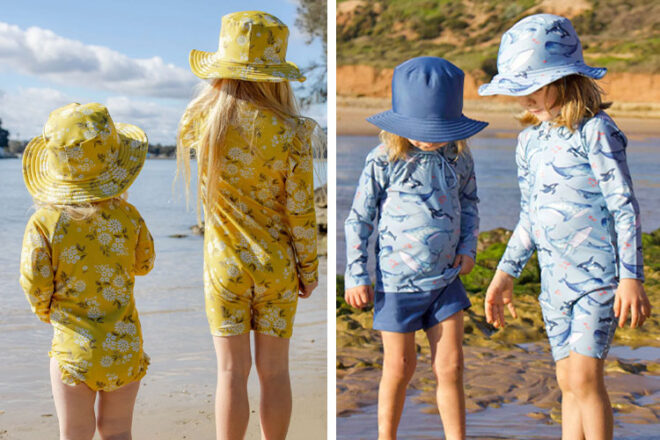 Purebaby's Aussie swimwear is all about ease and eco-love. Designed for durability and comfort, these suits are a breeze to slip on and off. They're eco-friendly too, made with Repreve fabric from recycled plastic. Dive into sustainability!
A reviewer wrote "Lovely design, good quality, true to size- we love it!"
Sizes: 000 – 5 years
Rating: UPF 50+ Sun Protection
Shipping: Flat rate $10 or free shipping over $80
---
Olga Valentine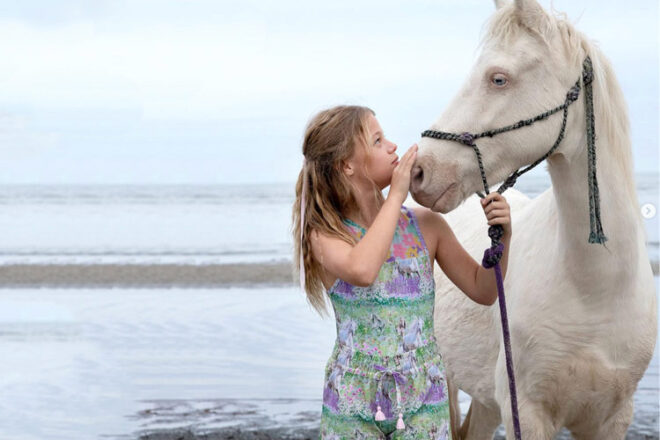 Get ready to fall in love with Olga Valentine Swimwear! These suits are eco-friendly, buttery-soft, and sun cream-resistant. Plus, their new collections (landing any day!) are inspired by romantic florals and all things nautical, bringing subtle and seriously chilled vibes to the poolside.
"Amazing brand. They wash well and don't fade. Great designs and beautiful graphics. Their quality is amazing and I love supporting small businesses" one happy customer commented.
Sizes: 1 – 16 years
Rating: UPF 50+ Sun Protection
Shipping: Flat rate $10 or free shipping over $100
---
Ocean Tales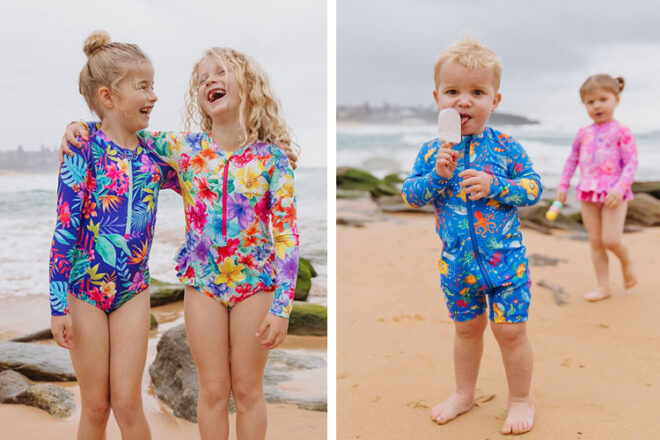 Ocean Tales is a family affair, designed by Aussie mum alongside her mum and aunty. Their swimwear is all about fashion-forward, high-quality designs. Full coverage and easy to slip in and out of, plus ethically manufactured – it's a win-win for the little ones, and the planet!
"This is our 3rd summer buying the Ocean Tales goods and each year we find them great quality that lasts. The fit is great and the prints are just the best in the market!" a parent commented
Sizes: 1 – 10 years
Rating: UPF 50+ Sun Protection
Shipping: Free shipping over $90
---
Marlo Kids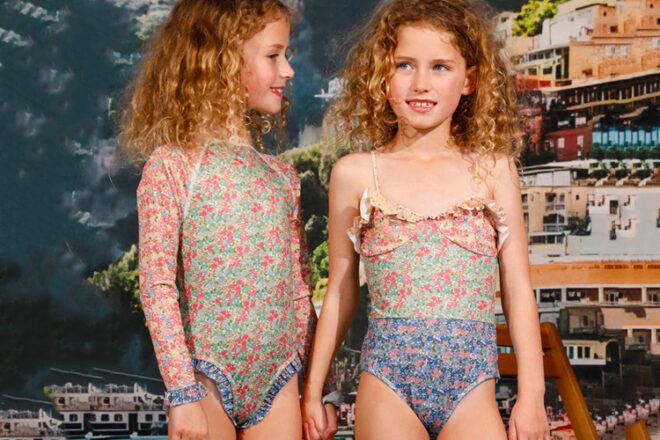 Embrace the spirit of Positano in Marlo Kids' fully lined bikinis, rashies, and full pieces. Featuring exclusive floral prints, their designs offer unmatched comfort and durability in high-quality materials and classic silhouettes. Let the seaside adventures begin!
Sizes: 2 – 16 years
Shipping: Flat rate express $15
---
Ina Swim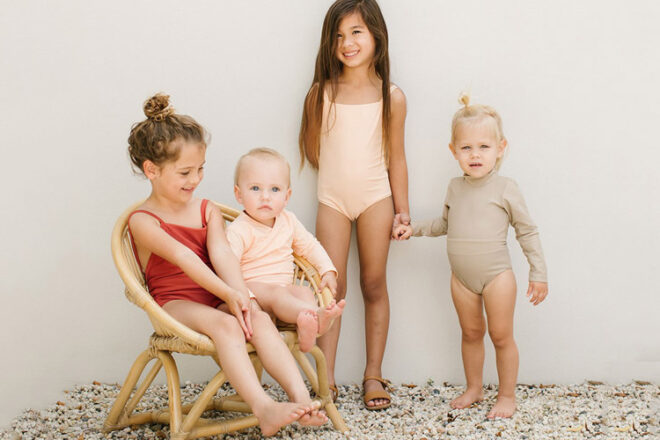 Design-conscious and eco-friendly parents, Ina Swim's swimwear is a dream. These 100% sustainable, recycled, and ethically produced pieces come in beautiful cuts and dreamy colourways, from Mineral to Moss. Make a splash for the planet!
One customer left the following review "I couldn't be happier with the quality and fit of the swimsuits. The press stud bottom on my daughter's suits is a must making swim nappy changes so easy."
Sizes: 6mths – 8 years
Rating: UPF 50+ Sun Protection
Shipping: Free shipping over $200
---
Minihaha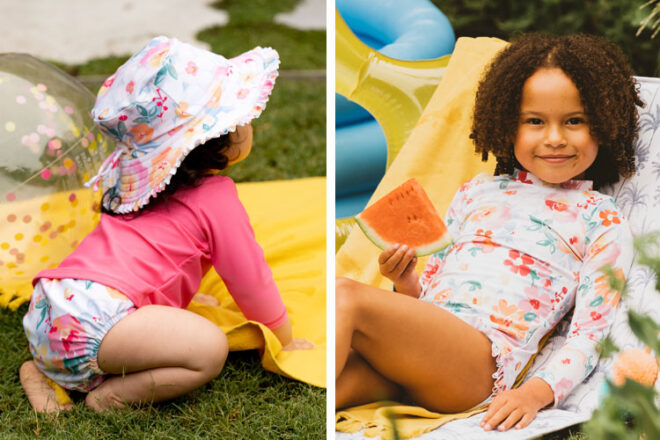 For a blend of pretty and protective, Minihaha's got you covered. Their delightful new range offers sunsuits, bikinis, rashies, trunks, and hats in matching prints. Dress your little ones in style for a summer of splashing fun!
Sizes: 000 – 14 years
Rating: UPF 50+ Sun Protection
Shipping: Flat rate $9.95 or free shipping over $100
---
TicTasTogs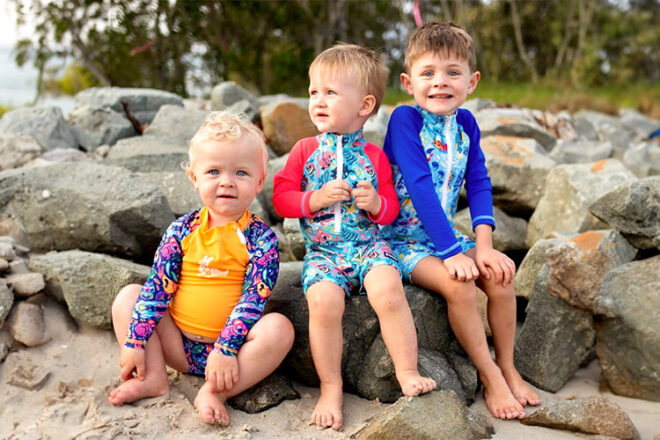 Make a splash with TicTasTogs bold colours and heaps of style. Their exciting kids' swimwear prioritises comfort and superior sun protection. No bare backs or shoulders here, just super comfy swimsuits for endless fun in the sun.
One parent made the comment "I cannot fault the quality and the speed of delivery. The colours have not faded whether it be the seawater or a pool. Fits perfectly for the size age group. Best product ever"
Sizes: 3mths – 14 years
Rating: UPF 50+ Sun Protection
Shipping: Flat rate $9.95 or free shipping over $99
---
Tyoub Swimwear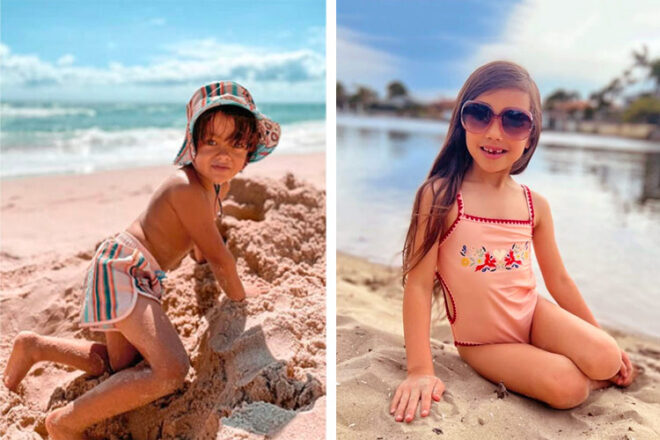 Melbourne-based Tyoub is all about all-day fun. Their sustainably made swimwear, using recycled fabrics, offers excellent sun protection. Quick-dry board shorts and bikinis are lightweight, soft, and speedy to dry – perfect for endless play days.
One customer was very happy with their purchase and posted the comment "Great fit on my 2 year old, love them! Quality is stunning – colours are vibrant after washing many times."
Sizes: 6mths – 10 years
Rating: UPF 50+ Sun Protection
Shipping: Flat rate $9.50 or free shipping over $120
---

Know a brand of swimwear to add to our list? Contact us and let us know, we've been curating Australia's best baby products into helpful lists for over 16 years and we're always happy to support new brands and businesses.
Read next…
We want you to know
We're Mum's Grapevine, a team of mums who've been there and done that (we have a combined 19 kids, so we know a thing or two about parenting!). We've been writing about all things baby and parenting for over 16 years, and we're passionate about helping new mums find the best products for their little ones.
Sometimes, we do include paid inclusions in our reviews, but we promise that we only recommend products that we truly believe in and have either used or personally seen. Our goal is to give you, our Grapeviner mums, the inside scoop on the latest and greatest parenting products, and we're always striving to maintain our high standards of quality and honesty.
Thanks for trusting us to be your go-to source for all things baby-related!
xoxo