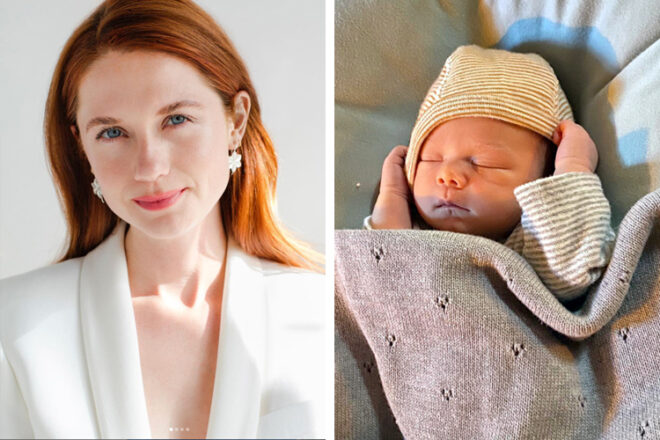 The magic lives on in Bonnie Wright's family as she welcomes the arrival of her very own little wizard, a baby boy named Elio Ocean Wright Lococo, with husband, Andrew Lococo.
The 32-year-old actress, known for her iconic role as Ginny Weasley in the Harry Potter series, took to social media once again to share the wonderful news with fans.
In the heartwarming Instagram post, Bonnie gave her nearly 4 million followers a glimpse of their precious bundle of joy. The post featured a photo of the newborn, Elio, cozied up in a blanket.
"Say hello to Elio Ocean Wright Lococo born at home on Tuesday 19th September. We're all healthy and happy. Andrew and I are so in love with our son!
"So grateful for our birth team that has held our hands throughout and made the journey so joyous and expanding. Birth is the wildest experience! Our perfect and loving midwives Tiffany and Taylor our wise and wonderful doula Patti our doctor Phabby if we had needed to transfer️.
"During these healing postpartum days we've been visited by some angels thank you @meaghan_snider_ @motherbees and @themilkywaymamas ️ and thank you @ccmeyer for your incredibly informative course I took in the early weeks of pregnancy. Birth workers are amazing ️!
"Lastly thanks to Andrew my rock throughout birth quite literally as I squeezed onto you so tight and you never wavered. Elio has the most tender loving papa. Ok hormonal emotional extra long caption over!"
View this post on Instagram
The baby name Elio most commonly is associated with Italian and Greek roots. The name has the beautiful meaning of "the bringer of light" or "the one who illuminates" emphasising the idea of someone who brings enlightenment and positivity into the lives of others.
Known for her environmental activism, it makes sense that Bonnie would bestow the middle name, Ocean, to her little man. The nature-inspired name is a unique and evocative name that connects a child to the beauty and power of the natural world. It symbolises vastness, fluidity, and the depths of human potential.
After announcing her pregnancy, Bonnie shared a couple of small snippets of her pregnant life on Instagram with followers.
"England in May and yes the last slide is a non-alcoholic peroni "
View this post on Instagram
"A summer of growth " Bonnie wrote under a bump pic showing her little boy growing inside of her.
View this post on Instagram
Nesting seemed to come into the picture mid-August with the Mum-to-be sharing her 'baby corner' with followers.
"Baby corner coming together! Sharing lots more today in my final @gogently.earth youtube episode for a while as I take a break ️link in stories to watch"
View this post on Instagram
On her 'Go Gently' YouTube channel, Bonnie shared a look into the "newborn essentials" and how she went about making informed choices that nurture the planet, herself, her community and her new growing family.
As Bonnie and Andrew celebrate the birth of their son Elio, fans and well-wishers from around the world are thrilled for the growing family. We look forward to witnessing the couple's journey through parenthood and their continued commitment to a sustainable and planet-friendly lifestyle.
Congratulations to Bonnie Wright and Andrew Lococo on the arrival of their precious baby boy, Elio! May their days be filled with love, laughter, and magic as they create cherished memories as a family.
Read next …
Missed the latest celeb baby news? Catch up with these articles for all the goss:
And here's a tip: To make sure you never miss any celebrity baby and pregnancy announcements, subscribe to our newsletter, and you'll be the first to know when the stars welcome their little ones into the world!
---
Harry Potter's Bonnie Wright reveals she's expecting
MAY 01, 2023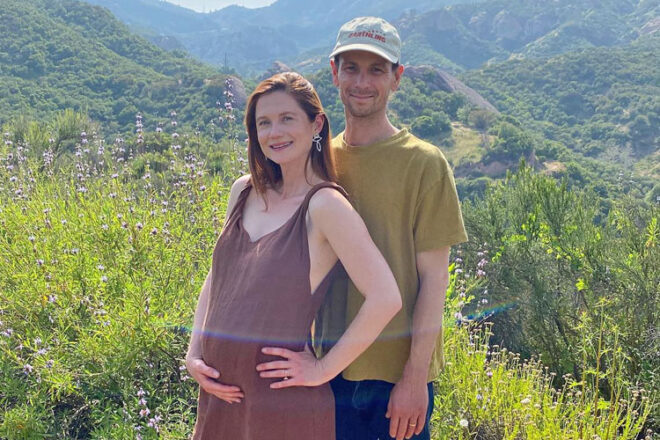 She may have played Ginny Weasley in all eight of the Harry Potter movies, but Bonnie Wright is preparing for her greatest role yet: Mumma! The 32-year-old actress announced she is expecting her first baby with her husband Andrew Lococo.
Bonnie delighted her almost 4 million Insta followers with a beautiful pregnancy announcement: two photos amongst wildflowers complete with rainbow sunlight and a baby bump proudly on display. Standing behind her is Andrew who married in 2022.
View this post on Instagram
She captioned the post:
"We're having a baby! So excited to share this beautiful land with them. What a wild and humbling journey pregnancy is, transforming to make space for new life. Andrew and I can't wait to meet our baby later this year and become parents It feels like they're coming to say hello in the little rainbow orb across my belly."
In her announcement, Bonnie references to nature and the land. A passionate activist for Sustainability, she's the author of Go Gently, a guidebook to leading a lifestyle with the planet in mind.
View this post on Instagram
This exciting news comes just a few days after Bonnie's Harry Potter costar and on-screen love interest Daniel Radcliffe welcomed his first child with partner Erin Darke. Rupert Grint who played her older brother, Ron Weasley in the films, also welcomed a baby in May 2020, a baby girl named Wednesday.
View this post on Instagram
Bonnie and Andrew married in a gorgeous outdoor ceremony at The Ecology Center in San Juan Capistrano, California, back in March 2022.
Everything from her 100-year-old vintage wedding gown to locally grown produce was chosen to reduce the impact on the environment. No single-use packaging was allowed!
View this post on Instagram
The couple shares a couple of rescue fur babies gloriously named Ruby Roo and Billy Blue. We are looking forward to the news of their human baby and what his/her name will be. It won't be a stretch to imagine the planet-conscious couple will be into cloth nappies. Or perhaps be pushing around a Greentom pram.
We wish Bonnie and Andrew a smooth remainder of the pregnancy and are excited about their baby's arrival.
Read next …
Missed the latest celeb baby news? Catch up with these articles:
Don't miss any celebrity baby news and pregnancy announcements, subscribe to our newsletter and be first with the news.