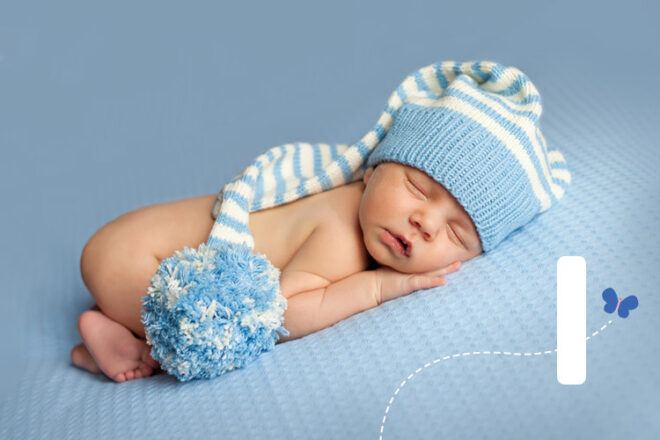 If you're on the hunt for the perfect boy's name, you'll want to dot your I's and cross your T's. Speaking of which, the 9th letter of the alphabet, I, is definitely one to investigate.
Sure, there are the more common I names like Isaac, Isaiah or Ivan (most of us know one of those) but beyond that, you've got some pretty unique options that aren't on too many baby names lists. With options like Isley, Iowa and Iliden, your little man will hold their own on the class roll.
We asked our huge online community of half a million mums who shared the baby names that they felt were ideal for boys.
I boy names with a theme
You can find great inspiration from themes, and the letter I brings the goods. Some are nature-based without being too obvious, others take inspiration from a world map and others are straight out of biblical times.
Unique I names for boys
If you're more into something like Inder than Isaac, you're in luck. Here are some stand-out names starting with I for boys:
Ikee
Itzu
Icharus
Isoep
Ibrahaim
Idys
Iconic I boy names
With inspiration from the stage and screen, will any of these I names make your walk of fame?
Iggy: after Iggy Pop or Iggy Azalea
Idris: after Idris Elba
Ingvar: after Ingvar Kamprad, the founder of IKEA
Ivan: after Ivan Lendl
Iron: after Iron Maiden
Isley: after The Isley Brothers
Issey: after Issey Miyake
I names for boys with earthly meanings
Hidden just behind the exterior of these I names lies earthly meanings we just love. From animal to island-inspired, we've uncovered some boy names that might just grow on you:
Irwin: 'boar friend'
Irving: 'fresh water'
Ishaan: 'the sun'
Ignatius: 'fire'
Innes: 'island'
Itamar: 'palm grove'
Celebrity sons starting with I
Ashley Graham's son, Isaac
Gucci Mane's son, Ice
Cate Blanchett's son, Ignatius
Benjamin Brewer's son, Ikhyd
View this post on Instagram
View this post on Instagram
---

Our favourite I boy name is: Irving
---
More boy names that start with I
Iachima
Iacovo
Iago
Iaian
Iain
Iakobos
Iakov
Iakovos
Iakovs
Ialo
Ian
Iane
Ianna
Iantha
Ianthe
Ib
Ibeamaka
Ibraham
Ibraheem
Ibraheim
Ibrahiem
Ibrahiim
Ibrahim
Icarus
Ichabod
Ichi
Icobod
Idrease
Idrees
Idres
Idress
Idreus
Idriece
Idris
Idriss
Idrissa
Idriys
Idryss
Iestyn
Ignaas
Ignac
Ignace
Ignacey
Ignacio
Ignacius
Ignado
Ignatas
Ignatios
Ignatus
Ignatys
Ignatz
Ignaz
Ignaze
Ignazio
Igor
Igoryok
Iin
Ike
Ikee
Ikey
Ikke
Iksander
Ilan
Ilia
Ilias
Ilie
Ilija
Illanipi
Illee
Illia
Illya
Illyas
Ilon
Ilya
Ilyah
Ilyas
Ilyes
Imad
Imanol
Imanual
Imanuel
Imanuele
Imhotep
Immanual
Immanuel
Immanuele
Immuneal
Imray
Imre
Imri
Imrie
Inder
Inderbir
Inderjeet
Inderjit
Inderpal
Inderpreet
Inderveer
Indervir
Indra
Indrajit
Indro
Indy
Inerney
Ing
Ingamar
Ingamur
Inge
Ingelbert
Ingemar
Ingevar
Ingham
Inglebert
Ingmar
Ingraham
Ingram
Ingrem
Ingrim
Ingvarr
Inis
Iniss
Innis
Inniss
Innocent
Innocenty
Innocentz
Innocenz
Innocenzyo
Innys
Innyss
Inocenci
Inocencio
Inocente
Inocenzio
Inyri
Ioan
Ioane
Ioann
Ioannes
Ioannikios
Ioannis
Iokepa
Isiah
Isidoro
Isidro
Isish
Iskender
Ismael
Ismail
Israele
Israhel
Isreal
Isrieal
Isrrael
Issac
Issaic
Isser
Issia
Issiac
Issiah
Itamar
Ithamar
Itsu
Ittamar
Itzak
Itzhak
Iustin
Ivan
Ivanchik
Ivann
Ivano
Ivas
Ive
Iven
Ives
Ivin
Ivo
Ivon
Ivonnie
Ivor
Ivun
Ivyn
Ixsander
Izaiah
Izaiha
Izak

Join the conversation
Looking for a boy name that starts with I and still haven't found one you like on our list? Head over to our social page, and take a look at the original post, there are more than 150 names for boys that start with I in the comments.
We've got the scoop on the best baby names for boys or girls. Explore our extensive baby name collections for popular names, unique names, names from around the globe, and top names for boys or girl names.
Read next …
Navigating the baby name maze?
Slide into the Mum's Grapevine Due Date Groups and connect with other mums-to-be facing the same name-game puzzles. Share your journey, spill the beans on your faves, swap ideas and share the quest for the perfect baby name. Come on in everyone's welcome – and let's talk baby names!