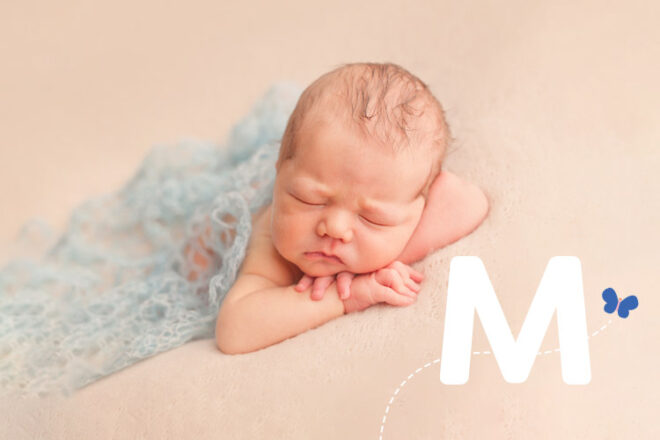 We're on the quest for the perfect boy name, and M yields some marvellous names. The middle letter of the alphabet boasts main players like Mason, Max and Murphy, but for those who fancy something more unique, M's got you covered too.
Perhaps you're interested in this letter because you and your partner have an M name and you'd like to be matchy. Or because there's Michaels or Marks in past generations that you'd like to pay homage to.
Whatever your reason, we're confident you can find the perfect name. With options like Matteo, Mavis and Morel there's sure to be a moniker you haven't seen before on any of the most popular baby names lists.
We asked our huge online community of half a million mums who shared the baby names that they felt were not-to-be-missed.
M boy names with a theme
You can find great inspiration from themes, and the letter M brings the goods. Some are nature-based without being obvious, others have a celebrity stamp of approval and some are places that conjure up memories.
Unique M names for boys
If you're more into something like Medhi than Matthew, you're in luck. Here are the most stand-out names starting with M for boys:
Mahde
Maio
Marcade
Mecaenus
Myron
Muldyr
Monet
Mannix
Mede
M surnames as first names
Sure they may be traditionally last names, but surnames as first names just make sense. It's an instant way to give your son a name that's stately and strong. Here are some of our favourites beginning with M:
Mitchell
Montgomery
Maxwell
Moroney
Marsden
Murphy
Marshall
M names for rev-heads
Motor-lovers, why not give your son a name that reflects the need for speed? Here are some revved up name starting with M:
Mustang
Monaco
Morgan
Maserati
MG
Merge
Maybach
McLaren
Iconic M boy names
With inspiration from screen to stage, will any of these M names make your hall of fame?
Madden: after Joel or Benji Madden
Mars: inspired by singer Bruno Mars (or the planet!)
Musk: after entrepreneur Elon Musk
Mark: like the Facebook founder, Mark Zuckerberg
Malcolm: inspired by the activist Malcolm X
Macaulay: after the Home Alone child-star Macaulay Culkin
Malik: like the last name of Zayn Malik
Michael: a classic to honour Pop King Michael Jackson or actor Michael Sheen
Malone: after Post Malone
Fashionable with a capital M
Give your little man the most fashionable name in town with one of these M offerings:
Marc
Manalo
Michael
Moschino
Morrissey
Tasty names for boys that start with M
Other kidlets are called Brie, Cherry and Olive so why not let M get in on the action? Feast your eyes on some of these delicious names:
Milo
Mac
Malt
Maize
Morel
Marlin
Maldon
Celebrity sons starting with M
From the weird to wonderful, we've gathered up some celebrity M names that might spark a bit of inspiration.
Chrissy Teigen and John Legend's son, Miles
Olivia Munn's son, Malcolm
Kourtney Kardashian Barker's son, Mason
Ashley Graham's twin son, Malachi
Natalie Imbruglia's son, Max
Boris Johnson's son, Milo
Bear Grylls' son, Marmaduke
Masterchef winner Emelia Jackson's son, Malcolm
Mariah Carey and Nick Cannon's son, Moroccan
Jessica Simpson's son, Maxwell
Barry Hall's son, Miller
Gwyneth Paltrow and Chris Martin's son, Moses
Masterchef contestant Tommy Pham's son, Miles
Alexandra Nation's son, Maxwell
Bethany Hamilton's son, Micah
Gogglebox's Sarah and Matty's son, Malik
View this post on Instagram
View this post on Instagram
View this post on Instagram
---

Our favourite M boy name is: Marsden (Mars for short)
---
Maartan
Maarten
Maartin
Mablevi
Mabon
Mac
MacAfee
Macareo
Macario
Macartan
Macauley
Macaulif
Macauliff
Macbeth
Maccey
Macduff
Maceo
Macey
MacGee
MacGhee
Maci
Macie
Mack
MacKay
Mackenzy
Mackey
Mackie
Mackinley
Mackinzie
Maclain
Maclean
Macleane
Macmorris
Macomb
Macon
Macy
Madac
Madai
Madan
Maddin
Maddison
Maddock
Maddocks
Maddox
Maddy
Maddyn
Maden
Madhav
Madin
Madison
Madoc
Madock
Madog
Madox
Madyn
Maemi
Magar
Magarious
Magee
Maggy
Maghnus
Magic
Magik
Magikos
Magique
Magnar
Magne
Magnes
Magnum
Magnus
Magnuson
Magnuss
Maguire
Magyar
Mahabala
Mahahn
Mahan
Mahand
Mahatma
Mahavira
Mahde
Mahdee
Mahdi
Mahdy
Mahen
Mahesh
Mahkah
Mahmoud
Mahpee
Maidoc
Maik
Main
Mainard
Mainess
Maioh
Maion
Maitland
Maitreya
Majeur
Major
Majorie
Majors
Makaio
Makalo
Makan
Makani
Makanie
Makany
Makario
Makayla
Makayo
Makepeace
Makis
Makon
Makoto
Maks
Maksim
Makys
Malachai
Malachy
Malaki
Malchidiel
Malcom
Maldwyn
Malek
Maleki
Malen
Malin
Malkalm
Malkelm
Malkolm
Mallan
Mallen
Mallie
Mallin
Malloree
Mallory
Mallow
Mallrie
Mally
Malo
Malone
Maloney
Malonie
Malony
Malory
Malvin
Malvolio
Mamillius
Mamo
Mamoru
Man
Manavendra
Manchu
Manco
Mandar
Mandee
Mandek
Mandel
Mandela
Mandell
Mander
Mandhatri
Mandie
Mane
Manes
Manesfeld
Maness
Manferd
Manford
Manfred
Mani
Manik
Manish
Manius
Manix
Manley
Manmohan
Mann
Mannas
Mannes
Mannfred
Mannicks
Manning
Mannis
Mannuel
Mannus
Mannye
Mano
Manoel
Manoj
Manolo
Mans
Mansfeld
Mansfield
Mansfielde
Mansoor
Mansour
Mansukh
Mansur
Manu
Manual
Manuale
Manuel
Manuell
Manuelo
Manus
Manzo
Mar
Marc
Marcade
Marceau
Marcel
Marcelis
Marcellino
Marcellinus
Marcello
Marcellus
March
Marcin
Marco
Marcum
Marcus
Marden
Mardian
Mardyth
Marek
Maren
Mareo
Margarelon
Marhwon
Mariana
Mariano
Marilo
Marin
Marina
Marinka
Marino
Marinos
Marinus
Marion
Mariono
Marits
Maritza
Marius
Marjun
Markandeya
Markham
Markhum
Markie
Markis
Marko
Markos
Marks
Markum
Markus
Marky
Marlan
Marland
Marlee
Marleigh
Marlen
Marley
Marlis
Marllin
Marlo
Marlon
Marlowe
Marly
Marlyn
Marlys
Marmadook
Marmaduke
Marmahduke
Maro
Maroney
Maroni
Marony
Marót
Marqes
Marqis
Marque
Marques
Marquette
Marquez
Marquis
Marr
Marrock
Marrok
Marsch
Marschall
Marsdon
Marsellus
Marsey
Marsh
Marshal
Marshall
Marshe
Marstan
Marsten
Marston
Mart
Martain
Marten
Martie
Martin
Martine
Martiniano
Martino
Martius
Marton
Marty
Marus
Marv
Marvel
Marvell
Marvil
Marvill
Marvin
Marvyl
Marvyll
Marwin
Marwon
Marwond
Marwood
Marx
Maryano
Maryn
Marynos
Marynus
Maryse
Masahiro
Masakazu
Masao
Masato
Masatoshi
Mase
Masean
Masen
Masey
Mashaun
Mashawn
Masimo
Masin
Maska
Maslen
Maslin
Masood
Masoon
Masoud
Massey
Massi
Massimiliano
Massimmo
Massimo
Masun
Masyn
Matai
Matanga
Máté
Mateo
Mateus
Mathe
Mather
Mathern
Mathesen
Matheson
Matheu
Mathew
Mathias
Mathies
Mathisen
Mathison
Mathyes
Mathysen
Mathyson
Matia
Matias
Matisen
Matison
Matlal
Matlock
Mats
Matt
Matteo
Matthäus
Mattheson
Mattheus
Matthew
Matthews
Matthias
Matthieson
Matthuas
Mattias
Mattieu
Mattison
Mattlock
Matts
Matty
Mattysen
Mattyson
Mátyás
Matysen
Matyson
Matyus
Matz
Matze
Mauli
Maure
Maurice
Mauricio
Maurizio
Mauro
Maury
Maveric
Maverick
Maverik
Maveryck
Mavric
Mavrick
Mavrik
Max
Maxa
Maxey
Maxfield
Maxie
Maxim
Maximilian
Maximiliano
Maximilien
Maximino
Maximo
Maximus
Maxwel
Maxwill
Mayan
Mayeer
Mayes
Mayhan
Mayhew
Maylan
Maynard
Maynhard
Mayo
Mayoh
Mayon
Mayor
Mayr
Mays
Mayshawn
Mayun
McAffee
Mcaffie
Mcauliffe
Mccaulay
Mccauley
McCoy
McGee
McGregor
McGuire
McKinley
McLain
McLaine
Mead
Meade
Meall
Meallan
Mecaenus
Medárd
Meed
Megyer
Mehdi
Mehemet
Mehetabel
Mehitabel
Mehitabelle
Mehmet
Mehul
Meid
Meier
Meir
Meka
Mel
Melanchthon
Melancton
Melborn
Melbourn
Melbourne
Melburn
Melburne
Melden
Meldin
Meldon
Meldyn
Melik
Melor
Melton
Melun
Melvin
Melvyn
Menachem
Menahem
Menas
Mendal
Mendel
Mendell
Mendelssohn
Mendie
Mendy
Mendyl
Menecrates
Menelaus
Menteith
Menyhért
Merce
Mercer
Mercury
Mercutio
Merdock
Merdok
Meredith
Merfaine
Merfee
Meri
Meric
Merideth
Meridith
Merik
Meril
Merit
Meriweather
Merl
Merle
Merlin
Merlyn
Merrack
Merral
Merrel
Merrick
Merrill
Merritt
Merry
Mert
Mertan
Merten
Mertin
Merton
Merv
Mervin
Mervyn
Merwin
Merwyn
Merydeth
Merydith
Merydyth
Meryl
Meshach
Messala
Metabel
Mete
Mette
Meuriz
Meyer
Mica
Micajah
Micha
Michah
Michail
Michau
Michel
Michelangelo
Michelanjelo
Michele
Michiel
Michio
Mick
Mikas
Mikasi
Mike
Mikel
Mikelangelo
Mikey
Mikhail
Mikhos
Mikkail
Mikkel
Miklós
Mikó
Miksa
Mila
Milah
Milán
Milard
Milburn
Milind
Millard
Miller
Millerd
Millson
Millurd
Milos
Miloslav
Milt
Milten
Milton
Milty
Milvourn
Miner
Minesh
Ming
Minoru
Miroslav
Miroslaw
Mischa
Misu
Mitali
Mitch
Mitchel
Mitchelle
Mitchill
Mitesh
Mitshell
Mladen
Moby
Moe
Moey
Mog
Mohamad
Mohamed
Mohamet
Mohamid
Mohammad
Mohammed
Mohamud
Mohan
Mohanan
Mohe
Mohin
Mohit
Mohsen
Moishe
Mojag
Moke
Momus
Mon
Monaghan
Monehan
Mongomerey
Monnahan
Monro
Monroe
Mont
Montagew
Montagu
Montague
Montaine
Montano
Montanus
Montaro
Monte
Montego
Montegue
Montel
Montenegro
Montgomerie
Montgomery
Montgomry
Monti
Montraie
Montray
Montraye
Montrel
Montrell
Montrelle
Montroce
Montros
Montrose
Monty
Moore
Mooreland
Moorland
Moorlande
Mór
Moray
Mordecai
Mordechai
Mordock
Mordy
More
Moreland
Morets
Morey
Morgan
Moriarty
Móric
Morio
Moritz
Moritza
Moritzio
Moriz
Morland
Morlande
Morlee
Morleigh
Morley
Morly
Moroney
Moroni
Morony
Morpheus
Morrell
Morrie
Morris
Morrisen
Morrison
Morrs
Morry
Morrysen
Morryson
Morse
Mort
Mortemer
Morten
Mortimer
Morton
Morty
Mortymer
Mortyn
Morven
Mose
Moshe
Mosheh
Mosie
Moss
Mostafa
Mostafah
Mostaffa
Mosya
Motega
Mountgomery
Mowgli
Moy
Moyes
Moyse
Mu-nan
Mugen
Muhammad
Muhammed
Muhammod
Mukasa
Mukki
Mukta
Mukul
Mukunda
Mulder
Muldyr
Mull
Muller
Mumtaz
Munir
Munira
Munirah
Munro
Munroe
Muray
Murdad
Murdoch
Murdock
Murdok
Murf
Murfain
Murfee
Murfy
Murphee
Murphey
Murphi
Murphie
Murphree
Murrey
Murry
Murtagh
Murton
Murvyn
Mustafa
Mustafe
Mustaffa
Mustafo
Mustanen
Mustofo
Mutius
Muzaffer
Myckee
Mycki
Myckie
Mycky
Mye
Myer
Myerson
Mykee
Mykelti

Join the conversation
Looking for a boy name that starts with M and still haven't found one on our list? Head over to our social page, and take a look at the original post, there are more than 600 names for boys that start with M in the comments.
We've got the scoop on the best baby names for boys or girls. Explore our extensive baby name collections for popular names, unique names, names from around the globe, and top names for boys or girl names.
Read next …
Lost in the baby name jungle?
Hop on over to the Mum's Grapevine Due Date Groups and hang with other mums-to-be playing the same name game. Swap ideas, reveal your top picks, and let's make this naming adventure fun and joyful. Ready for a chat? Join us!