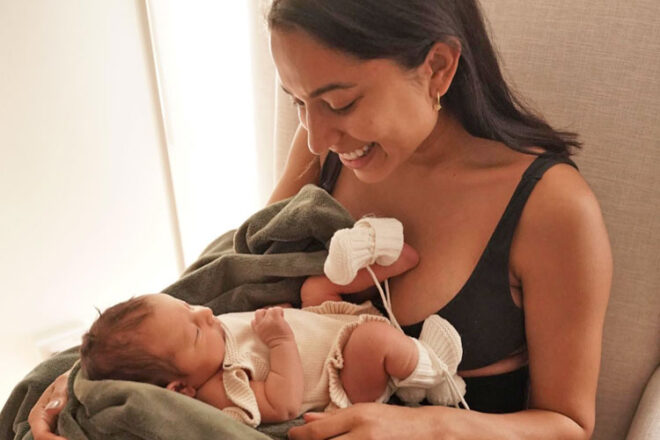 The moment we've all been waiting for has finally arrived – Aussie Survivor sensation Brooke Jowett and her partner, Chris Cavanagh, have welcomed their first baby into the world, a baby girl named Parker Jade Cavanagh and we are buzzing with excitement.
Taking to Instagram, Brooke and Chris shared a photograph of their newest little addition to their family writing:
"Parker Jade Cavanagh 💕 12.09.2023. We are so in love with you already PJ x"
View this post on Instagram
The baby name Parker for a little girl is of Middle English origin and is a gender-neutral name that has become very popular as both a first name and a last name. Her second name Jade, is of Spanish origin and is often associated with the beautiful green gemstone known as jade. The name Jade is believed to represent qualities such as beauty, grace, and purity, much like the precious gemstone itself.
Fans and friends were quick to shower the couple with love and congratulations. Fellow Survivor stars, friends, and well-wishers flooded the comments section with heart emojis and warm wishes, celebrating this beautiful milestone in their lives.
Brooke and Chris have been on quite the journey together. From living together throughout the pandemic to buying a house and getting engaged, they've captured the hearts of fans all over Australia and beyond. Their love story, filled with coffee dates, laughter, and adorable photos, has been a source of inspiration for many.
The couple also shared a carousel of images of PJ's first week earthside and they are just too cute.
"The most beautifully chaotic first week of PJ 💕🥹
View this post on Instagram
Throughout her pregnancy, Brooke has shared a look into her journey on her Instagram.
First, they shared a video compilation of them telling their friends and family the news about their newest addition. "I think you could say everyone was very happy".
View this post on Instagram
The couple made the most of their last few months as a family of two by heading on not one, not two, but THREE babymoon trips.
First, the couple headed to Bali. "2.5 of us 🌴" Brooke captioned the stunning carousel of photos that had us instantly wanting to book a trip to the tropical paradise.
View this post on Instagram
Chris then surprised Brooke in early July with a staycation at the Crown Metropol Melbourne together. Brooke praised her husband-to-be in the caption:
"A surprise night away to celebrate approaching the final hurdle
Chris.j.cavanagh always spoiling me. Best Dad already x"
View this post on Instagram
The couple then headed to the Gold Coast for a winter sunshine-filled trip. Brooke shared a video with the caption:
"Pure baby moon bliss ☀️🙌 A much-needed 48 hours in paradise"
View this post on Instagram
As Brooke hit the third trimester she shared a bump pic with her followers touching on some of the symptoms that she had been dealing with including pregnancy insomnia.
"We've officially made it to the THIRD TRIMESTER. The countdown is on!
Time has flown, my body is getting achy, and sleep insomnia is in full swing but excitement is at an all-time high.
I cannot believe that in 12 weeks we will have a mini human to look after"
View this post on Instagram
Then finally for their baby shower, Brooke and Chris shared the gender of their little one.
"Still on a happy high after celebrating our baby GIRL yesterday. You are so loved already!"
View this post on Instagram
The rest of Brooke's pregnancy consisted of the usual third-trimester antics, including nesting and setting up the baby's nursery, slathering her bump in stretch mark oil and spending time with Chris and their fur baby Arlo.
As they embark on this incredible journey of parenthood, we can't help but be excited about what lies ahead for this adorable family. One thing's for sure – this little one is going to have the most loving and adventurous parents to guide them through life's ups and downs.
Read next …
Missed the latest celeb baby news? Catch up with these articles for all the goss:
And here's a tip: To make sure you never miss any celebrity baby and pregnancy announcements, subscribe to our newsletter, and you'll be the first to know when the stars welcome their little ones into the world!
---
Survivor's Brooke Jowett is expecting her first baby
MARCH 20, 2023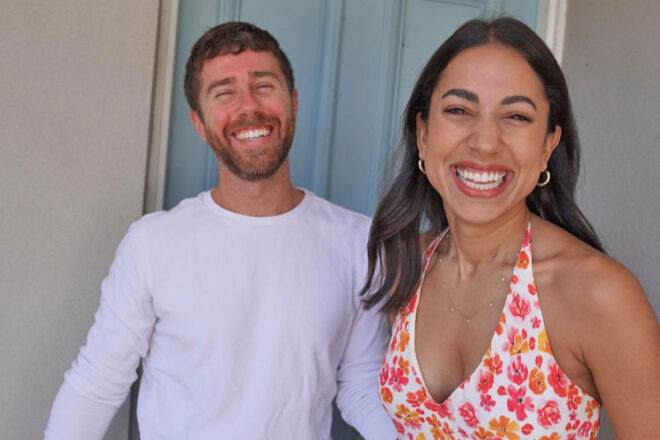 Australian Survivor star and fitness influencer, Brooke Jowett, has announced that she's expecting her first baby with fiancé, Chris Cavanagh.
The couple took to Instagram in a combined post to share the news with a very cute mini photoshoot in what looks to be an early 2010's photo booth. Looking ecstatic and loved up, Chris holds an ultrasound image to the camera while another pic showed the pair holding a teeny tiny pair of converse baby sneakers. In the caption they wrote:
"Two almond lattes and a babyccino please ☕️🤰🏽We cannot wait to meet you in September little one x"
View this post on Instagram
Fellow Aussie stars and Survivor contestants alike all flooded the comments with their love and congratulations to the couple. This included brand new Mumma Sam Frost who wrote: "Oh my goodness!!! Yay ❤️ congratulations! I'm so happy for you both", as well as receiving congratulations from Bachelor star Alex Nation who is due with her third bub any day now.
Brooke and Chris took their relationship public back in June of 2020 on Instagram with a black and white pic and have been the picture of cuteness ever since with photos of their lockdown antics, coffee dates and travels.
View this post on Instagram
In June of 2022, the couple announced that they had moved in together with a post captioned:
"I think we're going to be pretty happy here 🥰🏡"
View this post on Instagram
And just four months later the couple were announcing to their followers that they had gotten engaged. The caption was a funny reference to the fact that previously people thought other photos they had shared online were engagement announcements. They wrote:
"Okay, this one is actually an engagement post ❤️💍 07.10.22"
View this post on Instagram
We are so excited for Brooke and Chris wishing them all the congratulations on their latest news. We cannot wait to follow along with them as they enter this new chapter together and wish them all the best for the pregnancy and beyond.
Read next …
Missed the latest celeb baby news? Catch up with these articles:
Don't miss any celebrity baby and pregnancy announcements, subscribe to our newsletter and be first with the news.