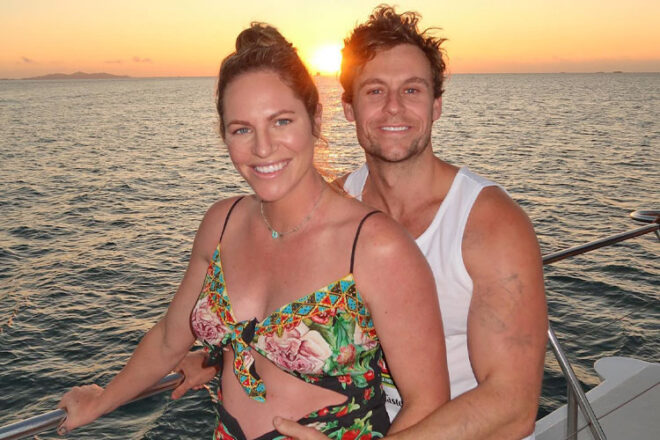 Ah, the stork has been working overtime in Celebville and this time it's delivered something extra special to our favourite lovebirds, Emily Seebohm and Ryan Gallagher. That's right folks – the dynamic duo has just welcomed their own little bundle of joy,  and we couldn't be happier for them.
The couple, who have had a whirlwind of a romance, took to social media to share the exciting news with their fans. First, Emily posted an adorable snapshot of their tiny tot's hand wrapped around her finger, with the caption: "He's here 💙".
View this post on Instagram
Ryan then shared on his Instagram a formal introduction of his new little dude. With a photo of the two having snuggles he wrote:
"The last 10 days have been the best of my life to date, Sampson Ryan Seebohm has changed our lives and we bloody love him he's perfect"
View this post on Instagram
Their friends and fans flooded their social media accounts with heartfelt congratulations, showering the new parents with love and well-wishes. It's clear that Emily and Ryan have a massive support system cheering them on as they step into this exciting new chapter of life.
The little one's name, Sampson, is of Hebrew origin. It is derived from the Hebrew name "Shimshon," which means "like the sun" or "sun child." This name is often associated with great strength and power, thanks to the biblical figure Samson, who was known for his incredible physical strength and his role in the Bible as a judge of Israel.
His middle name Ryan, akin to his Dad, is of Irish origin and is a popular given name for boys. It is an Anglicised form of the Irish name "Rian," which means "little king" or "kingly" in Gaelic. Therefore, the name Ryan carries the connotation of royalty or leadership, suggesting strength, authority, and regal qualities.
Throughout her pregnancy, Emily made sure to share a peek into her journey on Instagram.
The Olympic Swimmer shared a video back in July from the couple's trip to Fiji of her right in her element – swimming in the ocean. In her caption, she wrote "31 weeks of growing you".
View this post on Instagram
She then shared some pictures from an event where she looked absolutely stunning in a print maxi dress standing with a friend. She joked in the caption:
"The Glamourossi Fashion Long Lunch luckily I could have a plus 2."
View this post on Instagram
Early in September, the couple had their baby shower where they revealed to their friends and family that their little one was going to be a boy! Emily wrote:
"Here comes our son ☀️"
View this post on Instagram
Even in her third trimester, baby boy wasn't keeping Mummy from doing what she does best. Posting a pic in her swimming cap and goggles, Emily stood at the lap pool writing the caption:
"Life in the slow lane 🏊🏼‍♀️"
View this post on Instagram
In her final post before bub made his grand entrance, Emily shared a video of what she was packing in her hospital bag.
"Baby incoming! It's time to pack bubs bag for our hospital stay."
View this post on Instagram
As we celebrate this heartwarming moment with Emily and Ryan, we can't help but send our best wishes their way. May parenthood bring them endless joy, sleepless nights, and countless cherished memories.
So, here's to the happy couple and their adorable addition to the family! Congratulations, Emily and Ryan – your little one is already stealing hearts and melting ours.
Read next …
Missed the latest celeb baby news? Catch up with these articles for all the goss:
And here's a tip: To make sure you never miss any celebrity baby and pregnancy announcements, subscribe to our newsletter, and you'll be the first to know when the stars welcome their little ones into the world!
About to (or just had) a baby?
We know that the wait to meet your baby can be nerve-wracking, but we're here to remind you that you're not alone. Our private Pregnancy & Baby Groups are a great way to connect with other Aussie mums who are due or had their babies around the same time as you.
---
Swimming superstar Emily Seebohm's pregnancy announcement
JULY 08, 2023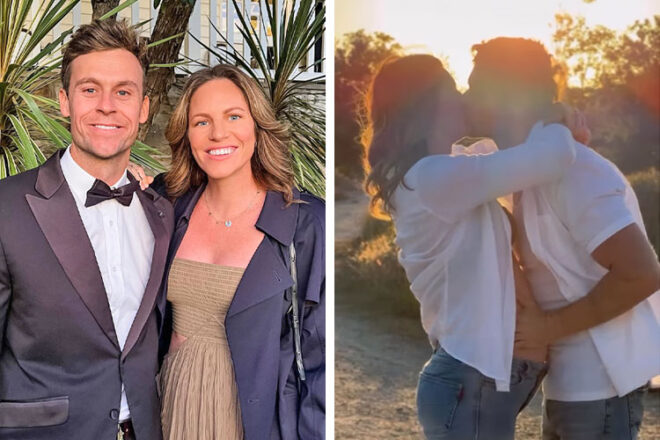 Australian Olympic gold-winning swimmer Emily Seebohm has announced she is expecting her first child with fiancè Ryan Gallagher, known for his stint on Married at First Sight.
The couple shared the news on each of their Instagrams, Emily posting a video of her and Ryan in jeans and white shirts on the beach while showing off her bump. She captioned the video:
"We've had a little bump in the road"
View this post on Instagram
Ryan, with his usual comedic flair, shared a similar video where the roles were reversed, with Emily cradling his 'baby bump'. He wrote:
"Baby Seebohm due September"
View this post on Instagram
The pair only officially confirmed their relationship at the end of 2022, followed by promptly announcing their engagement three months later in March of 2023.
"Felt cute, might get married later"
View this post on Instagram
'When you know, you know." Ryan said when speaking to Woman's Day about the engagement. He went on to say "I did get nervous though. The ring box was making a bit of a bulge in my pocket. So either she knew I was proposing or she just thought I was happy to see her."
Emily has already posted a little update since she announced the news, sharing a little 'vlog' style video of a day in the life which consisted of pregnancy pilates and lots of snuggles with Bruce the dog.
"Bruce and bump days"
View this post on Instagram
As we send our warmest congratulations to Ryan and Emily, we also extend our wishes for a healthy and smooth journey throughout their pregnancy. We can't wait to watch as they embark on the adventure of parenthood together.
Read next …
Missed the latest celeb baby news? Catch up with these articles for all the goss:
Don't miss any celebrity baby and pregnancy announcements, subscribe to our newsletter and be first with the news.