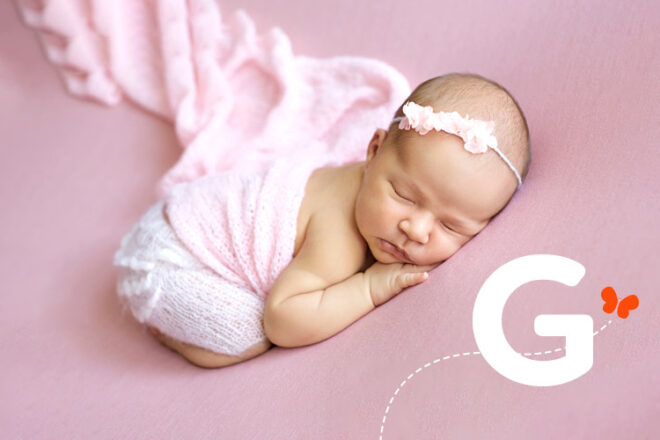 We're travelling through the alphabet in search of name perfection, and the lucky seventh stop doesn't disappoint. We've unearthed some gorgeous girl names starting with G.
Maybe the letter G stands out because it's not tooo common, or because you're wanting to keep the Gs going in the family. Or perhaps you're looking for something that's unique, that no one else has.
Whatever your reasoning we've dived headfirst into the ABCs of baby-naming to find the most beautiful and unique monikers for girls that start with the 7th letter of the alphabet. We asked the huge online Mum's Grapevine community to share their favourites, and here they are.
G girl names with a theme
You can find great inspiration from themes, and the letter G brings the goods with plenty of attitude to boot.
Some are nature-based without being too obvious, others are vintage but making a comeback and some are fitting for both boys and girls.
Girl nicknames that start with G
Australians just love to shorten or Aussie-fy a name, so it makes sense that we're comfortable in giving our babies a nickname as their actual name.
G has some real contenders – could something short and sharp be on your shortlist?
Gabby
Gwen
Galla
Gemee
Gillie
Iconic G names for girls
Why not look to someone you admire for name inspiration? From actresses to activists, there's an iconic G name for your little girl:
Gisele: after Gisele Bündchen
Greta: after Greta Thunberg
Goldie: after Goldie Hawn
Ginnifer: after Ginnifer Goodwin
Grace: after Grace Kelly
Gwyneth: Gwyneth Paltrow
Gucci: a bold choice, after the fashion brand
Unique G names for girls
Give your daughter a truly unmissable name with something unique and oh-so different. Turn heads with these rare gems:
Gilde
Gadah
Garlon
Gittle
Gyldah
Gynnivah
Gytah
Mystical names for girls starting with G
If you're a lover of all things magic, fairies and mystery, there are some G names that'll surely cast a spell. Here are some of our faves:
Gaia: meaning 'Earth Mother'
Gypsy: meaning 'wanderer'
Galaxy: meaning 'system of stars'
Gwyndolyn: meaning 'fair bow, blessed ring'
Celebrity daughters starting with G
View this post on Instagram
View this post on Instagram
---

Our favourite G girl name is: Gabby
---
More G names for girls
Gabi
Gabriela
Gabriele
Gabriella
Gabrielle
Gaby
Gada
Gadah
Gae
Gaea
Gael
Gaela
Gaelen
Gaell
Gaellen
Gaeriel
Gaetan
Gaetana
Gaetanah
Gaetane
Gaetanna
Gaetanne
Gai
Gaiah
Gaiea
Gail
Gaitana
Gaitanah
Gaitane
Gaitann
Gala
Galah
Galaina
Galainah
Galaine
Galane
Galatea
Galayna
Gale
Galean
Galen
Galia
Galiana
Galianah
Galiane
Galiena
Galilahi
Galina
Galinah
Galine
Galinka
Galla
Gallah
Galleene
Gallen
Gallia
Gallin
Gallina
Gallya
Galrlynde
Galya
Galyn
Galyna
Galynah
Galyne
Gana
Ganah
Gania
Ganiah
Ganice
Ganit
Ganyah
Gaoldarina
Gardeen
Gardeena
Gardeene
Gardenia
Gardin
Gardina
Gardyn
Gardyna
Gardynia
Garet
Garlan
Garlana
Garlanah
Garland
Garlinda
Garlinde
Garlon
Garlyn
Garlynd
Garnet
Garnetah
Garnete
Garnetta
Garnettah
Garnette
Gatha
Gavra
Gavrila
Gay
Gaya
Gayah
Gayatri
Gaye
Gaylaine
Gayle
Gaylia
Gaylyn
Gaynell
Gaynelle
Gayora
Gaytana
Gaytane
Gaytanne
Geana
Geanine
Geannine
Geeandra
Geena
Geeta
Geina
Gelasia
Gelilah
Gelsey
Gelsi
Gelsy
Gem
Gema
Gemah
Gemee
Gemelle
Gemima
Gemimah
Gemina
Gemini
Geminia
Geminine
Gemma
Gemmah
Gemmey
Gemmia
Gemmina
Gemmy
Gena
Genavee
Genaveve
Geneene
Genell
Genelle
Genene
Genes
Genesee
Genesia
Genesis
Genesys
Genette
Geneva
Geneve
Genevia
Genevie
Genevieve
Genicis
Genine
Genisis
Genisys
Geniveve
Genji
Genneeva
Genneevah
Genny
Gentil
Gentille
Gentle
Gentlle
Genysis
Genysys
Georgea
Georgeanne
Georgeen
Georgeena
Georgiana
Georgianna
Georgie
Georgienne
Georgina
Georgine
Georgy
Geralda
Geraldeen
Geraldene
Geraldyne
Gerd
Gerda
Gereldine
Gerhardine
Geri
Germain
Germaine
German
Germine
Germyn
Gerri
Gerrie
Gerry
Gert
Gerta
Gerte
Gertie
Gerty
Gerva
Gervaisa
Gervaise
Gervayse
Gervis
Getta
Geva
Gevah
Ghada
Ghadah
Ghisele
Ghislaine
Ghita
Giadana
Giadanah
Giadanna
Gianina
Gig
Gigi
Gila
Gilah
Gilana
Gilanah
Gilane
Gilania
Gilda
Gildah
Gilde
Gilenia
Gili
Giliah
Gilian
Giliane
Gilla
Gilli
Gillian
Gilliana
Gillianah
Gillianne
Gillie
Gillien
Gilly
Gillyan
Gillyana
Gillyanah
Gilora
Gina
Gineen
Ginene
Gineveve
Ginevieve
Ginevive
Ginger
Ginia
Ginja
Ginjah
Ginjar
Ginjer
Ginneva
Ginny
Giodana
Giodanna
Gioia
Giordana
Giordanah
Giordanna
Giordannah
Giorgia
Giovana
Giovanah
Giovanna
Giovannah
Giovanne
Giovannica
Giovona
Giovonah
Giovonnah
Gioya
Gipsy
Gisela
Giseli
Gisella
Giselle
Gita
Gitah
Gitana
Gitane
Gitanna
Gitel
Githa
Gitka
Gittah
Gittel
Giuditta
Giulia
Giulietta
Giuseppina
Gizela
Gizella
Gizelle
Glad
Gladdys
Gladiss
Gladuse
Gladyce
Gladys
Gladyss
Gleda
Gleddis
Gleddys
Glen
Glena
Glenda
Glenetta
Glenn
Glenna
Glenne
Glora
Glorea
Gloriah
Gloriana
Glorianne
Gloriela
Gloriella
Glory
Glorya
Gloryah
Glyn
Glynis
Glynn
Glynnis
Godiva
Godivah
Godyva
Godyvah
Golda
Goldarine
Goldee
Golden
Goldi
Goldia
Goldina
Goldy
Goldyah
Goneril
Gopi
Gotzone
Gracey
Gracie
Graice
Graise
Granata
Grase
Grata
Gratah
Gratia
Gratiana
Graza
Grazia
Graziel
Graziela
Graziele
Graziell
Graziella
Grazielle
Grazina
Graziosa
Grazyna
Grear
Greata
Greatah
Greer
Greet
Gregoria
Gregorina
Greice
Grenata
Grenatta
Gret
Greta
Gretah
Gretchan
Gretchen
Gretchin
Gretchon
Gretchun
Gretchyn
Grete
Gretha
Gretle
Greyse
Grid
Grier
Grieta
Gris
Grisa
Griselda
Griseldis
Grishilda
Grishilde
Grizelda
Gro
Gruzia
Gryer
Gryta
Guadalup
Guadalupe
Guadelupe
Guadlupe
Guadulupe
Guanyin
Gudalupe
Gudren
Gudrin
Gudrina
Gudrine
Gudrinn
Gudrinna
Gudrinne
Gudrun
Gudruna
Guenevere
Guenn
Guilda
Guildah
Guillelmine
Guillemette
Guinevere
Guinevieve
Guinivive
Guiseppina
Gunda
Gundah
Gundala
Gundelinda
Gunta
Guro
Gus
Gussi
Gussie
Gussy
Gusta
Gustava
Guylda
Guyldah
Gwendaline
Gwendolen
Gwendoline
Gwendolyn
Gwenith
Gwenn
Gwenne
Gwenyth
Gwyn
Gwynne
Gyl
Gylan
Gylana
Gylanah
Gylane
Gylda
Gyldah
Gyll
Gynger
Gyniva
Gynniva
Gynnivah
Gynya
Gynyah
Gyo Shin
Gyodana
Gyodanna
Gyovana
Gyovanna

Join the conversation
Looking for a girl name that starts with G and still haven't found one on our list? Head over to our social page, and take a look at the original post, there are more than 130 names for girls that start with G in the comments.
Read next …
Looking for more baby name inspiration? Make your way through our alphabet of baby names:
Got baby name brain freeze?
Swing by the Mum's Grapevine Due Date Groups and connect with other mums-to-be who are just as excited about baby names as you are. Swap ideas, discuss your favourite names, and make the naming journey a memorable one. Come on in everyone's welcome – and let's talk baby names!