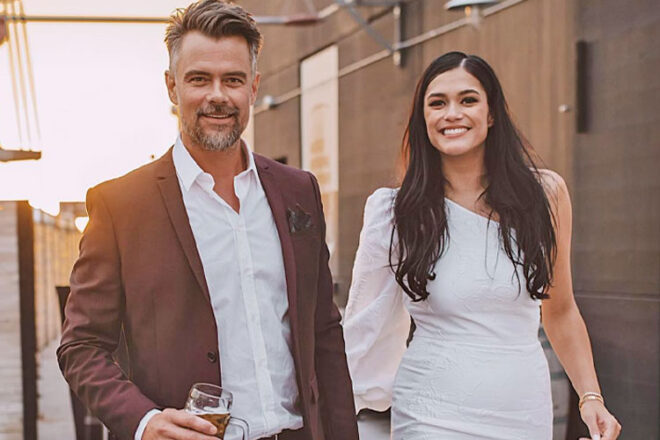 Hold onto your hats, folks, because there's some seriously heartwarming news out of Hollywood. One of our favourite silver-fox stars, Joshua Duhamel (50), and his stunning wife, Audra Duhamel (29), are gearing up for some sleepless nights and adorable baby snuggles as they expect their first child together.
The lovebirds, who happened to just celebrate their first-year wedding anniversary, announced their fantastic news on social media. It all started with a cozy Instagram post that they both shared with their followers. The pic showed the former Miss World America holding the ultrasound with the caption, "Baby Duhamel coming soon 🤍"
View this post on Instagram
Oh, the cuteness! It's safe to say that fans and fellow celebrities alike couldn't help but shower the Duhamels with love and congratulations. Among the celebrities sending their love was actress Ashley Greene who wrote: "Congratulations you beautiful people!!".
But that's not all – Josh's ex-wife and musician, Fergie, jumped in to wish them congratulations as well. She took to the comments to write: "I am truly happy for you guys. Axl can't wait to be a big brother".
Josh and Fergie have one child from their marriage, ten-year-old Axl who they co-parent together.
View this post on Instagram
Joshua and Audra's love story is as heartwarming as they come. The two first crossed paths back in 2019 and sparks flew. From red-carpet appearances to cozy selfies, they've given us relationship goals at every turn.
The pair then revealed in January 2022 that they were engaged. With a photo of the couple posing by the beach holding up a handwritten letter, Joshua wrote: "It's on!! She found a message in a bottle that washed ashore and said YES!! audramari".
View this post on Instagram
One thing's for sure – this dynamic duo is ready to embrace parenthood with open arms and all the love in the world. We can't wait to follow along as they embark on this magical journey together.
So, congratulations to Joshua and Audra Duhamel on this wonderful news! We're sending them all the love and well wishes as they prepare to welcome their bundle of joy. Get ready for more adorable Instagram moments and heart-melting family photos, because this Hollywood couple is about to steal our hearts all over again!
Read next …
Missed the latest celeb baby news? Catch up with these articles for all the goss:
And here's a tip: To make sure you never miss any celebrity baby and pregnancy announcements, subscribe to our newsletter, and you'll be the first to know when the stars welcome their little ones into the world!