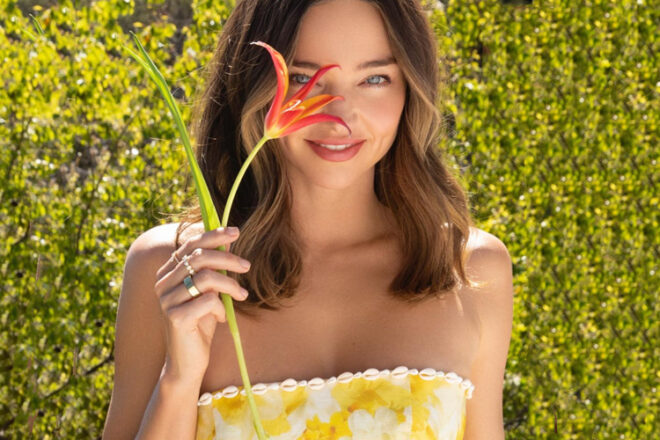 Get ready to celebrate because the Kerr/Spiegel family has announced some very exciting news. Australian supermodel and entrepreneur Miranda Kerr is growing her family once again after making the announcement that she is expecting her fourth baby.
The big reveal took place in classic celebrity style, in a way that's quintessentially modern – through Snapchat, of course. With Evan Spiegel being Snapchat's co-founder it only seemed appropriate that the couple made the announcement over on the app.
The 40-year-old Mum of three first teased the news on her Instagram, posting a photo of herself holding up a flower to her face. In her caption, she wrote:
"Sharing some exciting news on Snap today 💛"
View this post on Instagram
Fans rushed to Snapchat, excitedly refreshing to find out what the news was. Finally, Miranda shared a couple of images of herself posing in a garden area, revealing her bump in a cropped singlet and jeans.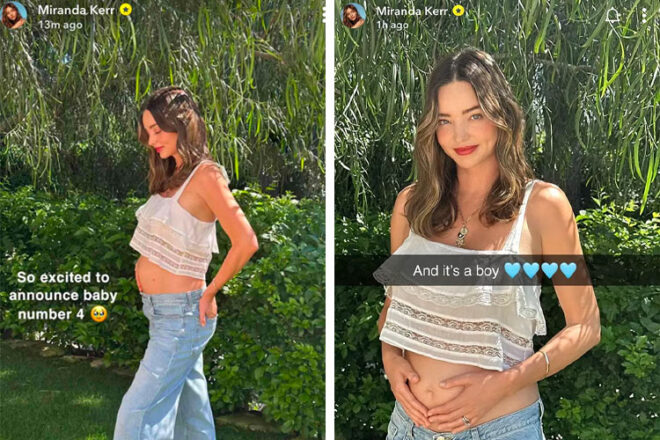 Miranda and Evan are already parents to two boys: Myles, who turns 4 years old in October, and 5-year-old Hart. Miranda is also Mumma to 12-year-old son Flynn who she shares with her ex-husband Orlando Bloom.
In another super cute picture, the KORA founder shared with fans four pairs of white and yellow shoes each with a numbered wooden block in front of them. Each pair belongs to a different son with a pair of tiny baby shoes finishing the line. Awww! She captioned the image with the hashtag "boymom💛".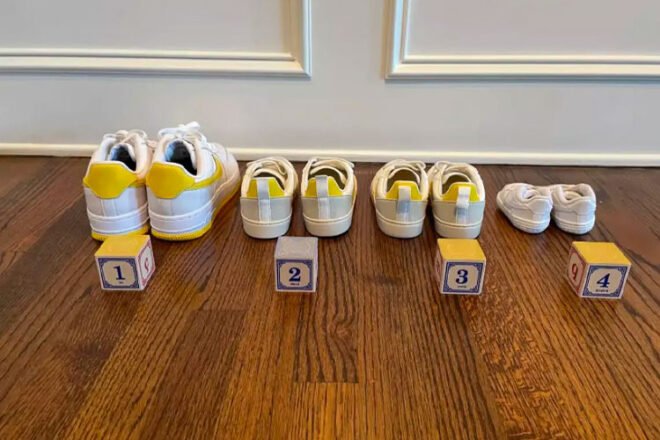 We are so very excited for Miranda and Evan as they continue to build their family together and can't wait to follow along throughout her pregnancy. Congratulations!
Read next …
Missed the latest celeb baby news? Catch up with these articles for all the goss:
And here's a tip: To make sure you never miss any celebrity baby and pregnancy announcements, subscribe to our newsletter, and you'll be the first to know when the stars welcome their little ones into the world!
---
Miranda Kerr welcomes third baby
OCTOBER 16, 2019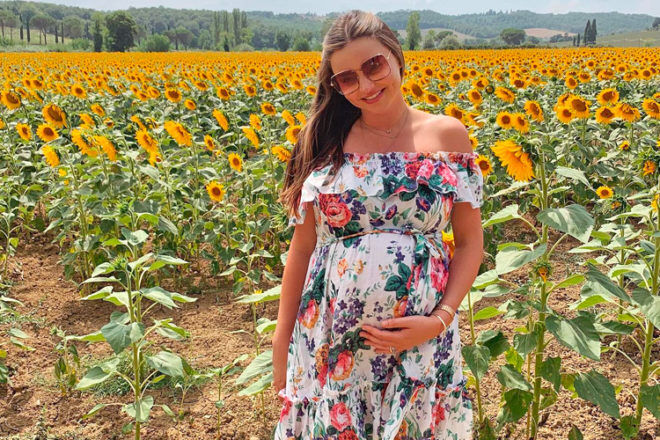 It's baby number three for Aussie model mum Miranda Kerr.
The stunning mum has revealed she's become a mum for the third time, revealing her newest baby bird Myles was born on October 15. It's the second little treasure for Miranda and her husband, Snapchat founder Evan Spiegel. The couple also have a son, one-year-old Hart. Miranda also shares another son, eight-year-old Flynn, with ex-Orlando Bloom.
As with all of her pregnancies, Miranda has shared her growing bump and pregnancy beauty tips on social media throughout the past nine months.
View this post on Instagram
View this post on Instagram
Not long ago Miranda explained to Marie Claire that this pregnancy was different to her other two, "There was a lot of morning sickness in the beginning. It was probably the harder pregnancy out of the three. Flynn was very smooth sailing. With Hart, I had a little bit of morning sickness. But with this little one I've had terrible morning sickness. But I'm feeling good now and it's not long to go now, which is exciting."
She also revealed that both she and her husband knew the gender and had names picked out before she gave birth.
Read next …
Got a bun of your own on the way? These next articles are bursting with baby name inspo:
---
Aussie model Miranda Kerr gives birth to her second son
MAY 25, 2018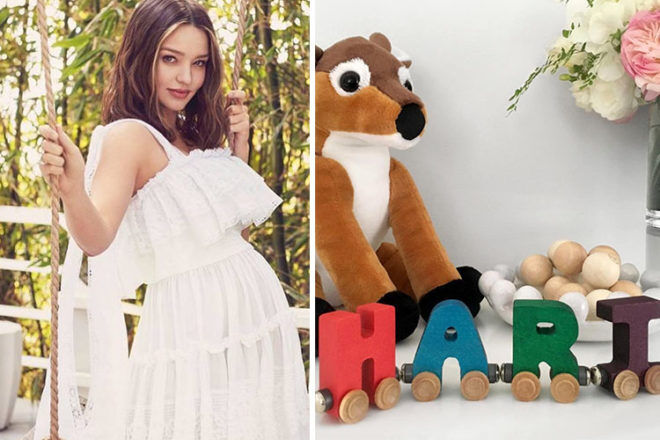 Ever-stylish model mum Miranda Kerr has revealed she's been caught up in a newborn bubble of bliss, after giving birth to her second bub.
The gorgeous Aussie has just taken to Instagram, posting an adorable pic of her baby's name spelled out in a wooden train – welcome to the world baby Hart. She commented that she, her husband Evan Spiegel and her son Flynn have been in 'baby bliss for the last 17 days'.
View this post on Instagram
Hart is a younger brother to seven-year-old Flynn, who is Miranda's child with actor Orlando Bloom. Miranda and Snapchat founder Evan married in May last year.
View this post on Instagram

Miranda has glowed throughout her pregnancy, sharing gorgeous snaps of her bump throughout the past few months.
View this post on Instagram
We're in the midst of a Hollywood baby boom, with lovable couple Chrissy Teigen and John Legend welcoming their second child a few days ago. If you're keen to stay up-to-date with all of the breaking celebrity pregnancy and baby news make sure to subscribe to our newsletter.
---
Miranda Kerr is pregnant with baby number two
NOVEMBER 16, 2017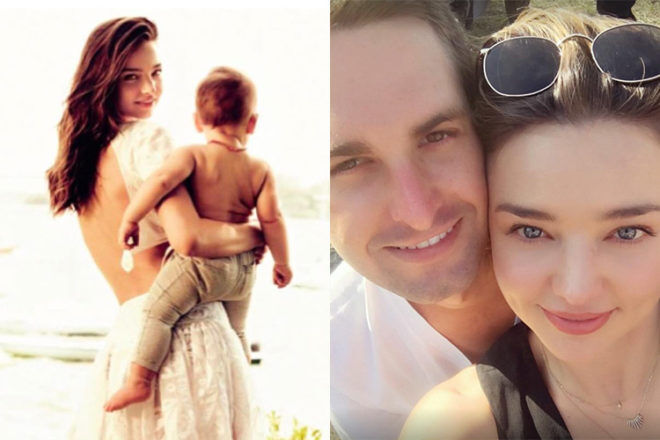 The celebrity baby train has another little passenger. Australian supermodel Miranda Kerr is pregnant with her second bub, her first with new hubby Evan Spiegel.
The 34-year-old bombshell, who shares six-year-old son Flynn with ex Orlando Bloom, married Snapchat founder Evan in May. A spokesperson for the couple has confirmed the happy baby news saying, "Miranda, Evan, and Flynn are looking forward to welcoming the newest member of their family".
View this post on Instagram

The couple were married after a two-year, whirlwind romance – although Miranda didn't introduce Flynn to her new beau until they'd been dating for six months. "(My ex and I decided) that we had to know the person for six months and feel good about them (before introducing them to Flynn).
Evan met Flynn, so yeah, things are going well. Orlando thinks he's great. We're just a modern family now!"
View this post on Instagram

The road to Hollywood is peppered with bumps at the moment – make sure you zoom over to our celebrity news section to see who else is expecting.