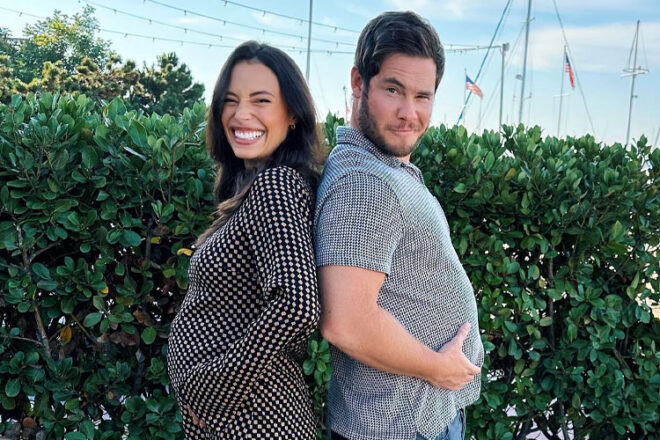 Excitement is in the air as Hollywood power couple Adam and Chloe Devine recently shared some heartwarming news with their fans – they're expecting their first little bundle of joy. The talented actors, known for their wit and charm, took to social media to announce their pregnancy in the sweetest way possible.
In a casual yet oh-so-adorable post, Adam, known for his roles in hit comedies like "Pitch Perfect" and "Workaholics," shared a snapshot of the couple, each holding their "baby" bellies. The caption read,
"Look we're pregnant! Well, I'm just fat now but Chloe is all preggo with a human baby! Obviously, very exciting stuff! This will mostly be a baby page now, as I will be dedicating my life to my child in hopes he doesn't use my decades of recorded dirty jokes against me."
View this post on Instagram
Chloe, known professionally as Chloe Bridges, echoed the sentiment about Baby Devine with her own post. She posted a picture of the couple sporting matching happy smiles, with Adam's arms wrapped around her and her bump. Her caption reading:
"We have news!! 🤰🏻 can't wait to get this lil family started"
View this post on Instagram
Fans and fellow celebrities quickly flooded their comments with messages of congratulations and well wishes. The announcement comes after years of the couple sharing glimpses into their loving relationship on social media, making them one of Hollywood's favourite duos.
Adam and Chloe began dating in early 2015 after meeting on the set of a movie they were filming. They made it "Instagram official" and have pretty much been our social media obsession since.
"Chlo dog and myself flew in a helicopter and it was a whatever time."
View this post on Instagram
In October 2019 Adam made it officially official by proposing to Chloe. In his announcement to Instagram, he wrote:
"She said yes! Well actually she said "ahh Adam" and then kissed me but I'm pretty sure that means YES! I love Chloe more than anything and I'm so excited to spend the rest of my life with her amazing self. You are my best friend and I'm thrilled you want to get old and wrinkly with me! You'll be less wrinkly. I'm gonna look like a Saint Bernard. I proposed this past weekend and wanted to keep it private for a few days but we are now ready to tell the world! Love you @chloebridges! Have fun planning the wedding. I'll be there for the cake tasting. 😘"
View this post on Instagram
Chloe shared her sentiments in her post announcing the couple's engagement, writing:
"We are doing it!! I love this man with my whole heart and I am so excited to be with him forever. I've known we had a special connection since we first met (well FIRST I liked the way his butt looked in his jeans and the way he made me laugh and the fact that his backpack was monogrammed which seemed VERY adult to me five years ago) and I quickly learned that he is the kindest, funniest, most incredible man I've ever met. I'm so proud to be his girl and will be even prouder to be his wife. Let's do this baby"
View this post on Instagram
Then in December 2021 the couple finally tied the knot in a stunning beachside ceremony in Cabo.
"The big day ✨10.9.21✨" Chloe captioned a carousel of photos.
View this post on Instagram
Adam being the funny man he is wrote on his post:
"WE'RE MARRIED! What a blast! We did it in Mexico and miraculously everyone dodged COVID! I love Chloe so dang much and I'm so happy to call her my Wife. Def cried a lot during the ceremony. 1) I DO!
2) my big contribution to the planning process was demanding we had fireworks. 3) I couldn't taste the cake. Had COVID a few weeks before and couldn't taste anything but that didn't stop me from eating 6 slices.
4) the world needs to see my groomsman's taught Butt cheeks.
5) my sister brittanidevine, and groomsman austincoleanderson and blakeanderson super stoked on our reception entrance.
6) Chlo got out of that wedding dress and put on her dancing shoes!"
View this post on Instagram
The couple's sense of humour and down-to-earth personalities make them positively loved but all their fans (including us), and it's no surprise that the news of their impending parenthood has sparked a wave of joy on social media. It's clear that the world can't wait to welcome the newest member of the Devine-Bridges family.
As Adam and Chloe embark on this exciting journey into parenthood, one thing's for sure – their child is in for a lifetime of laughter and love. We'll be eagerly awaiting more adorable updates and, of course, baby pictures that are sure to melt our hearts.
Congratulations, Adam and Chloe! Here's to the next chapter filled with sleepless nights, nappy changes, and the unparalleled joy that comes with the adventure of parenting. We can't wait to meet Baby Devine!
Read next …
Missed the latest celeb baby news? Catch up with these articles for all the goss:
And here's a tip: To make sure you never miss any celebrity baby and pregnancy announcements, subscribe to our newsletter, and you'll be the first to know when the stars welcome their little ones into the world!