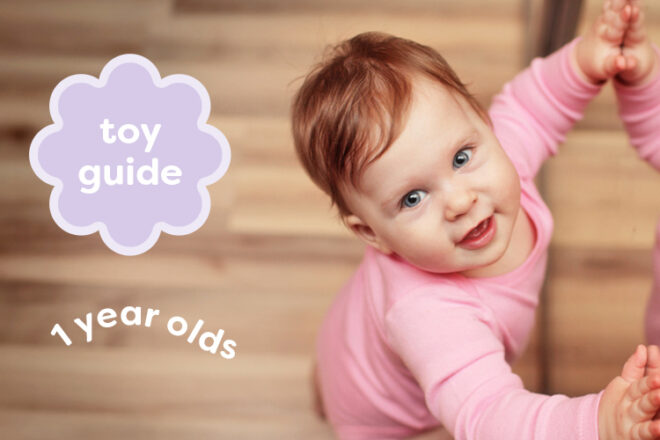 Before you hit the shops, read our curated list of the best toys for 1 year olds in Australia to help get you started in your search.
A whole year in the world, and how far they've come. Newly minted toddlers are busy pushing, pulling, stacking, poking, shaking and tipping things all over the place. They love getting around – whether it's on foot, with a walker or cruising on a ride-on.
So now is the perfect time to gift some of those key 'milestone' toys that they'll use for years to come.
Here's are guide to gifts and toys for 1 year old boys and girls.
What they're doing
Opening And Closing Things
Pressing Buttons
Pointing
Mimicking
Banging, Poking & Shaking Things
Standing
Cruising
Tipping Things Out Of Containers
Saying First Words
Walking (Maybe!)
Gifts they'll love
Push / Pull Alongs
Cars, Trucks And Trains
Baby Crayons
Shape Sorter
Shakers & Instruments
Activity Tables
Walker
Wagon
Soft Balls
Bead Maze
Toy Phone
---
OUR PICK OF THE CROP
23 gifts and toys for 1 year olds
With over 15 years of experience and a community boasting over 100,000 Australian mums, we're committed to helping you find the perfect toy for your one-year-old.
Below, you'll find 22 of our favourite picks presented in no particular order. Some are newcomers to the scene, while others are tried-and-true favourites. Rest assured, each recommendation has either crossed our path, found a place in our own experiences, or been enthusiastically vouched for by our Grapeviner community.
Surprise!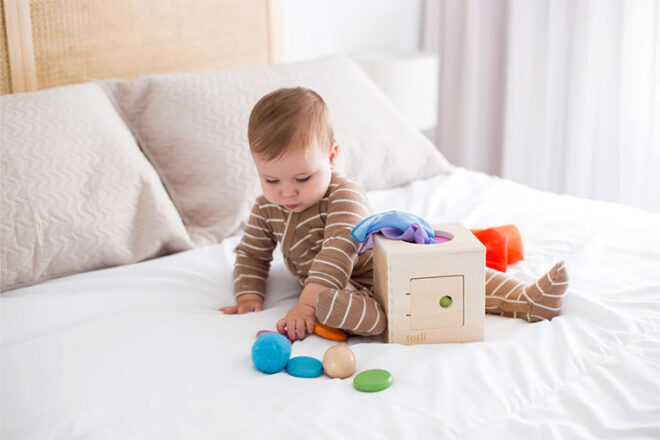 Start your little one off right with this Montessori-inspired box ready for years of play ahead. Guide your little ones to learn new skills through bright and fun play and then neatly store all the pieces inside the box for an easy cleanup.
---
Vroom vroom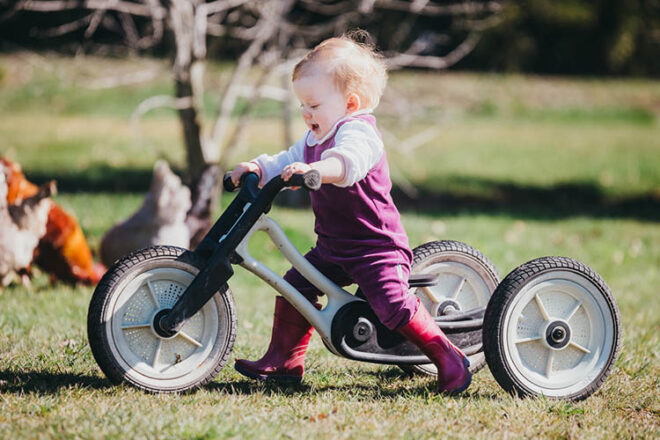 Learn to walk, ride and balance with the Wishbone pre-bike. Designed to grow with your tot – from baby walker to toddler trike to balance bike. No pedals, no stress. Lightweight, classic, and fully adjustable, it's the natural choice for indoor, outdoor, and off-road adventures.

---
Come to the table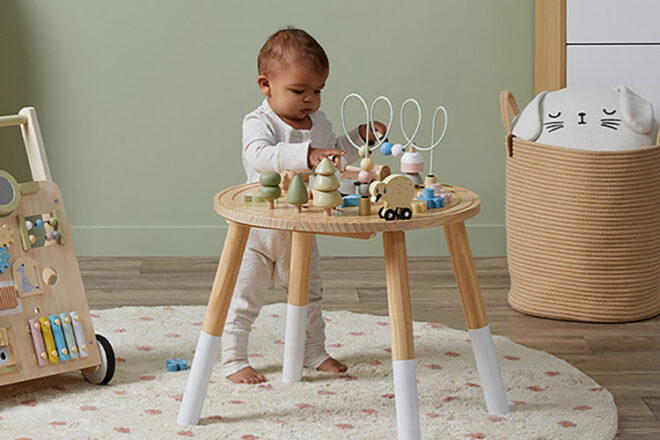 Ideal for standing babies to toddlers, this activity table is a learning extravaganza. Shapes, colours, animals, and counting become a captivating adventure with movable pieces, mazes, and more. The ultimate play haven for growing minds.
---
Push me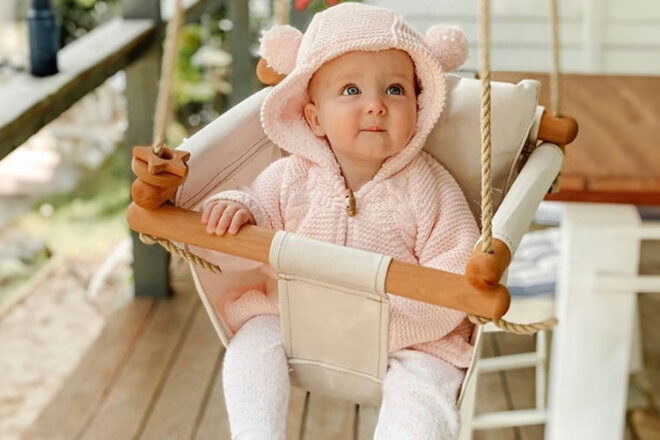 Handmade in Australia, a Swingz n Thingz swing turns frowns into smiles. Suitable for 6 months to 8 year olds, it's made from high-quality marine canvas that's is safe, simple to hang and move and comes in a huge range of colour combinations. You can even have it personalised.
---
Stackable fun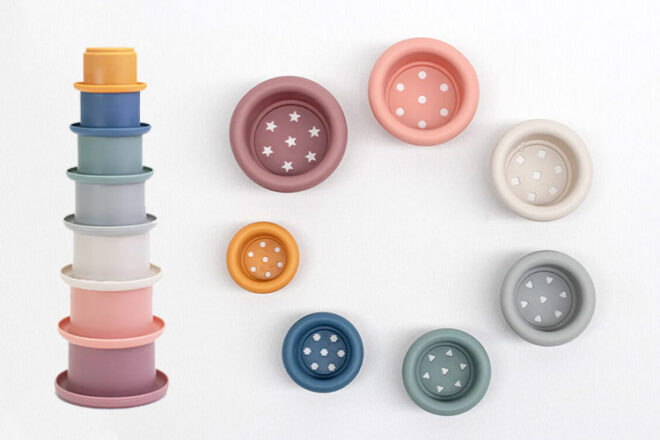 Say hello to the Cherub Baby Silicone Stacking Cups! They're your baby's playful pal, perfect for bath time or the beach. Dishwasher safe, compact, and educational – these cups are the multi-tasking superhero of toys. Let the fun (and learning!) begin.
---
Spinnin' around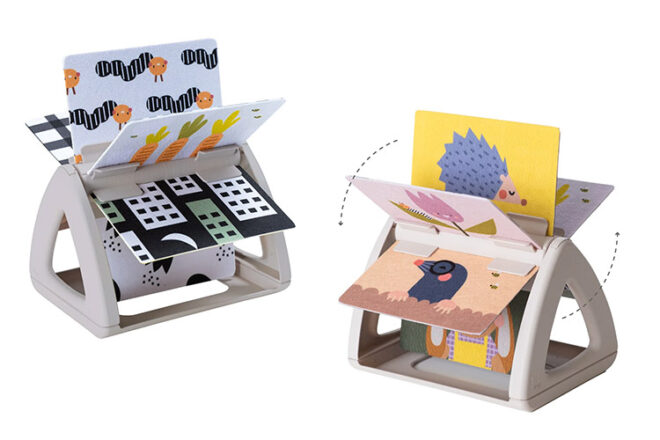 Turn tummy time into a thrilling adventure with the Taf Toys Spinning Book! Spin, rattle, and repeat for endless fun. Packed with exciting patterns and images, plus a built-in soft rattle for cause-and-effect fun. It's the ultimate playtime companion.
---
Knot your average fun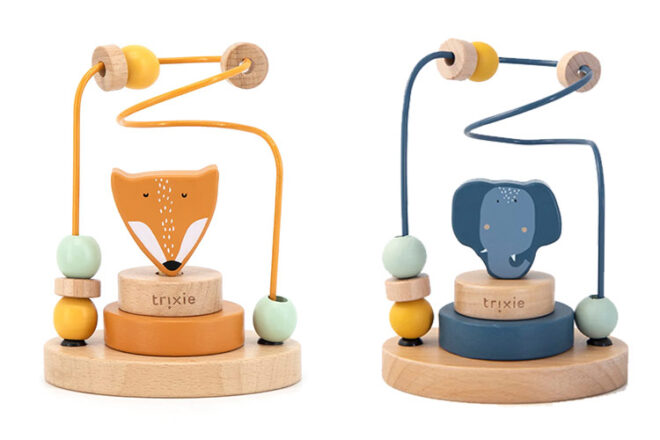 Meet the Trixie Wooden Bead Mazes. They're not just a toy, they're an adventure for tiny hands. These colourful mazes keep little ones engaged while developing motor skills. A perfect playtime buddy that makes learning fun. Get ready for hours of exploration and giggles.
---
Night nanny

Meet Santi, your child's dreamtime companion. Customise their sleep journey with programmable features. Illuminate the night with a rainbow of colours, play soothing sounds or stream music via Bluetooth, and it's robust enough to withstand drops, kicks, chews and drools.

---
Music to our ears

Naturally biodegradable, recyclable, and long-lasting, the Moover Tap-Tap toy is more than play – it's a symphony of learning. Challenge tiny hands with hand-eye coordination, mastering cause and effect through joyous play. Moover Toys are eco-friendly heroes.
---
Perfect playmate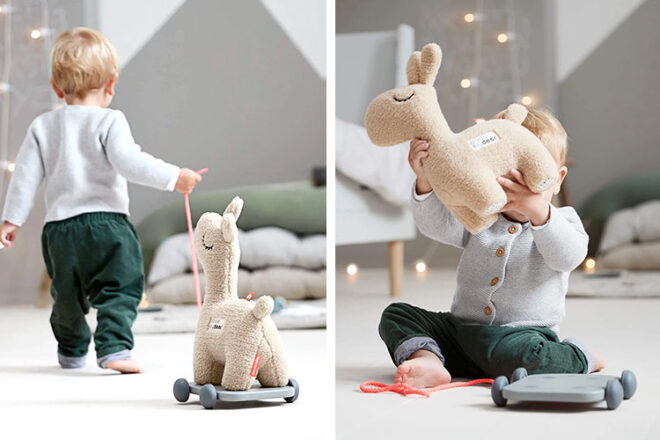 Meet the perfect playmate! These magnetic little animals cheerfully follow your toddler day and night. Pull them around on their stand, and when bedtime calls, simply take off their wheels for a cuddly, soft friend. A magical duo for endless adventures and sweet dreams.
---
Walkin' the walk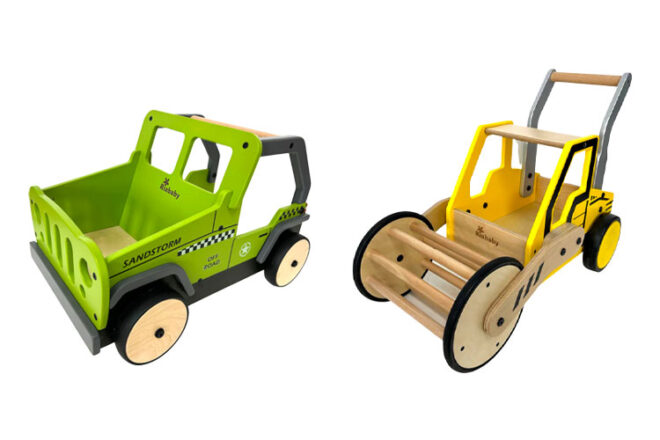 Introducing the perfect companion for your little explorer – the Riababy Cargo Walkers. With adjustable handlebars to grow with your child, each walker has a spacious storage compartment to bring their treasures wherever they may go. Let the walking (and fun) begin!
---
Dino escapades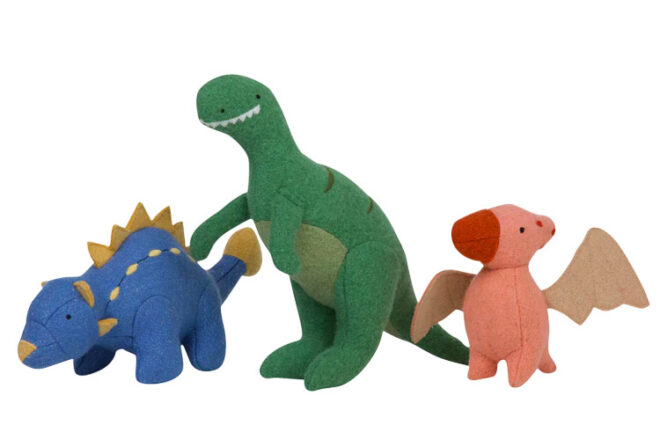 Embark on a prehistoric journey and meet the Dinosaur trio – Pterodactyl, T-Rex, and Ankylosaurus. Handmade from a soft wool blend with embroidered features, these dino friends are just the right size for small hands, sparking endless imaginative play.
---
It's a plus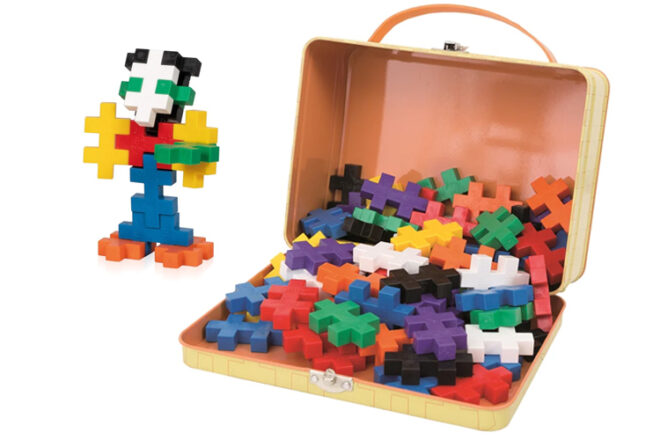 For small hands and big ideas, this award-winning construction toy is educational and fun. Designed and made in Denmark, the handy metal storage case contains 70 large, easy-grip pieces plus a guidebook. Endless in possibilities, it hones creativity, concentration and patience.
---
Block by block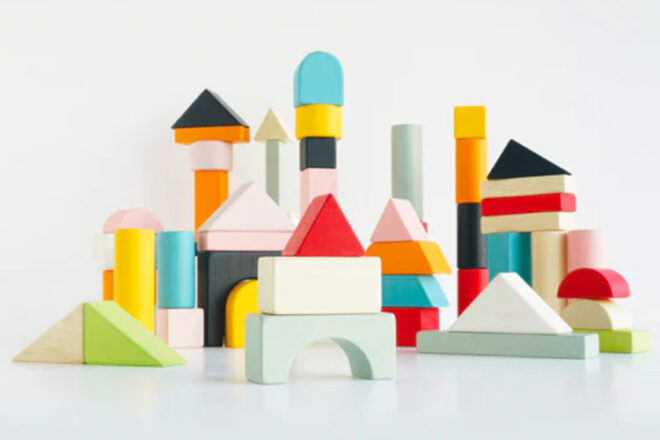 Build, stack, and imagine with the Petilou Building Blocks Set. Vibrant, wooden wonders that spark creativity. Packed in a carry bag for playtime anywhere. It's not just blocks; it's a bag of endless possibilities
---
It's Miffy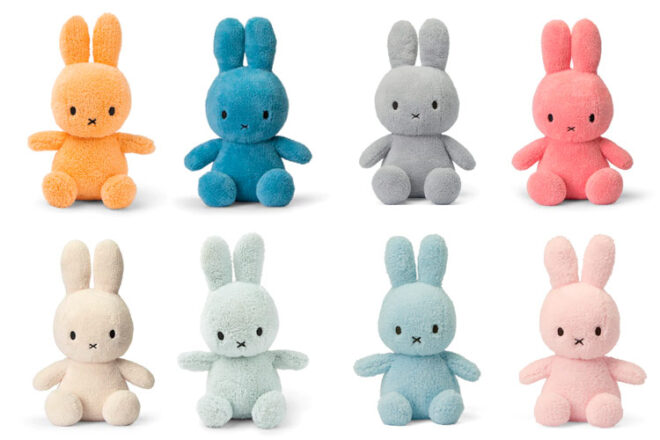 World-loved and eco-friendly! Miffy plush, made from 100% recycled PET bottles, adds a touch of Dutch nostalgia to any child's room. The items from the Miffy Terry Collection are truly the softest ever made, with a luxurious towel-like fabric and flexible stuffing – perfect cuddle partners.
---
Rollin' and sortin'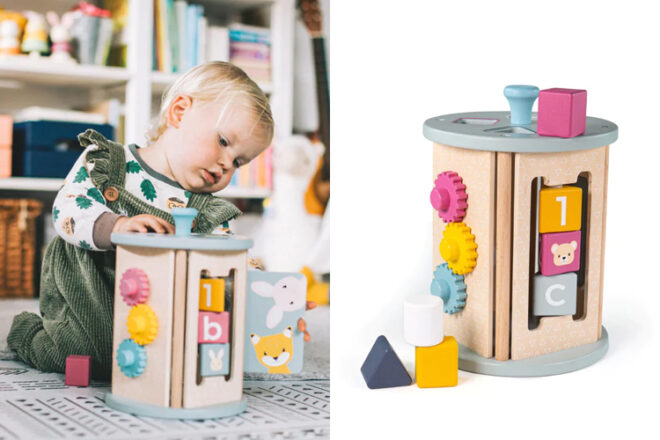 Roll into learning fun with BigJigs Toys Rolling Activity Sorter. Four sides packed with fun – wooden shape sorter, flip book, cogs, and more. Little fingers can touch, pull, twist, turn, and flip on all sides for endless exploration. Develops motor skills while keeping little ones entertained.
---
More toys we love …

Know a toy suitable for a 1 year old we should add to our list? Contact us and let us know, we've been curating Australia's best baby products into helpful lists for over 15 years and we're always happy to support new brands and businesses.
Find more great gifts for babies!
We've collected a treasure trove of amazing gift ideas, from the latest baby toys from leading brands to quirky boutique finds. There's something for every little Henry, Pearl and Matilda.
Gifts for kids are based on play and development, not gender.
Become a Grapeviner mum by joining one of our private Facebook Baby Groups and meet thousands of other Australian mums with kids the same age as yours all recommending their favourite baby products and unearthing hidden baby shops. And you can too!
We want you to know
At Mum's Grapevine, we're a team of passionate mums (with 19 kids!) and over 15 years of experience researching and writing about all things baby and parenting. Our reviews of recommended products, like the ones in this post, may include paid inclusions, but we promise to only feature products that we truly believe in and have used or seen ourselves. We want to ensure that you, our Grapeviner mums have access to the latest and greatest products in the parenting world, and we're committed to maintaining our high standards of quality and honesty. See our Disclosure Policy.
Thank you for trusting us to be your go-to source for all things baby-related.
xoxo