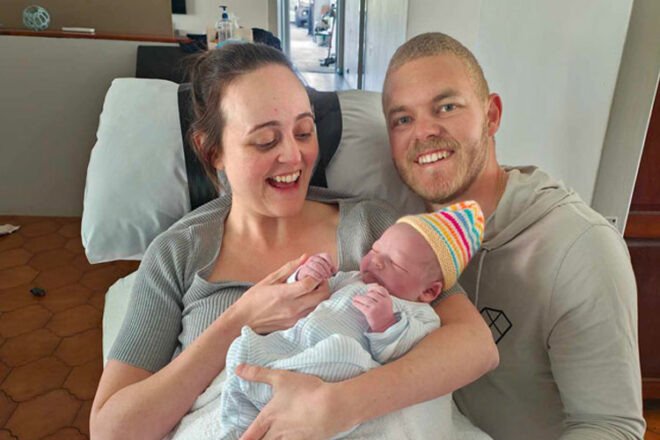 When falling pregnant with her third child, the last place that Ally expected to be giving birth was in her own home. While Ally was planning for a hospital birth, as she had with her previous two sons, her third son arrived very quickly.
With almost no time to plan, Ally and Simon were left to deliver their baby with their young sons peering through the baby gate and watching their brother enter the world.
A family begins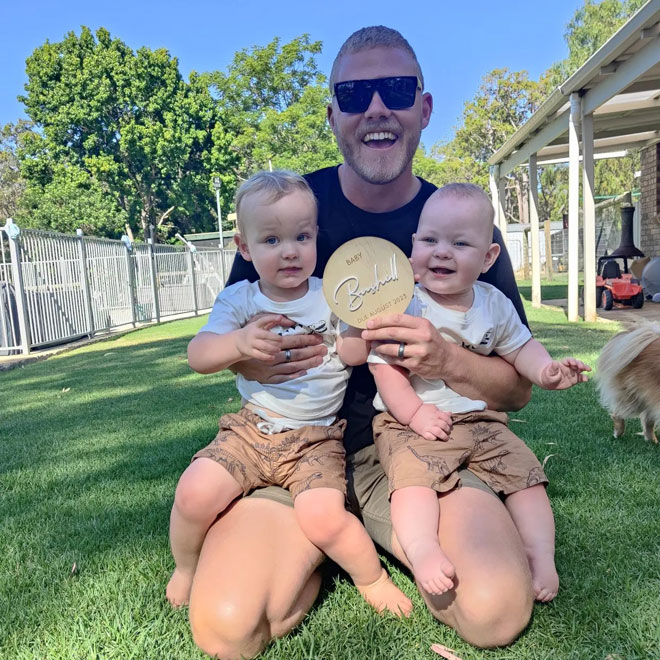 Ally and Simon's story began when they swiped right on the ever-popular dating app, Tinder, back in June 2018. Their whirlwind romance took a serious turn, and by the following May, they were engaged and married on October 10th 2020. Little did anyone know, Ally was already seven weeks pregnant with their first child.
April 2021 marked the arrival of their first son, Rylan. Not one to be left out, Christian made his grand entrance just 10 months later. With their first sons arriving within less than 12 months of each other, Ally and Simon now proudly bear the title of parents to what's affectionately known as 'Irish Twins'.
"We are fortunate that with all three pregnancies, we have fallen pregnant first try every time" Ally shared with Mum's Grapevine.
'I felt heavy pain'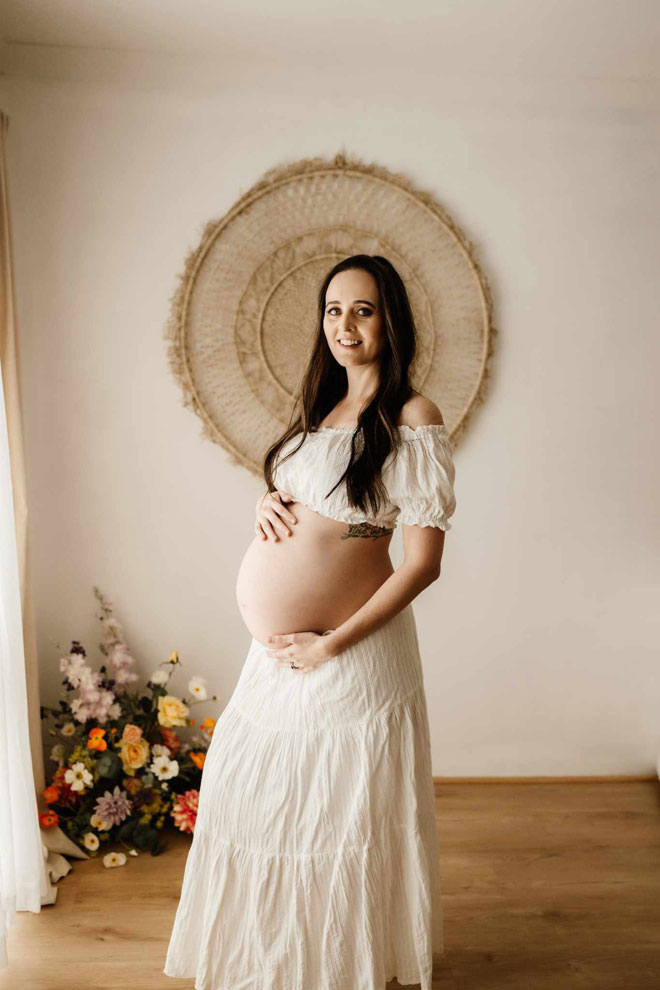 On Monday the 14th of August 2023, Ally woke in the morning with some mild discomfort, similar to the days prior but thinking nothing of it.
"My other two sons went for their nap at 12pm. I went straight for a shower, and when I got out I felt so much heavy pain down there and decided to lay in bed, I texted my husband who was home and outside doing fencing, we live rurally, and when the boys woke up can he come inside to look after them as I was in a lot of pain, that was at 12.28pm"
A funny situation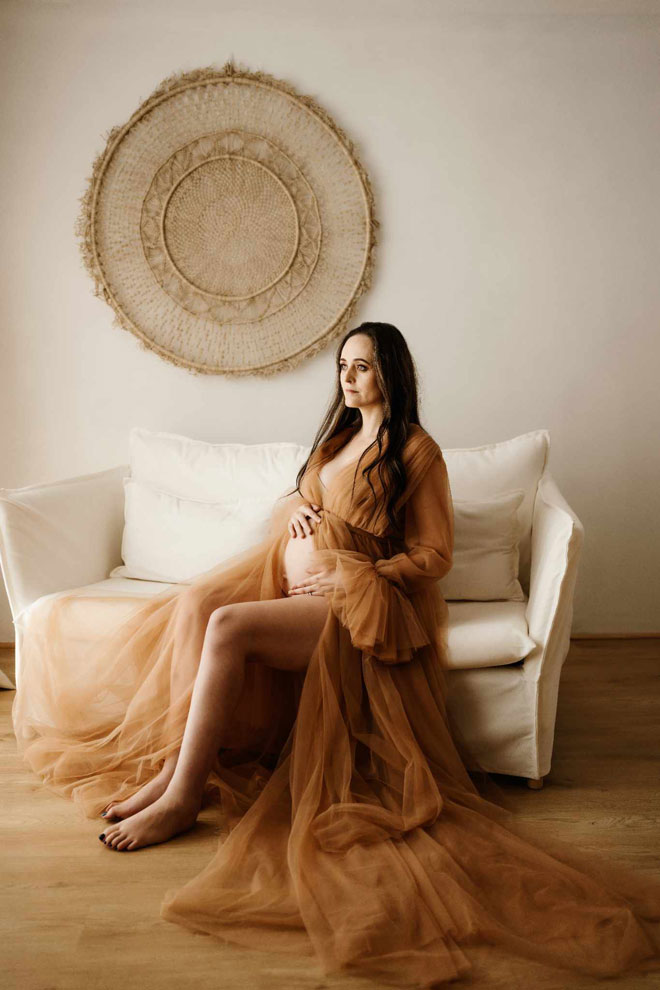 "At 12.40pm I had my first contraction and my middle son woke up from his nap, way earlier than usual. I messaged my husband and he said he needed to pack away the tools before coming inside so I went and got my son from his room and brought him into the lounge room.
"At 12.55pm I had another contraction and my other son woke up and my husband finally came inside a couple of minutes later. I told him I thought I was in labour but my contractions were all over the place, and all different levels of pain."
While Ally continued to labour on all fours, her two young sons thought it would be fun to play 'horsey' and try to climb all over her back. Meanwhile, her husband Simon was laughing at the entire situation. Simon, a real estate agent who had a home viewing scheduled for 2pm, was debating about whether he would be able to leave to attend to it.
Ally assured her husband that she was in far too much pain for him to leave, so Simon cancelled the viewing and they texted Ally's step-mum, Abbey, to come and look after their sons so they would be able to head to the hospital.
'I could feel the head'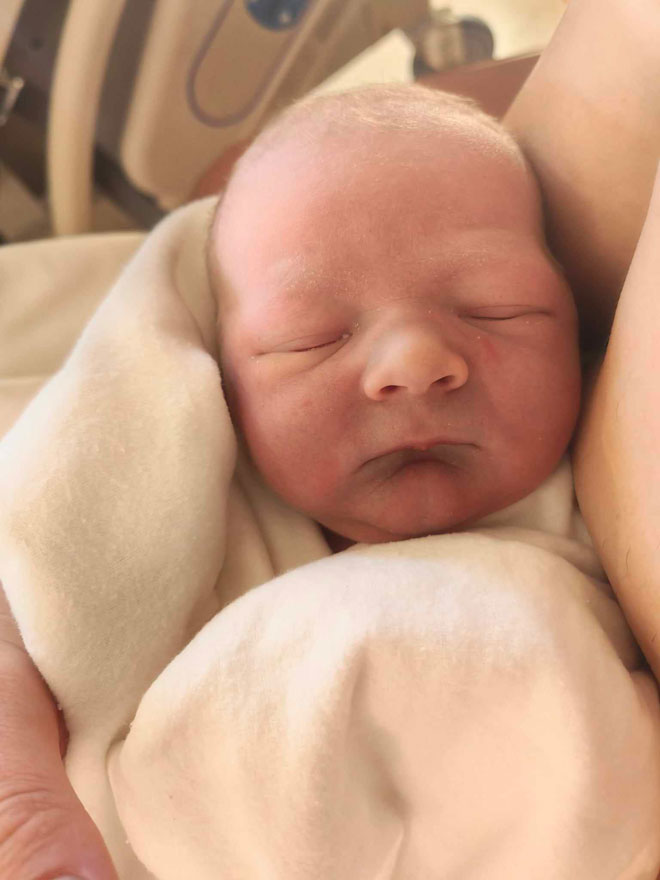 "At 1.47pm I called the hospital and described my contractions and the timings of them. The midwife stated that she thought I was having Braxton Hicks or if I was in labour I needed to wait until the contractions were two to three minutes apart before coming in. I hung up and said to my husband what she had said.
"About 10 minutes later I had another contraction and went to the toilet to do a wee. I then put my hand inside my vagina, completely freaked myself out as I could feel the baby's head."
Ally called out to Simon that the baby was coming and made her way back out to the living room where she lay down on her back. Simon then messaged Abbey again, letting her to what was happening.
'He was grey'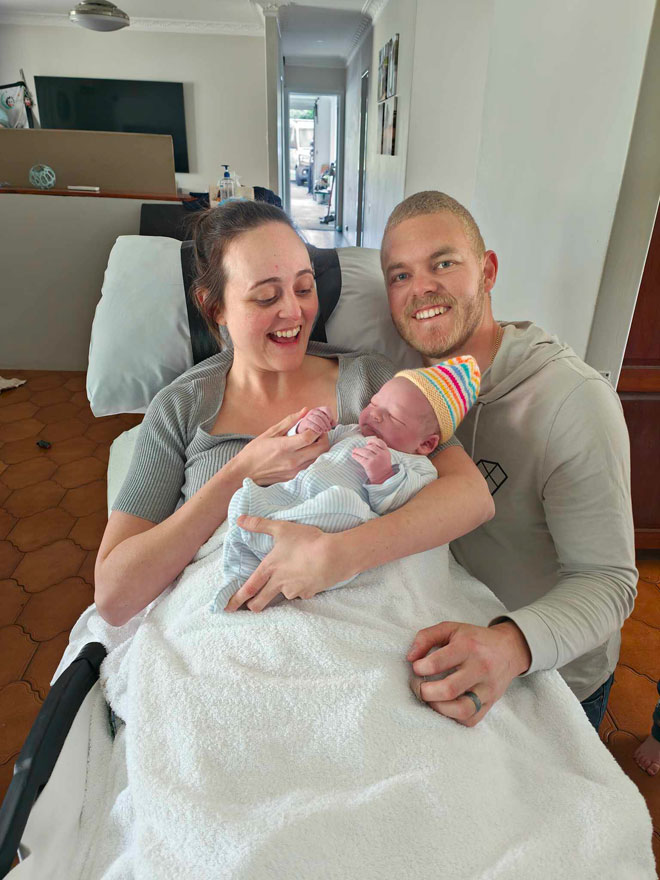 Simon rang 000 at 2:06pm and put their young sons behind a baby gate where they were watching Ally laying on the tiled floor, just moments away from giving birth. Simon left the phone with Ally as he ran to get towels and she alerted the operator that she was pushing.
"Abbey walked in and she went to comfort the boys and I looked at her and I said "the baby is here, I can feel his head" and she immediately jumped over the gate to help Simon. I was in pain and could feel the ring of fire but I didn't really have time to think about pushing, I was looking at him coming out and he was grey and that scared us all. His head and one shoulder was then out, and I said to Simon for him to pull him out and he responded "no babe, one more push to get the other shoulder out" and one push later he was fully out at 2.10pm.
"He didn't cry, but he was breathing, he was very very grey and Simon wrapped him up in the towel. He slowly got some colour but we were all still very worried. Abbey was amazing she was there for me 100% getting blankets, trying to keep me warm, watching to see if my placenta was coming out. I couldn't have done this without her and I know Simon's focus, as it should be, was completely on baby."
'I thought I was going into shock'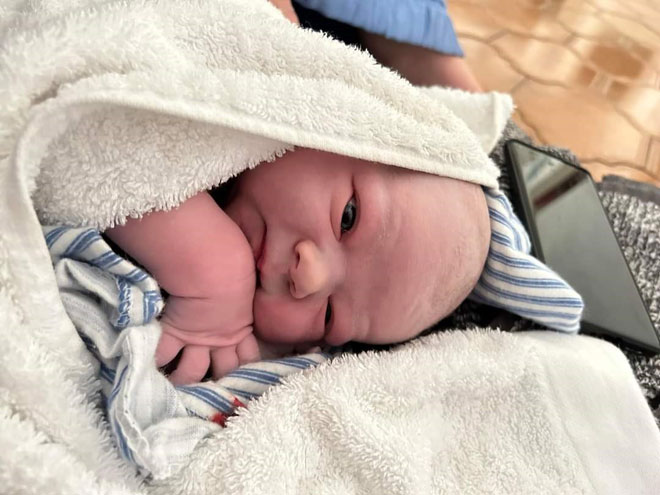 Ally's Dad arrived and took her older sons outside to play, just moments before the ambulance and four paramedics arrived, 10 minutes after the birth.
"I had so many blankets on me as I was shivering and I thought I was going into shock, my placenta also hadn't detached, I hadn't felt any more contractions since he was born.
"A young female paramedic, Katie, was amazing. She grabbed our baby and used the penguin suction to get all the fluid out and rubbed his back and got him to make a bit more of a noise and then I stripped my dress off for skin to skin and FINALLY, he cried once on me. That was amazing.
"They then wanted to cut the umbilical cord and so my husband did that. My placenta still was inside so they decided to get me into the ambulance sooner than later, so I got dressed, and got onto the trolley, Simon dressed baby and put him into the capsule, and they loaded him and me together into the same ambulance."
Simon fetched Ally's hospital bag and headed off to follow the ambulance in his own car.
'I had no tearing'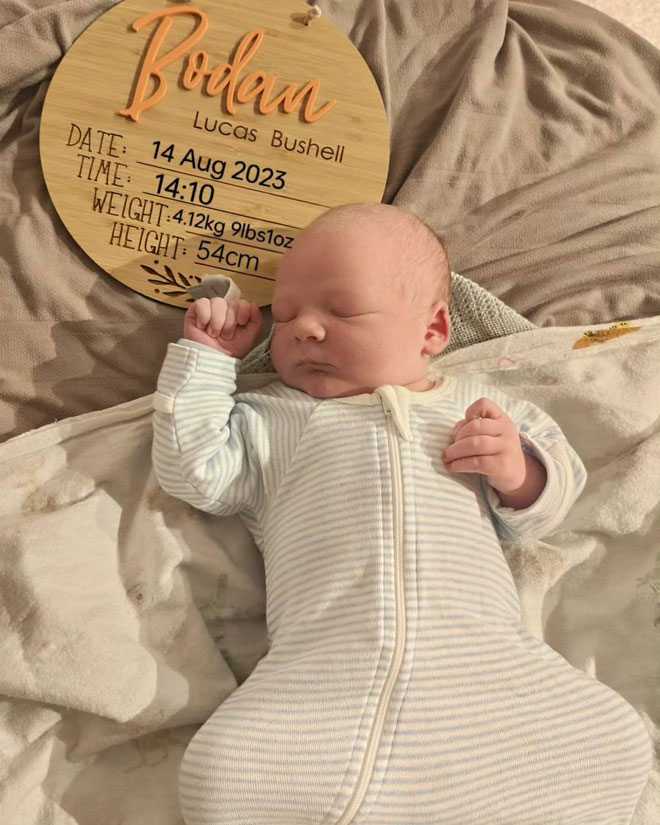 "Once we got into the labour room the midwife who I spoke to us on the phone apologised and said, "I'm sorry, you sounded like you weren't going to give birth right away".
"They gave me a needle in my leg and finally my placenta detached, they had to press onto my stomach to release all the blood as it had been in there for a while and that hurt quite a bit. I hadn't had any tearing so didn't need any stitches, thank god as they hurt, I needed them with my first.
"My doctor came in and saw me and checked on baby and he was healthy and a big boy. And I was able to leave and go home at 8pm. I wanted to go home sooner but the doctor wanted to make sure I didn't have any bleeding because everything happened so fast.
"It was an amazing experience, Simon's stoked he gets to be the person who delivered on the birth certificate. I am so grateful that Simon was home and Abbey was only five minutes down the road, I felt like fate happened that day, my mother in heaven watching over us all and our final baby was meant to be born at home.
"I'm also grateful that I didn't just jump in the car, I truly was meant to give birth at home and being it wasn't my first baby, Simon had watched the other two be delivered so he said he felt confident to know how it was all going to happen, but we all know it can go haywire very quickly, so we were all still freaking out as it all happened so quickly, baby was coming and nothing was going to stop that"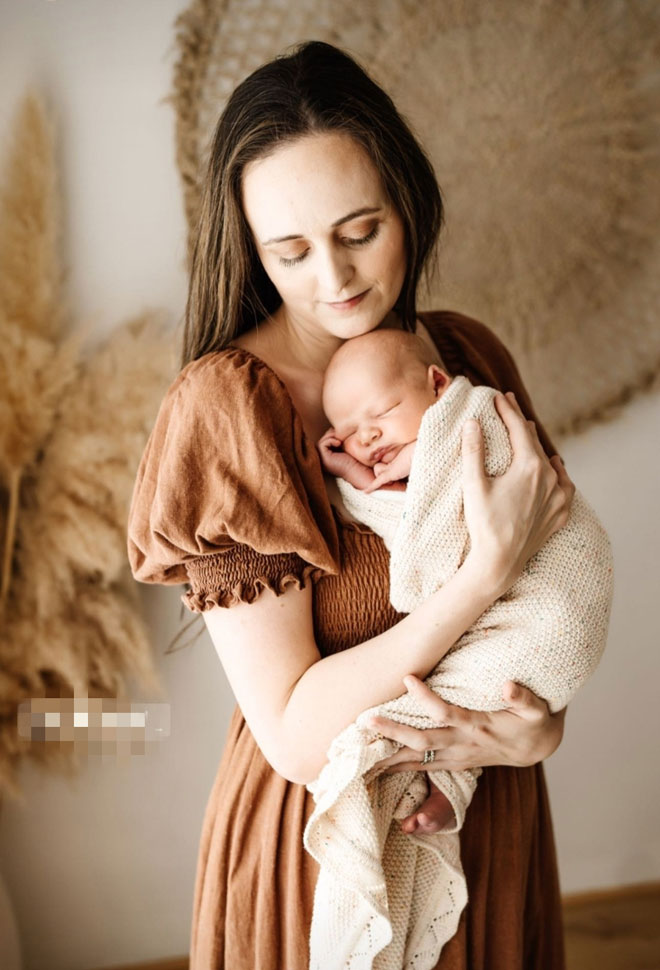 Little Bodan made his speedy entrance into the world on the 14th of August 2023, weighing 4.120kgs or 9lbs 10oz, he was 54cms long. Bodan will certainly have a birth story that will be told many times over the years. We wish this family of five all the best in the future.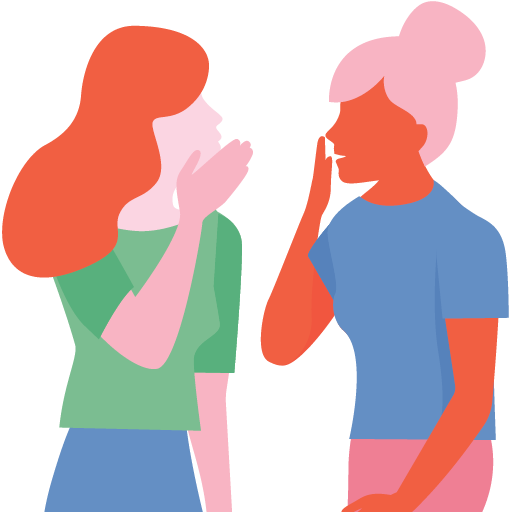 Got your own birth story you're itching to tell? We're always on the lookout for new stories to feature. Submit your birth story.
More birth stories from our Grapeviner mums…
About to (or just had) a baby?
We know that the wait to meet your baby can be nerve-wracking, but we're here to remind you that you're not alone. Our private Pregnancy & Baby Groups are a great way to connect with other Aussie mums who are due or had their babies around the same time as you.