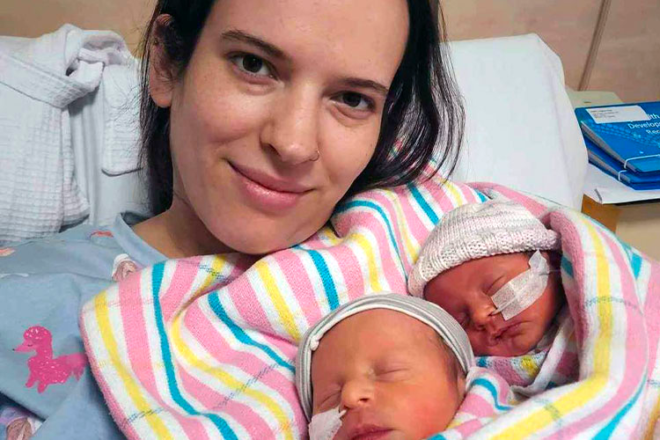 When Rebecca and Antonio started dating as teenagers, it didn't take long before they knew they were soulmates.
Fast forward to 2023, the South Australian couple are happily married with three kids, including newborn twins.
A Grapeviner mum from our Spring 2023 Due Date group, Rebecca shared her amazing birth story and surprise delivery date, which just so happened to fall on her 29th birthday.
Twin rainbow babies
"Antonio and I have been together since we were 15 years old. We got married in September 2020 after having our May wedding postponed due to Covid restrictions. In March of 2021, we welcomed our son, Julian.
"We always wanted a sibling for Julian, and we were ecstatic to find out we were expecting again in August 2022. Our excitement quickly turned to heartache and unimaginable grief as I suffered a miscarriage three days after the first scan at seven weeks gestation.
"After months of healing and connecting with other women who had endured a similar experience, we were absolutely over the moon, but terrified, to get a positive pregnancy test. In utter disbelief and fear, we kept this new surprise to ourselves, we had told our families of our prior pregnancy, and the heartache of losing another baby kept us from telling them so soon again.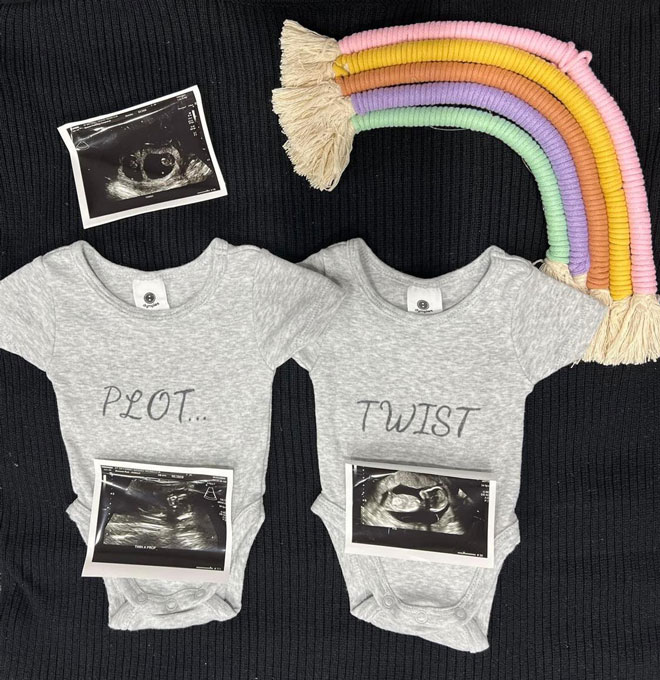 "At 8 weeks, I had the first scan, unfortunately, Antonio was unable to make the appointment due to work, so I held my head high and held back tears while I waited for my appointment. I was so scared I would be given the same news, that our baby wouldn't make it, that we would endure another heartache. Much to my surprise, and that of the ultrasound tech who had two trainees watching…. I was expecting TWINS!!
"When I left the appointment, I called Antonio and burst into happy tears, that's when he realised… I wasn't joking! Because of this beautiful surprise, we decided that it was time to tell our families… twins were incoming!!"
'I felt like I had been hit by a truck'
Rebecca was lucky enough to experience a smooth pregnancy, with barely any symptoms. But just as she reached the end of her first trimester, extreme waves of sickness took over!
"I had no nausea prior, but right on 12 weeks, I couldn't stop being sick. I took myself to the hospital for fluids and anti-nausea meds.
"By 27 weeks gestation, I was off work, as directed by my doctor, the nausea had stopped but the body aches, constant weakness, and fatigue had well and truly set in.
"On Tuesday 3rd October, my mum was 'babysitting' me haha – no one was letting me out their sight just in case – plus I couldn't drive, and struggled to do basic everyday chores due to extreme fatigue. I am so thankful I had so much help and support those last few weeks, I felt like I had been hit by a truck, my body was so weak.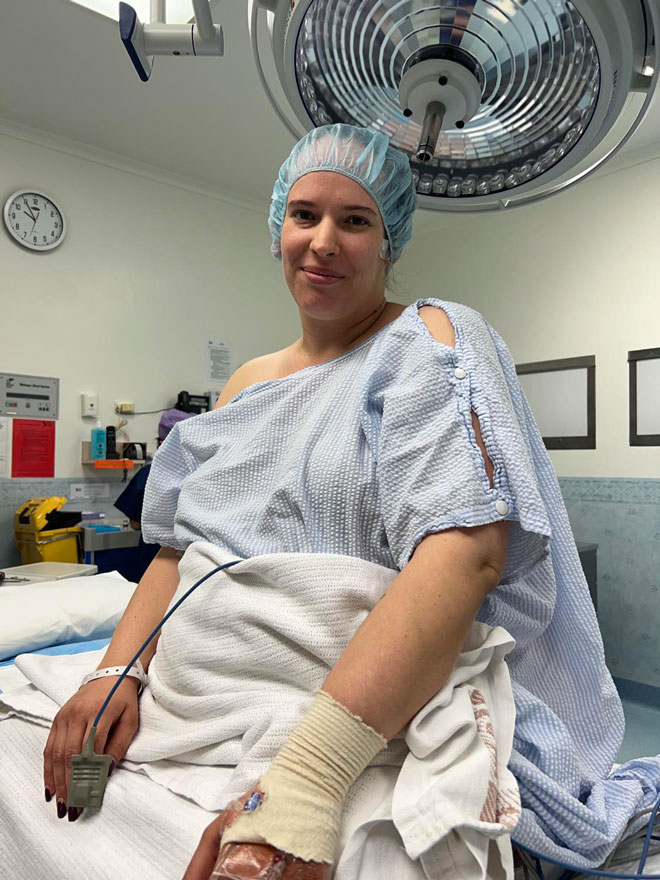 "After a 'high-energy' nesting day, we went to collect my son from daycare. As soon as I walked out of the house to the car, I started experiencing right-side hip pain, by the time I got in the car it had reached extreme discomfort and started moving around to the front of my belly. Julian's daycare is only a couple minutes around the corner, when we got there I was wincing in pain but just pushed it off as discomfort from the car ride. When we got back home, about 15 – 20 minutes had passed since it began. I went straight inside and collapsed on my bed. I took Panadol, got a heat pack and my husband had arrived home just before I did so he was comforting me while my mum called the midwives – they said to come in straight away."
Labour begins
At just 34 weeks + 6 days gestation, it was confirmed – Rebecca had gone into early labour. She was terrified!
"In the 25-minute car ride to the hospital, I started experiencing unbearable pain. After losing my last pregnancy, I honestly had extreme anxiety and fear about what was going on, I was so scared thinking something was wrong.
"At the hospital, it was confirmed that preterm labour was threatening. I didn't go into labour with my son – 2 failed induction attempts resulting in a C-section – so I didn't know what I was feeling was labour, although it certainly was on my mind.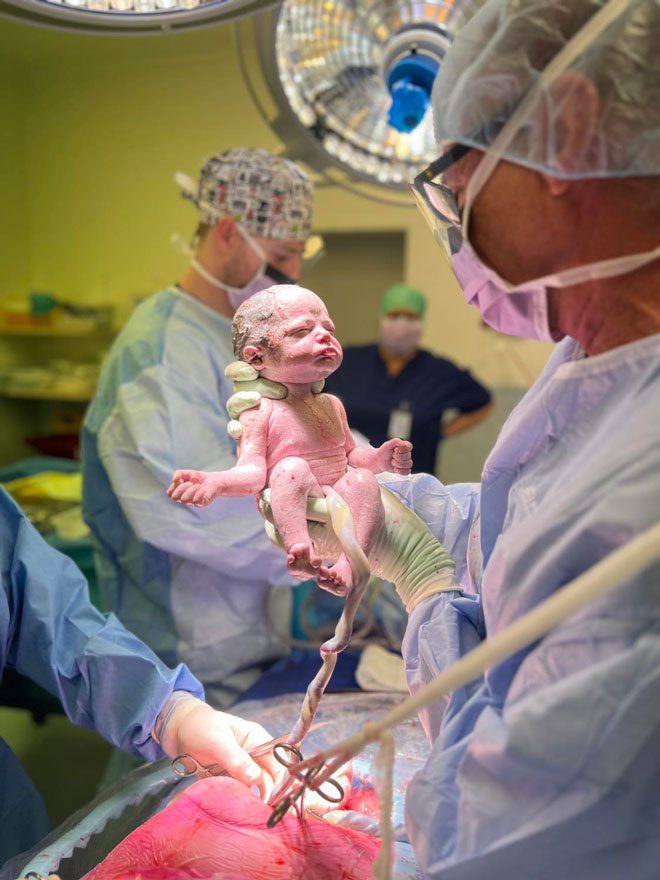 "The plan was to stop the labour, but I was told that the twins are running the show now! I sent Antonio home to be with our son, there was nothing he could do, and our son needed him more. I was given multiple drugs to try to stop or delay labour, I had a steroid injection to support the twins' lung development with the hope that if labour would pause, I could receive two doses to give them the best chance possible.
"The contractions were monitored overnight, and I received multiple doses of antibiotics, fluids, and drugs to stop labour. By 2-3am the contractions stopped!! I finally was able to get some sleep. At 6 am, I woke up to contractions starting up again, they were increasing in intensity and frequency. There was no stopping it, the twins were ready to come out. My doctor made the call to move forward with delivery at 8:51am – he said 'They're coming out in 60-90 minutes, tell Antonio to get back to the hospital.' The preparation was so rushed, the midwives were still preparing the paperwork as we were going into the theatre, it was such a rush to get everything sorted for this urgent delivery!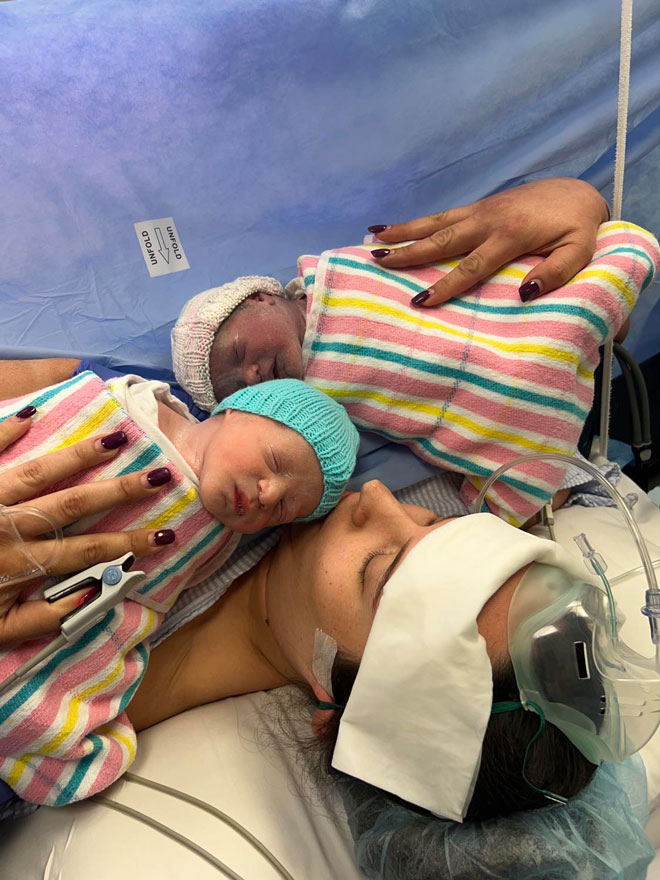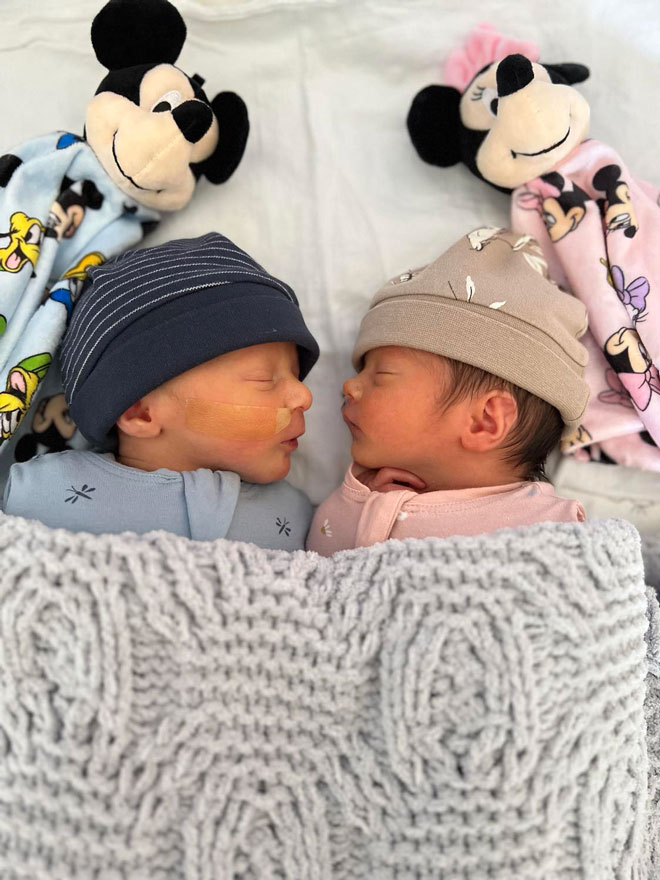 A very happy birthday
"On Wednesday 4th October – on my BIRTHDAY – we welcomed our beautiful twins into the world!
"The delivery was absolute bliss! I had a panic attack during delivery with Julian, but this time I was able to keep myself so calm and relaxed, it was such a pleasant experience bringing the twins into the world. The doctors, nurses, and midwives were absolutely fantastic and made every step so easy and loving.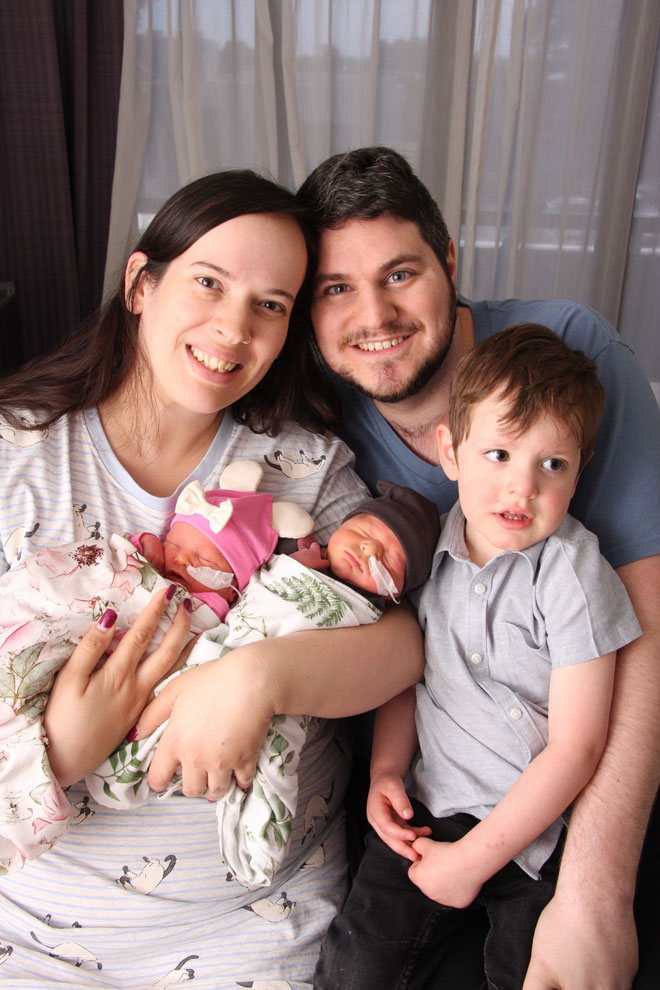 "We couldn't be happier to be a family of 5! We are so overjoyed with the newest additions to our family, and Julian has taken on the big brother role so naturally. He was brilliant with the twins, so calm and gentle, he loves them so much! Our family is complete!"
Congratulations Rebecca, who is now looking forward to a big year of celebrations next year, with her twins' 1st birthday and her 30th birthday on the same day!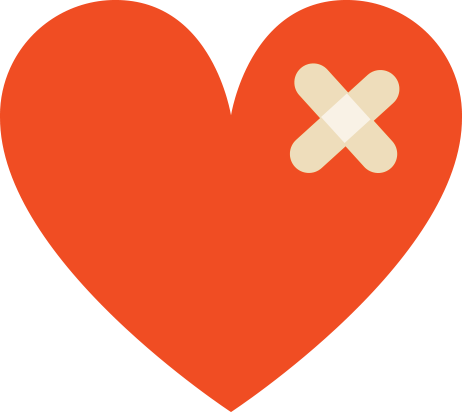 Support Services
If you have experienced infant loss please know there are plenty of support services available for you and your partner including …
SANDS Miscarriage, stillbirth & newborn death support – 1300 308 307
Pregnancy, Birth & Baby – 1800 882 436
Bears of Hope Miscarriage – 1300 114 673
PANDA – 1300 726 306
 More birth stories from our Grapeviner mums…
About to (or just had) a baby?
We know that the wait to meet your baby can be nerve-wracking, but we're here to remind you that you're not alone. Our private Pregnancy & Baby Groups are a great way to connect with other Aussie mums who are due or had their babies around the same time as you.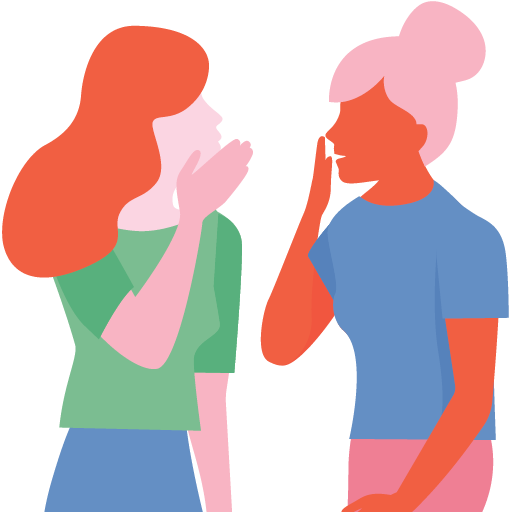 Got your own birth story you're itching to tell? We're always on the lookout for new stories to feature. Submit your birth story.