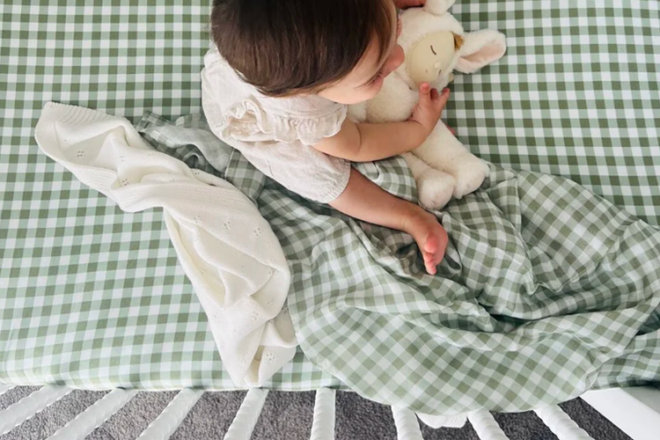 If you're navigating the world of parenthood, you understand the significance of having cozy and comfortable fitted cot sheets for your little one. The market offers a plethora of baby cot sheet options, making it a daunting task to pick the perfect one. To simplify your search, we've curated this product roundup showcasing some of the best cot sheets currently available.
We'll be highlighting the features, benefits, and unique qualities of each sheet, so you can make an informed decision when it comes to choosing the perfect cot sheet for your baby's needs.
So, let's dive in and explore the world of cot sheets!
What to look for when buying cot sheets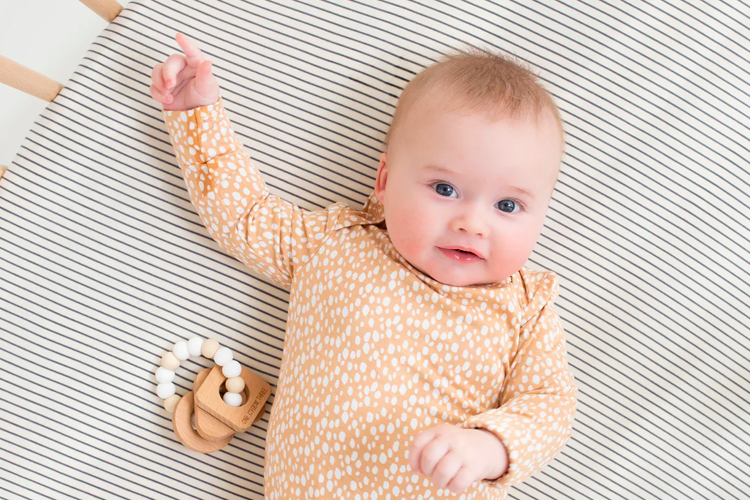 Before you decide what to buy, you need to know what you can buy and why. We've answered some basic questions to help you understand what's available, and what you might need.
Is it essential: Yes
How much will it cost: $15 to $200
How long will you use it: 1-3 years
Would you purchase before baby arrives: Yes
Ask yourself before hitting the shops
What is the exact size of your cot mattress?
Does the sheet have elastic edges for a snug and safe fit?
Is the material breathable and safe for the baby?
Do you want to use a mattress protector and a sheet or one that has a waterproof layer?
Can it be machine washable and tumble-dried?
Is it temperature-regulated to reduce the risk of overheating?
What is the return policy in case it doesn't fit?

Save yourself the hassle of nightly cot strip-downs by using a waterproof bed sheet or pad. Easy to swap out, no need to remake the entire cot!
---
OUR PICK OF THE CROP
18 Baby Cot Sheets Mums Recommend
With over 15 years of experience and a community of over 100,000 Australian mums, we're committed to helping you in finding the perfect sheet for your baby's cot.
Below, you'll find 18 of the most popular cot sheet brands recommended by the mums from our Grapeviner community, listed in no particular order.
Little Human Linens




With a genius waterproof lining that absorbs up to 100ml of liquid, Little Human Linen baby sheets are all-in-one mattress protectors and fitted sheets. They're breathable, simple to wash and compliant with the latest safe sleeping recommendations.
One customer left the review "The quality of the product is fantastic and the reason I keep coming back for more. They are so soft to the touch and so reassuring to know they are waterproof for any leaks that come inevitably from babies!
Type: Fitted waterproof sheet
Material: 100% Organic Cotton Upper
Size: 132 x 71 x 20cm
---
Mini & Me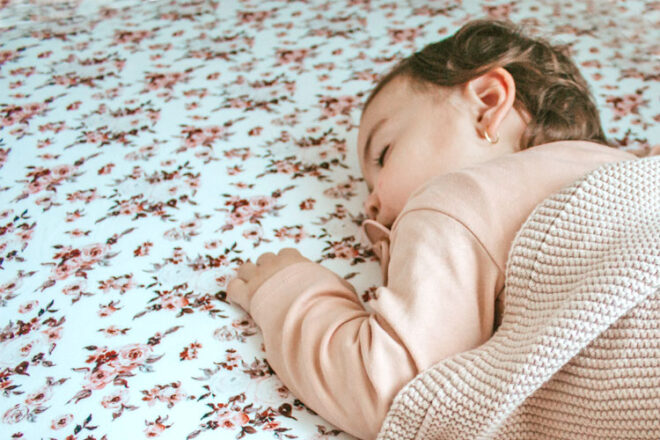 For an all-year-round staple, Mini and Me have the designs to tie in with your nursery. Made to fit standard cot sizes, these soft and breathable sheets are made from organic cotton and spandex, making them stretchy for all shapes and sizes.
Type: Fitted sheet
Material: 95% Organic Cotton & 5% Spandex
Size: 137 x 77 x 12cm
---
KYND Baby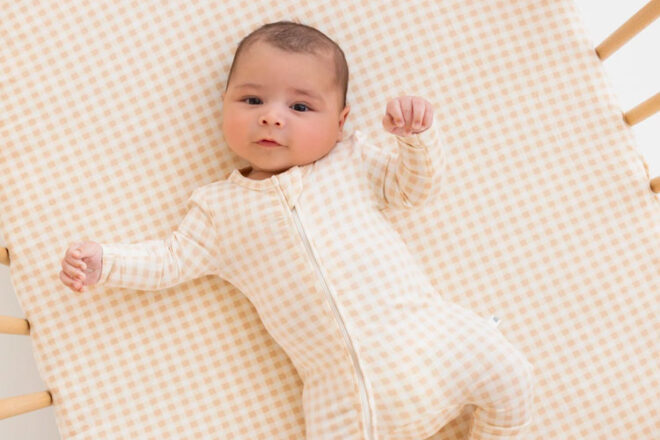 Buttery soft and oh so adorable, these sustainable sheets are made from natural EcoCosy Viscose fibres. The result is a lightweight, breathable, soft and cosy sheet that's gentle on baby's skin. With a full elastic hem it's suitable for all cot shapes and sizes.
"This cot sheet is so soft and comfortable. My LO loves it so much. She gets red cheeks with other cotton sheets and we have tried so many brands. This one works the best." said one customer online.
Type: Fitted sheet
Material: 96% EcoCosy® Viscose, 4% Elastane
Size: 130cm x 69cm x 10cm
---
Bambella Designs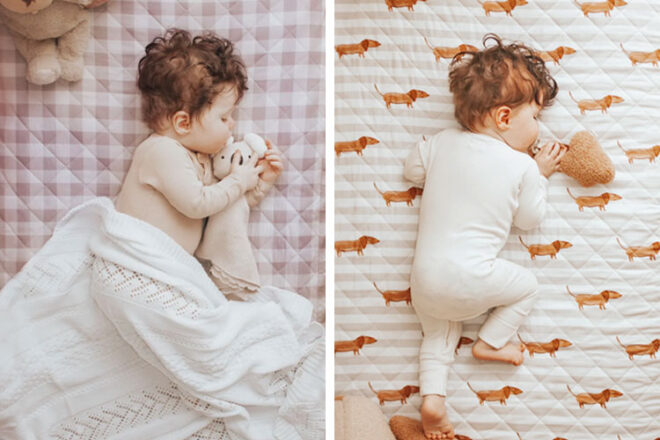 Fully elasticised for a tight fit, all of Bambella Designs' sheets adhere to Red Nose safe sleep guidelines. OEKO-TEX STANDARD 100 certified, they boast an inbuilt waterproof mattress protector and a luxe quilted top. we found these 2-in-1 sheets to be delicate in appearance, yet robust and durable.
One reviewer said, "The cot sheets are so cute but also very practical. Bub threw up and changing the sheet was so quick by having another one underneath. Amazing!"
Type: Waterproof fitted sheet
Material: 100% soft cotton upper
Size: 131cm x 70cm x 19cm
---
Kiin Baby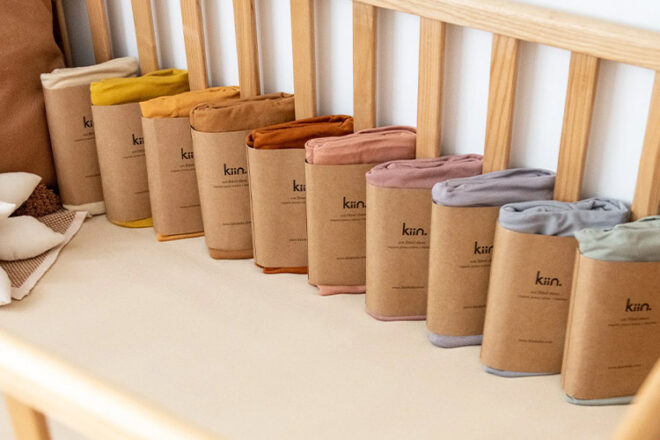 With a luxurious organic cotton and bamboo blend, you know these sheets will be perfectly soft against even the most delicate skin. With their bamboo fabric, these sheets are antibacterial, hypoallergenic, and super absorbent, ideal for any temperature and season.
One mum made the comment "So impressed with my cot and bassinet sheet. The fabric is so soft and beautiful. And the colours are just like the pictures – perfect!"
Type: Fitted sheet
Material: 70% bamboo, 30% organic jersey cotton
Size: 135 x 77 x 19cm
---
ergoPouch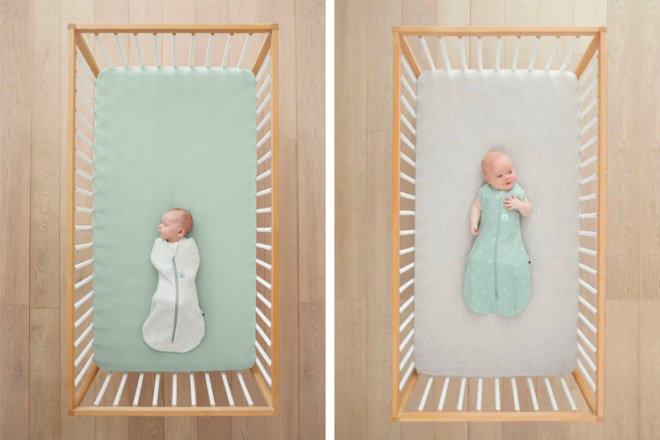 Available in bassinet, cot and single sizes, these super-stretchy sheets are made for tucking in tots big and small. They come in a choice of four trend-driven hues and use breathable GOTS certified organic cotton for gentle comfort against young skin.
"I love the quality of ergoPouch's products, and this bedding exceeded my expectations. The quality is beautiful and soft, my daughter has eczema so this sheet is perfect for her skin." said one happy customer.
Type: Fitted sheet
Material: 95% Organic Cotton, 5% Elastane
Size: 130cm x 70cm
---
Bubba Bump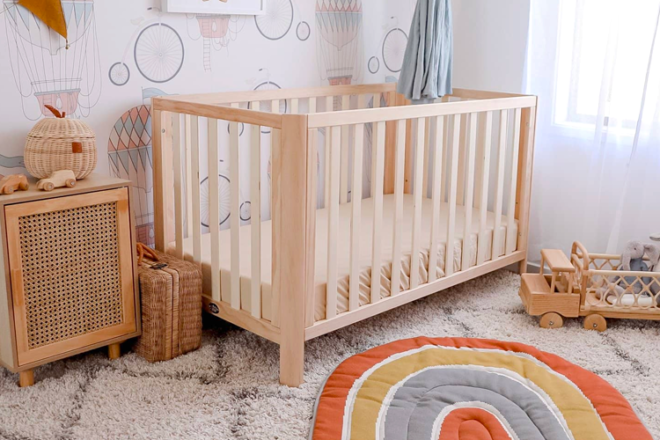 Wrap your little one in pure cuddliness with Bubba Bump's fitted cot sheets. It's like a cloud for your baby's cot -soft, breathable, and utterly adorable. Bonus: the matching storage bag adds a sprinkle of cuteness to the nursery. Perfect for gifting or treating your babe.
Type: Fitted sheet
Material: Organic jersey cotton
Size: 133 x 77 cm x 19 cm
---
All4Ella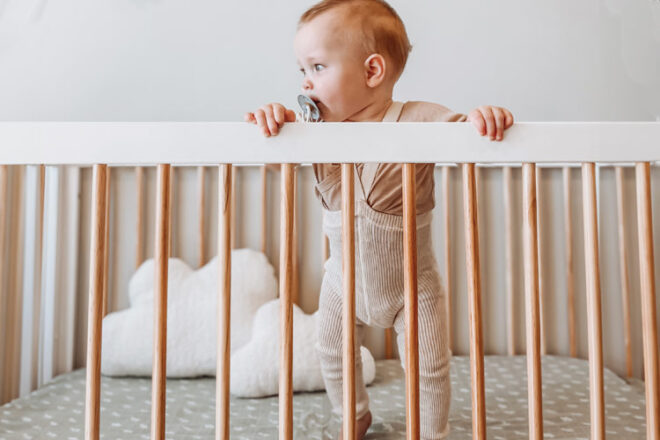 Cradle your baby in pure comfort with All4Ella's fitted cot sheets. Crafted from the softest organic jersey cotton, these sheets create the snuggliest place for your little one to lay their head. The stretchy fabric ensures a snug fit, and don't get us started on the adorable designs!
Type: Fitted sheet
Material:  Organic cotton jersey
Size: 132 x 77 x 12cm
---
Kip&Co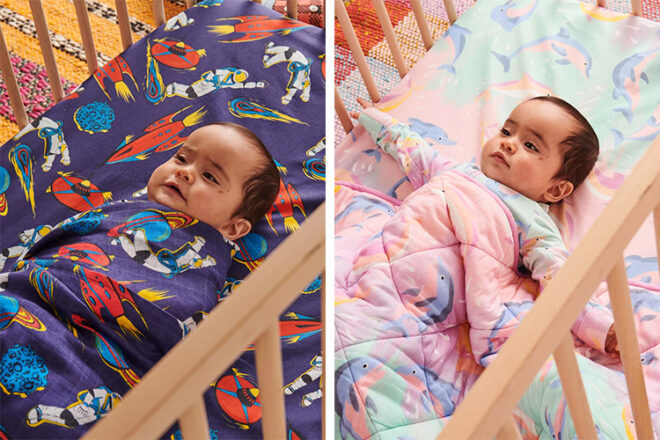 Bring a burst of joy to your nursery with the wildly colourful Kip&Co fitted cot sheets – guaranteed to make your baby's cot pop! Crafted from 100% GOTS-certified organic cotton, it's as kind to your bubba as it is to the planet. Sleep soundly, little one.
A reviewer wrote, "Omg just loooooooove all of the bright, gorgeous products, that bring so much joy and brighten up our nursery. Everybody is always commenting on where get our bedding. Thanks Kip&Co you do such an amazing job."
Type: Fitted sheet
Material: 100% organic cotton
Size: 137cm x 77cm x 19cm
---
Little Turtle Baby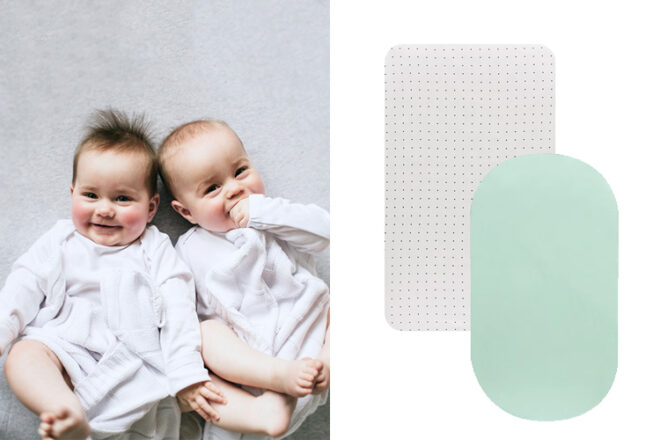 With a range that includes oval, circular and rectangular options, there's a sheet at Little Turtle Baby to suit almost any Australian bassinet or cot. Choose from crisp woven cotton or stretchy jersey in a range of prints and patterns.
One customer commented, "I am constantly recommending LTB to friends, especially to those with similar circle bassinet/oval cots like ours, as it's so hard to find sheets for those brands. Great service, great products."
Type: Fitted sheet
Material: Stretch jersey cotton
Sizes: Rectangle – 132cm x 77cm x 19cm
Oval – 125cm x 70cm x 25cm
---
Snuggly Jacks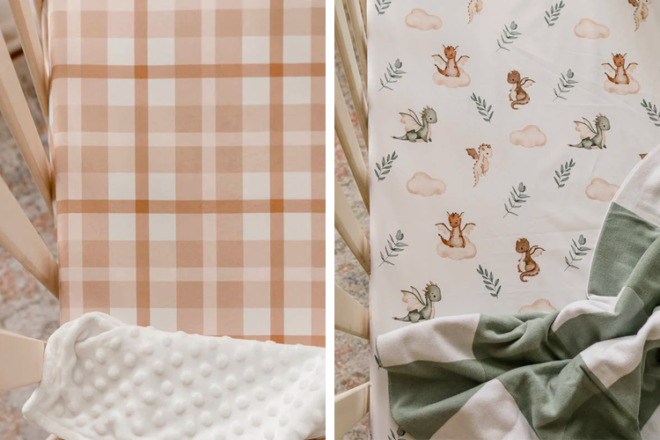 Snuggly Jacks are just that, snuggly and soft cot sheets made from 100% cotton for the perfect temperature overnight. With super stretchy elastic, these sheets fit even the larger Boori cot sizes snuggly and no need to worry about design fade with these sheets!
One customer was very happy with their purchase and posted the comment, "I love these sheets as they are so soft & such beautiful & unique patterns! There's no comparison between how these feel & cheaper options available from big retailers."
Type: Fitted sheet
Material: 100% cotton
Size: 140cm x 70cm
---
Burrow & Be

Let Burrow & Be's signature print settle little ones to sleep. Made from GOTS Certified Organic Cotton Sateen, these cosy sheets provide baby with a sleep space that's silky smooth and cosy – perfect for catching those all-important Z's.
Type: Fitted sheet
Material: 100% organic cotton sateen
Size: 129cm x 70cm x 20cm


---
Aster & Oak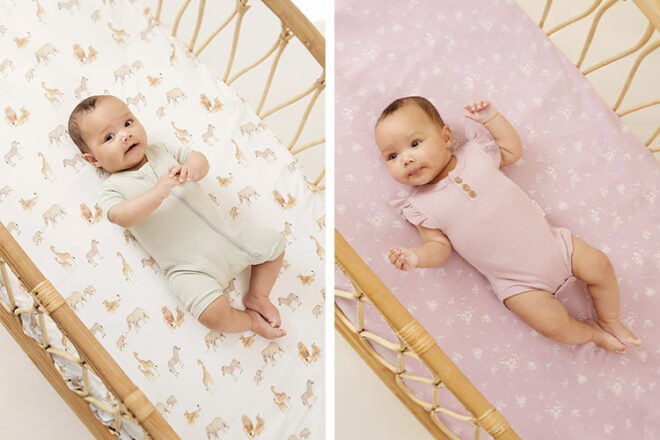 Designed to fit most standard cots and made from the softest natural organic cotton, these cot sheets are ideal for even the most sensitive of skin. Perfect for laying our little love down to sleep, these Australian-designed sheets are breathable and sustainably made.
Type: Fitted sheet
Material: 100% GOTS-certified organic cotton
Size: 135cm x 75cm x 19cm
---
Sleepy Silk

Drift into dreamland on 100% Mulberry silk sheets, where luxury meets the cot! Their patented adjustable elasticised design guarantees a snug fit on any cot size. Say goodbye to baby bald spots caused by friction and hello to hypoallergenic, hydrating sound sleep. It's beauty sleep, baby style!
"The quality and fit of this sheet is great. It's been wonderful for my son's hair. He wakes up with no knots or rough patches. Highly recommend this product and will be purchasing again." Said one happy customer.
Type: Fitted sheet
Material: 100%  25 momme Mulberry silk
Size: 132cm x 71cm x 20cm
---

Know a sheet for cots we could add to our list? Contact us and let us know, we've been curating Australia's best baby products into helpful lists for over 15 years and we're always happy to support new brands and businesses.
Read next …
About to have a baby?
You're nervous, excited, worried, terrified and counting down the hours, minutes and seconds till you meet the love of your life. You're not alone, in fact, thousands of other Aussie mums due at the same time as you are already supporting each other in our private Pregnancy Groups – and you could too.
Click here and find your Mum's Grapevine Facebook Group today!
We want you to know
At Mum's Grapevine, we're a team of passionate mums (with 19 kids!) and over 15 years of experience researching and writing about all things baby and parenting. Our reviews of recommended products, like the ones in this post, may include paid inclusions, but we promise to only feature products that we truly believe in and have used or seen ourselves. We want to ensure that you, our Grapeviner mums have access to the latest and greatest products in the parenting world, and we're committed to maintaining our high standards of quality and honesty. See our Disclosure Policy.
Thank you for trusting us to be your go-to source for all things baby-related.
xoxo