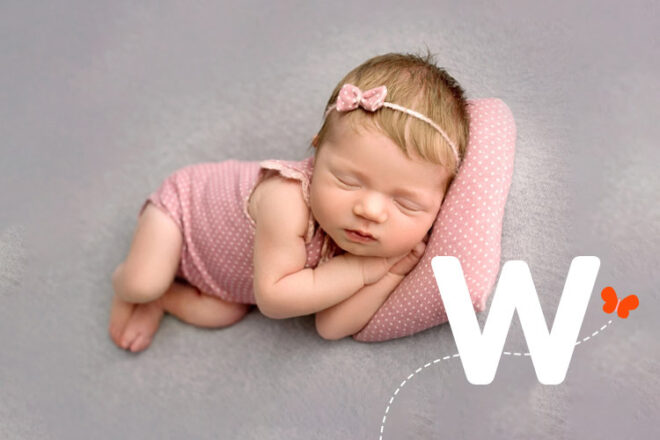 If good things come to those who wait, then the letter W brings the goods. If you've been travelling through the alphabet in search of the perfect girl name, stop 23 might just be the ticket.
You might be drawn to the letter W because it's more unique than the usual suspects like E or P. Perhaps there's a Wilma or Winnifred in the family you'd like to pay homage to. Or maybe you already have a little William and want to continue the trend with siblings. Whatever your reason, we're confident you can find the perfect name. With options like Waverlee, Wania and Wisteria there's sure to be a moniker you haven't seen before on any of the most popular baby names lists.
We asked our huge online community of half a million mums who shared the baby names that they felt were wonderful.
W girl names with a theme
Not sure where to start? You can find great inspiration from themes, and the letter W has some unique options. Uber cool, some have the celebrity stamp of approval and some are fitting for both boys and girls.
Nature-inspired W names for girls
We're going ga-ga for these nature names starting with W. From animal inspired or botanically minded, check out these beauties:
Willow
Wren
Winter/Wynter
Wilde
Wisteria
Wave
West
Wander
Unique W names for girls
Give your daughter a mysterious unique names that's and oh-so different. Proud to explain their name? You're in luck!
Weayaya
Walcott
Wyanet
Wistarr
Walterine
Wilonah
Iconic names for girls starting with W
From actresses to fashionistas, why not name your daughter after one of these iconic women?
Whitney: after Whitney Houston
Wynona: after Wynona Rider
Wintour: after Anna Wintour
Winslet: after Kate Winslet
Winfrey: after Oprah Winfrey
W girl names with feel-good meanings
A name with a heartfelt meaning gives your daughter a foundation for growing into her best self. Here are some of our favourite W names that mean something special:
Winslow: 'friends hill'
Winola: 'charming friend'
Wyanet: 'beautiful'
Wasimah: 'pretty'
Walda: 'strong protection'
Celebrity daughters starting with W
View this post on Instagram
View this post on Instagram
---

Our favourite W girl name is: Wren
---
More girl names starting with W
Wachiwi
Wafa
Wafiyya
Wafiyyah
Wagiha
Wagihah
Waheeda
Wahidah
Wahija
Wahoo
Waja
Wajihah
Wakana
Wakanda
Wakenda
Walada
Walanika
Walburg
Walburga
Walcot
Walcott
Walda
Walentya
Walida
Walker
Wallda
Wallidah
Wallie
Walliker
Wallis
Walliss
Wally
Wallys
Walonika
Waltraud
Wanaao
Wanda
Wandis
Waneta
Wanetta
Wanette
Wangari
Wania
Wanika
Wanisha
Wanita
Wanja
Wanya
Wapeka
Wapin
Waseme
Washi
Wasula
Wateka
Waverley
Waverly
Wawetseka
Weatamoo
Weayaya
Wednesday
Weeny
Weetamoe
Weetamoo
Weetamore
Welda
Wellda
Welonika
Wenda
Wenday
Wendee
Wendeline
Wendi
Wendie
Wendy
Wendye
Wenona
Wenonah
Weslee
Wetemoo
Whitelea
Whitlea
Whitlee
Whitley
Whitly
Whitnee
Whitney
Whitnie
Whitny
Whittley
Whittney
Whoopi
Widjan
Wihelma
Wihtburth
Wilda
Wiletta
Wilette
Wilfreda
Wilhelmina
Wilhelmine
Wilhemine
Will
Willamina
Willaminna
Willette
Willida
Willie
Willimina
Willo
Willow
Willy
Wilma
Wilmette
Wilmina
Wilo
Wiloh
Wilona
Wilonah
Win
Winda
Windy
Winema
Winn
Winny
Winola
Winona
Winonah
Winsome
Winters
Wisdom
Wislawa
Witlee
Wrenn
Wyanet
Wyetta
Wyla
Wylda
Wylma
Wylona
Wyn
Wynflæd
Wynn
Wynne
Wynnie
Wynnona
Wynonah
Wyome
Wendell
Williamina
Waneeta
Wyomia
Wealthy
Weslie
Winifrede
Winniefred
Welcome
Willabelle
Winnifred
Winnefred
Wahnita
Wladyslawa
Waldena
Willodean
Warna
Wardine
Winefred
Wendey
Wynna
Walterine
Willma
Wina
Wister
Wanna
Wilna
Waltina
Williemae
Wynonna
Wanona
Willeen
Wynell
Willena
Wonda
Willene
Willia
Wava
Wendalyn
Widad
Wendolyn
Wileen
Whittany
Winslet
Wyette
Wicahpi
Willoughby
Whittnie
Wandy
Wende
Wynette
Wan
Willetta
Walkiria
Wilmot
Wai
Whitni
Wakely
Wiktoria
Warda
Wilden
Wonder
Wajiha
Willemina
Wilhemina
Whisper
Wendall
Witney
Winta
Winnona
Wafaa
Wrylie
Wahiba
Wahnda
Wahnna
Walberga
Waldette
Waldina
Wallburga
Walless
Wallker
Walpurgis
Walteena
Waltrina
Wana'ao
Wandah
Wandie
Wannda
Wardia
Washta
Weeko
Wehinahpay
Wendaline
Wendelle
Wendelline
Weronikia
Wesleya
Weslia
Whiteney
Whitnea
Whitneigh
Whittaney
Whitteny
Wibeke
WicahpiIsnala
WicahpiWakan
Wiebke
Wiweca
Wienne
Wihakayda
Wiyakawastewin
Wilfridda
Wilfrieda
Wilhamina
Wilhelmi
Willabella
Willamine
Willda
Williebelle
Willmina
Willmine
Willybella
Wilmotina
Wilone
Winefride
Winefried
Winefriede
Winfreda
Winfrieda
Winiefrida
Winifreda
Winifrid
Winifride
Winifryd
Winifryde
Winnafred
Winne
Winney
Winnifrid
Winoena
Winonna
Winstella
Winstelle
Wintar
Wioleta
Wioletta
Wistaria
Wistarr
Witashnah
Wohnda
Wonnda
Wyanetta
Wynafred
Wynifred
Wynnifred
Wynsome
Wynstella
Wynstelle
Wyomie
Wyonet
Wyonetta
Wysandra
Wysandria
Wytske
Wilmott
Wistar
Willie Mae
Wicket
Wakka
Waan
Wila
Wrenley

Join the conversation
Looking for a girl name that starts with W and still haven't found one on our list? Head over to our social page, and take a look at the original post, there are more than 4000 names for girls that start with W in the comments
We've got the scoop on the best baby names for boys or girls. Explore our extensive baby name collections for popular names, unique names, names from around the globe, and top names for boys or girl names.
Read next …
Looking for more baby name inspiration? Make your way through our alphabet of baby names:
Lost in the baby name jungle?
Hop on over to the Mum's Grapevine Due Date Groups and hang with other mums-to-be playing the same name game. Swap ideas, reveal your top picks, and let's make this naming adventure fun and joyful. Ready for a chat? Join us!