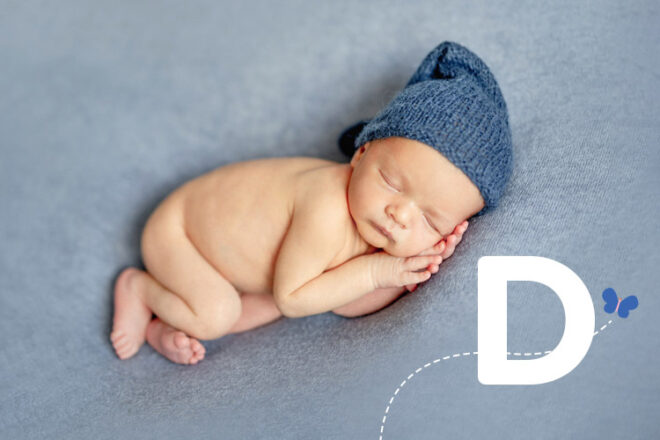 We're on the quest for the perfect boy name and it may be as easy as A, B, C…..D! The 4th letter of the alphabet might just be the dark horse to win the name race. We've scouted a big lineup of unique baby names, all starting with D.
Perhaps you're interested in the letter D because it's part of a family tradition you're continuing the trend with older siblings, or because it's not as common as some of the others. Whatever your reason we're confident you can find the perfect name. With options like Delaney, Dixon and Delton there's sure to be a moniker you haven't seen before on any of the most popular baby names lists.
We asked our huge online community of half a million mums to share the baby names that they felt were totally darling.
D boy names with a theme
You can find great inspiration from themes, and the letter D brings the goods. Some are nature-based without being obvious, others have a celebrity stamp of approval and some are fitting for both boys and girls.
Unique D names for boys
Give your son a head-turning name that's and oh-so different. Happy to spend the time explaining the inspiration behind their unique moniker? You're in luck with D!
Daelan
Debney
Draylen
Duy
Dellis
Dalibor
Dobbs
Derry
Dolph
D boy names influenced by the stage and screen
Gaze no further than to the stars for D names that have the x-factor.
Dexter: after the TV show
Dwayne: after Dwayne, 'The Rock' Johnson
Dax: after Dax Shepard
Denzel: after Denzel Washington
Dornan: after actor Jamie Dornan
Damon: after Matt Damon
Densten: after Adam Densten
Dunst: after Kirsten Dunst
Bold D names for boys
Not for the faint-hearted, these names will have your little fella standing out amongst the crowd. Be a rebel, not a follower with these out-there names:
Dare
Dino
Dutch
Dent
Darte
Deck
Dodge
Celebrity sons starting with D
Reese Witherspoon's son, Deacon
Elizabeth Hurley's son, Damian
Christopher Meloni's son, Dante
Jordin Sparks' son, Dana
Ashton Kutcher's son, Dimitri
Rachael Finch's son, Dominic
Madonna's son, David
Ashley Iaconneti's son, Dawson
Frank Zappa's son, Dweezil
Mick Jagger's son, Deveraux
Mario Lopez's son, Dominic
Jennifer Hudson's son, David
View this post on Instagram
View this post on Instagram
View this post on Instagram
More D names for boys
D'Arcy
D'Artagnan
D'Marco
D'Shawn
Daadya
Dabi
Dabnee
Dabney
Dabnie
Dabny
Dacian
Dack
Dacso
Daeg
Daegan
Daegon
Daelan
Daelen
Daelin
Daelon
Daelyn
Daelyne
Daemien
Daen
Daeshim
Daeton
Daevid
Daevin
Daevyd
Dafydd
Dag
Dagan
Dagbert
Dagen
Dageon
Dagget
Dagin
Dagmar
Dagney
Dagny
Dagobert
Dagon
Dagonet
Dagyn
Dahrll
Dai
Dai-In
Daido
Daied
Dailan
Dailen
Dailey
Daily
Daimen
Dain
Daina
Daine
Dainel
Daire
Dairus
Daiton
Daived
Daivid
Daivyd
Dakairi
Dakar
Dakara
Dakarai
Dakaraia
Dakari
Dakarri
Dakin
Dakkota
Dakoata
Dakodah
Dakodas
Dakota
Dakottah
Dal
Dalain
Dalan
Dalaton
Dalbert
Dalbiret
Dalburt
Dalbyrt
Dale
Daley
Dalibor
Dalieass
Dalit
Dall
Dallan
Dallas
Dallen
Dalles
Dallin
Dallon
Dalltan
Dallten
Dalltin
Dallton
Dalltyn
Dallus
Dallys
Dalt
Daltan
Dalten
Daltin
Dalton
Daltyn
Daly
Dalyn
Dalys
Damaiaon
Damaien
Daman
Damarco
Damaskenos
Damaskinos
Damasus
Damaun
Damayon
Dame
Damean
Damek
Damen
Damian
Damiane
Damiann
Damiano
Damianos
Damick
Damicke
Damie
Damien
Damienne
Damieon
Damiion
Damik
Damine
Damionne
Damiyan
Damiyon
Damján
Dammion
Damon
Damyen
Damyin
Damyk
Damyon
Damyyn
Dan
Dan'l
Dana
Danah
Danal
Danatay
Danaté
Dandrae
Dandras
Dandray
Dandre
Danek
Danel
Danick
Danieal
Danieko
Daniel
Danielius
Daniell
Danielo
Daniels
Danielson
Danik
Danika
Danil
Danila
Danile
Danilka
Danilo
Daniyal
Danna
Dannal
Danni
Dannial
Dannick
Danniele
Danniell
Danno
Danny
Dant
Dantae
Dantay
Dante
Dantee
Danton
Danukas
Danyck
Danyl
Danylo
Danzel
Danzell
Dar
Daray
Darbey
Darby
Darce
Darcel
Darcey
Darci
Darcie
Darcio
Darcy
Dard
Dare
Dareh
Daren
Daria
Darian
Darien
Darieus
Daril
Darin
Dario
Darioush
Darius
Dariuse
Dariush
Dariuss
Dariusz
Darl
Darleen
Darlen
Darlin
Darly
Darlynn
Darod
Daroyl
Darra
Darral
Darrall
Darran
Darrel
Darrell
Darren
Darreus
Darrias
Darrience
Darril
Darrill
Darrilo
Darrin
Darrion
Darrios
Darriuss
Darrol
Darrus
Darryl
Darryle
Darryll
Darryn
Darryus
Darsey
Darsy
Darte
Dartmouth
Darun
Darus
Darwen
Darwin
Darwyn
Darwynn
Daryell
Daryl
Daryll
Darylle
Daryo
Daryos
Daryus
Dasco
Dashaun
Dashawn
Dashiell
Dathan
Dathen
Dattatreya
Dauid
Dauntay
Dauntaye
Daunté
Dauntrae
Dav
Davan
Dave
Daved
Daveed
Davey
Davi
David
Davida
Davidd
Davidde
Davide
Davidek
Davido
Davidson
Davie
Davin
Davina
Davis
Davison
Davita
Davon
Davood
Davoud
Davy
Davyd
Davydas
Davydd
Davyde
Davyn
Davyson
Dawan
Dawed
Dawes
Dawid
Dawin
Dawit
Dawley
Dawsan
Dawsen
Dawsin
Dawson
Dawsyn
Dawud
Dawyt
Dax
Daxter
Day
Dayle
Daymian
Daymond
Dayn
Dayna
Dayson
Daythan
Daython
Dayton
Daytonn
Dayvid
Dayvon
Deacon
Deakin
Dean
Deandrae
Deandre
Deandres
Deandrey
Deane
Dearron
Deavan
Deaven
Debey
Decca
Deck
Decka
Declan
Decretas
Deeandre
Deegan
Deen
Deene
Deepak
Deiandre
Deicon
Deion
Deiondray
Deiondre
Deione
Deionta
Deionte
Deiphobus
Deiter
Deitrich
Deitrick
Deivon
Dekal
Deke
Dekel
Dekil
Dekka
Dekot
Dekyl
Del
Delane
Delaney
Delanio
Delano
Delayno
Delbert
Dele
Dell
Dellano
Dellis
Delmar
Delmer
Delmonte
Delmore
Delton
Dema
Demarcco
Demarcio
Demarco
Demarkco
Demarko
Dembe
Demeter
Demetre
Demetri
Demetrios
Demetris
Demetrius
Demitiri
Demmy
Demont
Demonta
Demontae
Demonte
Demontre
Dempsey
Dempsie
Dempsy
Demyan
Den
Denby
Dene
Denham
Denholm
Denholme
Deniel
Denim
Denis
Denit
Dennet
Dennett
Dennis
Dennison
Denniston
Dennit
Denny
Dennys
Dennzel
Dent
Denten
Dentin
Denton
Dentown
Denvor
Denzal
Denzall
Denzell
Denzil
Deo
Derbe
Derbee
Derbi
Derbie
Derby
Derek
Derex
Derick
Derik
Dermot
Derrell
Derrick
Derrik
Derrike
Derrious
Derris
Derrius
Derry
Derryl
Derward
Derwin
Derwood
Derwynn
Derych
Deryl
Des
Deshawn
Deshi
Deshon
Desi
Desiderio
Desideryo
Desmond
Digbe
Digbee
Digbey
Digbie
Digby
Dikembe
Dikerson
Diksan
Dil
Dilip
Dill
Dillan
Dillard
Dillie
Dillon
Dilly
Dillyn
Dilon
Dilyn
Dilynn
Dimitri
Dimitry
Dimity
Dimond
Dimonte
Dimos
Dinesh
Dino
Diokles
Diomedes
Dion
Dionesios
Dionicio
Dionisio
Dionisios
Dionusios
Dionysios
Dionysius
Dionysus
Dior
Dipak
Dirck
Dirk
Dirward
Disney
Divon
Dix
Dixon
Djau
Dkotha
Dmitri
Doak
Doan
Doane
Dob
Dobbs
Dobri
Dobrie
Dobry
Doc
Dogoberto
Doial
Doiale
Doiall
Doil
Doile
Dokata
Dokcota
Dokotta
Dolabella
Dolf
Dolfe
Dolff
Dolffe
Dolfi
Dolph
Dolphe
Dolphus
Dom
Domenick
Domenico
Domingo
Dominic
Dominica
Dominick
Dominik
Dominique
Dominy
Domitius
Domitus
Don
Donahue
Donal
Donalbain
Donald
Donaldson
Donatello
Donathan
Donathon
Donati
Donatien
Donato
Donatus
Donatyen
Doncan
Dondre
Dondrea
Doneal
Dong
Donghal
Donley
Donn
Donnally
Donne
Donnel
Donnell
Donnelly
Donner
Donnie
Donny
Donois
Donovan
Donovon
Donus
Doogan
Doogen
Doolea
Doolee
Dooleigh
Dooley
Dooli
Doolie
Dooly
Doran
Dore
Dorian
Dorie
Dorien
Dorin
Dorjan
Dornin
Doron
Dorran
Dorren
Dorrian
Dorrien
Dorryn
Dorset
Dorsey
Doryn
Doryo
Doud
Doug
Dougal
Dougan
Dougen
Douggan
Douggen
Dougie
Douglas
Douglass
Dougles
Dov
Dover
Dovi
Dovid
Dovidas
Dowid
Doyal
Doyel
Doyele
Doyell
Doyelle
Doyl
Doyle
Draco
Draeper
Drago
Draiper
Drake
Draper
Dray
Draylan
Draylen
Draylin
Drayper
Draypr
Drew
Drewe
Droe
Dromio
Druce
Drummond
Drummund
Drumond
Drumund
Drystan
Duain
Duaine
Duana
Duane
Duante
Dud
Duddy
Dudlea
Dudlee
Dudleigh
Dudley
Dudli
Dudlie
Dudly
Duer
Duff
Duffey
Duffie
Duffy
Dug
Dugaid
Dugald
Dugan
Dugen
Duggan
Duglass
Duk
Duke
Dukey
Dukie
Duky
Dulph
Dulphe
Dumaine
Dume
Dun
Dunc
Duncan
Dune
Dunkan
Dunlea
Dunlee
Dunleigh
Dunley
Dunli
Dunlie
Dunly
Dunn
Dunne
Dunstan
Dunsten
Dunstin
Dunston
Dunstyn
Duran
Durand
Durandt
Durango
Duranjaya
Durant
Durante
Duras
Durdanius
Durjaya
Durwald
Durward
Durwin
Durwood
Dusan
Duscha
Dusen
Dushawn
Dusin
Dustain
Dustan
Dustin
Dustion
Dustynn
Dusyn
Duvie
Duwayne
Duy
Dwain
Dwaine
Dwalin
Dwane
Dwayne
Dwhite
Dwight
Dwite
Dwyer
Dwyte
Dyami
Dylan
Dyllan
Dyllon
Dylon
Dyn
Dyne
Dyonisius
Dyonisus
Dyre
Dyrward
Dysen
Dyson
Dysonn

Join the conversation
Looking for a boy name that starts with D and still haven't found one on our list? Head over to our social page, and take a look at the original post, there are thousands of names for boys that start with D in the comments.
We've got the scoop on the best baby names for boys or girls. Explore our extensive baby name collections for popular names, unique names, names from around the globe, and top names for boys or girl names.
Read next …
Navigating the baby name maze?
Slide into the Mum's Grapevine Due Date Groups and connect with other mums-to-be facing the same name-game puzzles. Share your journey, spill the beans on your faves, swap ideas and share the quest for the perfect baby name. Come on in everyone's welcome – and let's talk baby names!