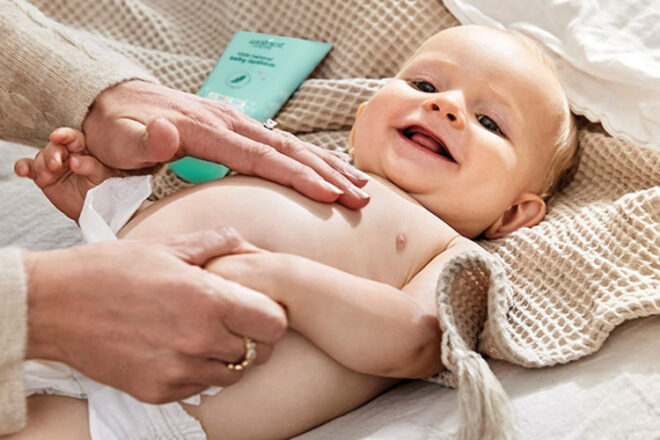 Prepare to transform the way you care for your little one's delicate skin when you win a Wotnot Naturals Deluxe Newborn Baby Gift Set, valued at $108.95.
Co-created with eco-minded Australian parents, Wotnot Naturals offers a range of eco-friendly sun and skincare products free from harmful chemicals, nasty toxins, synthetic fragrances, and cheap product fillers. Instead, they feature ultra-gentle certified organic and natural ingredients, perfect for nourishing and caring for our babies delicate baby skin.
The Deluxe Newborn Baby Gift Set is a beautifully curated eco-friendly collection of everything new mums need to give their babies the best start in life. The set includes Moltex eco-disposable nappies and essential newborn skincare items from the Wotnot natural and organic range – a thoughtful and practical gift new mums adore.
Choosing Wotnot Naturals is an eco-conscious choice for babies and a greener choice for the planet.
Available online from Wotnot Naturals ($108.95).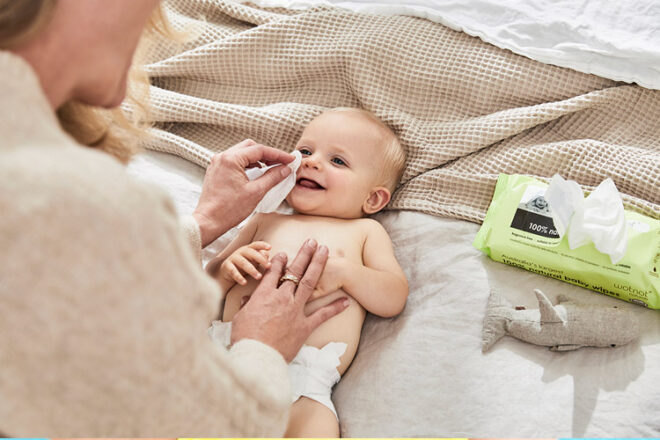 What's included in this Deluxe Newborn Gift Set
Moltex Newborn Nappies (22 pack)
Wotnot Biodegradable Wipes (70 pack)
Wotnot Biodegradable Wipes in hard travel case (20 pack)
Wotnot Baby Wash and Bubble Bath (250ml)
Wotnot baby shampoo (250ml)
Wotnot baby lotion (135ml)
Wotnot 100% natural nappy rash cream (90ml)
Wotnot nappy bags (50 pack)
Gift Bag
Enter our competition and embrace the goodness of nature for your little one!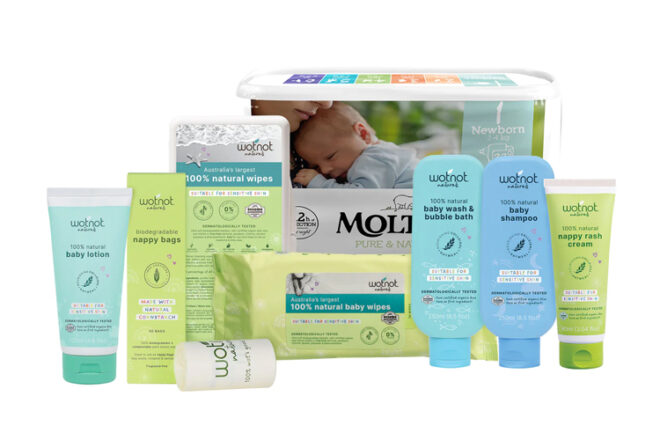 This competition is closed.
Let's give a round of applause to J. Connell (QLD), M. Bannerman (VIC) and A. Sansom (NSW). You're all winners!
Three (3) lucky Mum's Grapevine subscribers will each win a Wotnot Naturals Deluxe Newborn Kit valued at $108.95 each.
Entry is open to all Australian Mum's Grapevine newsletter subscribers.
Competition ends November 17, 2023.
HOW TO ENTER
Step One: Enter your details in the entry form below.
Step Two: Visit the Wotnot website and tell us what the Wotnot Natural Wipes sheet is made from?
Bonus: Click 'Share' below and get your friends to enter for bonus entries.
Good luck! xo
---
TERMS AND CONDITIONS
Competition name: Weekly Win-a-thon – Wotnot Naturals Deluxe Newborn Gift Set Giveaway.
The Promoter Mum's Grapevine Pty Ltd ABN 90 134 843 726.
Entry is open to Mum's Grapevine newsletter subscribers who are Australian residents 18 years of age and over. Employees and their immediate families of Mum's Grapevine are not eligible to enter.
Entrants must be current Mum's Grapevine newsletter subscribers.
Entry to the competition commences on October 25, 2023 and closes at 11:59 pm AEDT on November 17, 2023.
Judging will take place at 10:00 am on November 20, 2023 at Brighton VIC.
Winners will be notified by email and published on this page.
If the winner does not respond within 30 days of notification a second draw will take place and another winner selected.
THE PRIZE
There will be THREE (3) winners.
Each winner will receive 1 x Wotnot Naturals Deluxe Newborn Kit (valued at $108.95).
Total prize value $326.85.
HOW TO ENTER
Entrants must complete all requirements within the entry box above to be eligible.
Instructions on 'How to Enter' form part of these Conditions of entry.
No responsibility is accepted for late or incorrect entries.
The prize must be taken as stated and no compensation will be payable if a winner is unable to use the prize as stated. The prize is not transferable, cannot be en-cashed nor can it be redeemed in any other form.
The Promoter shall not be liable for any loss or damage whatsoever which is suffered (including, but not limited to, indirect or consequential loss) or for personal injury suffered or sustained as a result of accepting the prize.
Entry in this Mum's Grapevine competition implies consent of your details (name, suburb and state) being published on the Mum's Grapevine website and/or newsletter and/or social media pages. Your email and postal address details will NOT be made public.
Mum's Grapevine will not supply your details to Wotnot Naturals unless you are one of the winners.
Mum's Grapevine will never sell or disclose your personal information to ANY third party without your consent.