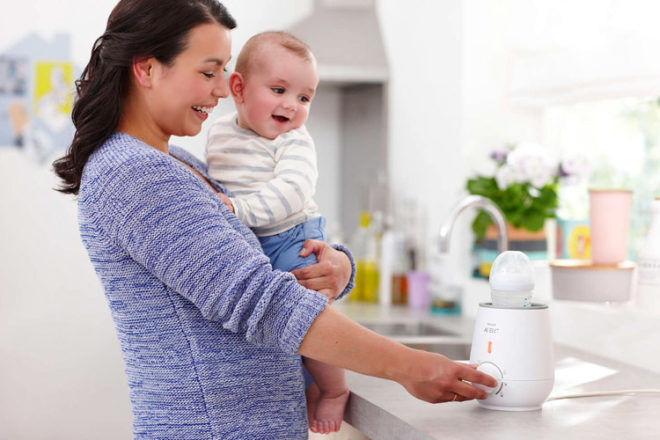 As a new parent, you're probably feeling a bit overwhelmed by the sheer number of baby products on the market. One item that's sure to make your life a lot easier is a bottle warmer.
These handy devices take the guesswork out of heating up your baby's milk or formula, ensuring it's always at the perfect temperature. But with so many options to choose from, how do you know which one is right for you?
This comprehensive guide will walk you through the key factors to consider when making your decision.
Types of Bottle Warmers
There are three main types of bottle warmers to consider: electric, portable, and car bottle warmers.
Electric bottle warmers are the most common and are designed for home use. They plug into an outlet and typically heat up bottles quickly and evenly.
Portable bottle warmers, on the other hand, are battery-operated and are perfect for on-the-go feedings. They're compact and lightweight, making them ideal for travel or outings.
Car bottle warmers are designed to plug into your car's cigarette lighter, making them a convenient option for long road trips.
OUR PICK OF THE CROP
8 Baby Bottle Warmers for Easy Feeds
With so many baby bottle warmers on the market in Australia, it's hard to know where to start, so we asked the HUGE Mum's Grapevine Facebook community which brands they love the most. In no particular order, these are the bottle warmers they tried, tested and recommended.
Omababy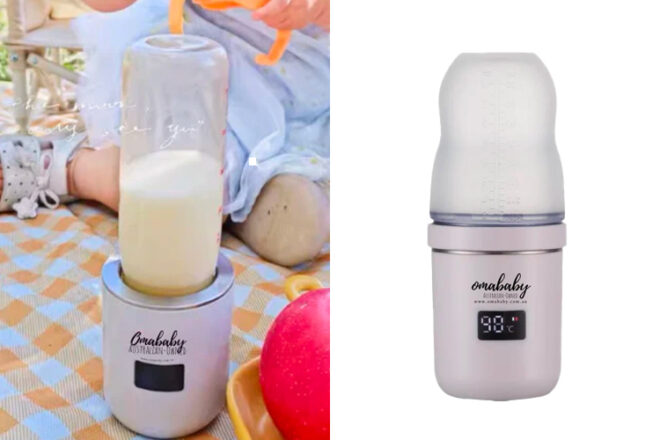 Meet the Omababy Portable Bottle Warmer, your on-the-go milk magician! Powered by USB rechargeable magic, it transforms chilly milk into warm cuddles in a jiffy. Compact, stylish, and a lifesaver for busy moms, it delivers consistently warm bottles anytime, anywhere, without any cold surprises.
One happy customer mentioned, "It takes a little longer to warm through the milk than expected but does a great job gently and evenly heating the breast milk to the perfect temperature."
Style: USB rechargeable
Temperature settings: 3
Bottle compatibility: Up to 24 brands with adaptors
---
Chicco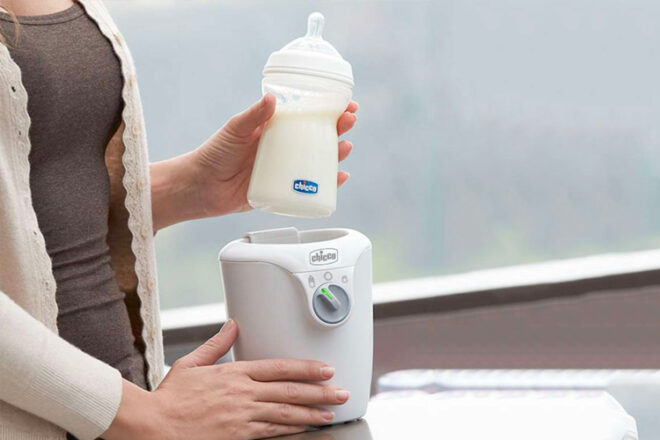 Simplicity shines through with this gadget's two convenient program settings. The included basket accommodates both small bottles and jars of baby food, ensuring versatility. The alert beep serves as a timely reminder when your little one's bottle is perfectly warmed.
Style: Electric
Temperature settings: 1
Bottle compatibility: Chicco bottles
---
Dr Brown's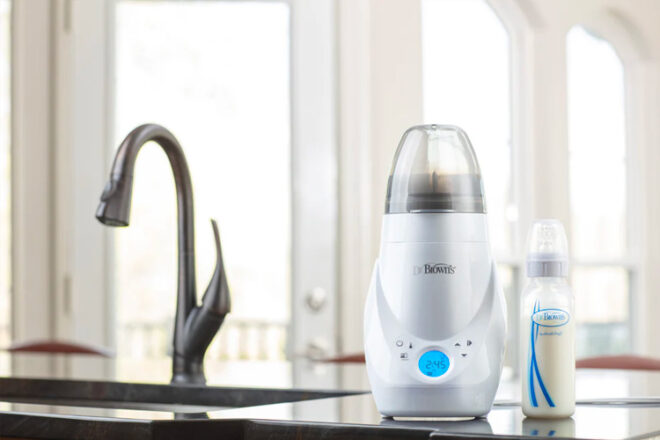 With an auto shut-off switch, Dr Browns Deluxe Warmer and Steriliser is able to warm baby food and bottles to the perfect temperature as well as sterilise baby gear to remove 99.9% of household germs. We love the pre-programmed warming settings and that it fits most baby bottle brands.
"This product has saved me so much time with heating the bottle up. Never had this with my firstborn but this has worked perfectly for my newborn. So easy to clean and the perfect size to store away once you are done." said one customer.
Style: Electric
Temperature settings: Digital
Bottle compatibility: Most bottle brands
---
NUK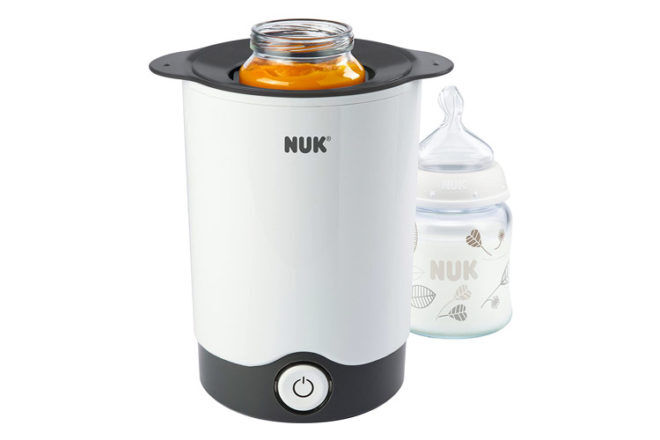 Thanks to an overheat protection feature, even the cutest distraction is no problem with the bottle warmer from Nuk. Not only does it automatically turn itself off as soon as bubs bottle or food has reached the perfect temperature, but it does it in just 90 seconds.
Style: Electric
Temperature settings: 1
Bottle compatibility: NUK Bottles
---
Tommee Tippee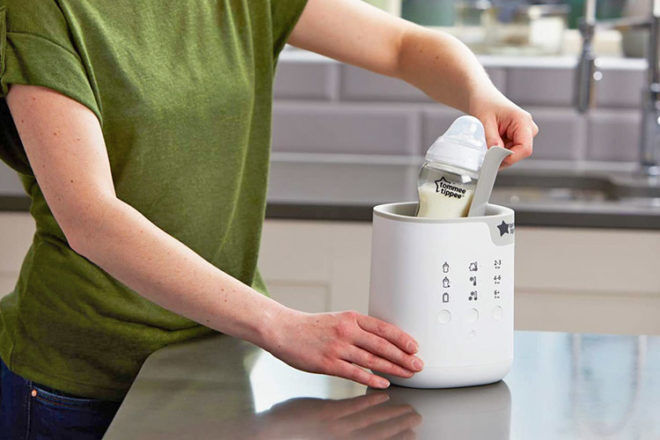 The Express and Go warms delicately to preserve nutrients and vitamins, ensuring little ones receive every benefit of mumma's liquid gold. As an added bonus, this handy bottle warmer fits most branded bottles and pouches, making it the perfect addition to your feeding tool kit (no matter what stage you're at).
Style: Electric
Temperature settings: 3
Bottle compatibility: Most bottle brands
---
Dr Brown's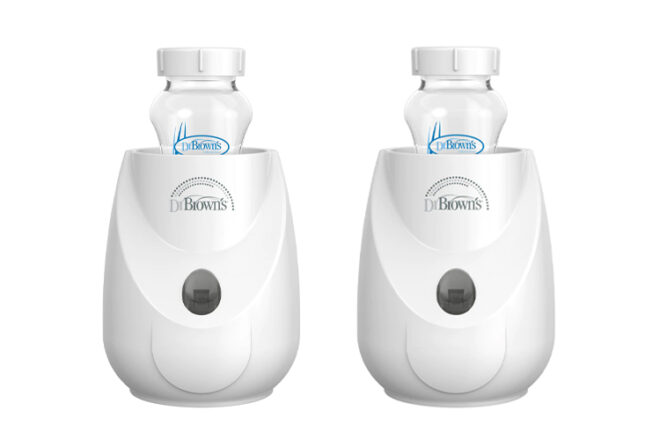 Warm bottles and food jars in as little as 80 seconds, Dr Brown's Insta-Feed comes with a handy adapter ring to fit narrow and wide neck baby bottles and jars. We love that it has a built-in sterilising function for small bottle parts and dummies.
Style: Electric
Temperature settings: 1
Bottle compatibility: Most bottles with the adapter ring
---
Philips Avent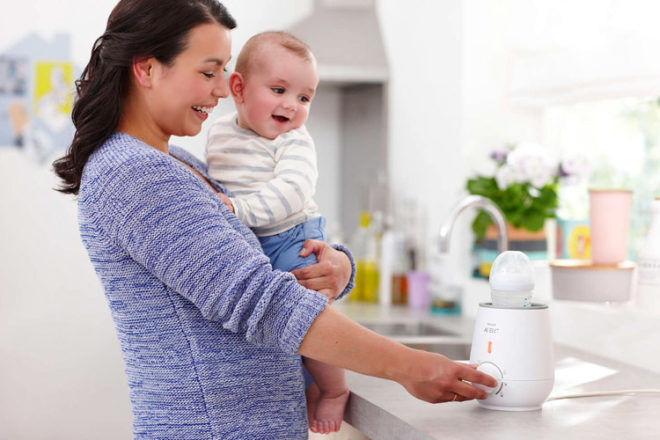 Can we have a collective Amen to one-handed operation? This dial-operated number couldn't be easier to use, carefully and evenly warming 150ml of breast milk or formula in only a few minutes. The clever defrost setting keeps hot spots at bay, circulating the milk while warming.
Style: Electric
Temperature settings: 2
Bottle compatibility: Most bottles with the adapter ring
---
Beaba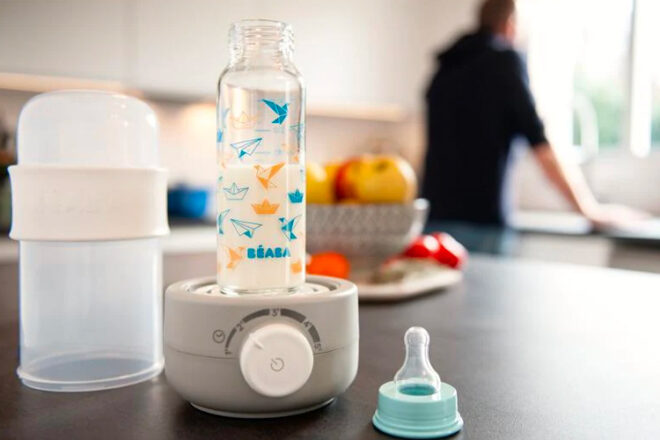 In those new mums days, bottles are a constant, and so too is the need to sanitize dummies. This 2-in-1 helps in both departments with a clever basket for sanitizing dummies as well as a generous opening suitable for wide, narrow or angled bottles. It scores an A+ for convenience and safety with the handy auto shut-off feature.
Style: Electric
Temperature settings: 5
Bottle compatibility: Most bottle brands
---
Jiffi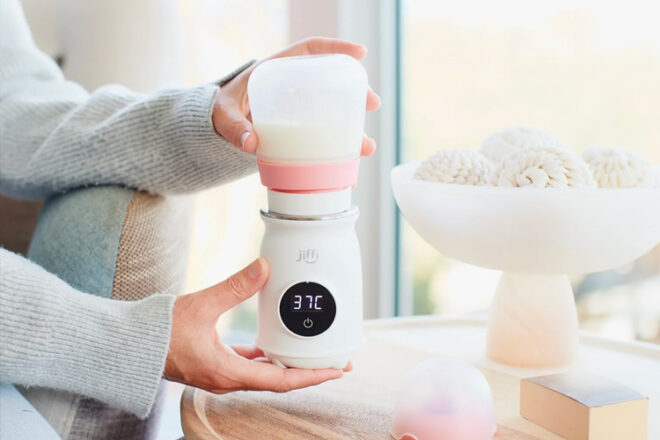 We're not always at home when little one's hunger pains kick in. And when there are no power sockets around, this battery-powered portable bottle warmer is a lifesaver. Its patented design allows parents to heat up to four times on a single charge. Featuring an ultra-handy, in-built formula dispenser, it can also be used at home while still plugged in (so there's no need for separate units).
Style: USB rechargable
Temperature settings: 1
Bottle compatibility: up to 34 brands with adaptors
---
FAQs Your Questions Answered.
How do bottle warmers heat the milk?
The heating method used by a bottle warmer can affect the speed and consistency of the heating process. Steam bottle warmers heat up bottles quickly using steam, but they can sometimes create hot spots in the milk. Water bath bottle warmers, on the other hand, heat up bottles more slowly using a gentle water bath, resulting in a more even and consistent temperature.
Is a bottle warmer worth it?
Bottle warmers can range in price from under $20 to over $100. While it's tempting to go for the cheapest option, remember that a higher price often means better quality and more features. Consider your budget and the features that are most important to you when making your decision.
Are bottle warmers safe to use?
When it comes to your baby's safety, there's no room for compromise. Choose a bottle warmer with safety features such as automatic shut-off and alarms to alert you when the bottle is ready. A stable base is also important to prevent tipping and spills.
How hot should the milk be?
Different babies have different preferences when it comes to milk temperature. To ensure your baby is happy and comfortable, choose a bottle warmer with adjustable temperature settings. This will allow you to heat up the bottle to the perfect temperature for your little one, avoiding overheating or underheating.
---
Join the Conversation
Wondering which style of bottle warmer is the most popular? Take a look at what other Grapeviner mums are using …

Know a warmer for milk to add to our list? Contact us and let us know, we've been curating Australia's best baby products into helpful lists for over 16 years and we're always happy to support new brands and businesses.
Read next …
Ask other mums
Looking for a bottle warmer and still not sure if any of these are right for you? Join the huge Grapeviner community in one of our private Facebook Baby Groups and ask thousands of other mums with babies the same age as yours, which one they recommend.

We want you to know
We're Mum's Grapevine, a team of mums who've been there and done that (we have a combined 19 kids, so we know a thing or two about parenting!). We've been writing about all things baby and parenting for over 16 years, and we're passionate about helping new mums find the best products for their little ones.
Sometimes, we do include paid inclusions in our reviews, but we promise that we only recommend products that we truly believe in and have either used or personally seen. Our goal is to give you, our Grapeviner mums, the inside scoop on the latest and greatest parenting products, and we're always striving to maintain our high standards of quality and honesty. See our Disclosure Policy.
Thanks for trusting us to be your go-to source for all things baby-related!