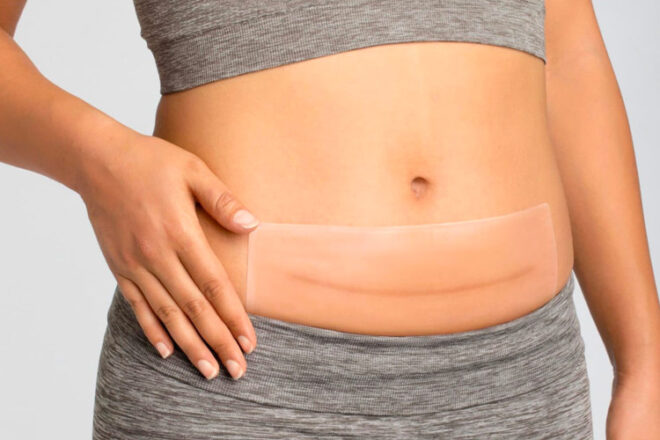 If you've had a c-section, you know that your incision can be a major pain in the, well, you know. But there are things you can do to help it heal faster and feel more comfortable. One of those things is to use c-section strips.
C-section strips are a type of bandage that is applied over your incision to help it heal. They are typically made of silicone or hydrogel, and they work by keeping the incision moist and protected from infection.
There are a lot of different c-section strips on the market, so it can be hard to know which ones to choose. We've done the research for you and found the 6 best c-section strips for postpartum healing. These strips are all comfortable, effective, easy to use and affordable, so you can find one that fits your budget.
OUR PICK OF THE CROP
6 C-Section Strips for Postpartum Healing
With over 15 years of experience and a community of over 100,000 Australian mums, we're committed to helping you find the perfect postpartum healing supplies.
Below, you'll find six of the most popular C-section strip brands recommended for you by mums from our Grapeviner community listed in no particular order.
Yungbod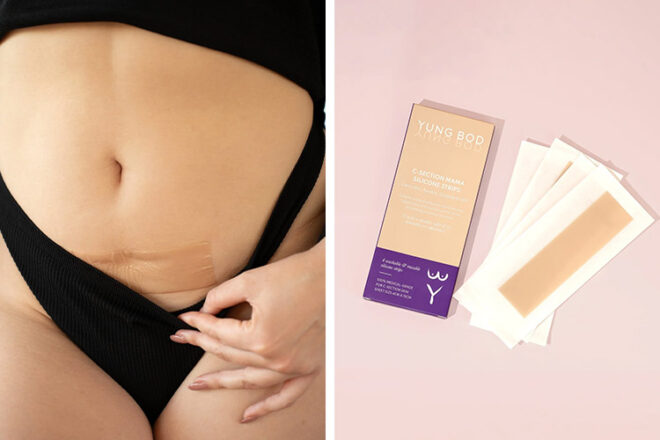 Yung Bod's medical-grade silicone strips are designed to help your scar heal smoother, softer, and less noticeably. They're ultra-thin, durable, silky smooth, and we found them to be comfortable enough to be worn all day.
---
SRC Health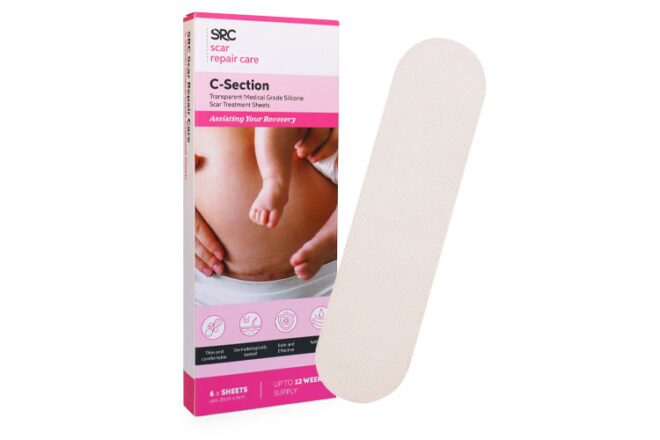 These silicone scar sheets from SRC Health are clinically proven to reduce the appearance of all types of scars, leaving your skin smooth and radiant. We loved that they're waterproof, and breathable, and found them comfortable to wear all day long.
---
Mumasil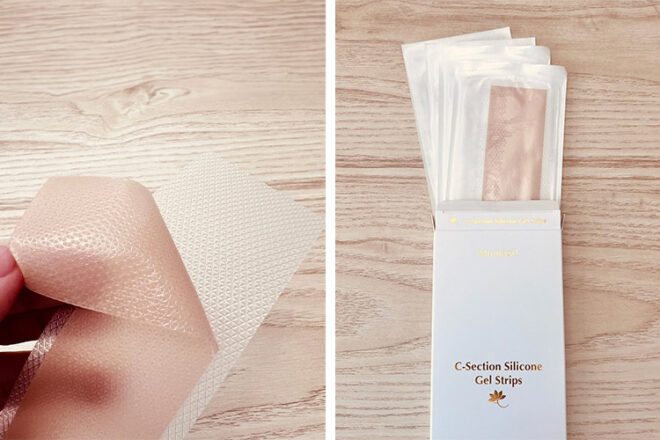 Made from a unique blend of silicone and gel, Mumasil strips are clinically proven to reduce scar size and improve appearance. We found them to be comfortable to wear and provided long-lasting hydration, so our scar stayed soft and supple.
---
Womens Wellness Boutique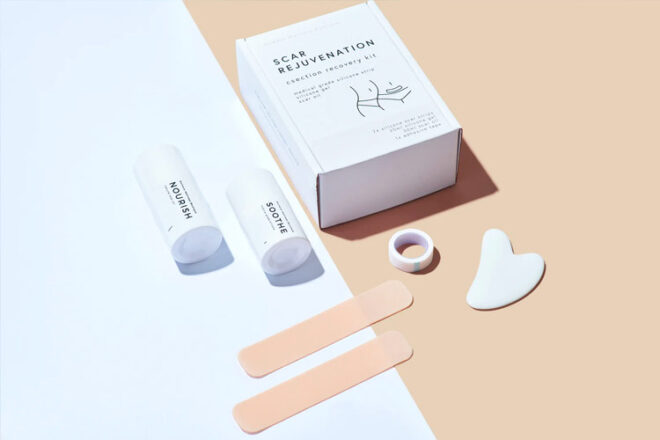 This comprehensive kit provides everything you need to support your body and promote healing after a C-section. Working closely with specialists it includes all the products to soothe postpartum bodies; silicone scar strips, silicone gel, special tape, nourishing oil and C-scraper.
---
Biodermis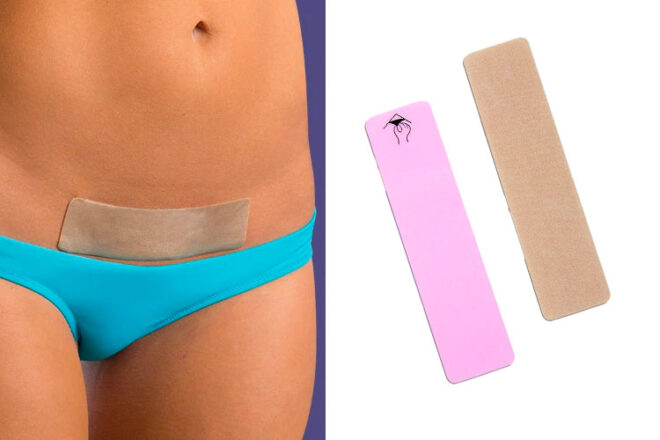 Rock your scar confidently with Biodermis Epi-Derm C-strips. Specifically crafted for C-section scars, they come in clear or natural beige with a soft fabric backing with release liners on both sides. Made from 100% medical-grade silicone, these strips will have you healed beautifully.
---
Frida Mom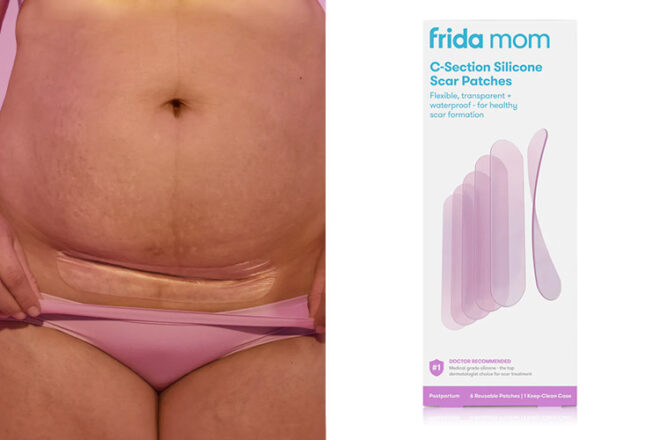 It's time to protect the scar you've earned through the birth of your newest love. Frida Mom's Scar Patches keep your scar hydrated with medical-grade silicone to improve the look and feel of your scar. Keep your 6 patches safe with their keep-clean case.
---
FAQs: Your Questions Answered
How do I use C-Section strips?
To use C-section strips, first clean and dry your incision. Then, peel off the backing from the strip and apply it to your incision. Make sure that the strip is smooth and that there are no air bubbles. You should also wear your c-section strips for at least 12 hours per day. If you can, wear them for 24 hours per day. The more you wear them, the faster your incision will heal.
It's also important to keep your incision clean and dry. You can wash it with soap and water and pat it dry with a clean towel. Avoid using any harsh soaps or scrubs, as these can irritate your incision.
Finally, be patient. It takes time for your incision to heal completely. Don't get discouraged if you don't see results immediately. Just keep using your c-section strips and taking care of your incision, and you'll be well on your way to a full recovery.

Know a c-section strip brand we could add to our list? Contact us and let us know, we've been curating Australia's best baby products into helpful lists for over 15 years and we're always happy to support new brands and businesses.
Read next…
We want you to know
At Mum's Grapevine, we're a team of passionate mums (with 19 kids!) and over 15 years of experience researching and writing about all things baby and parenting. Our reviews of recommended products, like the ones in this post, may include paid inclusions, but we promise to only feature products that we truly believe in and have used or seen ourselves. We want to ensure that you, our readers have access to the latest and greatest products in the parenting world, and we're committed to maintaining our high standards of quality and honesty. See our Disclosure Policy.
Thank you for trusting us to be your go-to source for all things baby-related.
xoxo