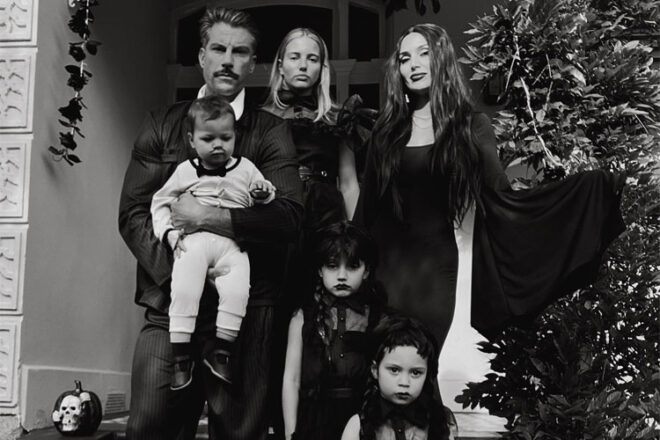 Grab your broomsticks and sprinkle some stardust, because Halloween 2023 is over and we're still reeling over the costume creativity from this year.
Celebrity families didn't just trick-or-treat; they turned the spooky season into a star-studded spectacle of epic costumes. So, buckle up, because we're about to dive into a world where the rich and famous traded their glam for ghouls, proving that even the biggest stars can't resist the magic of Halloween dress-up.
Bindi Irwin – Jurassic Park
View this post on Instagram
Bindi Irwin and her husband Chandler and their adorable dino-sized nugget, Grace, took us straight back to Isla Nublar with their Jurassic Park-themed costumes.
---
The Baldwins – Beetlejuice
View this post on Instagram
Alec and Hilaria Baldwin, and their kids didn't just say the name three times; they brought the ghost with the most to life in a family affair of the entire cast of Beetlejuice.
---
Keke Palmer – Frankenstein
View this post on Instagram
Keke Palmer and little Leo stitched together the perfect Halloween combo with Keke rocking the Frankenstein's Bride vibes, while Leo played the cutest doctor who gave her life.
---
Chrissy Teigen – Raggedy Anne
View this post on Instagram
Chrissy Teigen transformed into the beloved childhood character, Raggedy Ann while the two newest additions to the Legend/Teigen household Esti and Wren were Where's Wally and Little Red Riding Hood. Big brother and sister Miles and Luna were Scooby Doo and Lisa from the K-pop band BLACKPINK.
---
Kourtney Kardashian – Kim Kardashian & Beetlejuice
View this post on Instagram
Kourtney Kardashian is due pretty much any day now with her fourth child but that didn't stop her from playing dress-up this year. Turning the tables (and the glam) Kourt dressed to the nines in the exact floral gown younger sister Kim wore to the 2013 Met Gala when she was pregnant with her first, North. Twins!
In her second costume reveal, Kourtney and Travis channelled their inner Beetlejuice and Lydia.
View this post on Instagram
---
Kim Kardashian – Clueless
View this post on Instagram
Speaking of Kardashians, Kim Kardashian and her mini-me, North West transformed into the ultimate 90s icons Cher and Dionne from "Clueless".
---
Ed Sheeran – Chucky
View this post on Instagram
Ed Sheeran turned Halloween into a musical thriller, putting his own spin on spooky as he transformed into the pint-sized menace Chucky.
---
James Van Der Beek – Steampunk Pirate
View this post on Instagram
James Van Der Beek and his swashbuckling crew navigated Halloween with style, donning intricate Steampunk Pirate attire that not only conquered the high seas but also conquered the hearts of costume enthusiasts everywhere.
---
Kaley Cuoco – Tildy's First Halloween
View this post on Instagram
Kaley Cuoco celebrated 6-month-old Matilda's first Halloween with not one but five costumes. Tildy was an old lady, a Pillsbury Doughman, a chicken, a bumblebee and a football.
---
Mariah Carey – Jessica Rabbit & Mean Girls
View this post on Instagram
View this post on Instagram
It's almost "her" time of year, but right before she defrosts into the Queen of Christmas, Mariah Carey channelled the sultry allure of Jessica Rabbit, as well as made a hilarious nod to the iconic Regina George from the movie Mean Girls. Cut-out tank top and all!
---
Kelly Osbourne – Clown
View this post on Instagram
Kelly Osbourne and her family turned Halloween into a circus of style where they dressed as vintage-style clowns for a Halloween party.
---
Perrie Edwards – Ratatoullie
View this post on Instagram
Little Mix's Perrie Edwards and her little culinary companion turned Halloween into a feast for the eyes as they whipped up the perfect parent-child costume as Remy and Linguini from Ratatoullie.
---
Sam and Snez – The Addams Family
View this post on Instagram
Bachelor couple Sam and Snezana Wood ditched the ordinary for the extraordinary as they transformed their family into the iconic Addams Family for Halloween.
---
David Beckham – the Devil & Chipette
View this post on Instagram
David Beckham and little Harper turned up the Halloween heat as a very handsome Devil and the cutest squirrel ever.
---
The Rock – David Beckham
View this post on Instagram
Speaking of David Beckham… Dwayne 'The Rock' Johnson proved that we're not the only ones currently obsessed with Becks as he flexed his costume muscles and transformed into the ever-stylish soccer star.
---
Kristen Bell & Dax Shepard – Harry Potter
View this post on Instagram
Funny couple Kristen Bell and Dax Shepard enchanted Halloween with their magical transformation into Remus Lupin and Albus Dumbledore.
---
Paris Hilton – Super Mario
View this post on Instagram
Paris Hilton proved once again this year that one costume is obviously never enough and with it being her son Phoenix's first Halloween she truly pulled out all the stops. The family dressed as Mario, Luigi and Princess Peach from Super Mario looked absolutely adorable. The star then channelled Britney Spears' iconic flight attendant, while Phoenix soared into the cuteness stratosphere as the most adorable pilot in town. Paris then dressed up little Phoenix as Elmo.
View this post on Instagram
View this post on Instagram
---
Lance Bass – Frozen
View this post on Instagram
Lance Bass and his husband Michael Turchin stepped straight out of Arendelle as Sven and Kristoff while their two littlies dressed as Snow White and Spengler from Ghostbusters.
---
Zooey Deschanel – Little Red Riding Hood
View this post on Instagram
Zooey Deschanel and Jonathan Scott brought a fairy tale romance to life on Halloween, with Zooey enchanting as a whimsical Little Red Riding Hood and Jonathan charmingly stepping into the role of Zelda.
---
Gabrielle Union – PB & J
View this post on Instagram
Gabrielle Union and Dwayne Wade spread the love as the most delicious duo, rocking Peanut Butter and Jelly costumes, while their little princess added a sprinkle of sweetness to create the ultimate family sandwich of adorableness.
---
Khloe Kardashian – Ocotnauts
View this post on Instagram
In another Kardashian spectacle, Khloe Kardashian and her adorable sea squad dove into Halloween as the Octonauts crew, with True and Tatum making a splash as the cutest explorers of the ocean depths.
Khloe also shared Tatum in a number of other costumes including The Rock, a lumberjack, Yoda and the toughest Godfather you've ever seen.
View this post on Instagram
View this post on Instagram
---
Tia Mowry – Aliens
View this post on Instagram
Tia Mowry and her intergalactic squad took Halloween to another dimension, beaming down as the most out-of-this-world family of aliens.
---
Ashley Tisdale – Curious George
View this post on Instagram
Ashley Tisdale, her husband and their cute-as-can-be daughter Juniper swung into Halloween with a burst of curiosity, transforming into the lovable characters from Curious George.
---
Tiffani Thiessen – Audrey Hepburn
View this post on Instagram
Saved by the Bell star Tiffani Thiessen shared her family's eclectic mix of Halloween costumes. Audrey Hepburn, Elf, James Bond and Among Us were all a part of the completely random group and we absolutely adored them all!
---
Heidi Klum – Peacock
View this post on Instagram
The reigning Queen of Halloween Heidi Klum held her annual spooktacular bash spreading her wings as the most glamorous peacock, proving that when it comes to costumes, she's not just all about strutting her stuff on the runway.
---
Neil Patrick Harris – Mount Olympus Gods
View this post on Instagram
And of course, there would be no Halloween without the King of Halloween himself, Neil Patrick Harris where he and his celestial clan ascended to the tops of Mount Olympus, transforming into Aphrodite, Hermes, Hades and Poseidon.

We have so many more Halloween tricks and treats up our sleeves – make sure you check out our costume ideas, recipes and decoration ideas.
Read next …
Got a little monster in the lair?
Feeling like a zombie with non-stop mummy duties? Fear not, Mama! Aussie mums just like you are hiding out in our age-based Facebook baby groups, swapping spooky tales and survival strategies. They're a total game-changer when you need support.
Become a Grapeviner and join the squad today!