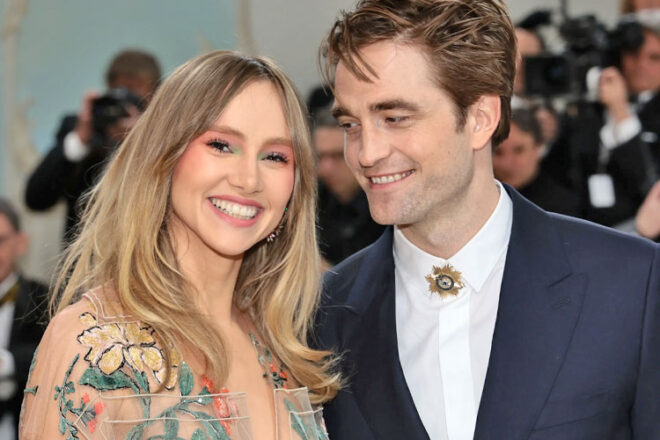 It's official – the ultimate 2010s teen heartthrob Robert Pattinson is going to be a Dad. After many weeks of speculation from fans, it has been confirmed that Rob and his long-time partner, actress, supermodel and musician Suki Waterhouse are expecting their first baby together.
The star known for her role as 'Karen' in Daisy Jones and the Six made the announcement while on stage at the Corona Festival in Mexico City. Between songs, the 31-year-old joked with fans about her choice of outfit for the performance. In a video captured by a fan, Suki says "I thought I'd wear something sparkly to distract you from something else I've got going on… I'm not sure it's working" all while gesturing to her growing bump behind all those sparkles.
Suki and her Twilight star partner Rob began dating back in July of 2018 keeping their relationship under wraps from the public eye. Over the years they have been spotted together regularly but had never publicly confirmed the status of their relationship.
In September 2019, photographer and friend Sofia Malamute posted a very cute picture to her Instagram of the pair cuddled up together with the caption: "Ibiza, 2019".
View this post on Instagram
In early 2022, while doing press for The Batman, Rob brought up Suki in an interview with Jimmy Kimmel where he mentions her reaction to seeing him play one of the world's biggest superheroes.
"I watched it with my girlfriend as well and it was really her reaction that changed the entire thing because I'm pretty sure she's not normally into watching superhero movies…and just seeing how it had captured her attention the entire time and she grabbed my hand and put it right there [to her face] and I could just feel a little tear and I was like 'no way!'"
The couple then finally had their first official red carpet debut at the Dior fall 2023 menswear show in December 2022.
View this post on Instagram
The couple then made their Met Gala debut in May 2023, looking cozy side by side in Fendi and Dior.
View this post on Instagram
With his Twilight costars Ashley Greene, Nikki Reed and Peter Facinelli all welcoming their own babies in the last couple of years we wonder if it's time for an official Twilight play date! Congratulations to the beautiful couple, we can't wait for more glimpses into what parent life will be like for the stars.
Read next …
Missed the latest celeb baby news? Catch up with these articles for all the goss:
And here's a tip: To make sure you never miss any celebrity baby and pregnancy announcements, subscribe to our newsletter, and you'll be the first to know when the stars welcome their little ones into the world!