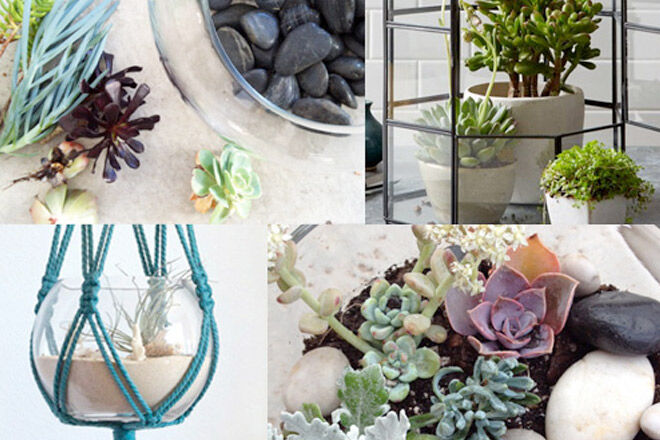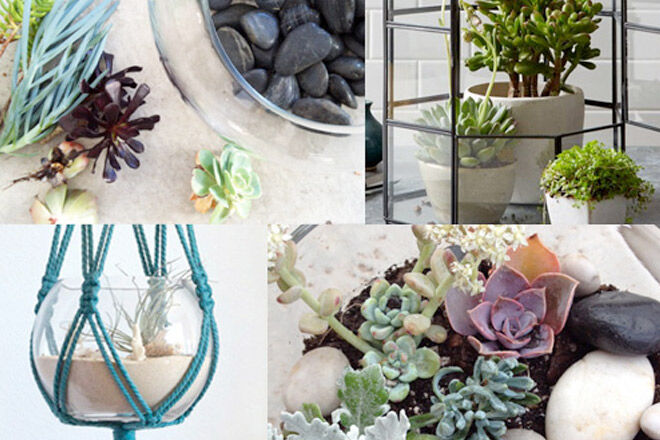 Terrariums are my kind of gardening: small, self-contained, low-maintenance greenery that brings a pocket of lush to any part of your home. We've picked out 9 inspiring mini gardens for you to covet, plus a tutorial to get you creating your own.
1. Geometric planter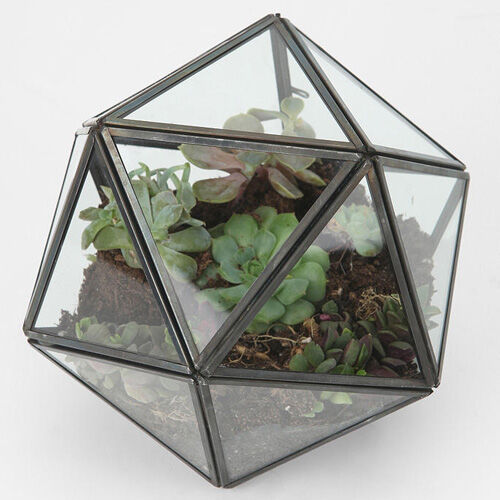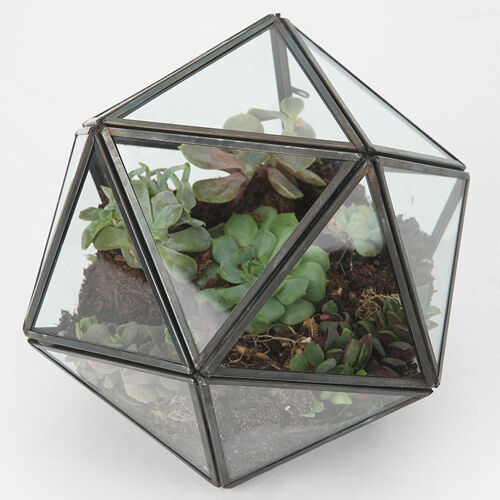 Give your terrarium an industrial edge with this faceted planter from Urban Outfitters.
2. Domed cloche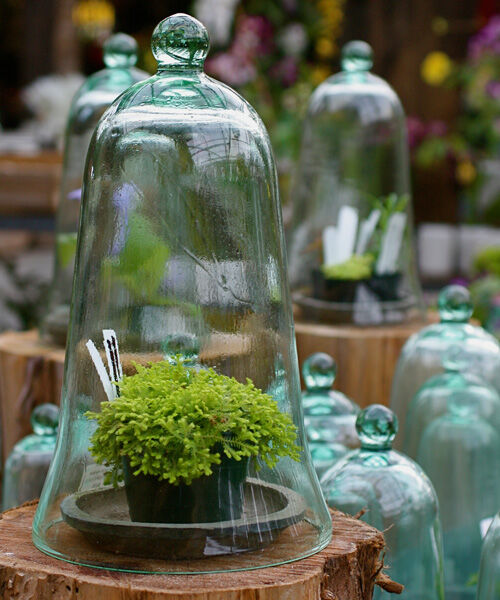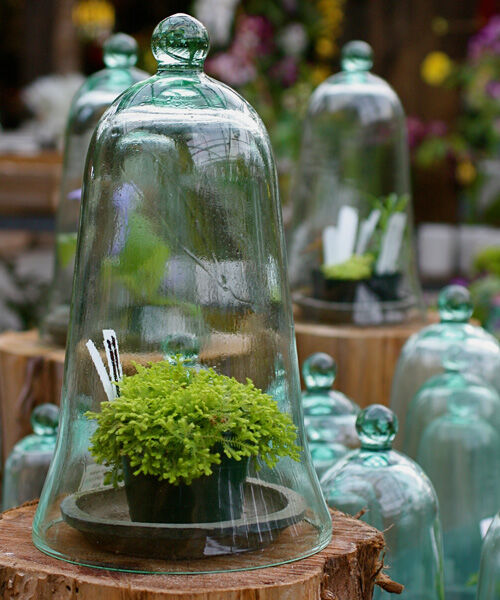 An elegant cloche turns any plant in to an instant vignette. (via Melingo Wagamama)
3. Open air succulents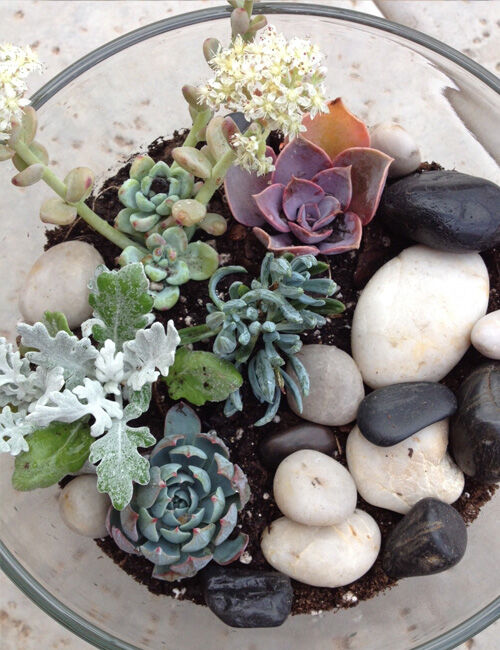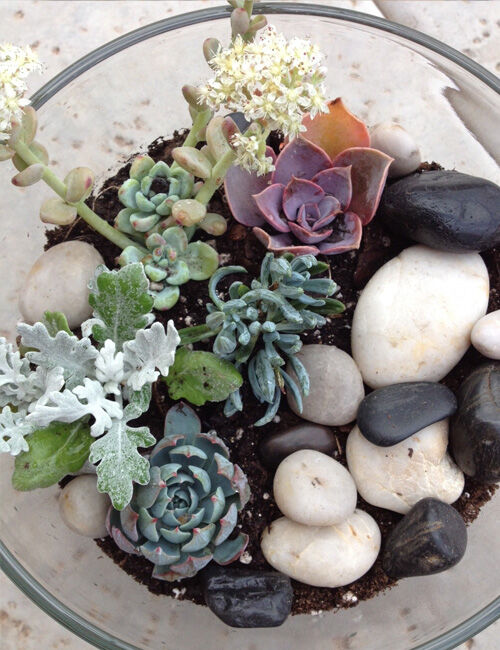 This sweet little succulent garden is my favourite type of indoor greenery. Learn how to make your own below. (via Shae B)
4. Glass jars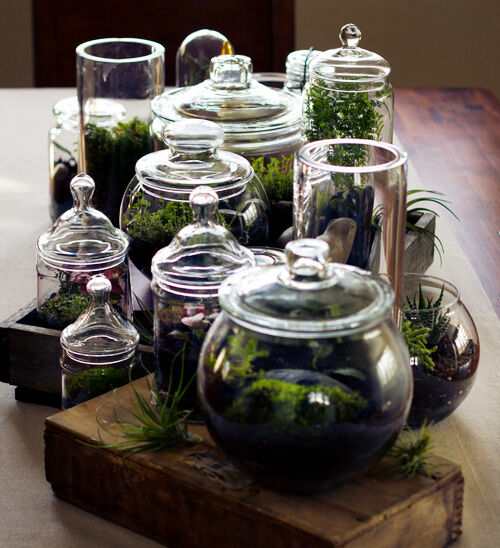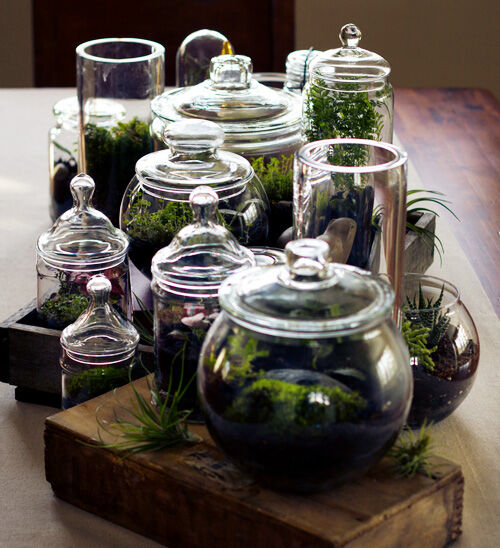 Mason jars and lidded vases are perfect terrarium fodder. (via joshleo on flickr)
5. Dinosaur habitat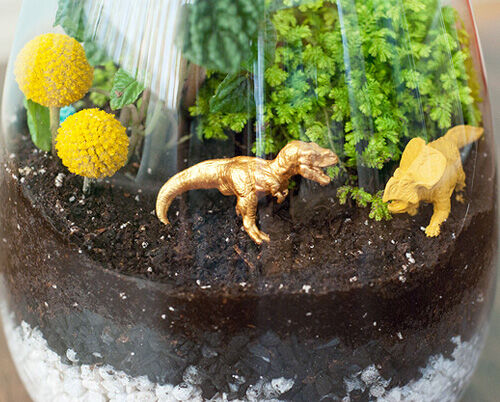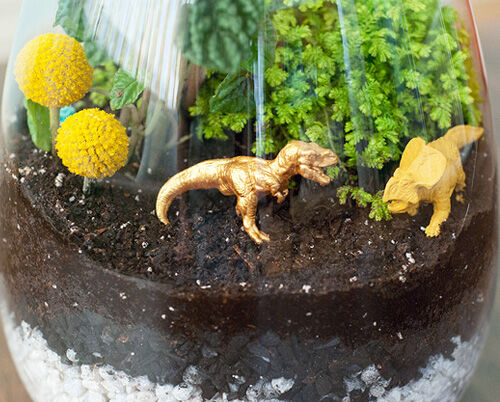 Steal a few figurines from the toy box and impress your dinosaur-loving offspring with this Jurassic scene. (via Yellow Brick Home)
6. Tiny terrarium wedding favours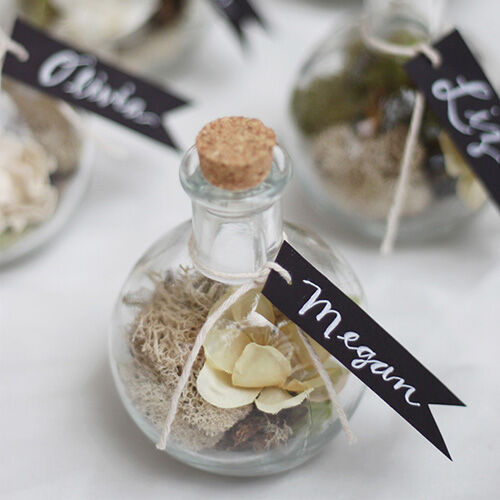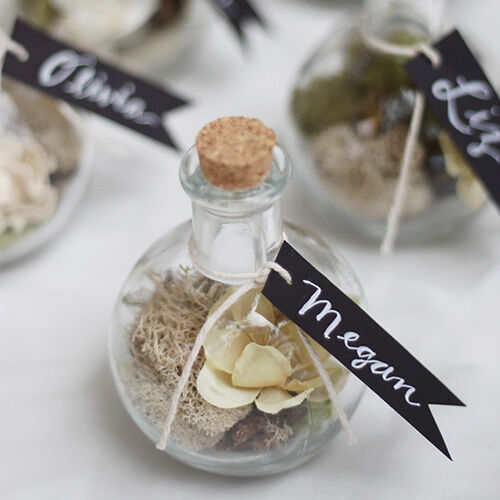 Kelli Murray had the genius idea of creating tiny terrarium bottles to use as wedding place cards and favours, using moss and fake flowers. (via 100 Layer Cake)
7. Greenhouse terrarium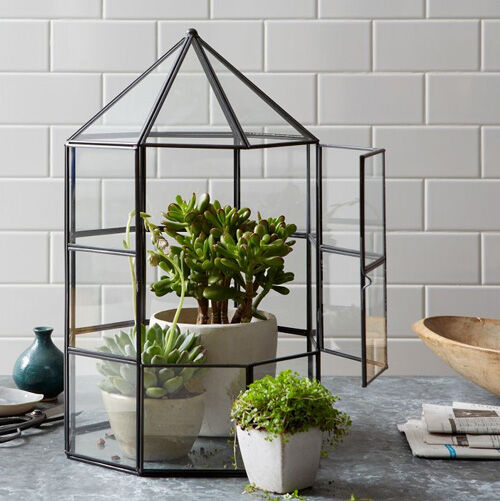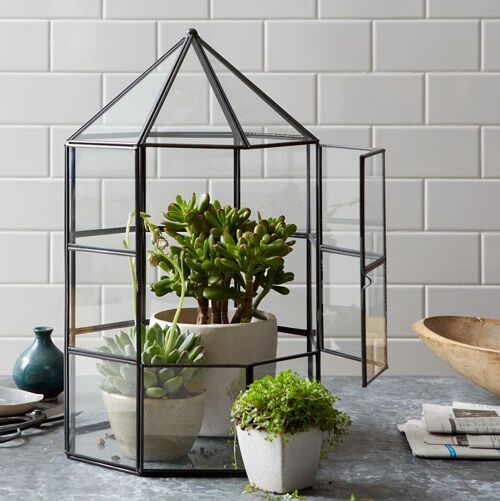 This beautiful tabletop greenhouse is by West Elm, although sadly not currently available from their Australian online store. Shall we lobby them to stock it here? I think yes.
8. Fairy garden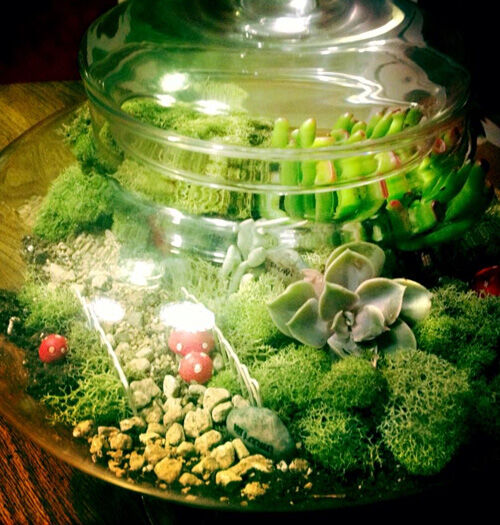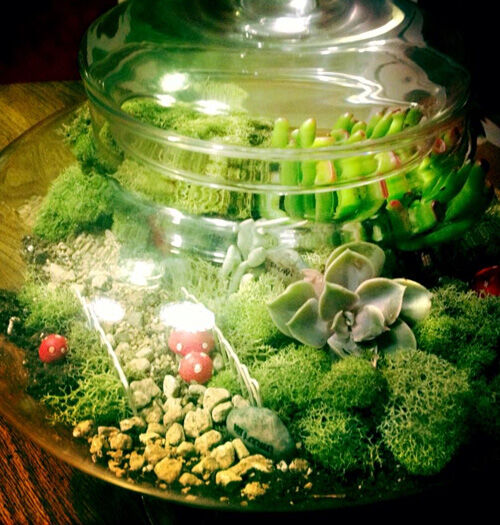 Who lives in a tiny garden? A tiny fairy, of course! Add some fake toadstools and fairy paraphernalia and invite the sprites in. (via Pinterest)
9. Air plants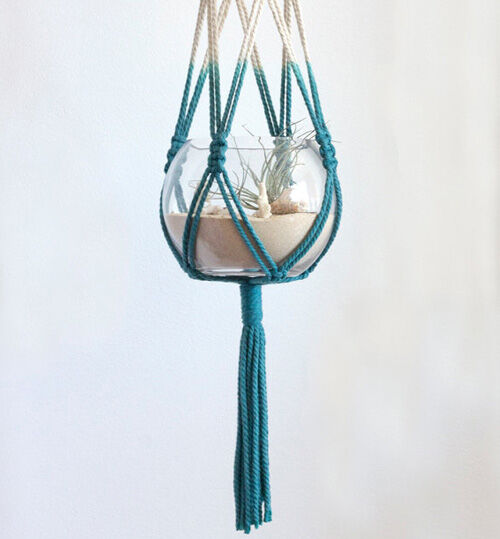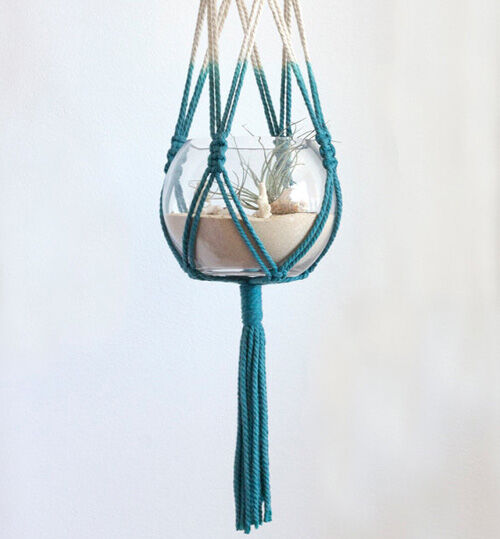 Air plants need no soil as they absorb moisture from the air through their leaves. They look beautiful nestled in sand, in an on-trend macrame hanger like this one from RAW on Etsy.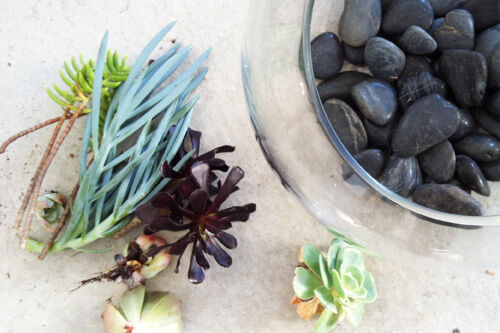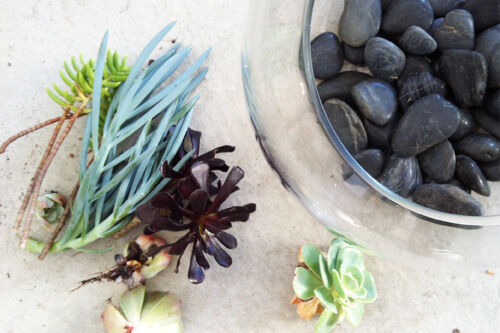 First things first, you'll need to decide whether you want to create an open-top or closed terrarium. A closed terrarium is self-watering but requires a layer of activated charcoal to filter the air.
We've chosen to make an open-topped succulent garden, but if you'd prefer to create the closed variety, check out Pieced Passtimes tutorial here.
So, let's get started.
What you'll need …
– A glass container or bowl
– Rocks
– Weed matting
– Succulent / cacti soil
– Succulents
How to …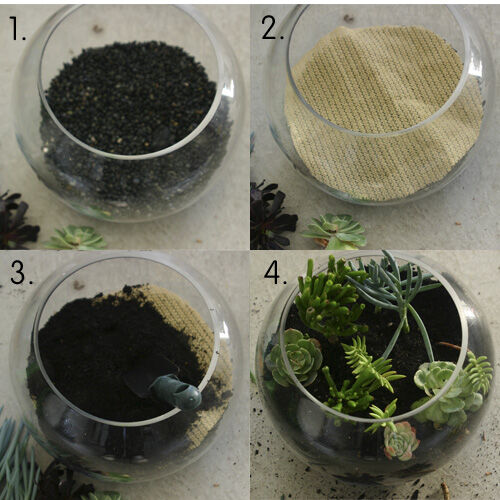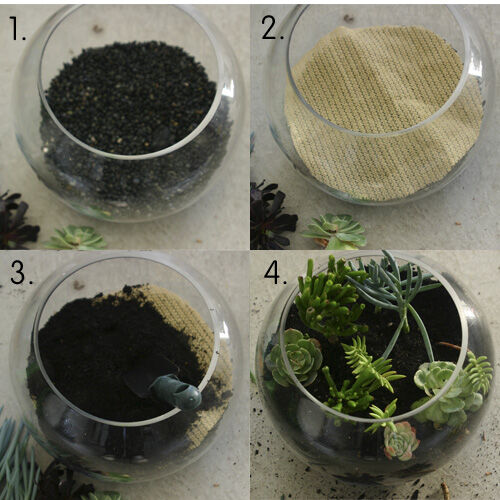 1. Layer the bottom of your glass container with the rocks. This allows for drainage.
2. Cut weed matting to size and place on top of the rocks (to stop soil leeching in to the layer of rocks)
3. Place a layer of soil over the weed matting
4. Plant your succulents
5. Decorate with pebbles and accessories
6. Sit back and admire your work!