If you have a mini Anna or Elsa begging for a Frozen party, we've got you covered. To help you plan your icy day, we pulled together this winter wonderland full of beautiful-but-easy Frozen party ideas. From cool treats, to glittering decor touches, and sparkly crafts and games. (Photographed by the awesome team at My Little Tribe).
First, we set the scene with a shiny ice blue backdrop made from inexpensive satin lining from Lincraft, simply taped up high. Stunning Micky and Stevie snowflake decorations were the stars of the show (a great investment to re-use at Christmas!).
Giant white balloons and a tassel garland from The Party Parlour added volume and glitter, while the mini tables and chairs (hired from Mini Party People) evoked Elsa's icy castle. Tables were dressed with sparkly runners and strips of blue tulle, scattered with acrylic 'ice' and silver stars, and finished off with strings of twinkling crystal fairy lights.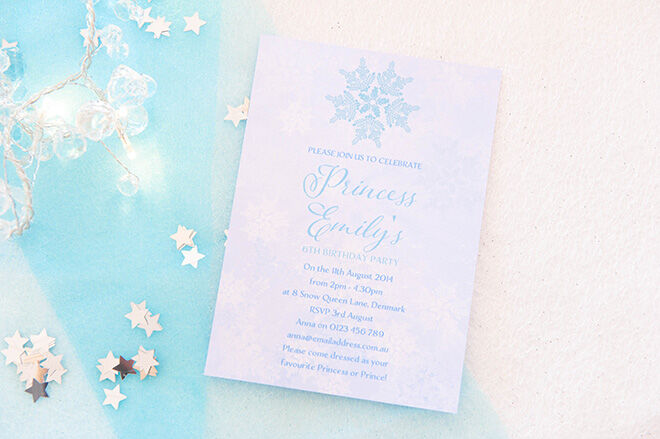 We used Love JK's 'Snow Queen' personalised party stationery including invitations, tent cards, thank you cards, lunch boxes, drink bottle labels (excellent for avoiding drink mixups!) and beautiful snowflake personalised bunting.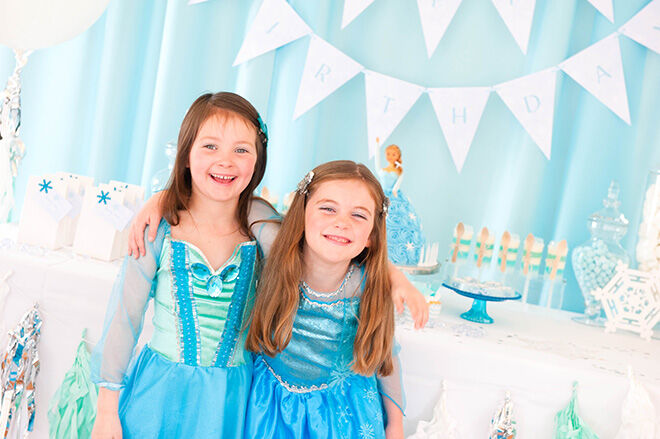 Our mini party guests were dressed to the nines in shades of glittering teal, turquoise and silver – including a beautiful Elsa-inspired dress from Fairy Girls (left) paired with sparkly hair clips and ballet slippers from Cotton On Kids.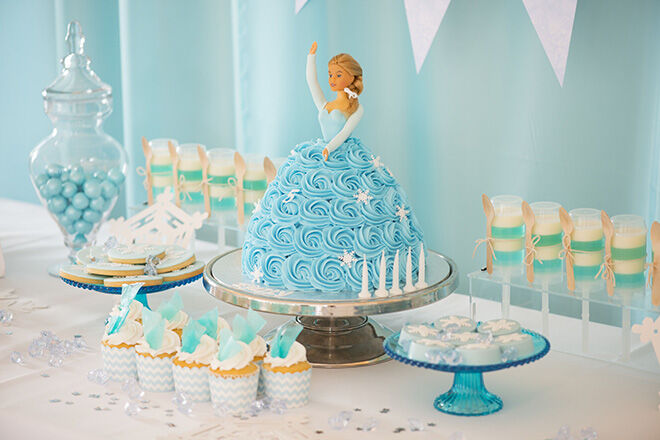 Burnt Butter made some amazing party food that had everyone's sweet teeth aching! There were snowflake biscuits and chocolate-coated Oreo cookies, layered blue and white jelly pops, shimmering blue meringues and a stunning Elsa doll cake – who was posing in the throes of singing 'Let It Go'!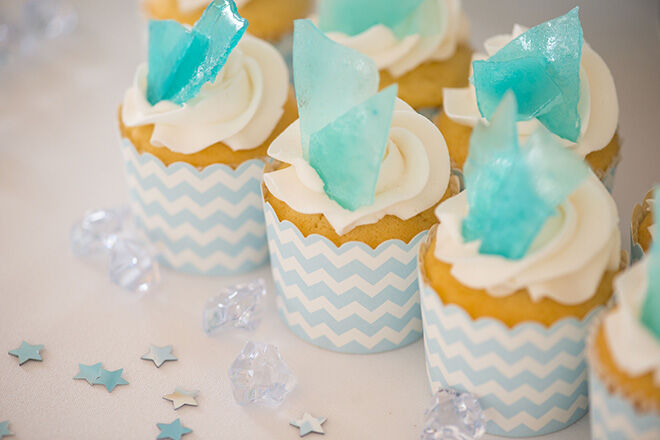 The ice-shard cupcakes were a huge hit. Delicious vanilla cupcakes decorated with blue-coloured toffee broken in to chunks.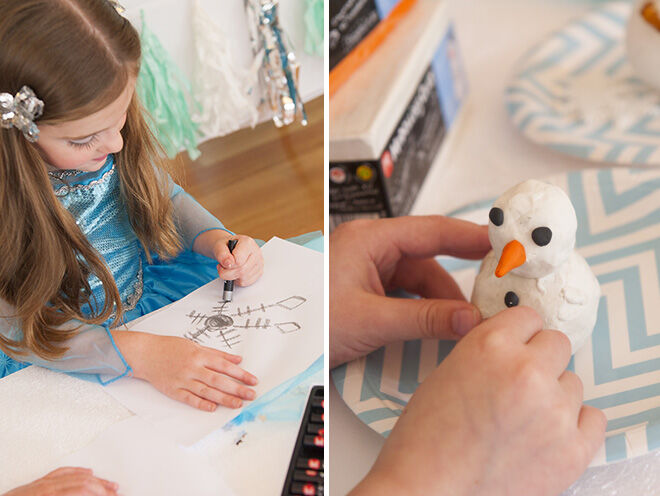 Our party girls had fun with some Frozen inspired craft, including clay snowman-building, drawing sparkly pictures with Micador metallic pastels and creating papercut snowflakes.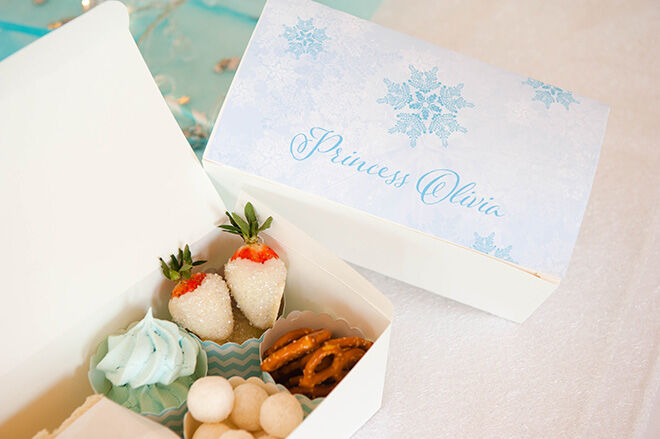 Hungry tummies were satisfied with personalised lunchboxes printed by Love JK, filled with a super-simple Frozen food ideas.
Sandwiches were complemented by fun snacks including 'snowballs' (coconut-covered apricot balls), 'reindeer antlers' (otherwise known as pretzels) and 'frozen hearts' (white chocolate and glitter dipped strawberries). To drink, a whipped white hot chocolate left little bellies very satisfied.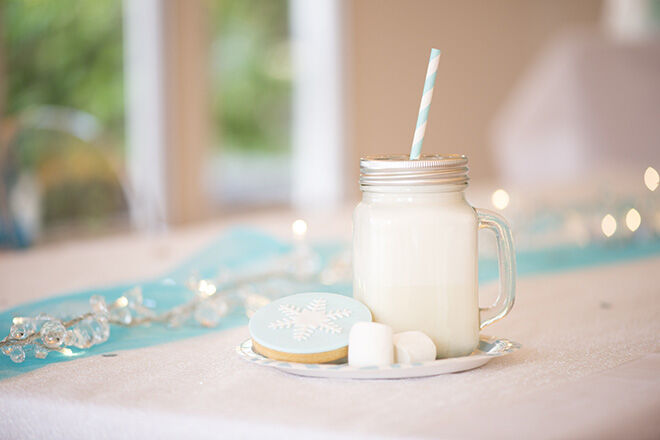 We filled treat boxes with blue sweets and giant marshmallows from The Party Parlour, and decorated them with Love JK's Thank You cards and sparkly snowflakes made with a Lincraft craft punch and blue glitter paper. We also found the perfect gift for the Frozen birthday girl: a snowflake fairy door from 'Lil Fairy Door to let her invite Elsa and Anna in!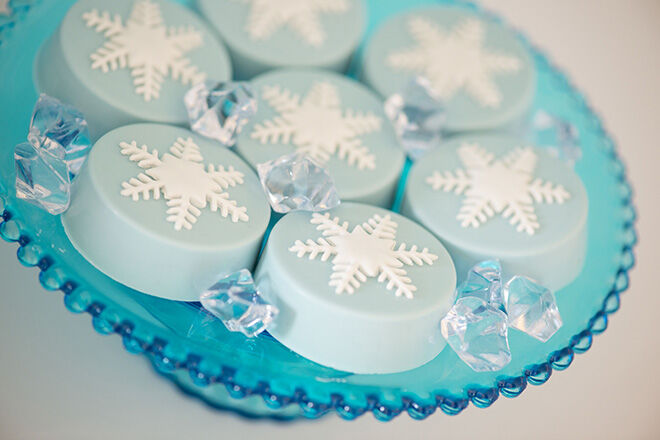 So, now it's over to you! Create your own Frozen feast with our shopping list and DIY guide below, or share your party ideas in the comments!